Does your home have a set of rules? Children respond well to routine and structure as most of us know. Having a set of family rules for kids like the ones in the free printable download below can be a great way to set the tone for how the family runs.
My free printable house rules for kids is really a nice reminder of how we want our days to go. Scroll down to download the free printable rules in 3 different designs. It's perfect for printing and sticking on the fridge or even framing by the entry.
RELATED POSTS
100+ First Day Of School Quotes For Moms
51 Quotes About Loving Children (+ Free Printable Artwork)
Our Family Rules For The Home
Here are the rules we try to stick to in our home. Some of them are inspired by an article about the "Golden Rules To Live By Miriam Hamilton Keare from the Chicago Tribune which were published in the 1990s.
Be Kind
Love Hard
Walk Softly
Hug Often
Clean up your mess
Tell The Truth
Take Turns
If you break it, admit it
Ask permission
Have fun
Play together
Share your things
Free Printable House Rules For Kids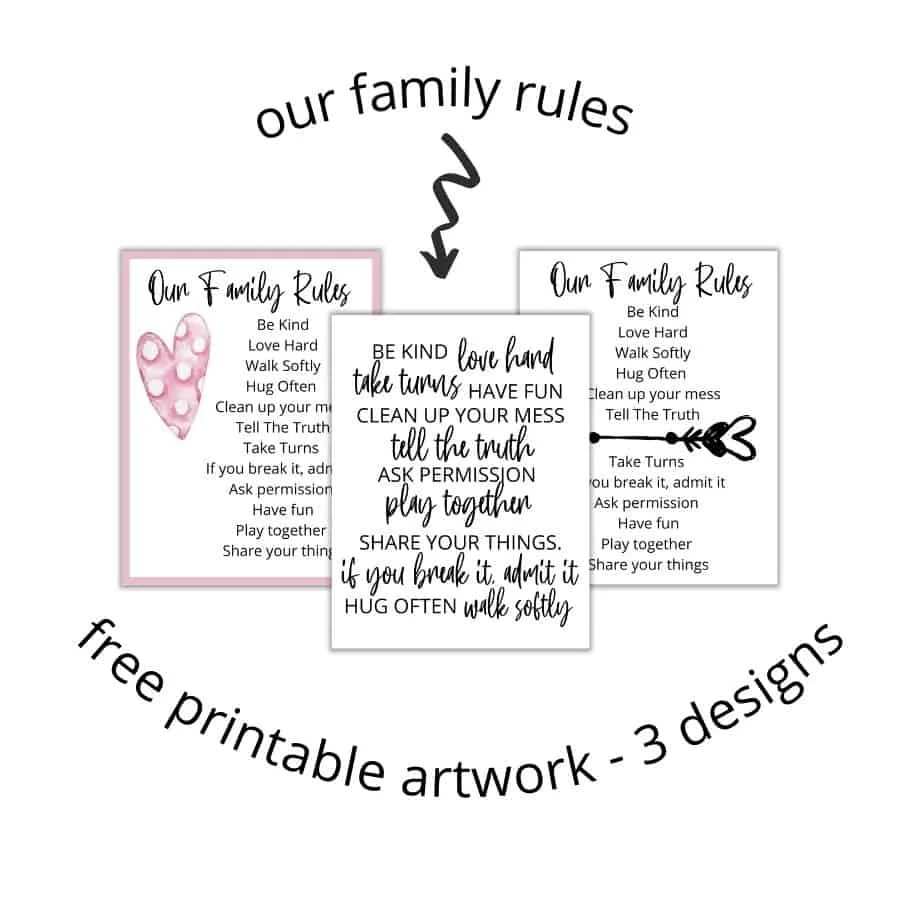 Download your free "Our Family Rules" printable below. Choose whichever design you like or use all three!
They are regular 8 x 10 so perfect for an 8 x 10 frame that you can get easily from the dollar store or somewhere like Ikea. I've also included the letter size version in case that works best for you.
Grab your free printables right now by clicking the links and instantly download the PDF files.
HOUSE RULES FOR KIDS FREE PRINTABLE – 8in x 10in version
HOUSE RULES FOR KIDS FREE PRINTABLE Letter size
If you love these free printables for your family, make sure to check out these other free downloadable artwork. It is perfect for a nursery or living space.
51 Quotes About Loving Children (+ Free Printable Artwork)
Free Printable First Day Of School Signs For All Grades
Black and White Free Printable Wall Art
Free Printable Farmhouse Christmas Signs (Merry Christmas Sign Printables)