These first day of school quotes for moms will help you and your kids get ready for the new school year!
As a mom, the first day of school is bittersweet. You are excited for your child to start learning and growing, but you also know that you will miss them being around all the time.
That's why these back-to-school quotes are perfect for making you feel good when the house feels just a little too empty.
There are so many emotions that go into the first day of school, from excitement to nerves.
As a mom, it's important to keep in mind that your child is probably feeling a range of emotions, too.
To make the day a little bit easier, use these quotes to remind you why you're sending them off to school.
This post may contain affiliate links. Please read my Disclosure for more information
MORE BACK TO SCHOOL POSTS
18 Easy Back To School Cupcakes & Treat Ideas
Free Printable First Day Of School Signs For All Grades
100 Back To School Quotes For Moms
As the new school year approaches, many mothers are finding themselves in a whirlwind of emotions.
Whether they are excited to see their children grow and learn, or they are feeling anxious about sending them back out into the world, one thing is for sure: mothers everywhere want their children to be successful.
To help send your little ones off with a smile on their face and some encouragement in their hearts, we've gathered some of our favorite back to school quotes for moms.
Read on for the best sayings and captions for those all-important back to school photos!
1."Sending your child off to school for the first time in their life is terrifying" – Arabella Weir
2. "When educating the minds of our youth, we must not forget to educate their hearts." – The Dalai Lama
3. "The education of even a small child, therefore, does not aim at preparing him for school, but for life." – Maria Montessori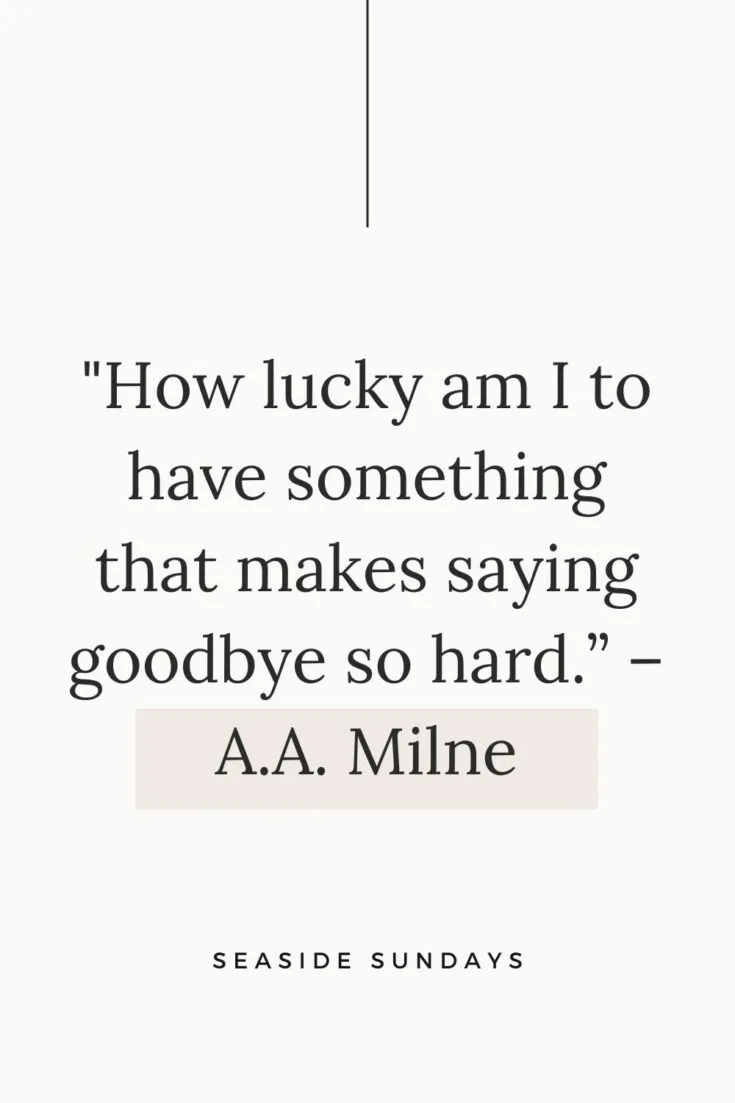 Quotes About Back To School and New Beginnings
5. "The first day of school is always a fashion show. The rest of the school year? A pyjama party." – Unknown
6. "This is a new year. A new beginning. And things will change." – Taylor Swift
7. "Today is the first day of the rest of your life." ―Charles Dederich
8. "It's never too late to become who you want to be. I hope you live a life that you're proud of, and if you find that you're not, I hope you have the strength to start over." – The Curious Case of Benjamin Button
9. "Enter this new year with a gratitude for this new chance to create your dreams." – Avina Celeste
10. "Celebrate endings—for they precede new beginnings." -Jonathan Lockwood Huie
11. "New year — a new chapter, new verse, or just the same old story? Ultimately we write it. The choice is ours." -Alex Morritt
12. "Take a leap of faith and begin this wondrous new year by believing." -Sarah Ban Breathnach
13. "Every day is a chance to begin again. Don't focus on the failures of yesterday, start today with positive thoughts and expectations." -Catherine Pulsifer
14. "There are far better things ahead than any we leave behind." – C.S. Lewis
15. "Every day I feel is a blessing from God. And I consider it a new beginning. Yeah, everything is beautiful." – Prince
16. "Every moment is a fresh beginning." – T.S Elliot
17. "Every new beginning comes from some other beginning's end."- Senaca
18. "A journey of a thousand miles begins with a single step. "– Confucius
19. "The magic in new beginnings is truly the most powerful of them all." -Josiyah Martin
20. "What the new years brings to you will depend a great deal on what you bring to the new year." Vern McLellan
First Day Of School Quotes For Moms To Help Their Kids
22. "Be an encourager. The world has plenty of critics already." -Dave Willis
23. "A good mother is worth hundreds of schoolmasters." – George Herbert
24. "To raise a child who is comfortable enough to leave you means you've done your job. They are not ours to keep, but to teach how to soar on their own. " -Unknown
25. "Education is not the filling of a pail, but the lighting of a fire." ―William Butler Yeats
26. "What makes a child gifted and talented may not always be good grades in school, but a different way of looking at the world and learning." – Chuck Grassley
27. "Sometimes you have to do what you don't love, so that you can do what you love." – Unknown
28. "In some parts of the world, students are going to school every day. It's their normal life. But in other parts of the world, we are starving for education…it's like a precious gift. It's like a diamond. "– Malala Yousafzai
Book Quotes To Ease Worries About The First Day Of School
30. "Whenever you feel lonely and need a little loving from home, just press your hand to your cheek and think, 'Mommy loves you. Mommy loves you.'" – The Kissing Hand by Audrey Penn
31. "I wanted you more than you ever will know, so I sent love to follow wherever you go." – Wherever you are by Nancy Tillman
32. "Don't be sad new little llama, it's ok to miss your mama. But don't forget when day is through. she will come right back to you" – Llama Llama Misses Mama by Anna Dewdney'
33. "You don't need to see the invisible string. People who love each other are always connected by a special string made of love"- The Invisible String by Patrice Karst
Back To School Quotes That Make Great Lunch Box Notes
35. "Today is a great day to learn something new"
36. "You don't have to be perfect to be amazing"
37. "Its a good day for a good day"
38. "Just keep swimming." —Finding Nemo
39. "What feels like the end is often the beginning."
40. "I am not afraid. I was born to do this." – Joan Of Arc
41. "Mistakes are prove that you are trying"
42. "Be awesome, be amazing, be you"
43. "No one is perfect – that's why pencils have erasers." ―Wolfgang Riebe
44. "Be somebody who makes everybody feel like a somebody"
45. "Make today so awesome yesterday gets jealous."
46. "You are a rainbow of possibilities"
47. "Work hard, dream big and never give up"
48. "Dreams don't work unless you do"
49. "Believe you can and you're halfway there"
50. "All things are difficult before they become easy"
51. "You are kind, you are smart, you are important"
52. "Be so good they can't ignore you." – Steve Martin
Famous Quotes About The First Day Of School
54. "You have brains in your head. You have feet in your shoes. You can steer yourself any direction you choose." – Dr. Seuss
55. "Do what you have to do until you can do what you want to do." – Oprah Winfrey
56. "A well educated mind will always have more questions than answers" – Helen Keller
57. "School is cool. That's why it rhymes." – Terry Crews
58. "We all learn by experience, but some of us have to go to summer school." – Peter de Vries
59. "It's one of my favorite seasons of the year: Back to School. As a kid, I loved fresh school supplies, new outfits, the change of seasons, and the chance to crack open a new textbook." – Dana Perino
60. "Labor Day is a glorious holiday because your child will be going back to school the next day. It would have been called Independence Day, but that name was already taken." – Bill Dodds
61. Never give up on what you really want to do. The person with big dreams is more powerful than one with all the facts." –Albert Einstein
63. "Develop a passion for learning. If you do, you will never cease to grow." –Anthony J. D'Angelo
"64. School bells are ringing loud and clear; vacation's over, school is here" -Winnifred C Marshal
65. "A new school year means new beginnings, new adventures, new friendships, and new challenges. The slate is clean and anything can happen. " Denise Witmer
66. You have to stay in school. You have to. You have to go to college. You have to get your degree. Because that's the one thing people can't take away from you is your education. And it is worth the investment." – Michelle Obama
67. "Education is what remains after one has forgotten what one has learned in school."- Albert Einstein
68. "School is not the end but only the beginning of an education."- Calvin Coolidge
69. "I believe that education is all about being excited about something. Seeing passion and enthusiasm helps push an educational message." – Steve Irwin
Inspirational First Day of School Quotes For Moms
71. "Education is our passport to the future, for tomorrow belongs to the people who prepare for it today." – Malcolm X
72. "I've always loved the first day of school better than the last day of school. Firsts are best because they are beginnings."- Jenny Han
73. "Nothing is impossible, the word itself says 'I'm possible!''―Audrey Hepburn
74. "School is a building which has four walls with tomorrow inside." ―Lon Watters
75. "In school, you're taught a lesson and then given a test. In life, you're given a test that teaches you a lesson." ―Tom Bodett
76. "Education is the key to unlocking the world, a passport to freedom." – Oprah Winfrey
77. "You're off to great to great places. Today is your first day! Your mountain is waiting, so get on your way!" – Dr. Seuss
78. "Education is not just about going to school and getting a degree. It's about widening your knowledge and absorbing the truth about life." – Shakuntala Devi
79. "The most important day of a person's education is the first day of school, not graduation day"-Harry Wong
80. "I'm not going to school just for the academics. I wanted to share ideas, to be around people who are passionate about learning." – Emma Watson
81. "Education is not preparation for life; education is life itself." – John Dewey
82. "I like a teacher who gives you something to take home to think about besides homework." ―Lily Tomlin
83. "Let us remember: One book, one pen, one child, and one teacher can change the world." ―Malala Yousafzai
84. "Children must be taught how to think, not what to think." ―Margaret Mead
Encouraging Back To School Quotes For Moms and Kids
86. "No matter how you feel, get up, dress up, and show up." – Regina Brett
87. "Be yourself, love yourself no matter what, no matter what anyone tells you. You don't have to try to fit in and be someone that you're not." – Skai Jackson
88. "You learn something every day if you pay attention." ―Ray LeBlond
89. "Some people dream of success, while other people get up every morning and make it happen." ―Waybe Huizenga
90. "Everything you don't know is something you can learn" – Unknown
94. "I'm not telling you it's going to be easy- I'm telling you it's going to be worth it." – Art Williams
95. "Sometimes the bravest thing you can do is just show up" – Unknown
96. "Education is the most powerful weapon which you can use to change the world." – Nelson Mandela
97. "With every book, you go back to school. You become a student. You become an investigative reporter. You spend a little time learning what it's like to live in someone else's shoes."- John Irving
98. "Learn as much as you can while you're young, since life becomes too busy later" – Dana Stewart Scott
99. "If you don't understand, ask questions. If you're uncomfortable about asking questions, say you are uncomfortable about asking questions and then ask anyway." -Chimamanda Ngozi Adichie
100. "Learn to be difficult when it counts. In school as in life, having a reputation for being assertive will help you receive preferential treatment without having to beg or fight for it every time." – Tim Ferriss
101. "All children start their school careers with sparkling imaginations, fertile minds, and a willingness to take risks with what they think." – Ken Robinson
102. "The road to freedom, here and everywhere on earth, begins in the classroom." ―Hubert Humphrey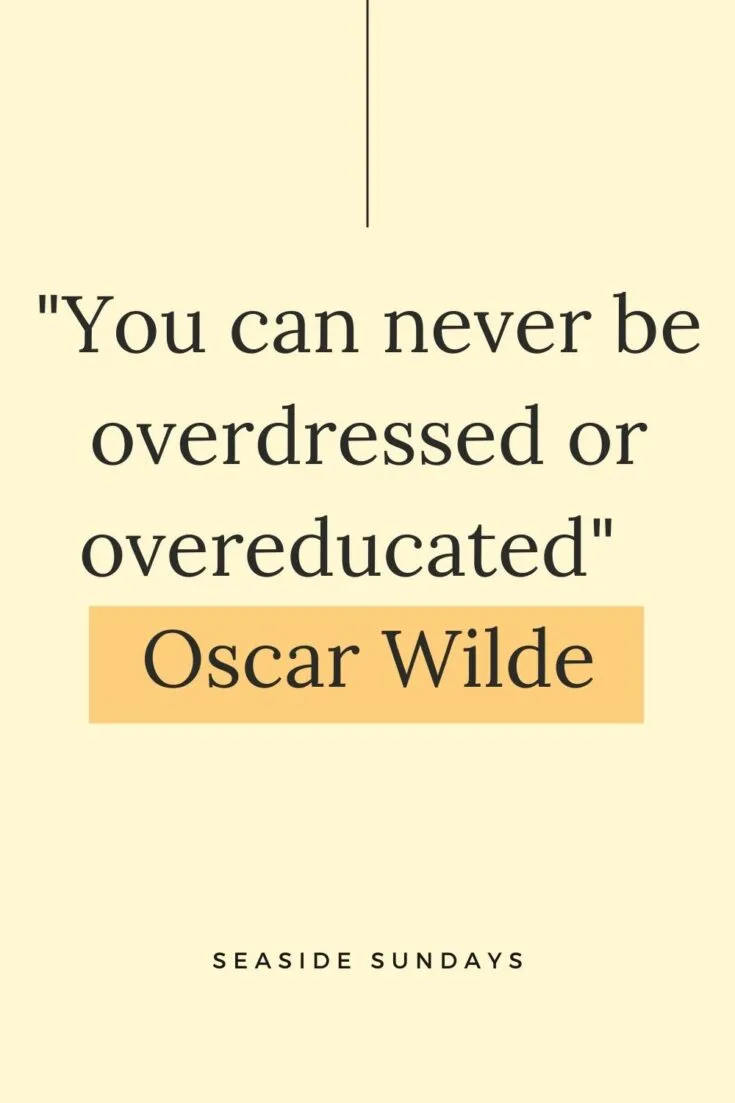 Funny First Day Of School Quotes For Moms
104. "Describing her first day back in grade school after a long absence, a teacher said, It was like trying to hold 35 corks underwater at the same time." – Mark Twain
105. "No school without spectacular eccentrics and crazy hearts is worth attending." – Saul Bellow
106. "As long as teachers give tests, there will always be prayer in schools."- Unknown
107. "Middle school is kind of like Middle-earth. It's a magical journey filled with elves, dwarves, hobbits, queens, kings, and a few corrupt wizards. Word to the wise: pick your traveling companions well. "– Kimberly Dana
108. "School is the easiest job you"ll ever have" -Marty Klazmer
109. "Respect your parents, they passed school without Google" – Unknown
110. "Schoolteachers are not fully appreciated by parents until it rains all day Saturday" -Charles E McKenzie
111. "The most important thing we learn at school is the fact that the most important things can't be learned at school.- Haruki Murakami
112. "But there are advantages to being elected President. The day after I was elected, I had my high school grades classified Top Secret."- Ronald Reagan.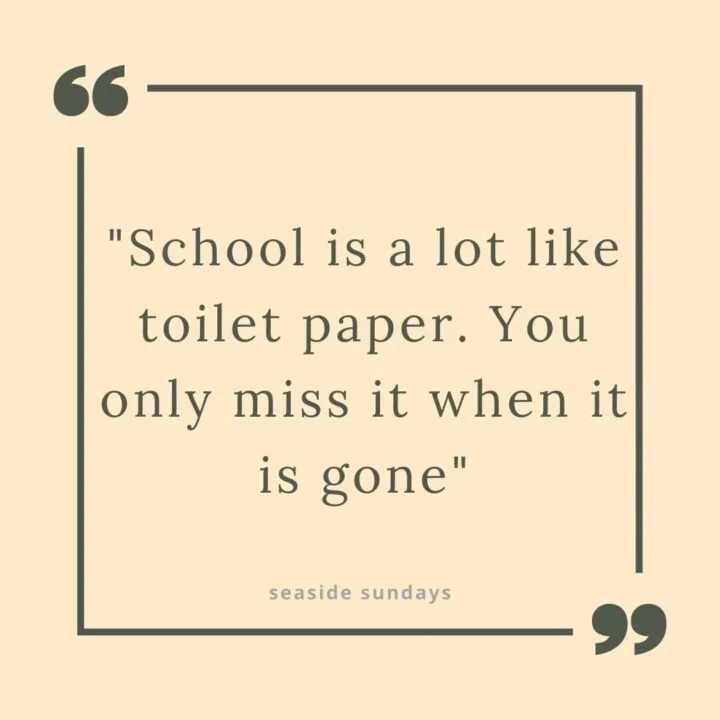 114. "Everyone in our school has after school activities. Mine is going home." – David Levithan
115. "My mom thought I went to school to learn, but I really went to school to irritate my teachers!" – Unknown
116. "In school they told me practice makes perfect. And then they told me nobody's perfect, so then I stopped practicing." – Steven Wright
117. Every year, many, many stupid people graduate from college. And if they can do it, so can you. – John Green
Do you love these first day of school quotes for moms?
Check out our other back to school posts!
First Day Of School Chalkboard Printables
How To Save Money On Back To School Shopping
First Day Of School All About Me Printable Worksheet