Instacart is a revolutionary grocery delivery program that could save you hours each week, and hundreds of dollars on groceries!
I'm really excited that Instacart Canada is here as it means that those of us in the Great White North can take advantage of the grocery savings and convenience that Americans have enjoyed for a few years.
With Fall about to begin and schedules filling up again, it's nice to have one less thing to worry about on my to-do list each week, especially as this is my first year of making school lunches.
RELATED POSTS
30 Clever Ways To Save On Groceries
I was compensated for this post. This post also contains affiliate links and I will be compensated if you make a purchase after clicking on my links. Please read my Disclosure for more information.
How Instacart Works
It's incredibly easy to get started with Instacart:
When you need to get groceries, you simply go to the Instacart website, search for the products you want, add them to your grocery list, and place your order.
An Instacart employee then shops for your items, all while you are getting on with other stuff! While they are shopping, you can chat with them in case they have any questions about your order.
Your groceries are delivered to your door within the time specified when you placed your order. (1 hour is normally the quickest option)
The first time you use Instacart, you need to create an account and type in your zip code or postal code to make sure that it is available in your area. The sign-up process takes less than a minute and it really easy.
How Many Stores Are Available On Instacart?
Instacart is a recent arrival in Canada and not available everywhere yet although I am able to use it in my mid-sized city right now. It is available to 70% of households in the US.
The number of stores available to buy from will depend on where you live. As Instacart Canada is quite new, in my area there is only one store available but luckily, it's my favourite store.
Instacart does work with over 300 different retailers so many areas will have a selection to choose from and the number is constantly growing.
How much does it cost to use Instacart?
Each order made with Instacart has a small delivery fee (unless you sign up for Instacart Express – see below), but it is minimal. The exact amount depends on your order but it is normally around $4-7.
The fee is a delivery charge for the door-to-door service.
What Is Instacart Express?
If you can see yourself using Instacart often, then it is worth signing up for FREE delivery with Express Membership. *Terms apply
Instacart Express is their annual plan where you pay once ($99 in Canada) and then get all your deliveries over $35 for free.
This plan probably works out a lot cheaper if even if you are only using the service once a week.
How Can I Save Money On Groceries With Instacart?
If you are wondering how you can save money on groceries with Instacart adding fees to your bill, imagine how much you can save when you:
Have no opportunity to impulse buy or grab a snack from the coffee bar
Are forced to meal plan each week in order to make your grocery list
Don't need to use gas to get to the store and back
Another feature I like is that you can see your running total as you shop. This way you can make sure to stick to your weekly grocery limit instead of getting a fright at the checkout.
Can I use Coupons On Instacart?
You cannot use physical coupons to save money on Instacart orders but there are online coupons available exclusively to Instacart. To find them, simply select your store and choose "coupons" to see which ones are available.
Other Advantages To Using Instacart
I already mentioned the time-saving factor which of course is huge. If you go shopping once a week, it's probably a 1-2 hour savings right there which is awesome.
If you have little kids, I don't have to tell you how annoying it is to load them up into the car, then into the shopping cart and back again. Even trying to unload all the groceries while they are tearing through the bags trying to find the Goldfish is a pain.
Related Posts
How to Pack Lunches Your Kids Will Actually Eat
How To Save Money At Restaurants
Save the hassle and get the groceries delivered right to your house!
Another huge advantage of Instacart in my opinion is that I don't have to leave the house. Not only is this perfect for new moms who are nursing 24/7 or people who work crazy hours but it is also fantastic for people who live in cold climates.
There is nothing worse than lugging groceries inside in the snow!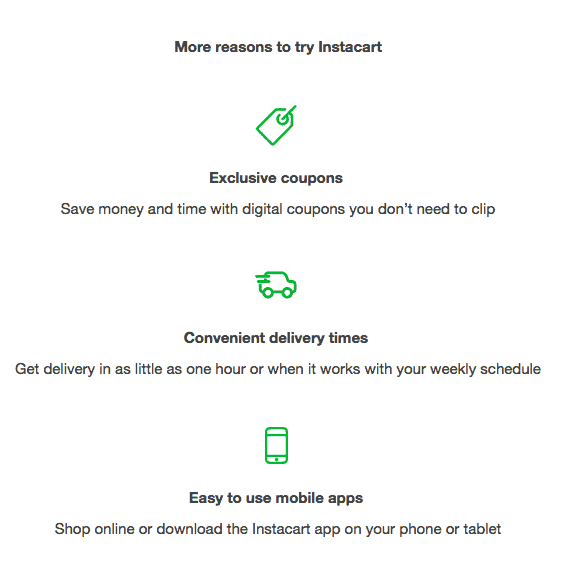 How is the Pricing On Instacart?
When possible, Instacart works with retailers to bring you the same prices as found in the physical store. In some cases prices may be higher than in-store. All prices on Instacart are based on the prices set by the retailer.
You can see the pricing policy for a specific retailer by clicking on the "View Pricing Policy link" at the top of that retailer's storefront. This is what my local store's pricing policy says:
You can see that they do add a mark-up but I have not found it to be that much more than regular pricing. For example, I normally pay $2.97 at Walmart for a bag of Goldfish crackers and they are $2.99 on Instacart. Some items are a little more expensive though.
If you want to try Instacart for yourself, sign up at the link below and see if they are available in your area. You can also get a free trial of Express before you commit:
More Money Saving Ideas
31 Ways to save money and live better
Old school thrift for cleaning and housekeeping
5 Ways I cut my grocery bill in half
10 Things I Stopped Buying to Save Money