Have you noticed that in recent months, your grocery bill is just getting more and more expensive?
Have you wondered if you are just incapable of reducing your spending and just have to accept that rising costs mean a larger bill at the checkout?
Do you think it is impossible to eat well on a budget without couponing or buying less nutritious food for your family?
Good news – It might not be you.
Food is getting insanely expensive.
Over the last year, there have been little increases in all categories and it really is adding up to some tough times for regular households.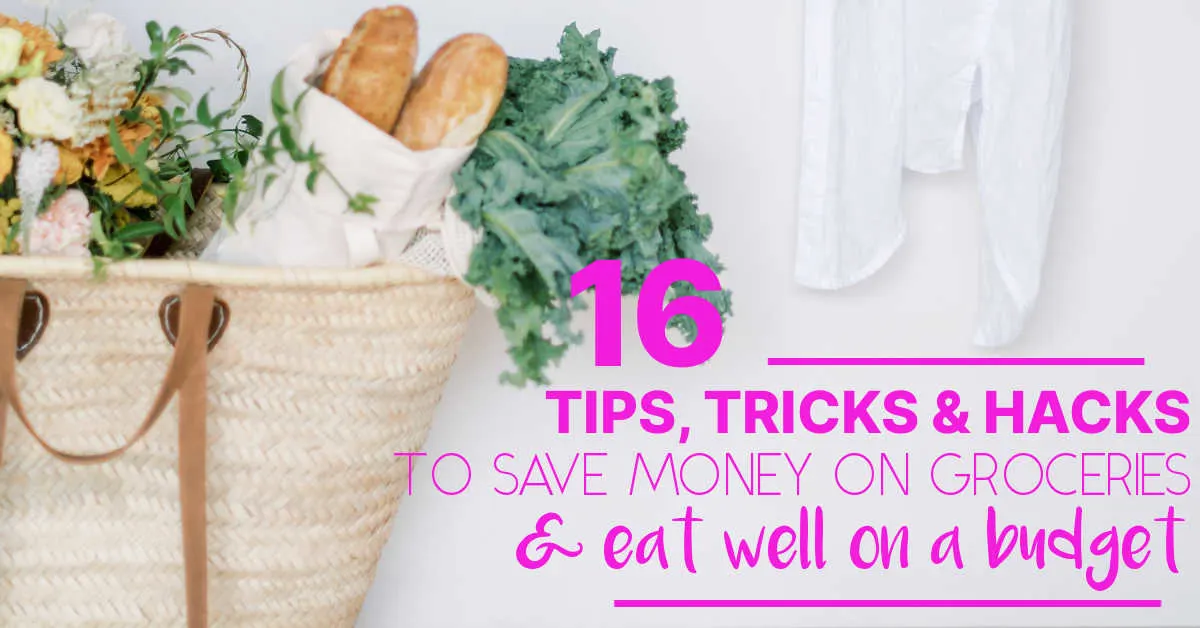 This page contains affiliate links meaning I earn a commission if you use those links. Please read my affiliate disclosure for more information.
MORE BUDGETING TIPS
27 Baby On A Budget Tips -Having A Baby With No Money
10 Tips For Painting On A Budget & Saving Money On Your Reno
How to Eat Well On A Budget
So can you eat well on a budget? It's true that good food is expensive, I mean, even not so good food is pretty pricey nowadays.
There are however some things you can do to ease the pain of rising food costs and eat healthy food while sticking to your budget.
First of all, let's discuss food budgets. Of course every family is different but on average, how much should you be aiming to spend on food?
What does the average family spend on groceries per month?
Statistics Canada data shows that the average family spends around $200 per month per person on food.
Large city dwellers tend to spend a bit more than that, clocking in a over $250 per person/month.
Most financial planners put grocery spending for the average 4 member family to be about $1200 a month.
That works out to be be around $250-300 per week and does not include household spending like cleaning supplies and laundry items.
If you are trying to decide how much to allocate to grocery spending in your budget, the general rule of thumb seems to be around 15% of your gross income.
For example, a family grossing $100,000 year would be budgeting $1250 a month for groceries under the rule.
Of course if you are making considerably less than this, you need to find some ways to cut your grocery budget and still eat well.
It may require a bit of planning and changes but it can definitely be done.
We are a family of four living in very high cost of living area and my goal is always to spend under $120 a week which would bring my monthly total to around $600.
Sometimes I make it and honestly, sometimes I don't but being intentional with my spending has really helped cut my budget and reined in mindless spending at the grocery store.
16 ways to eat well on a budget without sacrificing taste
1. Stretch Your Purchases
One of the best money saving tips I learned for eating on a budget is to make the most out of every item I buy. For example, have roast chicken one night followed by chicken sandwiches and chicken soup the next couple of days to get the most out of it.
2. Try to limit your trips.
Buy only want you need and aim to go once a week for your main shop then one "stock up" shop midweek for milk/fruit if needed.
3. Use frozen veggies for fresh sometimes.
Frozen vegetables are great for a quick meal, especially in the winter when some produce is not great quality anyway.
Frozen berries are fantastic out of season and perfect for smoothies or mixing with yogurt.
4. Buy vegetables that are "in season".
Similarly, when you find a great deal on something, stock up and process yourself (blanch and freeze vegetables and berries to use when they are out of season).
I do this a lot with blueberries that can get really expensive out of season. To avoid them all sticking together, freeze them first on a baking tray before adding to a ziploc bag.
5. Buy meat in bulk rather than in a grocery store
You can save a lot of money by buying your meat from wholesalers or warehouse stores.
Local farms will often sell whole cows and give you a free freezer to store it in.
There are a quite a few companies that offer the same deal near me and I suspect it is pretty common everywhere.
The great thing about the meat from farms is that it is often grass-fed beef and free from anti-biotics.
6. Think outside the box(store)
Look in corner stores or local markets for products such as spices and some produce.
I find some cooking ingredients are much cheaper at the local Asian supermarket near me than in the supermarket plus I normally discover some new things to try too.
7. Reduce food waste
How much food are you throwing away at the end of every week?
One way to work on lowering expenses is to cut the food waste either by buying less or by freezing, canning, or dehydrating things before they go bad.
Take 5 minutes to take stock of your fridge halfway through the week and see what you will use or what could be frozen before it goes bad.
8. Grow your own food
Growing your own fruits and vegetables is definitely one of the best ways to eat well on a budget.
Every May I plant about 6 or 7 tomato plants that cost $2.99 each at the local nursery.
They typically yield enough cherry tomatoes to keep us stocked through the fall plus enough frozen that we often don't need to buy any all year.
In the winter I still like to buy fresh tomatoes for sandwiches but the frozen ones are great in stews and pasta dishes all year long.
Seeds are even cheaper than plants if you want to save even more money.
If you don't want to garden, do you know anyone who does garden and would exchange labor for food?
9. Try Grocery Delivery
I also find that grocery delivery saves me money, even though I have to pay a fee.
I love Amazon Fresh for easy grocery delivery as you can get unlimited groceries deliveries for one flat monthly fee ($10.99 a month for Prime members). Another great option is Instacart.
I find that I avoid impulse purchases when adding things to an online cart, and am better at meal planning around what's on sale.
As I'm not adding things into my cart that I see on end caps or silly things at the checkout, I save money despite the delivery charge.
10. Try cash only
Do you use a debit or credit card when you grocery shop?
Try taking a set amount of cash instead.
Stick to a list and find a way to make the set amount of money work even if it means switching brands or making do without something for another week.
You might want to have your phone or calculator handy for this tip to keep track as you walk through the store!
11. Shop the pantry and freezer before you go to the store
I can't tell you how many times I've accidentally bought something we already had in the freezer.
Another trick is to figure out at least one meal you can make from things you already have rather than buying something new.
12. Make your own frozen meals.
Especially in the winter, its a great idea to spend a Sunday afternoon making freezer meals and stocking up.
Pinterest has tons of ideas for cheap freezer meals you can make in bulk.
13. NOT going to multiple stores.
I find I spend a lot less if I only go to one grocery store.
Multiple stores means more items that might catch my eye and ruin the budget.
Plus, I waste money on gas and it takes up a lot of my time.
The key to using just one store is to find one that will allow you to price match their competitors with the weekly flyer or an app like Flipp.
That way you get the best prices in town in just one store!
14. Make Your Own Granola and Snack bars
When I recently reviewed our grocery budget, I saw that a massive portion of our spending was going to "snack" items like granola bars and toddler snacks like yogurt bites.
The great thing is, you can easily cut those things out from your grocery bill by making your own in minutes.
You can make and freeze huge batches that will last you for weeks.
I now make all of our snack bars and we don't have to buy any granola bars or crackers.
We are saving so much money and it is a lot cheaper and easier on the wallet.
Here are some of my favorite snack bar recipes:
Quick Chocolate Oats Date Energy Bites
15. Learning the sales.
One way to reduce your food shopping bill is by planning ahead and knowing what a "good price" is.
Some people actually keep a little notebook of the best prices for certain pantry basics so they can track and keep an eye out for sales.
I don't do this but I do have a good idea of what is a good price for the things I regularly purchase.
This allows me to stock up and take advantage of low prices.
For example, I know that the big tubs of peanut butter will go down to $2.99 a few times a year.
That works out even cheaper than the off-brand version at my local store so I make sure to stock up whenever that sale comes around.
16. Meal plan around the sales
Build your weekly meal plan based on what's on sale. I like to come up with 4-7 meals for the week ahead, but leave the specific days unplanned.
If the sales are a bit scant one week, dive into your freezer meals and have breakfast for dinner one night for a cheap and delicious meal.
More ways to eat well on a budget:
7 Grocery Apps That Pay You To Shop
31 Clever Ways To Save Money On Groceries
5 Ways To Cut Your Grocery Bill In Half
Start A Blog That Makes Money
Ready to start a blog and make money from home?
In this FREE 5 day email course, I will show you the exact steps I took to take my mom blog from $0 to a consistent $2000 a month within 4 months.