This list of the best online breastfeeding course options may be something you never thought you would need.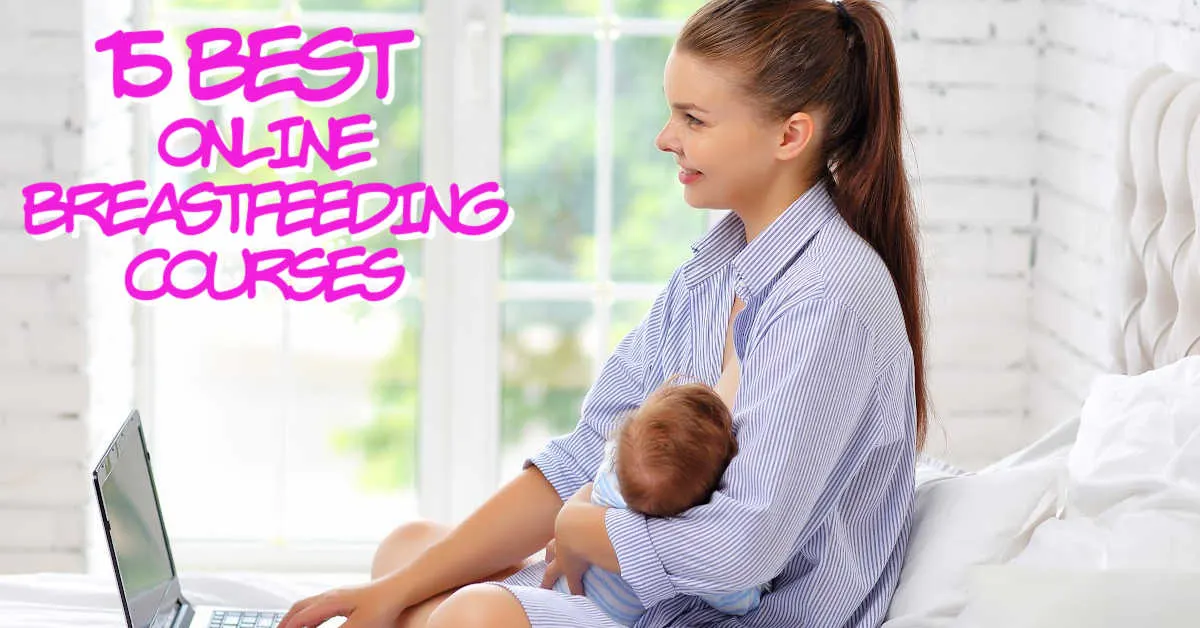 This post contains affiliate links meaning I may make a commission if you click on a link. Please read my Disclosure for more information.
RELATED POSTS
21 Milk Boosting Smoothies For Breastfeeding Moms
12 Breast Pumping Tips For More Milk
25+ Helpful Tips For Exclusive Pumping Success
Why Do I Need A Breastfeeding Class?
It surprises many new parents that something so natural actually needs to be "learned" – both by baby and mom.
Most moms will tell you that breastfeeding is not as easy as it looks, especially in the beginning.
I'm not a breastfeeding expert, but I am a mom who has breastfed her children and who also struggled in the beginning.
I also took an online breastfeeding course to help me feel more confident in my ability to breastfeed my new baby.
If you are a breastfeeding mama who wants to give herself the best chance possible of exclusive breastfeeding, then learning through a course from the comfort of your own home may be what you need.
That's where breastfeeding classes come in.
You can attend a class before you give birth to get an idea what to expect but the best option is to take a class once baby arrived so you can actually "practice" in real time.
Traditionally many prenatal classes featured a component of breastfeeding as part of their curriculum. Today, many moms opt for an online breastfeeding class.
If you're looking to learn everything there is to know about breastfeeding, then you'll want to check out one of the many online breastfeeding courses available.
These courses are offer instruction on all aspects of breastfeeding, from anatomy and physiology to latching and pumping.
Whether you're a new mom or have been breastfeeding for a while, these courses can help you improve your technique and ensure a successful breastfeeding experience.
Benefits Of An Online Breastfeeding Class
Research indicates that mothers who take a breastfeeding course are more likely to breastfeed their children for a longer period of time.
That's why first-time moms should consider taking a breastfeeding course before giving birth (ideally in the third trimester), Such a course can teach you everything you need to know about breastfeeding, from the basics to more advanced topics.
While you can take in person breastfeeding classes through many hospitals and childbirth classes, virtual breastfeeding courses can let you learn at your own pace.
The other thing I like about doing an online course is that you typically get lifetime access to the course materials so you can refer back to them whenever you need a refresher.
Taking a breastfeeding course is an excellent way to ensure that you have all the information you need to make an informed decision about whether or not to breastfeed your child.
Here are the main benefits to taking an online breastfeeding course:
Convenience: It's easier to watch short videos at home that dedicate 3 hours in an afternoon to an in person course.
Cost – in person classes with a certified lactation consultant can be expensive. Online classes give you the same access for a lower price.
Flexibility – online courses are self-paced and on-demand. You can even take the class on your phone while baby is napping on you!
Accessibility – an online breastfeeding class makes it easier for dads to take part too as they can access the course on their own schedule.
Availability – Instead of having to fit a class around your schedule, you can take an online breastfeeding class whenever you want. Also, no need to take copious notes as you can access it again and again if you need a refresher.
How Much Do Online Breastfeeding Classes Cost?
Depending where you live, you may be expecting to pay anything from $0 to $500 for an in-person breastfeeding class.
So how do the online options compare?
The Best Online Breastfeeding course for a first time mom
Below you will find both paid and free options to choose from.
Some are video courses while others are delivered by emails so it is a matter of finding the course that best suits your needs and preferred learning method.
The best classes will help you with:
Latch
Milk Supply
Pumping
Building a Stash
Breastfeeding positions
Troubleshooting
The Best Paid Online Breastfeeding Courses
Even the paid online breastfeeding classes available cost a fraction of the cost of an in person consultation making them a cost-effective way of accessing a certified lactation consultant.
Cost: $27
Taught by Stacey Stewart, a certified lactation coach, the Milkology course takes about 90 minutes to complete and consists of 13 video modules that you can watch on-demand.
This is a complete online breastfeeding class that covers everything new mamas need to know to have the best breastfeeding experience.
This is one of the best online breastfeeding course options to help you achieve your breastfeeding goals on a budget.
Here are some of the modules included in the course:
The properties of breast milk explained
Master your milk supply (not having enough milk is the number one reason that women stop breastfeeding before they want to)
Latching and positioning – how to get a good latch from the get-go.
Expression and storage – tips for building a freezer stash
Diaper output and weight
The course also comes with 3 exclusive bonuses that are great additions to the course and make the $19 really good value:
Ultimate Trouble-shooting guide – a PDF guide to common breastfeeding hurdles and what to do to overcome these common challenges.
Class Notes – an outline of everything in the videos that's perfect to print out and keep for quick reference
The Little Black Book Of Breastfeeding Secrets ebook
Milkology FAQs
How long is Milkology course?
The course consists of 13 videos that will take you around 90 minutes to watch back to back.
You can stop and go back to the course at your own pace making it a great option for busy pregnant moms!
Is the Milkology class worth it?
If you are looking for a price-friendly breastfeeding course that covers everything you need to know, Milkology is your best bet. It doesn't cost much money and acts as an online support group for breastfeeding moms.
Cost: $97
This online breastfeeding course is taught by a certified lactation educator, Lindsey Shipley and is one of the more popular online courses available.
In addition, you can also schedule an in person or e-consult if you need more help.
The course is delivered via video lessons and photos and takes about 70 minutes to complete.
Lactation Link is a comprehensive course that covers everything a breastfeeding mom needs to know.
Topics covered in Breastfeeding Basics include:
12 Benefits for mom and baby
Anatomy and Physiology of Breastfeeding
Breastmilk Composition
Let Down Reflex
Kangaroo Mother Care
Latch
Positioning
Hand Expression
Frequency Feeding
Nipple Care
What to do when baby won't latch
Hunger Cues
The Pumping Classes For Nursing Moms
If you need to pump either for going back to work or to build a freezer stash, it can help to take an online course that will help you maximize your milk production.
As an exclusive pumping mom myself, I know how important a support network is when you are managing pumping in addition to caring for a little one.
By the way, if you are planning on pumping, make sure to check out my list of the best hands free bras for pumping.
And make sure to download my Free Printable Pumping At Work Signs For The Door.
Here are my favorite online course for pumping moms:
Cost: $27
Going back to work can be really daunting if you need to pump and maintain your supply so it is a good idea to learn best practices before your maternity leave is over.
This online pumping course was created by a lactation counselor and just what you need to feel confident about your returm to work.
In the course, you will learn:
How to choose the perfect pump for you
How to pump like a pro
Tips for milk storage at work
Building a freezer stash
Increasing and protecting your milk supply
This is a video course with 13 modules that can be completed in about 45 minutes.
Course bonuses:
You'll also get some great extras when you buy this course, including:
Pro Pumping tips ebook
Quick reference class notes
Bonus video ""What to Do if You're Not Pumping Enough"
Cost: $27
If you are dealing with painful breastfeeding or latch issues, you may be considering exclusive pumping.
As you only have a small window of time to master this before your supply dries up after you stop breastfeeding, an online course can be great.
In this course by Milkology, you will learn the following in 11 video modules:
The biggest secret to exclusive pumping success
2 simple strategies to maximize your output
Exactly how often and how long you'll need to pump
The most effective ways to store milk
Tips to stay sane when the pump is driving you crazy
You can watch the videos in about 90 minutes making a great option that you can quickly binge-watch.
Cost $19
This short online course covers the common problem that women face with pumping from low milk supply to feeling like a slave to the pump.
It is the perfect mini course if you are nursing your first baby and want some help with the pumping aspect of things.
A powerful strategy that can double how many ounces you pump
The most effective method to increase milk supply quickly
A simple way to ensure you don't fly through your freezer stash
Exactly what to eat to maximize your milk supply
The biggest mistake women make that can sabotage their pumping output
In my opinion, the best thing about this course are the extras that come with it, including:
A printable PDF containing bottle feeding tips, the paced bottle feeding method + breast milk storage guidelines so that no liquid gold gets wasted
Lactation super foods recipe book
Printable pumping affirmations
"Hack The Breast Pump" ebook to help you get the most milk from your pump.
Free Online Breastfeeding Courses
If you are looking for a free breastfeeding training course, you are in luck!
There are several available to new moms whether you are in the the US, Canada or anywhere else in the World.
The popular nursing moms support site also has some one of the best free online breastfeeding classes that you can take.
Free 5 Day Breastfeeding course
This course will be delivered directly to your inbox and will teach you:
what to expect in the early days
where to find a super support team
how to prepare during pregnancy
where to reach out for help
how to make plenty of milk for your baby
and much, much more!
For an introduction to breastfeeding, consider signing up for the free email course provided by Lactation Link (who also offer the paid course above).
Over 6 days, you will receive info-packed emails to get you started the right way on your breastfeeding journey.
Breastfeeding Housecalls is a lactation consultancy based in San Antonio, Texas and they offer this free online breastfeeding course to anyone who wants to join.
Topics covered include:
1. Preparing for Birth
2. Anatomy & Physiology of the Breast
3. Breastfeeding Management
4. Programming Your Milk Supply
5. Positioning & Latch
6. The First Days
7. The First Weeks
8. When to Seek Help
9. How to Wean
You probably know Medela for their best-selling line of breast pumps and bottles. (As a side note, they have the best customer service I've ever experienced!).
In addition to their products, they also offer free breastfeeding courses at their "Breastfeeding University".
In their "All About Breastfeeding" course, you will learn the following:
Making the Decision on How to Feed Your Baby
The Breastfeeding Lifestyle
Preparation for Breastfeeding
How Breastfeeding Works
Beginning Breastfeeding
Life With a Breastfed Baby
Overcoming Possible Breastfeeding Difficulties
Special Situations
They also have many other courses and videos about pumping and breastfeeding.
This prestigious American University offers a free online breastfeeding course that is open to anyone.
Stanford's short course consists of 9 videos plus a quiz and takes around 2 hours to complete.
Syllabus
How Does Breastfeeding Work?
The Benefits of Breastfeeding
Challenges New Mothers Face
The Recommendations
What Happened to the Practice of Breastfeeding?
Unsafe Feeding Practices
Tips for Working Mothers
When It's Not Possible to Breastfeed
This is an online breastfeeding course for Canadians created with funds from the Government of Ontario.
It is aimed at health workers in Canada but is also available to the general public.
The focus is on breastfeeding and the baby friendly initiative adopted by many governments and health care providers.
Topics include:
Good reasons to breastfeed
Barriers to breastfeed
Breastfeeding basics
Informed decision making
This free course is great for anyone who wants a comprehensive education on everything childbirth and breastfeeding.
The class does state that it is only free for a limited time but for now there is no charge to take it.
What you'll learn
Breastfeeding Beginnings: What to Expect in the First 30 Days
Common Breastfeeding Challenges: Sore Nipples, Clogged Ducts, and Engorgement
How to Tell if Your Baby is Getting Enough Breast Milk
Pumping and Building a Stash: Storing and Using Breast Milk
How to Increase your Breast Milk Supply
LLLC has long been the gold standard in educating women about breastfeeding and is a great place to find support. Although many courses are held in person, in recent years there has been a move to online education too and you can find that many chapters of La Leche league also host virtual classes.
Online Breastfeeding Courses : FAQS
What do you learn in an online breastfeeding class?
There are many different types of online breastfeeding courses available, but most of them have a few things in common.
They typically cover the basics of latching on and feeding, how to deal with common problems, and how to increase your milk supply.
Some courses also teach you about the benefits of breastfeeding for both mom and baby, and how to continue breastfeeding once you go back to work.
When should you take an online breastfeeding class?
Most classes recommend that pregnant women take these courses during their third trimester.
Although you can wait until your baby is born to see if you need the extra help, it can be easier to absorb the information without a newborn clinging to you and screaming for food!
What should you look for in a good online breastfeeding course?
The best way to find a great class is by looking at the ones on this list which are all tried and tested.
Make sure any course you take is run by an International Board certified lactation consultant and also make sure to check with your healthcare provider if you have any breastfeeding issues.
While breastfeeding is a natural process, it can be tricky to learn and in the early days, your baby needs to consistently gain weight so it is important that they get enough milk.
More Breastfeeding Tips
12 Breast Pumping Tips For More Milk
25+ Helpful Tips For Exclusive Pumping Success
Like This Post? Pin it!