I'm going to let you into a secret, pumping milk can actually be kind of fun! The key is finding the right breast pump bra for your body.
The right pumping bra will help you pump more milk while keeping your hands-free.
Many of us who breastfeed soon realize that we need to add pumping into the mix.
Maybe you are building a freezer stash before you head back to work or maybe you are exclusive pumping.
One of the worst things I found with pumping was that it was time-consuming.
It's fine at the beginning because it is nice to have an excuse just to mess about on Instagram with no guilt but eventually it wears thin, especially if you are both breastfeeding and pumping.
At the beginning you could be spending hours a day on milk production.
A breast pump bra is a Godsend for pumping moms.
It allows you to pump hands-free so you can get on with life. I have made dinner, cleaned the house, even driven through the McDonald's drive-thru, all while pumping.
Below are the top breastpumping bras, all available online.
This post may contains affiliate links. Please read my Disclosure for more information.
MORE BREASTFEEDING TIPS
Are Pumping Bras Worth it?
First of all, do you really need a pumping bra?
To be honest, if you plan on breastfeeding exclusively and only pumping rarely then you could likely get away with a few good nursing bras.
With my first baby, I only pumped a few times to build a freezer stash so I didn't worry about pumping too much.
However, I exclusively pumped for six months with my second daughter and my breast pump bra was a lifesaver.
I also still pumped after I went back to work and it was handy to be able to pump in the office and keep working (us ladies do love to multi-task, what can I say!).
If you plan on pumping often or when you go back to work, it is definitely worth investing in a pumping bra, they are not too expensive and will make your experience so much easier.
And make sure to download my Free Printable Pumping At Work Signs For The Door so no one disturbs you!
What's The Difference Between A Nursing Bra and A Pumping Bra?
A nursing bra is like a regular bra that opens in the front to allow your baby easy access without you having to life your bra up every time you need to feed.
You can get all kinds of nursing bras and most are like these bestselling ones from Amazon. (15,000 amazing reviews) They are soft, comfortable and come in basic colors.
If you are missing those pretty Victoria's Secret bras, the best padded push up nursing bra is this one. It comes in 6 different colors and gets fantastic reviews.
A pumping bra, on the other hand is especially create to hold a breast pump.
It has holes that hold the flanges (the funnels) of the breast pump in place so that you can go about your day hands free.
Many women wear their nursing bra every day and put the breast pump bra on over top when it is time to pump.
The bestselling pumping bra on Amazon is the Simple Wishes Signature Hands Free Pumping Bra.
The Best Breast Pump Bra For Every Mom
Best Overall Hands Free Pumping Bra
As I mentioned above, the Simple Wishes breast pump bra is the gold standard in pumping bras.
It gets amazing reviews online and is well-priced.
It's is also one of the best pumping bras for small breasts as the XS/S/M size fits a wide range of bra sizes from 30AA to 34J. Between the extra zippered piece and the extenders this really fits all sizes.
This pumping bra comes strapless and with straps in a little bag and a middle panel to attach to the middle of the bra if your boobs are set a little further apart.
It is fastened by zip in the front and is made of soft fabric.
The Simple Wishes pumping bra is compatible with all the most popular breast pumps like the Ameda MYA and the Medala Freestyle.
The Clip and Pump is a bit of a different breast pump bra because was designed to securely attach to a Bravado Nursing Bra's B clips.
It can be used with other nursing bra bands, but it might not fit as securely as it would with a Bravado Bra.
Women love this bra because it saves them having to put on a whole new bra when it is time to pump.
It is also one of the best pumping bras for large breasts and available up to a G cup.

If you want to try hands-free pumping, the Medela's Easy Expression Bustier, makes it simple and convenient – plus it has a secure fit for added confidence.
This is a completely strapless pumping bra that fits the Medela breast pumps (which are the bestselling pumps in the World). It may also fit other breast pumps but you might be better with one of the pumping bras above.

The Rumina pumping bra allows pumping or nursing and functions as a wearable bra as well.
This bra is a racer back so it is more like a sports bra than a regular bra.
It is well priced and has great reviews but is most suited to women with smaller breasts as the support might not be enough for larger breasted women.
If you are looking for a nursing bra that doubles as a pumping bra, then this is a good option.

The Momcozy Nursing and Pumping Bra is another double duty bra, it can be used for breastfeeding, pumping or both together.
It gives breastfeeding mothers the freedom to go about their routine while pumping.
Again, this might not be your first choice if you plan on pumping a lot but will work for those who are primarily breastfeeding. It is also one of the most cost-effective pumping bras on the market.

You do NOT need to spend a fortune on nursing/pumping bras, especially when you can find one that does BOTH.
The Lupantte is another breast pump bra that doubles as a nursing bra.
To note: there's no padding in this bra, your breast pads may show through with thin t-shirts.
It works well with milk savers such as Haakaa Breast Shells.

If you prefer to wear a tank, then this all-in-one is for you. It has a built in pumping bra so that you can pump hand-free at ease.
Note that this is for smaller breasted women as it is only suitable for sizes up to a 40C.

Hands-Free Pumping Bra DIY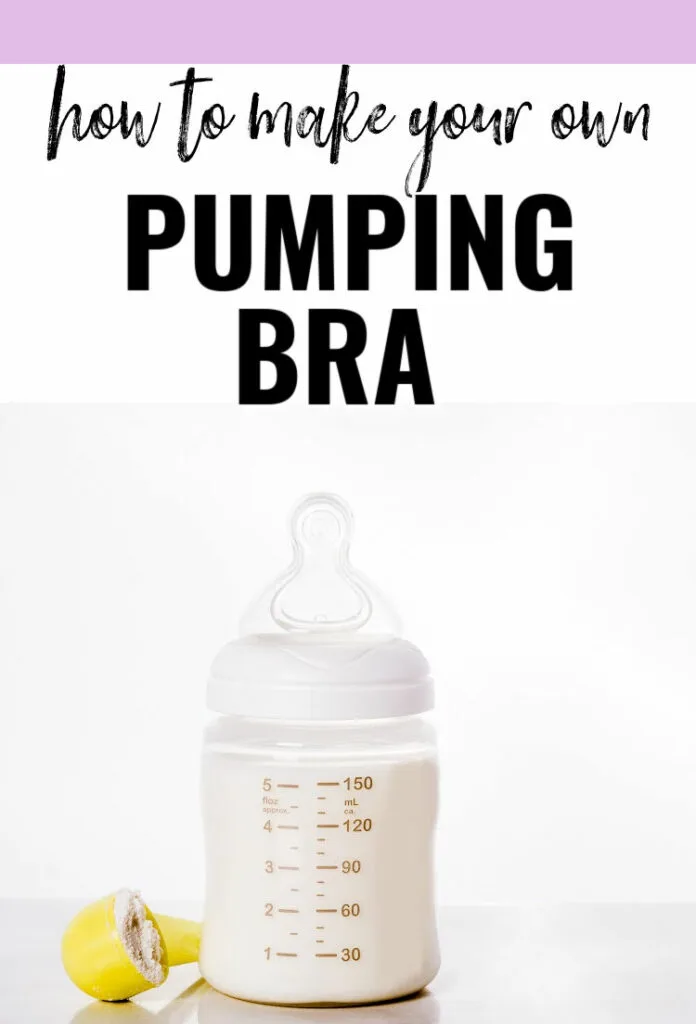 For those of you on an extremely tight budget, you can make your own pumping bra
pretty easily.
Now, I will say that if you are exclusively pumping, this might not be enough for you but for the infrequent pumper, a DIY breastpump bra is a great option.
How to make your own pumping bra
First you need a good supportive bra that is comfortable. A sports bra works well, personally I used a seamless wire-free bra like this one.
To turn your bra into a pumping bra, simply cut small holes in the bra in the same position as your nipples.
Make sure not to cut the holes too large.
You want your breast pump flanges to fit tightly so that you can securely be hands-free.
If you use your DIY bra often you might find the holes stretch out a bit after a while so have a back-up ready to go.

More Breastfeeding Tips
How To Find The Perfect Online Breastfeeding Course
12 Breast Pumping Tips For More Milk
25+ Helpful Tips For Exclusive Pumping Success