If you are just starting out with affiliate marketing, you may have noticed that most networks pay either by PayPal or direct deposit.
This works great for some of the affiliate networks such as MaxBounty as you can sign up for PayPal and link your bank information and get paid with no fees.
However, there are certain programs that do not use PayPal as the fees are pretty high. There are also some countries that are not supported by PayPal so it is not even an option.
RELATED: The best affiliate networks that accept new bloggers
This page contains affiliate links meaning I earn a commission if you use those links. Please read my Disclosure for more information.
Direct deposit is great but what if you don't have a bank account or the affiliate network won't let you use an out-of-country account?
One of the biggest affiliate networks for bloggers and online marketers is Amazon Associates but they do not use PayPal and if you are not based in the USA, you cannot get direct deposit.
I live in Canada and this is what I see on my Amazon Associates account "Direct deposit is not available for international associates".
When I first signed up with Amazon Associates, I found that my only options for payment were an Amazon.com gift card (useless to me as I live in Canada) or payment by check but the threshold is $100 which and I would need to pay the USD check into my Canadian bank account.
There is no way to add a bank account for direct deposit unless it is a physical US bank account, even the US dollar back account I have with a Canadian bank was not accepted.
Luckily, there is an easy solution to this issue – Payoneer.
What is Payoneer?
Payoneer is a New York based online payment solution that enables businesses and professionals from more than 200 countries to grow globally by facilitating easy, low-fee cross-border payments.
How Payoneer works
Payoneer allows you to get paid in USD, EUR, GBP, JPY & CNY* – as if you had your own local bank account. Once you have opened up an account with Payoneer, you can choose the currency you want and they will provide you with your own bank account and routing numbers just as though you had a physical account in that country!
You can also use their Amazon store manager to connect your Amazon stores and get automatic payments.
Why would I sign up for Payoneer?
There are tons of ways to make the most of your free Payoneer account:
Get paid from affiliate networks like shareasale.com and Impact Radius who use direct deposit.
Add Payoneer partner networks like CJ and Rakuten to your marketplace for easy payments
Join the Amazon One Link program to get sales from countries other than your own and get paid in cash rather than gift cards.
Receive payments from sites like Fiverr, Airbnb and Upwork.
Sell your own products and save on transaction fees
Is Payoneer Legit?
If you are wondering how safe it is to sign up for Payoneer, I can tell you that I've personally been using their bank accounts for at least a year.
Each month I use Payoneer to receive my Amazon Associates payments each month and have found them to be helpful, professional and reliable.
Available in over 200 countries
Bank accounts and payments in more than 150 currencies including GBP, USD and EURO
24/7 support
35 languages supported
Over 4 million users Worldwide
How to sign up for Payoneer
1. Head over to payoneer.com and complete your details in the "sign up" tab.
Fill out all of the information including your passport number or government id. Next input the details of your own bank account (where you want the money to end up).
2. To get your bank account details for different currencies:
Click on "Receive" and then "Global Payment Services" (arrow 1).
Choose the currency you need (arrow 2). The bank account information will populate on the right as you can see below.

3. Provide the merchant (eg. Amazon Associates) with the banking information just as if you had walked into a bank in the US and opened an account.
4. You will get an email as soon as money is transferred into one of your accounts.
5. You can immediately transfer the funds to your own bank account for a low fee.
What are the costs involved in signing up for Payoneer?
It is free to sign up for Payoneer and receive money via most foreign bank accounts.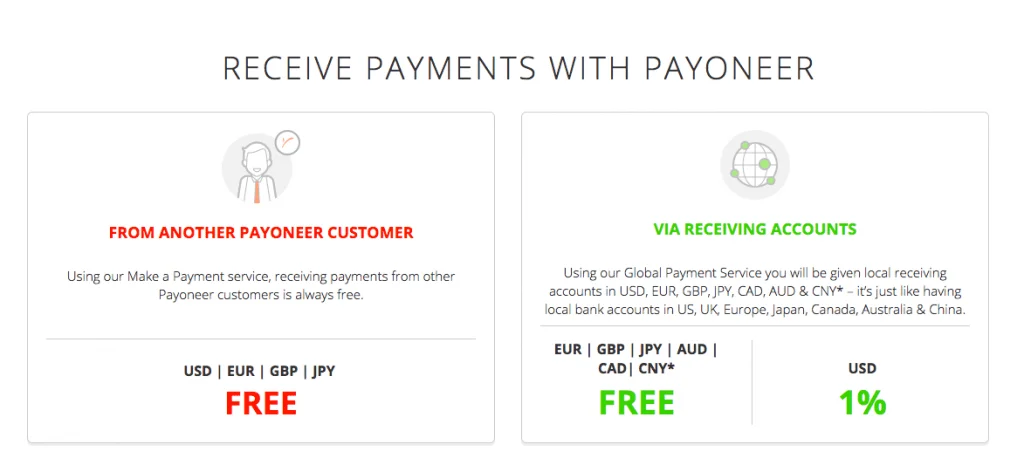 It is free to receive payments in EUR, GBP, CAD, AUD JPY, and CNY.
Receiving payments in USD (eg. for Canadians using Amazon.com links) has a fee of 1%.
It costs 2% to transfer money to your own bank account if it is in a different currency.
If you are working for a service like Fiverr or Airbnb, you can also receive money for free and if you are selling a product, you can get paid by your customers for a 3% fee.
More Blogging Tips
25 Fantastic Places to Promote Your Blog For Free
How to Make Money With Affiliate Links On Pinterest
Create The Perfect Pin In Minutes!
Subscribe to get my FREE ebook on creating a pin that gets noticed and brings you traffic.