This peppermint playdough recipe can be made in minutes and will fill your home with a wonderful minty smell that is just like candy canes.
If you want to make your own all natural peppermint scented playdough, look no further than this easy, fool-proof recipe.
Homemade playdough is one of the easiest crafts to do with your kids. It doesn't take long at all (around 5 minutes) and it will keep your kids occupied for hours.
Other than the stovetop part of this recipe, your kids can help make this playdough which makes it a great rainy day activity.
Read on for the recipe and all the details
This post contains affiliate links. Please read my Disclosure for more information.
RELATED POSTS
Peppermint Playdough Recipe
This play dough has an amazing scent that smells just like candy canes! It is perfect for daycares and preschools because it is safe and edible (although it won't taste great because of the salt).
Kids of all ages love to play with playdough because it is so versatile. Its also a really frugal activity that you can do at home. Most of the ingredients are probably on hand at your house so you can whip up a batch of this stuff really quickly.
It's made with peppermint essence so it smells amazing and will make your home smell great.
It takes around 5 minutes to make this candy cane scented playdough and then a few more minutes of cooling before it is ready to use.
One batch is enough for two children to play with so you can double or triple the recipe as needed for more children.
How To Make This Mint Playdough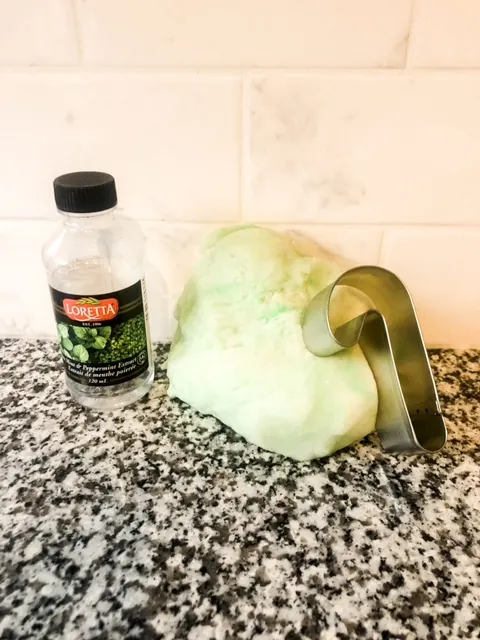 Gather all your ingredients beforehand as well as a saucepan and a wooden spoon or spatula.
You will need:
5-10 drops of peppermint essential oil or peppermint essence
1 cup of flour (with a little extra in case need later)
2 teaspoons of cream of tartar (I found this in my local bulk food store)
1/2 Cup of Salt
1 cups of water
A tablespoon of Vegetable or canola oil
Green food coloring – (optional but it gives a wonderful minty hue)
NOTES: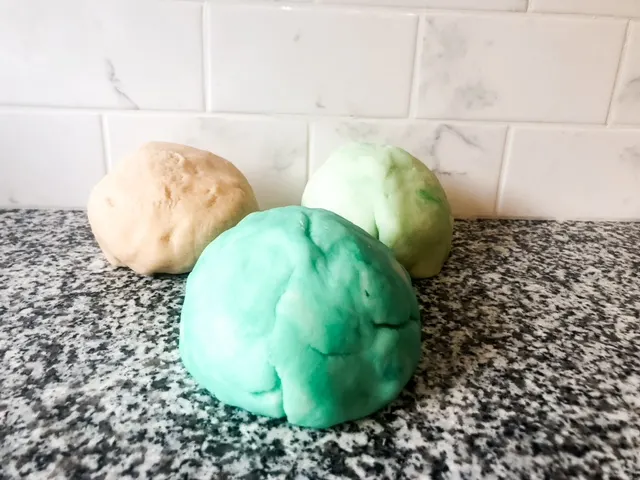 You can make this playdough completely natural by using spinach water to get the green color or leave it without any colors too. I used 5 drops of green to get the light green color.
To make the teal color shown in the photos, use 20 drops of green and 10 drops of blue food coloring. (the brown playdough in the picture is my Gingerbread Playdough recipe.
Use peppermint essential oil or peppermint essence to give this playdough a wonderfully minty scent
Directions For Making Peppermint Playdough
Place all the ingredients into the saucepan and mix well

Place on a stovetop on a medium/low heat and start stirring continuously.

Continue to stir for around 5 minutes

Gradually the playdough will become thicker and start to be less sticky on the bottom of the pan

Create a ball of playdough in the pan with your spoon and cook for another minute or so, turning every once in a while.

Remove from the heat and place on a plate.

Knead into a ball and cover in plastic wrap. Leave to cool
Store you playdough in an airtight container and it should last for a few months. Make sure to put it away immediately after use to prevent any drying out.
Tools For Playing With Mint Playdough
This peppermint playdough recipe is a fun activity for kids that doubles as an educational tool. Get your children to practice numbers, cutting and rolling with the playdough to help their fine motor skills.
Here are some of the tools I like to use with my playdough recipes:
Peppermint Playdough Recipe Play Starters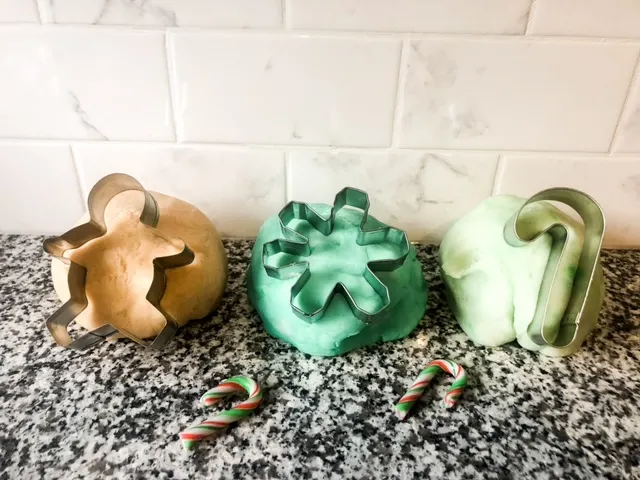 Some fun ideas for using your mint playdough:
Make candy canes
Go on a nature walk and add in acorns, stones and leaves to your playdough
Make balls of different sizes
Use cupcake liners to make "cupcakes" and decorate them
Peppermint Playdough Recipe- Final Thoughts
This homemade peppermint playdough recipe is the perfect at-home activity that will keep the kids busy for hours.
Experiment with different colors and flavors and you will have many new versions of this minty playdough recipe.
Here are a few of my favorites:
How To Make Gingerbread Playdough {Free Printable Gingerbread Man Playdough Mats}
Easy Pumpkin Spice Playdough Recipe