Pinterest is a social media platform that can drive massive traffic to your blog but it is ever changing. That's why we need to revise our Pinterest Growth Strategy for 2023 and beyond.
In the last two years, Pinterest has grown exponentially (there are currently 478 registered users) but it has also made some major shifts to video pins, shoppable pins and more.
So what does this mean for bloggers who want to get traffic to their blogs from Pinterest?
In this article, we will look at the top tactics I employ to keep my Pinterest on track through the new year and beyond.
Including:
What still works
What's working now
What no longer works
Are group boards obsolete?
Should you use a scheduler?
Do idea pins grow your blog traffic?
Do these tactics guarantee success? Unfortunately there is no Pinterest "expert" around that can promise you amazing results and traffic. It just doesn't work that way.
I've seen way too many upset people on Facebook complaining about how much money they gave a Pinterest strategist only to have their account tank.
The tips in the post below are common sense strategies that have worked and continue to work on my own blogs.
Hopefully they give you some great ideas of what you do if your account is tanking or feeling stagnant.
This post may contain affiliate links. Please read my Affiliate Disclosure for more information
Pinterest Growth Strategy 2023
The basis of my Pinterest Growth strategy is based on what I see working on my own blogs.
I have blogs in all the major niches (food, DIY, lifestyle and fashion) and I can see what is working for all of them and what seems to only work for certain niches.
The main things I do that are working across all my blogs are:
Pinning frequently
Reviving old pins
Using a personal Pinterest account
Using photo only pins
Taking process photos
Using unique images
Adding pins to Tailwind Communities
My personal Pinterest strategy has changed a lot since I started blogging in 2017 and I expect it to continue to evolve as the platform changes too.
That being said, there are some things that still work on Pinterest.
If you want to grow your Pinterest in 2023, there are some basic things you need to do:
Create quality content on Pinterest by pinning great photos and infographics
Use boards with topics related to your niche that have great keywords
Make sure your website is claimed (with a little green tick next to it on your profile)
You probably know that but it is worth repeating.
Spend some time on Pinterest as a user and see what pins catch your eye and dissect why.
Use those pins for inspiration for your own Pinterest account.
Now Let's look at what is working on Pinterest right now
Your Pinterest Growth Strategy For 2022
Pin new pins at least 5 times a week
Even if you only publish 1 new post a week, try and stay active on Pinterest with at least a few fresh pins every week.
Revive old popular pins
While repinning the same pin over and over doesn't seem to work, I have had great success by zooming in the photo or changing the font of a popular pin and then republishing it as fresh.
Pin from your blog to your personal account
This is one of the most important things I do and I think it really helps. First, you need a personal Pinterest account that is not related to your blog.
Take some time once a week to pin directly from your blog to well-keyworded boards on your personal account.
I also repin directly from the Pinterest feed if my pins pop up.
Add pins without text
This is especially important if you are in the food or DIY niche and don't use stock photos.
If you look in the feed for those topics, lots of the top posts are simply pictures with no text overlay.
The best way to do this is create a pin sized image with no text and add it to your post.
Then add text to the same image and you have two quick and easy pins in no time!
Use Process Photos
Again, this for people who write how to posts like recipes. Use a pin template to make a collage of your process for making the recipe or DIY.
These seem to do really well and to be honest, I find myself pinning them myself quite often.
Your pin doesn't have to be detailed but it gives people an idea of the steps involved.
If you want to see a case study from someone who grew their brand new blog to over 30K page views from Pinterest in just a few months in 2021, I highly recommend you watch the Pinterest niche site deep dive.
In the deep dive (a 50 minutes video), you will be taken step by step through exactly how one blogger grew her niche site on Pinterest without paying for ads or fancy products. I found it really useful and packed with tips.
Use Original Images
I've always used a bunch of stock photos in my blogs but I recently started using original photos and they are definitely doing better than the recycled stock images.
Here are the stats for one of my brand new blogs that only uses original photos (DIY niche):
The drop you see is because of Halloween being over (sad but still up!).
Use Tailwind Communities
Tailwind Communities are a free feature of the Tailwind pin scheduler and honestly, if you are not using them, you are missing out.
Here is my traffic for the last 30 days just from Tailwind communities (Google Analytics still called them Tribes):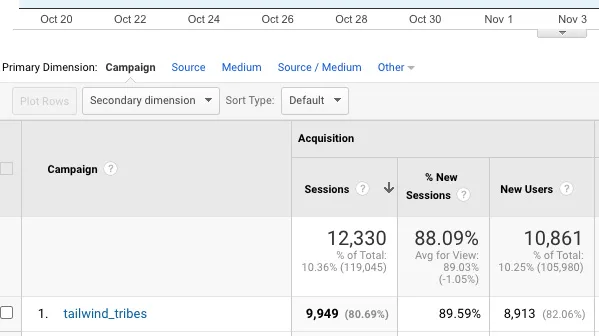 Want to know how I use Tailwind communities for 10,000 page views a month? Here is my full step by step tutorial.
What no longer works on Pinterest
Spamming the site with 100 pins a day. 5 max a day is my ballpark
Pinning from the same URL every day. I leave a 5-7 day gap between repins even if the image is different
Not being unique
The last thing that is not working on Pinterest is the most important. It used to be that you could look at what was at the top of the Pinterest search results and then use it as inspiration for your own pins.
Now the best way to grow your Pinterest traffic is to tap into keywords that are underserved or trending.
If you want to see what is trending you can use a software such as Pin Inspector or you can keep an eye on what Pinterest says is trending in their Pinterest business insights.
Once you see what is trending, you need to develop the trend to make it your own so that your pins get seen.
Here is an example from Pinterest about a trend from 2021:
Movie night at home is the example.
This term was trending elsewhere on the internet, as a way for people to amp up their date night during the pandemic.
Smart creators developed it into a larger trend to fit their niches:
People are bringing movie night aesthetics into other realms of their lives: Movie night pops in searches for home decor (Movie night sign), outfits (Movie night outfit comfy) and even recipes (Movie night snack board).
Are group boards obsolete?
No. I have found that niche Pinterest group boards are still bringing me a lot of traffic.
Catch-all group boards are not really doing anything, no matter how many followers they have.
My advice is to curate your group boards to just one or two really powerful ones per blog topic.
You can read more about how to use, find and grow with Pinterest group boards here.
Should you use a scheduler?
The jury is really out with this one. I have two blogs using a scheduler (Tailwind) and two blogs that are only using the Pinterest native scheduler.
The truth is, all four blogs are growing with Pinterest traffic.
I honestly don't think a Pinterest scheduler makes or breaks your traffic so you can save yourself the money if you need to and just use the free Tailwind communities.
I do however repin my pins either manually or with the Pinterest native scheduler.
Despite what Pinterest says, I am seeing blog traffic to posts where I have repinned the same pin to different boards multiple times over the period of about 6 weeks.
Stats for a blog that is not using a scheduler
Do idea and story pins grow your blog traffic?
Idea pins are good to increase impressions on specific boards but they won't necessarily bring you traffic in the way static pins do because you can't actually click them very easily.
Personally I do not bother with them although that might change.
The other great idea is video pins, they get lots of saves plus some clicks.
Pinterest Growth Strategy For 2022 – Final Thoughts
Remember, on Pinterest pins must be aesthetically appealing and in line with the trending topics.
Pinterest reward those accounts who spend time on their platform like a normal user and don't try to game the system.
If you want to boost your overall traffic from all channels, I highly recommend the books by Lena Gott, click here to read my Traffic Transformation Review.
More Pinterest Tips
9 Simple Ways To Improve Your Pinterest Game Quickly
How To Make Money With Affiliate Links On Pinterest
How To Get Traffic To Your Blog For The Holidays (Free Printable)
Create The Perfect Pin In Minutes!
Subscribe to get my FREE ebook on creating a pin that gets noticed and brings you traffic.