If the weather hasn't already turned frightful in your neck of the woods, consider heading outside for a fun Christmas scavenger hunt. It's the perfect way to engage the children in a fun outdoor activity this holiday season.
Enjoy strolling the neighbourhood and checking out all the cool displays that are put up while checking off everything on your scavenger hunt list. If it is a bit too cold to head out on foot, you can also do this scavenger hunt from the comfort of your car with a cup of hot chocolate in hand.
This free printable Christmas  scavenger hunt is perfect for church groups, daycares and any parties that take place during the Holiday season. It is suitable for preschoolers as well as older kids.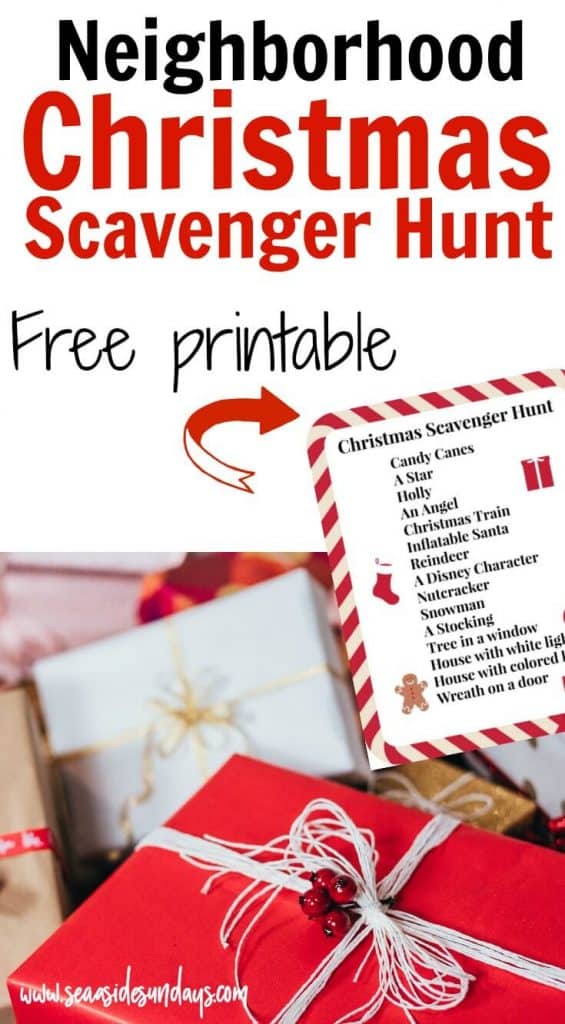 This page contains affiliate links meaning I earn a commission if you use those links. I only recommend brands I use and trust.
RELATED POSTS
25 Cute Christmas Snacks for Kids
Free Printable Letter to Santa Templates
A few ideas to make the Christmas scavenger hunt even more fun:
Get older kids to take photos of each find and compare them afterward.
For older kids, make it a timed event in teams with prizes for the first team back
Younger children can tally up how many of each item (candy canes, inflatables etc) they can see on one street
Take a trip to a new neighbourhood to make the hunt more exciting and check out new displays
Do the hunt on Christmas Eve or Christmas morning
If you are hosting a holiday party and want to incorporate the scavenger hunt, check out my list of 25 Cute Christmas Snacks for kids that are easy to make and look amazing.
Apart from the printable hunt list, (you can download it below) you don't need much to do the scavenger hunt but a few extra accessories could make it extra special, especially at a party (this could form part of the loot bag).

The great thing about this scavenger hunt is that you can adapt it to the ages and number of children. It would be equally fun with a group of 8-year-olds as a fun activity with one 3-year-old.
Free Printable Christmas Scavenger Hunt
Wrap up warm, grab a hot chocolate for the road and get festive!
Start A Blog That Makes Money
Ready to start a blog and make money from home?
In this FREE 5 day email course, I will show you the exact steps I took to take my mom blog from $0 to a consistent $2000 a month within 4 months.