If the weather hasn't already turned frightful in your neck of the woods, consider heading outside for a fun Christmas scavenger hunt.
It's the perfect way to engage the children in a fun outdoor activity this holiday season.
Enjoy strolling the neighbourhood and checking out all the cool displays that are put up while checking off everything on your scavenger hunt list.
If it is a bit too cold to head out on foot, you can also do this scavenger hunt from the comfort of your car with a cup of hot chocolate in hand.
This free printable Christmas scavenger hunt is perfect for church groups, daycares and any parties that take place during the Holiday season.
It is suitable for preschoolers as well as older kids.
NOTE: If you have younger kids who can't read yet, I have added a Christmas scavenger hunt for them that is all pictures.
I did it tonight with my 4 and 6 year old and we had so much fun.
This page contains affiliate links meaning I earn a commission if you use those links. Please read my Disclosure for more information.
MORE CHRISTMAS FUN IDEAS
25 Cute Christmas Snacks for Kids
Free Printable Letter to Santa Templates
Free Printable Christmas Scavenger Hunt
A few ideas to make the Christmas Scavenger Hunt for kids even more fun:
Get older kids to take photos of each find and compare them afterward.
For older kids, make it a timed event in teams with prizes for the first team back
Younger children can tally up how many of each item (candy canes, inflatables etc) they can see on one street
Take a trip to a new neighbourhood to make the hunt more exciting and check out new displays
Make this hunt a Christmas morning or Christmas Eve tradition.
I laminated the print out and let them use dry erase markers so I can use it next year too.
I have done this scavenger hunt during a drive to look at the lights and also on a neighbourhood walk, both are equally fun.
If you are hosting a holiday party and want to incorporate the scavenger hunt, check out my list of 25 Cute Christmas Snacks for kids that are easy to make and look amazing.
What To Do You Need For The Christmas Scavenger Hunt?
Apart from the printable hunt list, (you can download it below) you don't need much to do the scavenger hunt but a few extra accessories could make it extra special.
If you are throwing a holiday party why not print out the hunt and add it to your Christmas loot bags?
The great thing about this Holiday scavenger hunt is that you can adapt it to the ages and number of children.
It would be equally fun with a group of 8-year-olds as a fun activity for one 3-year-old.
Here are some extra things you might want to get to make your time even more fun:
If you plan on doing the Christmas scavenger hunt during the holidays, the items above would make great Stocking Stuffers.
If you have an 2 or 3 year old, you can get some ideas for their stocking in my post of the best Stocking Stuffers For Kids.
There are 50 ideas included that are perfect for toddlers or young children.
For some great ideas for things to put in baby's first stocking, check out my list of 20 Baby Stocking Stuffers which is perfect for newborns to toddlers.
The great thing about this scavenger hunt is that you can adapt it to the ages and number of children.
It would be equally fun with a group of 8-year-olds as a fun activity with one 3-year-old.
Tips For A Successful Hunt
If you would like to use this Christmas scavenger hunt again and again, you can put it into a plastic file protector or you could laminate it.
I bought a cheap laminator from Amazon a few years ago and love it for creating timeless activities that we can do year after year.
Just make sure to grab some dry erase markers if you go this route.
If your children love this scavenger hunt as much as mine, make sure to check out my other seasonal free printable hunts:
Halloween Scavenger Hunt for kids (Free Printable)
Fall Scavenger Hunt Free Printable
Click the link below or the picture to download your printable.
Free Printable Christmas Scavenger Hunt
Below is the option for older kids who can read.
Keep scrolling for the new version that is pictures only, best for younger children as it is a bit easier.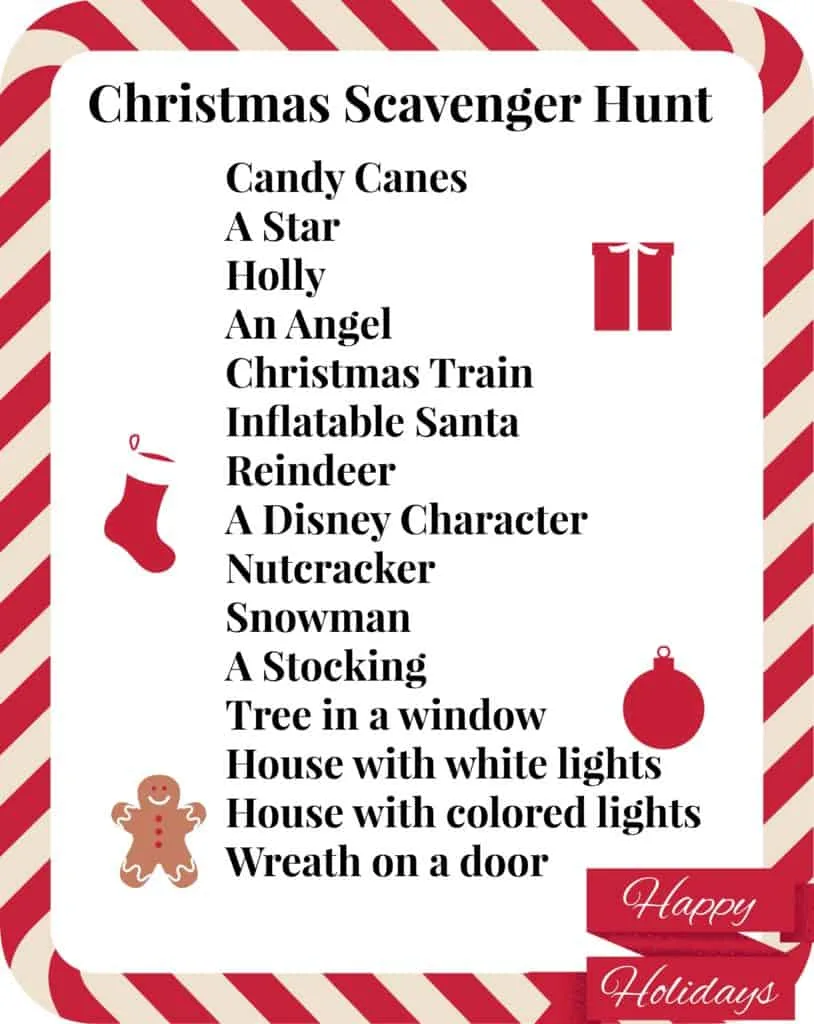 Wrap up warm, grab a hot chocolate for the road and get festive!
Christmas scavenger hunt for younger kids
As my children are just learning to read, I found the scavenger hunt above too hard for when we are driving around to look at lights.
I created this picture only version for them that is just as fun.
Download it below.
The Fine Print
While you can make as many copies of this scavenger hunt as you like, please remember that they are for personal use only. You may not sell or distribute the files or use them in any commercial venture.
If you want to share them, please link to this post and not directly to the PDF files.