Are you looking for a way to record all the special moments of your pregnancy? A pregnancy journal is a great way to keep track of your milestones and also how you are feeling during the next 9 months.
A pregnancy journal can also be a beautiful gift to one day pass down to your child, maybe when they themselves have children in the future.
While you could use a plain notebook as a basic journal, there are so many cute options on the market that it is worth choosing one that will inspire you will journal prompts, questions and an organized way to record your thoughts.
This post contains affiliate links. Please read my Disclosure for more information.
RELATED POSTS
43 Pregnancy Quotes And Parenting Advice For Expecting Moms
100 Early Signs Of Pregnancy (The Weird And Unusual!)
Tips For Preparing Financially For Baby
Finding The Perfect Pregnancy Journal
Before you choose a pregnancy record book, take stock of what kind of things you want to record and realistically how much time you will have to write in the journal.
Layout
Do you want a journal that walks you through every stage of your pregnancy or would you rather have more blank pages for you to jot down your thoughts and feelings?
Format
Would you prefer a traditional book you can write in or a printable journal in PDF format? You can also download pregnancy journal apps if you prefer.
Quotes and Tips
Do you want the journal to be purely a place for you to write in or do you want it to double as a pregnancy how to with pregnancy quotes and tips?
The Best Pregnancy Journal Picks of 2023
Whether you are looking for a pregnancy journal for a second baby or it is your first pregnancy, there are tons of options to pick from, here are the bestsellers online:
Bump to Birthday takes parents through the amazing journey of pregnancy, right through to the baby's first birthday so you get two journals for the price of one. It's an award-winning option that you can't really go wrong with.
40ish weeks is one of the cutest keepsake journals available on Amazon. It has some great features:
Cute journal prompts that help you capture the fleeting moments, the unforgettable milestones, and all of the amusing details
Lots of room to record week-by-week notes as well as attach photos so you can easily track changes and progress
A section for each trimester
The Belly Book is organized by trimester and includes pages for "time-lapse" belly photos and ultrasound images, as well as prompts for writing about morning sickness, food cravings, and other pregnancy things that you would otherwise forget.
It is one of the bestselling journals on Amazon and is a fail-safe choice. Click here to check the price.
This journal has really cute illustrations. There's also plenty of room for pictures and lots of prompts and questions. you can Pages include a family tree, notes about how you announced your pregnancy, and information about you and your partner.
As it is not a hardback, this is one of the more affordable journals on Amazon. This journal is extremely thorough and has room for pictures, includes checklist and information from week-to-week, and has lots of journaling information and even activities each month!
This is one of the bestselling pregnancy journals on Etsy.
It has 40 pages including the following:
*The Announcement
*First Look
*First Trimester
*Weeks 4-13 journal space over 5 pages
*We got to see you again
*About your parents
*The Nursery
*Baby Shower 2 pages
*Predictions
*Special Memories
*Hello World
*Birth Details
*Birth Story 2 pages
*First moments with you photo space over 2 pages
This handcrafted journal has 65 pages including a family tree, baby shower recap, room for your birth story and much more.
This super cute pregnancy journal includes all the pages and prompts you want plus it can be personalized with baby's name!
The Best Pregnancy Journal For Single Moms
If you have been scouring the internet for a pregnancy journal that does not include the usual dad prompts, Etsy is your best bet.
This really cute journal from Lady Boss Momma can be personalized and is all about mom and baby. Check it out here.
Pregnancy Journal Printables
If your budget is tight, consider a printable pregnancy journal that you can download and make into a book at home. Here are some top picks: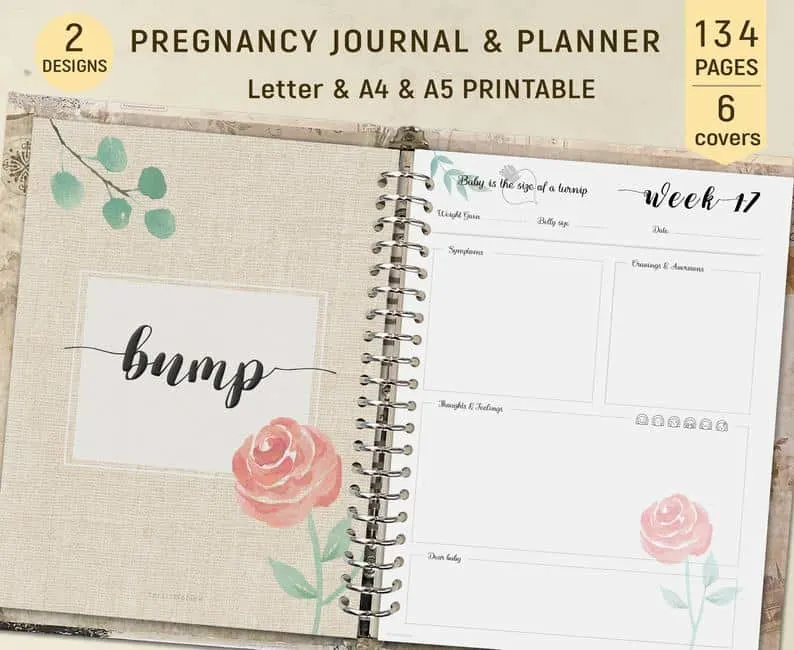 This 134-page Pregnancy Printable Bundle comes with 6 Covers, Pregnancy Journal Kit and Pregnancy Planner Kit that are beautifully and professionally designed in detail.
If you are looking for a cost-effective option for your journal, this one is a great choice. It is a top seller on Etsy and costs less than half the price of a ready-made journal.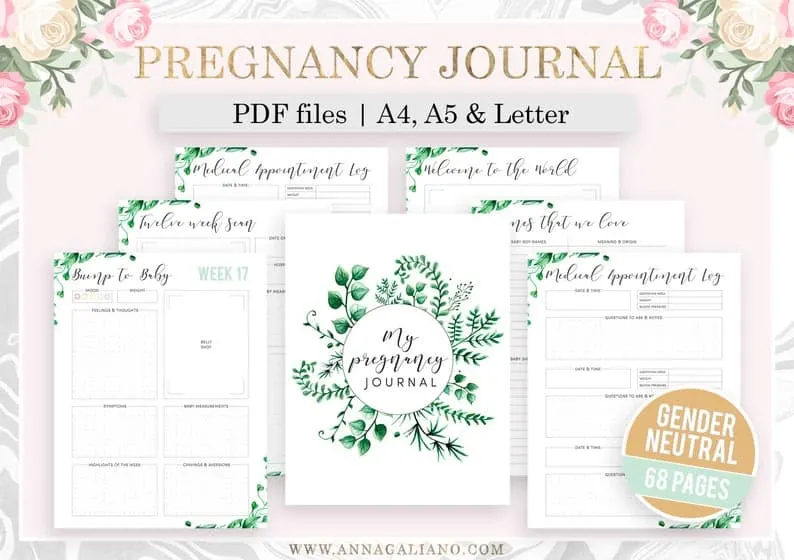 This elegant and minimalist Printable Pregnancy Journal 68 pages designed in a gender neutral color palette using green botanical leaves elements.
More Pregnancy Tips
43 Pregnancy Quotes And Parenting Advice For Expecting Moms
The Best Natural Morning Sickness Remedies To Ease The Nausea