One of the most fun things to do when you are expecting is to watch pregnancy movies that will get you in the mood for your impending bundle of joy.
While researching this post, I noticed that there are mostly funny movies about pregnancy, although I did find a few horrors and thrillers.
I didn't include any pregnancy movies that I think would be disturbing for expecting moms.
Funny pregnancy movies are really popular because they are so relatable and really highlight the highs and lows of giving birth and dealing with a growing tummy for nine months!
I've also included some awesome pregnancy documentaries and TV Series which feature babies and pregnancy in different situations.
The documentaries are more on the serious side but very informative and educational for expecting moms and dads.
All you need to do is grab your popcorn and get ready for a fun movie night!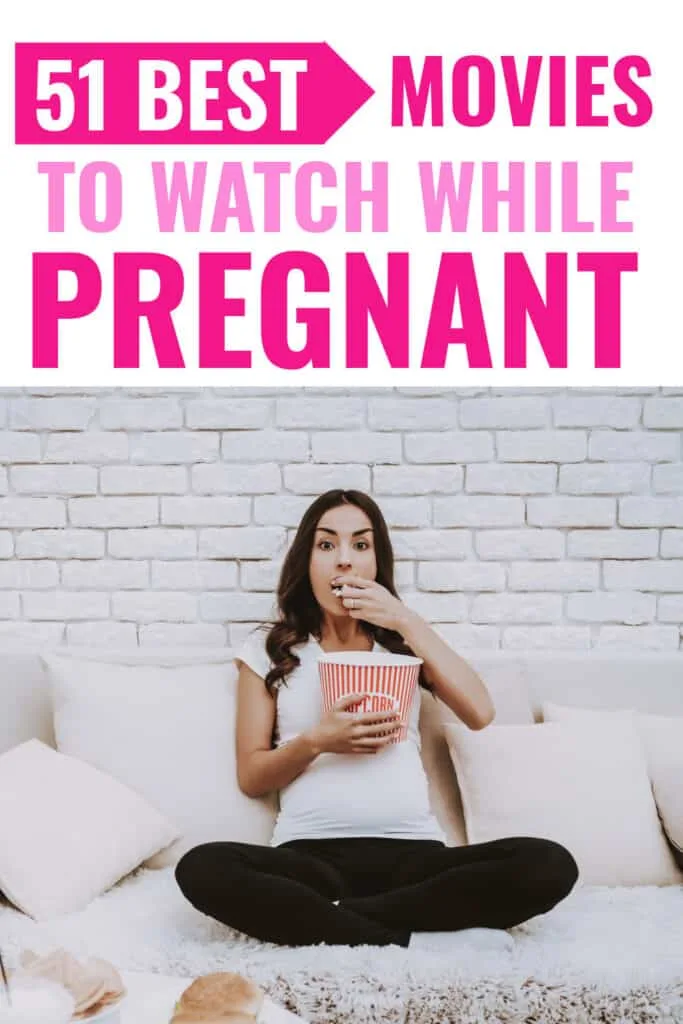 This post contains affiliate links. Please read my Disclosure for more information.
MORE TIPS FOR PREGNANT WOMEN
33 Fall Pregnancy Announcements
50 Newborn Baby Tips and Tricks (From Real Moms!)
Want Free Baby Stuff? Ultimate List of Freebies for New & Expecting Moms
Best Pregnancy Movies
This list of movies to watch while pregnant below is awesome for expecting moms and dads-to-be.
It is packed with the best pregnancy movies on Netflix and the most awesome pregnancy movies on Amazon Prime .
This is one of my favorite movies about pregnancy. It features a star-studded cast including Cameron Diaz, Elizabeth Banks and Jennifer Lopez among others.
This movie is hilarious for anyone who has ever been pregnant and is sure to give you a good laugh.
It touches on everything from pregnancy loss, pregnancy hormones, infertility, adoption and even a twin pregnancy. A must-watch inspired by the bestselling pregnancy guides.
​
Some of the best movies about having a baby are about an unplanned pregnancy.
Knocked Uo Is a classic comedy film about accidental pregnancies that go right.
In the movie, your average guy (Seth Rogen) and a beautiful professional woman (Katherine Heigl) meet at a bar, get drunk, have a one-night stand and lo and behold, she gets pregnant.
The story unfolds as the pregnancy progresses and they try to make it work.
Teen idol Molly Ringwald stars here as a bright high school student whose life takes an abrupt turn when she becomes pregnant by her boyfriend Randall Batinkoff.
Naturally, their respective parents are completely at odds over the high schoolers having a baby and only Ringwald and Batyinkoff think they can make it as parents.
This brilliant film is more about babies than pregnancy but it is worth the watch, just for the laughs –
One drunken night, two friends admit that they wish they had the other's life.
Mitch (Ryan Reynolds) thinks Dave has it all: a beautiful, loving family and a high-paying job at a prestigious law firm. But Dave (Jason Bateman) thinks Mitch's stress-free life without obligation or consequence is a real dream come true
Jennifer Aniston stars alongside Jason Bateman in this offbeat comedy as Kassie, a smart, fun-loving single woman who, despite her neurotic best friend Wally's (Bateman) objections, decides it's time to have a baby – even if it means doing it herself…with a little help from a charming sperm donor (Patrick Wilson).
Of course, her carefully constructed plan doesn't go quite how she wanted!
This heart-warming film is an older but great pregnancy movie featuring a young Kevin Bacon as the lead man.
Jake and Kristy Briggs are newlyweds. Being young, they are perhaps a bit unprepared for the full reality of marriage and all that it (and their parents) expect from them. Do they want babies? Their parents certainly want them to. Is married life all that there is?
Nine months is one of my favorite pregnancy movies. In the film, a juvenile Hugh Grant struggles to accept his girlfriend's pregnancy. This feel-good pregnancy film is a remake of a French movie, Neuf Mois.
Keri Russell stars in this chick-flick that is perfect if you are in the mood for a romantic comedy.
A pregnant, small-town waitress stuck in a lousy marriage finds love when an exciting out-of-towner enters her life.
​
This movie features Lindsay Lohan as a secretary on the verge of losing her job. To avoid the knife falling, she decided to fake a pregnancy and fearing a discrimination lawsuit, her horrified boss spares her.
Sporting a fake pregnancy bump, she finds that her new condition comes with a lot of benefits, including popularity and promotions.
​​
​
​When a male doctor (Arnold Schwarzenegger) becomes pregnant after his associate (Danny DeVito) talks him into taking an experimental drug as part of a research project hilarity ensues.
An all-star cast features in this funny movie about an expectant dad (Robert Downey Jr) who is trying to catch a flight home from Atlanta so he can be there for the delivery, but a chance encounter with aspiring actor Ethan Tremblay (Zach Galifianakis) throws a monkey wrench into his plans.
​
Tina Fey and Amy Poehler take the lead roles in this hilarious movie about pregnancy and the life change it brings.
In the movie, Fey plays Kate who hires Poehler as a surrogate. However, her baby mama doesn't quite act how the mom-to-be expected.
This is one of the most well-known movies about teenage pregnancy and it caused a stir when it was released in 2007, winning the Oscar for best screenplay.
When she becomes unexpectedly pregnant by a guy pal, a 16-year-old girl (Elliot Page) in small-town Minnesota decides to give her baby to the "perfect" couple she locates from the classified ads, only to discover that the impending adoption is pushing them towards divorce and causing her to fall in love with the biological father of the child.
After dating a string of Mr. Wrongs, Zoe (Jennifer Lopez) commits to her backup plan: to take on motherhood alone through artificial insemination.
But just when she discovers she's pregnant, she meets Mr. Right.
This is one of the best movies about having a baby with a twist.
Another older movie from the 80's this one is a classic – Diane Keaton is awesome as a businesswoman thrown into turmoil when she inherits a baby from a distant relative.
A 57-year-old businessman's yearning to begin settling down and taking things easy gets derailed when his 39-year-old wife, Julia, changes her longstanding stance about having children.
The issue becomes a pressing topic of disagreement, ultimately coming to a head when Julia discovers that she is pregnant despite the slim odds.
Burt and his pregnant girlfriend Verona head across the country to find the perfect place to raise their unborn child. Along the way, they meet some very kooky friends and their long-lost family members.
When she unexpectedly becomes pregnant, an unmarried woman is forced to make a choice about raising the baby with her less-than-perfect boyfriend or with an ideal potential father — her roommate — who happens to be gay.
​
​
One of my favorite characters from a book series, Bridget Jones, is back and this time she is expecting a baby! The issue is, she doesn't know who the father is.
Another great movie in the Bridget Jones series.
Ok, so this is a movie for kids but it really is a funny take on babies and the crazy way they are! It would be perfect for your next family movie night.
The movie is about a little boy who helps his baby brother, who happens to be a secret agent.
3 men trade their relaxing lifestyles for life with a new baby. This movie is one of those classics that everyone loves.
Steve Martin returns in this hilarious sequel to the comedy smash Father Of The Bride. Having married off his cherished daughter in the first movie, George Banks is ready to get footloose and fancy-free – until his daughter and his wife both announce they're pregnant.​
When a baby girl's godparents become all she has left in the world, they are forced to set aside their differences and find a way to raise her together in an unlikely friendship.
Documentaries about Pregnancy and babies
There is no better way to get in the mood for your baby than with an intimate look at life as expectant parents.
Below are some documentaries that are perfect for first time moms and dads.
40 Weeks is the first unscripted documentary film to offer an intimate window into the week-by-week journey of pregnant women across the country.
It explores the emotional and physical changes through pregnancy, the hopes and fears and the confusing and often difficult choices that can be presented during this time.
It offers a deep dive into the life of a home birth midwife, from prenatal care, to births, to postpartum, while also examining what the birth environment looks like in states where home birth midwifery is not legal, and families are faced with fewer birth options.
This documentary is about an alternative school of thought in the world of having babies – home birth.
If home birth is something you are considering, this pregnancy documentary is for you! It follows the story of Dr. Michelle Minikel who thought home birth was crazy until she got pregnant.
​
From Here to Maternity is a documentary series following expectant mothers, nervous fathers and busy staff at a hospital
Filmed with unprecedented access to the labour and neonatal wards, the series is a unique insight into the emotional journey of bringing new life into the world
Ricki Lake presents this look at the uncomfortable truth of the current state of the childbirth "industry" and looks at the options available to women nowadays.
This is a must-watch for any pregnant woman and dad-to-be.
This is the second in the Business of Being Born series presented by Ricki Lake.
This sequel features pregnant actress Kimberly Williams-Paisley on a tour of The Farm Community in Summertown, Tennessee, where pioneer midwife Ina May Gaskin talks candidly about the latest birth trends.
​
An eye-opening glance into the practices of one of the busiest hospitals in the Philippines. Selection of the 2017 Sundance Film Festival
First comes love, then comes marriage, then comes baby in the baby carriage.
For filmmaker Nina Davenport, that old playground song didn't go as planned. Single at age 41, she decides to have a baby on her own, never minding the odds stacked against her or the extra hurdles of living in New York City.
Along the way, she explores the ever-changing definition of "family."
​
​
When his wife became pregnant with their first child, Steve Buonaugurio documented the couple's experience with the American maternity system.
It reveals how the hospital, health insurance and health organizations put profits before a pregnant woman's safety and health.
Buonaugurio also records the couple's plans for a home birth, their ultimate defiance of the system.
Making babies is big business in India.
The Akanksha clinic is the largest outfit producing infants for clients, often foreigners, who can't conceive themselves.
For the women who get pregnant on demand, it's a deeply traumatic way of escaping poverty despite the promise of the "perfect adoptive parents".
This is a sensitive but powerful doc with intimate narratives that chart the aspirations and fears of the client and surrogate.
This is one of the best films if you are wondering what your baby is up to in the womb.
It answers the question, "How does the baby perceive its world and ours?" This documentary reviews current knowledge of the baby's experiences before and after its birth.​
This is one of my favourite pregnancy movies, the babies are so cute!
This documentary follows 4 babies in different parts of the world. It's such a nice insight into parenthood and baby life in different countries and cultures.
Prepare to be moved by this intelligent and poignant film about one woman's birth journey with a breech pregnancy and breech birth.
Experience the fear, anticipation, support and birth outcomes when you are clear about your boundaries and in touch with your inner voice during pregnancy. The role that caregivers have in a woman's birth is highlighted beautifully, ensuring this is a must-see film
This is the movie version of the bestselling book and is a must-watch before your baby is born. It shows Dr. Karp's techniques for calming a fussy baby and is easier to understand than the book, in my opinion.
This was a lifesaver when my first daughter was born.
With footage shot all over the world, this documentary explores what makes babies such a miracle.
TV Series About Pregnancy And Having A Baby
There are some really good TV shows about pregnancy and getting pregnant, here are some of my favorites:
This series follows the real-life experiences of eleven expecting women as they face the complexities of pregnancy, the intensity of giving birth and the realities of bringing a new life into the world.
​
This TV series is from 1977 and shows the story of various couples who get caught up in the personal and emotional crises of birth, adoption and hospitalization, and also of the hospital and healthcare workers who take care of them.
​
This documentary series highlights the pain and joy of fertility treatment as couples strive to conceive a baby.
​
When a doctor's mix-up end up with her getting pregnant, Jane has to get used to a new normal!
​
This hilarious series is about a one-week stand between a Boston ad exec and a London schoolteacher that leads to an accidental pregnancy.
When Rob moves to the UK to help figure things out, cultures clash and hormones flare as these two realize they don't know the first thing about each other
​
I love this series, it's a comedic look at life for parents of young kids and features Maya Rudolph, Christina Applegate and Will Arnett.
This BBC series is set in the 1950s and is a moving and intimate insight into the colorful world of midwifery and family life in London's East End.
Another British export, One Born Every Minute is a "fly on the wall" documentary chronicling the extraordinary highs and lows of the day-to-day life in a maternity hospital
This documentary series follows parents in the last few weeks of pregnancy all the way to the first few weeks with a newborn. It's a really nice view of the realities of labour and delivery.
Pregnancy Movies On Lifetime
If you love Lifetime Original movies, check out these pregnancy movies that you can get on Amazon.
Amazon Prime offers a Lifetime movie add-on that you can try for FREE for 7 days.
A dedicated Immigration and Customs Enforcement agent goes undercover to prove that an adoption agency owner (Kirstie Alley) is working to fuel a global infant trafficking ring.
This movie is a fun twist on the classic movies about being pregnant.
For her senior project, 18-year-old Gaby tells her friends, family, and school that she is pregnant, then records how she is treated as her "baby bump" grows. Based on a true story.
​
As far as teen pregnancy movies go, this one is close to real life as it is based on the allegedly true story of a 2008 media uproar surrounding a large group of teen girls at Gloucester High School, Gloucester, Massachusetts who all got pregnant at the same time.
In the movie, a blogger investigating a sudden spike in teenage pregnancies in her hometown finds herself at the center of a media circus surrounding the teens' "pregnancy pact."​
This is one of the only pregnancy movies I included that is more of a drama and a bit dark. It's a typical Lifetime movie with lots of ups and downs.
When Nate and Layla have trouble conceiving, they seek help from acclaimed fertility doctor Bianca Hartman. When Layla starts having jarring mood swings and Nate starts having blackouts, they begin to suspect something may be wrong and get a second opinion.
More Pregnancy Tips
50 Newborn Baby Tips and Tricks (From Real Moms!)
25 Freezer Meals For New Moms That Actually Taste Good
Pregnancy Back Pain Relief – 8 Things To Try
Like this list of pregnancy movies? Pin it!