These quotes about infertility are especially for those woman who don't get pregnant easily. More and more couples struggle with conceiving and it can take a toll on relationships and mental health.
Trying to conceive can be isolating and difficult. Often, we feel alone and embarrassed about not being able to get pregnant, through no fault of our own.
If you are in need of some inspiration while you go through your fertility journey, you will love these inspiring infertility quotes.
Taken from books, famous quotes and celebrities own stories, these quotes about getting pregnant will help you feel less alone and more hopeful.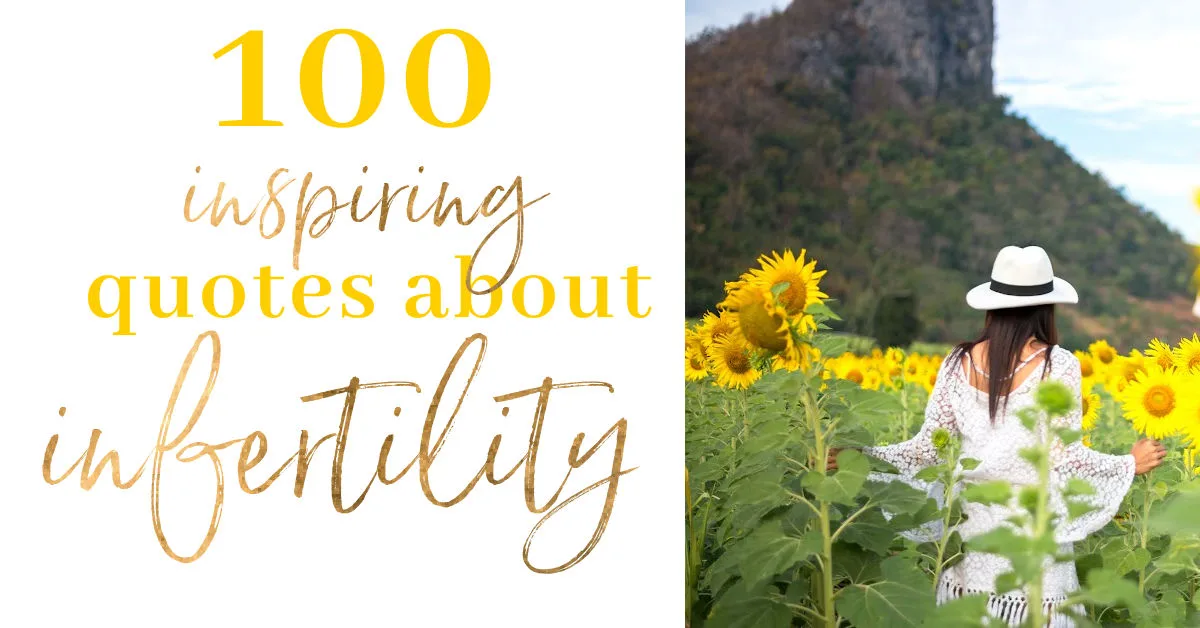 This post may contain affiliate links. Please read my Disclosure for more information
MORE POSTS ABOUT GETTING PREGNANT
18 Unique Infertility Pregnancy Announcement Ideas
Fertility Freebies – ebooks, PDFs and free stuff!
100 Top Quotes About Infertility
I've split these quotes about into different sections so you can easily find the types of quotes you need, when you need them.
From infertility hurts quotes to quotes about male infertility, in the list below you will find it all
Quotes About How Infertility Hurts
1."They don't get the particular nature of this grief, how it's less about the loss of a potential child than it is about the endless possibility that there may yet be an actual child." — Alexandra Kimball, The Seed: Infertility is a Feminist Issue.
2. "I did go through a bit of a dark time during the years I was trying to be a mom. But I'm basically a very positive person." -Nia Vardalos
3. "If I were to start a file on things nobody tells you about until you're right in the thick of them, I might begin with miscarriages. A miscarriage is lonely, painful, and demoralizing almost on a cellular level. When you have one, you will likely mistake it for a personal failure, which it is not. Or a tragedy, which, regardless of how utterly devastating it feels in the moment, it also is not.- Michelle Obama, Becoming
4. "Sometimes it's hard to see the rainbow when there's been endless days of rain."― Christina Greer, Two-Week Wait: Motherhood Lost and Found
5. "Women often endure infertility, pregnancy, infant loss, miscarriages, and stillbirths in isolation, because while sadness is a socially palatable response to these often life-altering events, rage, frustration, jealousy, and guilt are not." — Soraya Chemaly, Rage Becomes Her: The Power of Women's Anger
6. "There's a unique pain that comes from preparing a place in your heart for a child that never comes." — David Platt
7. "Infertility is this huge emotional roller coaster. If you want in your heart more than anything to have a baby, it's the hardest thing you will ever go through physically, emotionally, and financially." – Cindy Margolis
8. "The world was selfish, unjust. How could so many undeserving people be given the opportunity to raise children they didn't even want while so many worthy individuals didn't get the chance?" – Brittainy C. Cherry, Disgrace
9. "I found that each time a test was negative, it stopped the dreaming and hoping for a while. Taking the test was a way of puncturing the balloons of hope because if I didn't, they would lift and lift without any evidence, and their falling back down every month was too painful. Essentially, I took all these tests to keep myself from hoping, because the hoping was breaking my heart."- Shauna Niequist
10. "The difficulty of IVF or of any fertility issues is the hope and the shattered hope, the dream that it might happen this time and then it doesn't happen." – Brooke Shields
11. "Like most women, I thought it would be easy once I decided to start a family. I was surprised that Mother Nature kept poking me in the eye, saying, 'Nope, nope, nope." – Nia Vardalos
12. "It's not that motherhood is out of reach, it's that it's just out of reach. It's not that motherhood didn't happen, it's that it almost did and, in fact, still could. The difference between the grief of infertility and other reasons for mourning – the loss of a spouse, for example – is in that promise of 'just,' in 'almost,' in 'still could." – Alexandra Kimball, The Seed: Infertility Is a Feminist Issue
13. "It is because of hope that you suffer. It is through hope that you'll change things." – Maxime Lagace
14. "I am learning to trust the journey even when I do not understand it." – Mila Bron
15. "You start doing your research and realizing that the fertility rate for women drops considerably. And you're like, "Oh my God, now I want to get pregnant, and now it's a crazy time where I might not be able to get pregnant because I'm getting older and my eggs are aging and my uterus isn't as fertile as it used to be and my loins are not where they used to be." – Staceyann Chin
Male Infertility Quotes
16. "Unfortunately, with fertility, time is not your friend. People are waiting longer to get married and longer to have kids, and so many more people are experiencing fertility issues. But no one ever talks about it." – Bill Rancic
17. "For many men it is very difficult to accept and understand Infertility. They think only women can be infertile. They do not understand or want to understand that there may be a deficiency in men."― Ravi Ranjan Goswami, Missing
18. "IVF is very upsetting. It's a brutal process and it's very emotional. It's really hard. But then you pick yourself up, look around and see this unbelievably beautiful little baby you've got anyway," – Greg Wise, husband of Emma Thompson.
19. "When it comes to fertility, there are so may things that have to go right. In any one individual, there might be one major problem and two minor ones or no major ones and seven minor ones. Throw in another person's physiology, and it's complicated. I try to give people the knowledge that they can make as many changes as they want." – Robert Greene
20. "Fertility says, "Can you relax and just let things happen?" I ask, does she mean, like disasters, like pain, like misery? Can I just let all that happen? "And Joy," she says, "and Serenity, and Happiness, and Contentment." She says all the wings of the Columbia Memorial Mausoleum. "You don't have to control everything," she says. "You can't control everything." But you can be ready for disaster. A sign goes by saying, Buckle Up. "If you worry about disaster all of the time, that's what you are going to get," Fertility says." – Chuck Palahniuk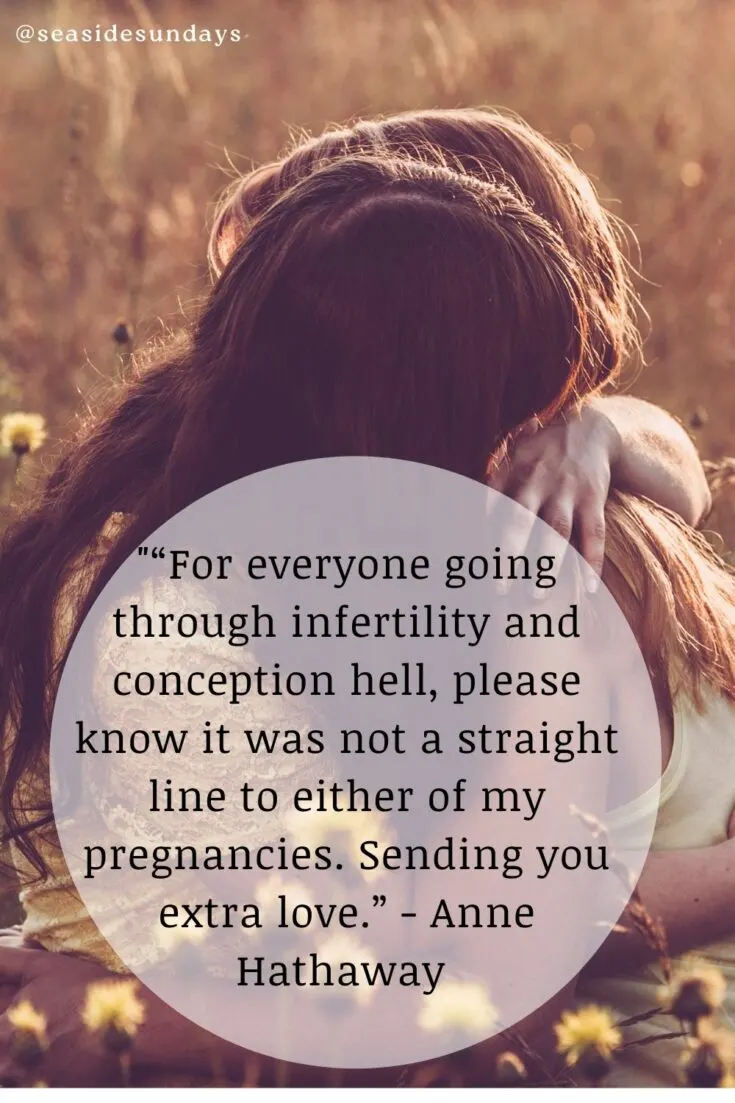 Inspiration For Women Suffering With Infertility
21. "You may have to fight a battle more than once to win it." – Margaret Thatcher
22. "No matter what joy your past choices have brought you, you can still have this experience – it's not greedy to ask for it. And no matter what pain, sorrow or loss your past has brought you, you can still choose to be a mother – you're not being punished." – Rekha Ramcharan, Manifesting Motherness : Healing from Infertility
23. "It always seems impossible until it's done." — Nelson Mandela
24. "Hope is the only thing stronger than fear." — Robert Ludlum
25. "We must try not to sink beneath our anguish, but battle on." ~JK Rowling
26. "Most of the important things in the world have been accomplished by people who have kept on trying when there seemed to be no hope at all." — Dale Carnegie
27. "Hope is that thing inside us that insists, despite all the evidence to the contrary, that something better awaits us if we have the courage to reach for it and to work for it and to fight for it." – Barack Obama
28. "Fall seven times and stand up eight." –Japanese Proverb
29. "Forget all the reasons it won't work and believe the one reason it will." –Ziad K. Abdelnour
30. "Hope is being able to see that there is light despite all of the darkness." — Desmond Tutu
31. "Believe me, the reward is not so great without the struggle." — Wilma Rudolph
32. "The only place where your dreams become impossible is in your own thinking,"– Robert H Shuller
33. "I find hope in the darkest of days, and focus in the brightest. I do not judge the universe." – Dalai Lama
34. "Even miracles take a little time." – Cinderella's Fairy Godmother
35. "Fertility is not something you conquer. Rather maddeningly, there's no straight line between effort and reward."― Michelle Obama, Becoming
36. "I've picked up the wisdom that bad things happen, and yet the sun still comes up the next day, and it's up to you to carry on living your life and keeping your setbacks in perspective." -Martin Short
37. "We must accept finite disappointment, but never lose infinite hope."- Dr. Martin Luther King, Jr.
38. "I want to be, like, a fertility minister. Like, someone who takes you by the hand and tells you that it'll be OK." – GloZell
39. "What if infertility isn't a war but an awakening? What if it's not about death but about a renaissance?"― Rekha Ramcharan, Manifesting Motherness : Healing from Infertility
40. "Courage doesn't always roar. Sometimes courage is the quiet voice at the end of the day saying 'I will try again tomorrow."- Mary Anne Radmacher
41. "Never confuse a single defeat with a final defeat." -F. Scott Fitzgerald
Quotes About Infertility Journeys
42. "Parenting begins the moment you may any conscious effort to care for your own health in preparation for enhancing your child's conception." — Carista Luminare-Rosen
43. "For those who deeply want children and are denied them, those missing babies hover like silent ephemeral shadows over their lives. Who can describe the feel of a tiny hand that is never held?" — Laura Bush, Spoken From The Heart
44. "It is one thing, I was discovering, to think, "Maybe I won't have kids," and quite another to be told, "Maybe you can't." This is how impatience turns to desperation." — Peggy Orenstein, Waiting For a Daisy
45. "It is an Instagram girl who moved to live by the sea. It is the girl who sat next to you in the underground. It is a woman who just walked past you on the street. It is a relative with whom you haven't been speaking for ten years. These infertile women are among us. This woman is me." — Karina Savaryna, Not Pregnant
46. "Infertility often comes with grief and loss. You have to let go of the vision of how long the journey will be and learn to flow and become stronger through the process."– Halle Tecco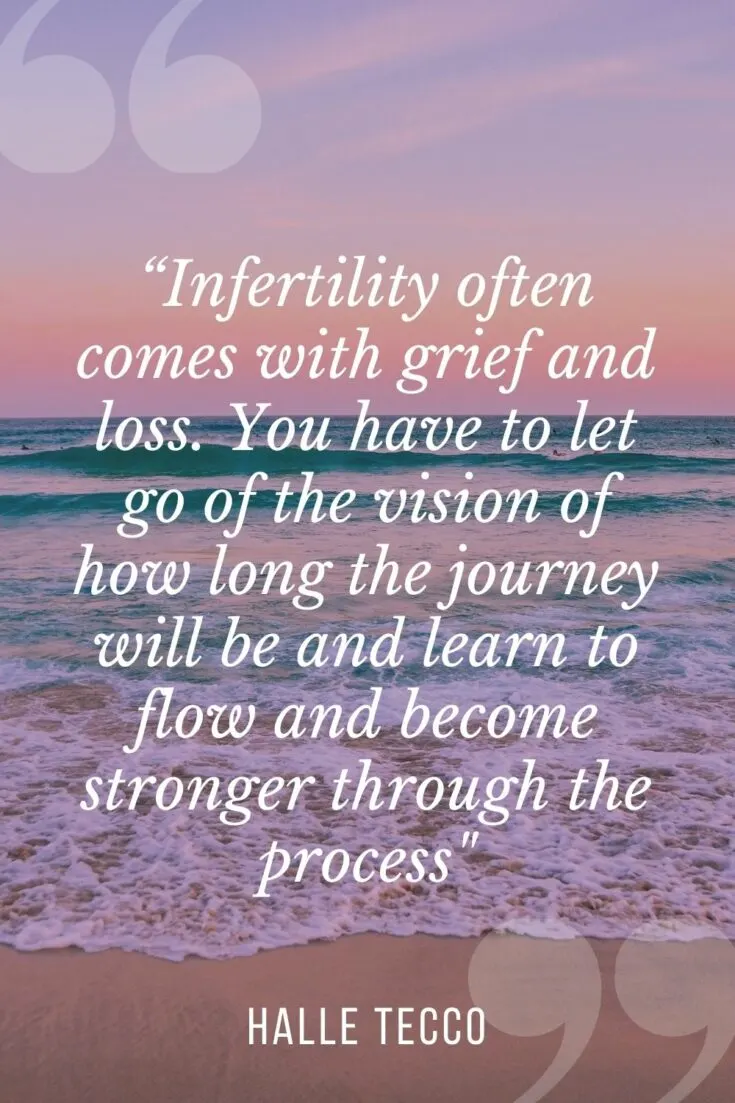 47. "Yoga reduced my stress and bodily tension. It allowed me to bring my body back into balance, to emerge from my fertility struggle with my sense of self esteem and self worth intact, and to forge a stronger bond with my husband." – Brenda Strong
48. "I've always wanted, notionally, to be a mother. And I was certain I would be, because everyone I know, gay or straight, married or single, rich or not so much, who truly wants to have a child figures out a way, some way, to have one – whether through adoption, fostering, surrogacy, fertility, accident, or persistence." – Faith Salie
49. "Once we talked about IVF, it was like I heard everything. Some people who are close to us had done it, like, seven to 10 times,"- Chrissy Teigan.
50. "Not to be too detailed, but I've had an ectopic pregnancy, miscarriages and I've had fertility treatments. I've done all the stuff you can possibly do to try get pregnant." – Nicole Kidman
51. "When a woman opens up about her fertility struggles, I feel less alone, and I hope to help others in the same way." – Virginia Williams
52. "I entered my egg-freezing adventure from a feeling of lack – a lack of fertility, of the right partner, of biological time. But this perceived lack actually produced abundance – of options, time, peace of mind, and microscopic chances of a child." – Faith Salie
53. "We went through the process. There are all these shots, they make your body crazy, they make you emotional, they hurt. I was getting shots every day. I wasn't telling you guys — my husband and I were going through this at home together. He hated giving me the shots, he probably cried more than I did … " – Aisha Tyler
54. "I will say, honestly, John and I were having trouble. We would have kids five, six years ago if it'd happened, but my gosh, it's been a process! We've seen fertility doctors, and then once you open up about all those things to other people, you start learning that a lot of other people in your life are seeing these people and they have this shame about it." – Chrissy Teigen
55. "We tried and tried and tried and tried and tried to get pregnant, but it just was not to be, the conventional way — I would give birth as often as I could, if I could. " – Sarah Jessica Parker
56. "There are thin girls with infertility issues, normal sized girls with infertility issues and overweight girls with infertility issues. Unless your doctor tells you your weight is affecting you in some way… once the doctor rules it out, that's really not it." – Giuliana Rancic
57. "After the first miscarriage, I tried to take the attitude that it was my body's way of telling me that this pregnancy wasn't meant to be, and that it was better for everybody. But after the second one, it was really devastating." – Christie Brinkley
58. "I fought tooth and nail to become a mother. I suffered several miscarriages, including two at five months. That's when you have the clothes already picked out, the nursery is already painted." – Wendy Williams
59. "Part of my reaction to my diagnosis of infertility was deeply sarcastic and critical, part of it was morbid, part of it was numb, part of it was neurotic and desperate. To mush all of those notes together would cancel them out. I ended up just trying to keep them as separate as possible." -Monica Youn
60."With any pregnancy, whether it's through IVF or not, you feel a danger. You have to remain positive and try to relax as much as possible." Celion Dion.
Celebrity Infertility Quotes
Lots of celebrities have dealt with infertility and they have a lot of say about it:
61. "How many of those forty-something celebrities, staring out from the covers of magazines with their beautiful babies, have conceived naturally, or without assistance? Not as many as you might think I would wager – yet for so many women they act as fertility beacons, a symbol of hope in a landscape of diminishing fertility." -Kate Garraway
62. "For everyone going through infertility and conception hell, please know it was not a straight line to either of my pregnancies. Sending you extra love." — Anne Hathaway
63. "At age 33, I had no idea that hundreds of shots, multiple rounds of IVF, miscarriage and heartbreak would be in my future. I had no idea that I would become of one of the seven million Americans struggling to have a baby." – Giuliana Rancic
64. "Anyone that's been in the place of wanting another child or wanting a child knows the disappointment, the pain, and the loss that you go through trying and struggling with fertility." — Nicole Kidman
65."I know people have tried much longer [than we have], but if there's anyone out there who is trying and they're just losing hope… just hang in there. Try every avenue. Try anything you can do, 'cause you'll get there. You'll end up with a family, and it's so worth it." — Jimmy Fallon
66. "Getting pregnant wasn't easy, and I found that devastating. I really beat myself up for waiting so long when I'd always wanted children and family had been the basis of my happiness my whole life." — Emily Procter
67. "We tried to have another child, it didn't work, and I went into a deep clinical depression. It's only now that I no longer count other people's children or judge myself harshly for not providing my daughter with a sibling." — Emma Thompson
68. Just because someone is blessed to have one child doesn't mean that secondary infertility is an easy pill to swallow."- Nikki Parnell
69. "I learned that all pain and loss is, in fact, a gift. Having miscarriages taught me that I had to mother myself before I could be a mother to someone else." — Beyonce
70. "People talk about the miracle of birth. No. There's the miracle of conception. I did IVF, but nothing happened. So I began to think of adoption, and then I got pregnant. It was definitely a miracle." —Iman
71. As the general population grows in awareness and education, the sharp edges of infertility are softened as judgement is replaced with compassion and loneliness is replaced with comfort." – Charis Boone Johnson
72. "I'm not going to give up. I want that baby … That baby will have saved my life.' – Giuliana Rancic
73. "I hope every woman out there who wants to be a mother and is suffering with infertility, will explore all the options and know that if you choose the science route, it is okay." Cindy Margolis
Funny Infertility Quotes
74. Nope, still not pregnant. Why yes, I have tried "relaxing" thanks for asking
75. Why not just adopt?" Why not mind your own business!
76. You know you're dealing with infertility when "honey I'm ovulation:" becomes foreplay.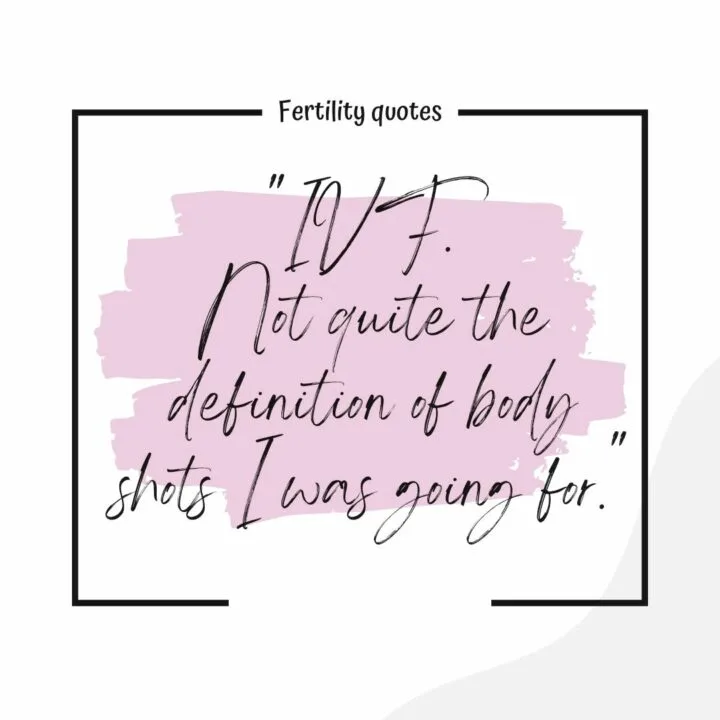 77. IVF. Not quite the definition of body shots I was going for.
78. Whoever said money can't buy happiness has never paid for fertility treatments
79. Googling every potential early sign of pregnancy during my two week wait. Why are they the same as period symptoms?
80. "A strong woman looks a challenge dead in the eye and gives it a wink. " -Gina Carey
81. "When you're at the end of your rope, tie a knot and hold on." -Theodore Roosevelt
Quotes About Staying Positive Through Infertility
82. The strongest women become the strongest mothers even before their baby is born
83. The struggle is part of the story
84. Without rain there would be no rainbow
85. "The flower that blooms in adversity is the most beautiful and rare of all" – Mulan (Disney)
86. When the world says "give up", hope whispers "try one more time"
87. "Life is rough so you gotta be tough" – Johnny Cash
88. Don't let your struggle become your identity
89. Every shot, every BFN leads you closer to your baby
90. "God blessed the broken road that led me straight to you" – Rascal Flatts
More Quotes About Infertility
The Bible is full of really motivational quotes about getting pregnant. I've created a full list of 31 Infertility Bible Verses here for you to read.
Want some printable fertility affirmations? These printable ones from Etsy are popular.
More Posts About Getting Pregnant
21 Best Books On Miscarriage And Pregnancy Loss
Reiki For Fertility – The Best Hand Positions To Try
Kombucha and Fertility – What You Need To Know