Want some help with creating new Pinterest pins in a flash? Pinterest traffic seems to grow the most when you add fresh, new pins to your feed as often as possible. Pressed for time? Enter Tailwind Create!
Every once in a while, a new product comes along that just wows you. A true game-changer that you just know will improve life as you know it. That's how I feel about Tailwind Create.
It's a brand new product from the team at Tailwind, the Pinterest scheduler we all love.
It has helped me streamline my workflow by taking the guesswork out of making new pins.
With it being a Tailwind product, I can also add my new pins directly to my Pinterest feed and focus my attention on other blogging tasks like creating content and sending out emails to my awesome subscribers.
Keep reading to learn everything you need to know and how to use this amazing new feature . And check out my pin below for the kind of designs you can choose from!
This post contains affiliate links, meaning that if you choose to click through and make a purchase, I will receive a small commission at no cost to you. Please read my Disclosure for more information.I was also compensated to create this post, though all opinions are my own.
What Is Tailwind?
Not familiar with Tailwind? You are going to love it! It's a tool that lets you schedule out your Pinterest pins and Instagram posts in advance so that you can know that your blog is getting action all the time (even when you are asleep or on holiday).
Click here for a free trial of Tailwind which includes 100 scheduled Pins or 30 scheduled Instagram posts
Once you have signed up for your free trial, make sure to check out my posts below that will help you take your traffic to the next level with Tailwind (click through for screenshots of my own experiences with using Tailwind).
RELATED POSTS ON TAILWIND
How To Use Tailwind Tribes To Get More Blog Traffic Easily
How To Loop Pins Using Tailwind (in just 15 minutes a month)
What is Tailwind Create?
I currently run three different blogs and it is so difficult to find time to pump out enough fresh pins each week in addition to new blog posts, emails to my lists, other social media posts and also to complete blog courses and read ebooks on improving my blog.
There is just never enough time! Tailwind Create is an ingenious way for me to take the guesswork out of creating pins, in just a few minutes. Yes really!
If you think you have to be a graphic designer to create pins that attract readers, this is going to blow your mind!
Tailwind Create is your solution for creating beautiful pins in minutes! In your brand colours! You don't need any other photo editing software or program.
I'm not talking about using templates then downloading the pins to your computer and uploading them yourself to Tailwind or directly to Pinterest.
Tailwind Create lets you do everything on one platform. You can create your pins and schedule them out right from Tailwind.
I was recently invited to a webinar to showcase this new Tailwind feature and I just sat there mesmerized. I truly think Tailwind Create is one of the most innovative products to enter the blogging world for years, and I don't say that lightly.
How Does Tailwind Create Work?
Tailwind Create is a feature of Tailwind which generates hundreds of Pin design options for your content, instantly!
You can customize each design as much as you want then send one or two of your favorites right to your Tailwind drafts for easy scheduling and adding to Tailwind Tribes. It's so easy!
Watch the video below to see how I can take one blog post and generate many designs which I can then filter, customize, and choose a few to schedule.
5 Reasons Why You NEED Tailwind Create
Each design was built with Pinterest's creative best practices in mind – and they look amazing.
Choose from hundreds of pin variations and personalize your favorites in just a few seconds.
Streamline your Pinterest workflow for the fastest creation, publishing, and analysis available anywhere. Never waste another minute downloading, organizing, or uploading my Pins!
Automatically apply your brand preferences (colours, fonts) but with the option to switch it up.
It shows me designs I might not have thought of on my own but that look great!
How To Get Started With Tailwind Create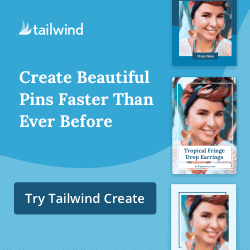 First, you need to get your Tailwind account by clicking here >>>Tailwind Sign Up
Then revisit the video above for a how-to overview and download the Tailwind Create Cheatsheet for your step-by-step guide.
Note: Pricing is not yet finalized for Tailwind Create but it will be in addition to the regular Tailwind Plus plan.
Tailwind Create Cheatsheet
Download my PDF below for a quick action guide to getting the most out of Tailwind Create plus a bonus Tailwind Tribes guide for boosting your traffic quickly. Click here to download the PDF.