When you first start blogging, you might find it next to impossible to work out how to get traffic to your blog. I know when I first started this blog back in 2017, even 5 page views a day seemed impossible (if it wasn't my grandma and husband haha).
In fact, you can boost your blog traffic pretty easily and in turn grow your income with some simple steps, here's what I do.
This post is great for holiday traffic but you can use the same techniques every single month of the year in order to keep your traffic growing.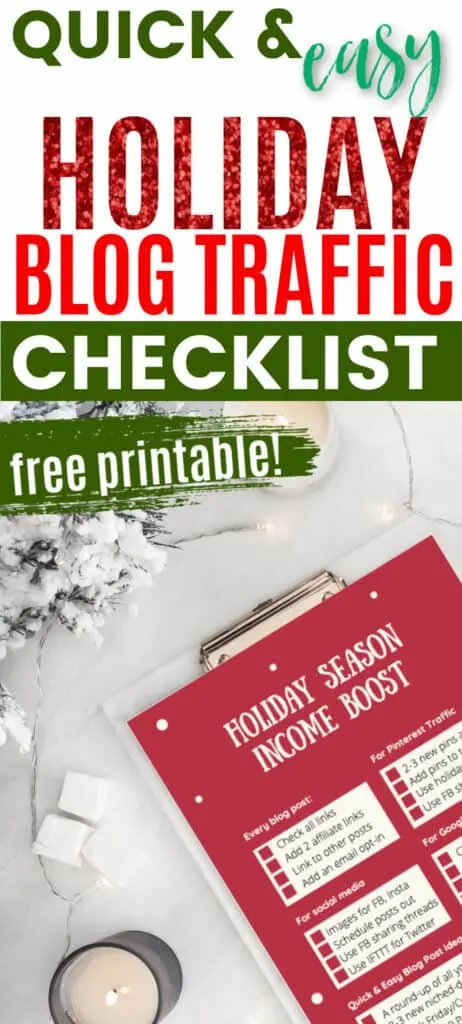 This post may contain affiliate links, please read my Disclosure for more information.
How To Get Traffic To Your Blog
First of all, the tips below will work best if you have 25-50+ posts. If only have a couple of posts published, take some time to focus on pumping out content before you worry about getting traffic.
More posts = more traffic, it's as simple as that.
Free Courses To Take On Blog Traffic
Next, I recommend signing up for the three courses below. You can whizz through them in just a few hours ands they are jammed packed with tons of tips on how to improve your blog traffic quickly.
You can read my full review of the paid version of these courses, Traffic Transformation, here.
Now we have that out of the way, here is what I do. First of all, create a Google Spreadsheet with all of your blog posts in a list so you can make sure you don't forget any.
This way you can work down each post and make sure you cover everything in the printable checklist (scroll down to download).
Improve your blog posts
Next, go through these steps:
Make a list of your top 5-10 posts from the next 3 months last year (if you are a new blogger, then just make a list of your top posts in the last 3 months). Work on these posts as a priority.
Check all links in every post
Make sure you are targeting good keywords and that you get the green light on the Yoast plugin.
Link to 3-5 other top posts within that post (either organically by weaving the post title into your content or by adding a "Related Posts" blurb somewhere".
Add at least 2 Affiliate links to every post – Amazon affiliates is often easy but you might have a better option that pays higher.
Add an email opt-in to every post, preferably to a valued-add freebie you have created.
Once your post is updated, submit the URL to the Google Search Console (GSR on the checklist) for indexing.
Bonus Points
Create a paragraph about one of your affiliate products and highlight it in the post. To create a colored in box, you can add the following script to your html in WordPress:
<div class="content-box-yellow">
Now add your content
</div>
The above will give you a yellow box but you can try with different colors too.
Get Your Social Media Ready For Traffic
Add 2-3 new pins a day to relevant boards. I use these Pinterest Templates to help me many make pins in minutes. I highly recommend them!
Add Pins to Tailwind Communities
Use good keywords in your Pinterest description
Use a different Pin title that you have on your image (twice the chances of getting found in search).
Create images for Facebook. Twitter and Instagram and schedule them out. Aim for 2-3 a week.
Quick and Easy Blog Post Ideas For The Holidays
A Round-up of all your holiday posts. Put them all on one post and then direct traffic all over your blog
2-3 niched down gift guides (read here for some tips) (Really niche this down to get found in search)
A Black Friday/Cyber Monday niche deals post that fits your blog.
Best of 2020 Post -round up of your popular posts
A Holiday Round -up from other bloggers (ask permission before using images)
I guarantee that just following the steps above will go a long way to boosting your traffic and affiliate sales for the rest of the year.
Download your free checklist below:
More Blogging Tips
Free Printable Blog Traffic Checklist
3 Ways To Increase Blog Traffic For The Holidays