Living in a cold climate like we do here in Canada, it's really easy to just hibernate for 4 months of the year and take everything indoors. This year, I've vowed to get my kids to spend more time in nature. I want them to learn more about the World around us through hiking, outdoor sports and general exploration.
I'm taking part in a 150 hours outside challenge on Facebook which encourages families to spend 150 hours outdoors during the course of the year. It only adds up to about 3 hours a week so it is doable but still a challenge in the winter months.
One of the ways I introduced the challenge and our new lifestyle to the kids was through the Weird but True! books from National Geographic kids.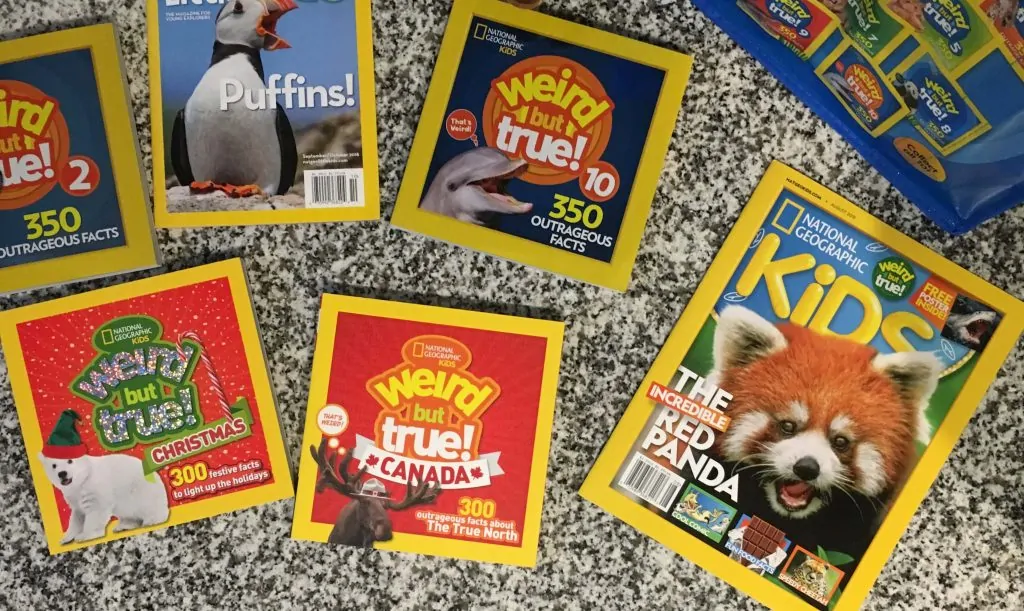 I received this product for free from Moms Meet (momsmeet.com) to use and post my honest opinions. Compensation for this post was provided and this page may contain affiliate links.
Weird But True! Books
You are probably familiar with National Geographic and their gorgeous photos from around the World but did you know that they have a magazine devoted to children called National Geographic kids?
The most popular segment of the magazine is their "Weird But True" feature that has now been turned into books that kids everywhere love.
Each book contains 100s of weird facts for kids ages 5-15 years.
The series is now up to 32 books including a Christmas special and a Weird But True! Canada version that includes lots of fun facts about Canada.
The books are available in 14 languages including Chinese, Thai and Arabic.
To celebrate the 10th year anniversary of the Weird But True books, The original series of 10 books has been updated and is available to purchase here.
Who are the books aimed at?
Children ages 5-15 will enjoy learning fun facts about the World around us.
They can be a great introduction to a topic for a class or scout group (there are specific books with facts about food, US presidents and planners with a fun fact per day).
Each book is colourful and features photos to go with some of the facts to make them more interesting.
5 Fun Facts to share with your kids
The books are jam-packed with wacky facts and I had a lot of fun going through the Weird But True! Canada book with my two kids.
Here are some of their favourite facts:
The World's Largest rubber chicken toss included 999 people at a church in Ontario.
The World's largest Coca-Cola can is painted on a water tank in Portage La Prairie, MB
The official phone number for information about Canada is 1-800-o-Canada
Hawaiian pizza was invented in Chatham, ON
In Saskachewan, hooded sweaters are called bunny hugs.
More Gift Ideas For Kids
The Best Princess Gifts For Preschoolers