At this time of year lots of us are searching for cute Valentine Day snacks for the classroom. Maybe you are hosting your own Valentine party and are looking for some fun treat ideas.
Even if complicated baking is not your thing, in the list below you will even find some healthy Valentine's treats for school as well as some easy snacks that your kids can make themselves.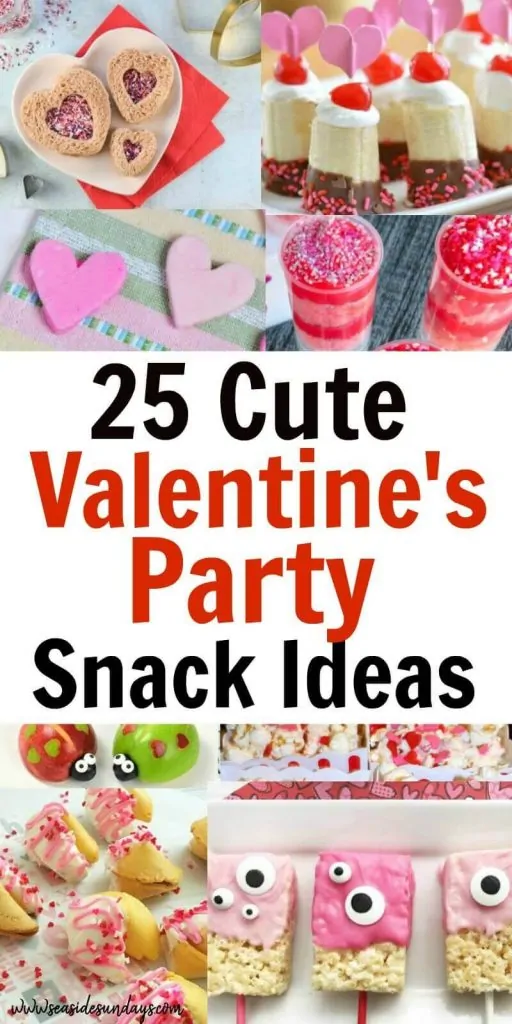 The sugar-free/fruit options I've included are still Valentine's Day themed and fun. They would be a great option for preschool snacks or as healthy Valentines Day treats for school.
Related Posts
Valentine Snacks For The Classroom
These little hearts are so easy and fun to make plus they are a no-bake Valentine's day treat that kids love.
These love bugs are one of the best healthy Valentines treats for school that I have found. Be prepared to wow the other parents with this easy to make snack!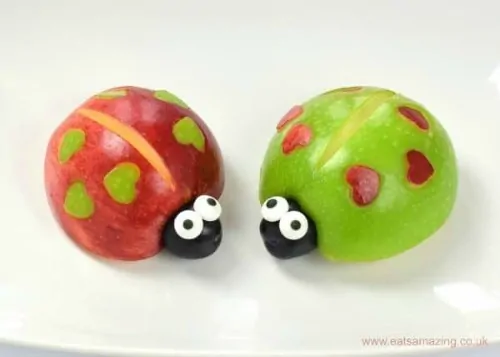 These little treats would make a great snack for a children's (or adult!) Valentine's party.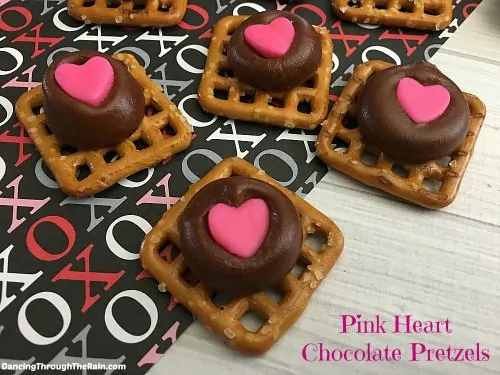 Not every classroom can accommodate special drinks but if you get the chance, this pink hot chocolate is perfect for a winter warm up treat.
If you are looking for favours for a class party or just a simple Valentine snack for the classroom, this sweetheart bark is easy to make and perfect for putting in goodie bags.
White Chocolate Fudge Bites from Conserva Mom
This simple but delicious fudge is made in the microwave so your kids can help out with the baking!
How cute are these little Cupid's arrows? They are sure to wow at any Valentine's Day Party this year.
Fairy Bread Sandwiches from Eats Amazing
Fairy sandwiches are awesome Valentine snacks for the classroom, and you can make them even healthier by using the homemade sprinkles recipe from Eats Amazing (click through for the details).
I've served fairy bread sandwiches at birthday parties and holiday events and they are always a huge hit with the kids.
Heart-shaped healthy snacks are a no-brainer when it comes to Valentine's Day class parties. I love these homemade heart tortillas that would be amazing with salsa or guacamole for a healthier snack.
Chocolate Banana Sundae Bites from Finding Zest
I'm always looking to incorporate fruit into my Valentine snacks for the classroom as the kids are normally inundated with cookies and chocolate at this time of year.
I love these banana sundaes as they have just the right mix of fruit and treat to please everyone. They are also easy enough for kids to make too.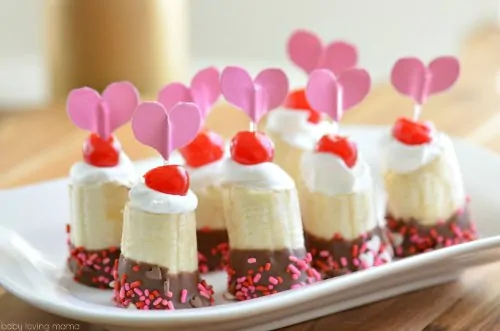 These cookies are made with Marshmallow fluff and are so cute!
Chocolate Dipped Wafer Cookies from Cook, Eat, Go
These cookies are so simple to make and would make a fun classroom activity for Valentine's Day.
Valentine Cake Push-Pops from Thrifty Jinxy
Did you know you can make your own Push-Pops? These cakes are awesome for a class celebration this Valentine's Day.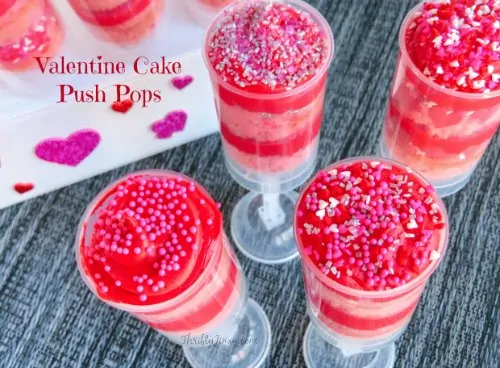 You can't find a healthier Valentine Day treat for school that a big bowl of fruit salad. This version from The Seasoned Mom adds a romantic twist to the regular fruit tray.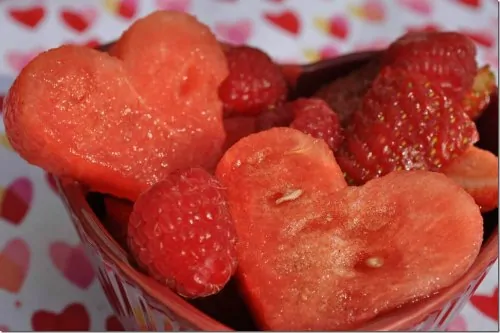 Valentine's M & M Cookie Bars from Life Made Simple
These gooey cookie bars are made with the special holiday version of M & Ms to add a Valentine's Day theme. You could switch them up for Christmas or Easter by using different colour M & Ms or Smarties.
You could use fruit cups or red jello pots for this healthy Valentine snack. It's perfect for a class party or preschool event.
I included this coconut ice in my 25 Cute Christmas Snacks for Kids post but it can do double duty as a really easy Valentine's Day treat for school. This version is low-carb and keto-friendly so even the moms will want to tuck in!
Here's another version of a healthy Valentines treat for school – a fruit cup made into a love bug!
Very Berry Cheerios Marshmallow Treats from We are not Martha
Although you could use regular Cheerios, the Very Berry variety gives these cute treats their pink colour which is perfect for Valentine's Day.
What Valentine's Day would be complete without chocolate covered strawberries?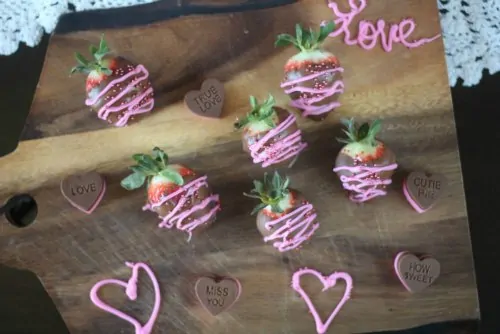 Chocolate-dipped Monster Rice Krispie Treats from Shrimp Salad Circus
What Valentine's Day classroom party is complete without Rice Krispie treats? These ones are easy to make and so cute!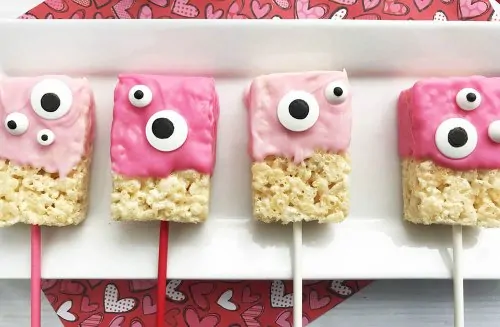 Children love fortune cookies so these Valentine's Day themed treats will be a huge hit!
Love Bug/Ladybug Cookie Balls Treats from Arts & Crackers
I love these cookie balls in the shape of ladybugs!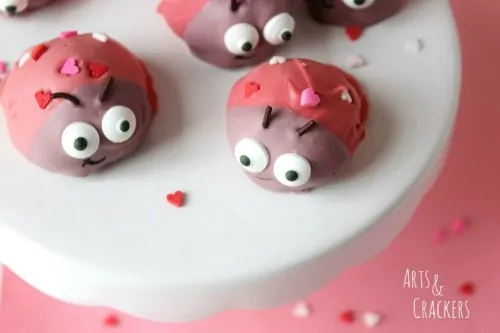 Marshmallow pops are pretty easy to make and work great as party favors!
Valentine's Day Popcorn from Cook, Eat, Go
This popcorn is so easy to make and you can even switch the sprinkles up each season to suit. Portion the popcorn into plastic baggies for cute party favours.
More Valentine's Day Ideas
Super Cute Handprint Craft for Valentine's Day
Heart-Shaped Handprint Photo Frames
25 Winter Activities That Are Easy On The Wallet