Looking for a fun Halloween bingo game to play in the classroom or at a Halloween party? These 25 printable halloween bingo cards are perfect for classroom parties, Halloween parties, scout troops and more.
Combine them with these Halloween party games for a spooky event everyone will enjoy.
Everyone loves a good game of bingo and having a themed option like this fun Halloween activity just makes it all the more fun.
You'll love the cute Halloween images on the free printable game boards of this fun bingo.
It's a fun game for a Halloween class party (play all together or in small groups), at large group parties, or even just for a fun family game night with a Spooky theme!
Happy Halloween!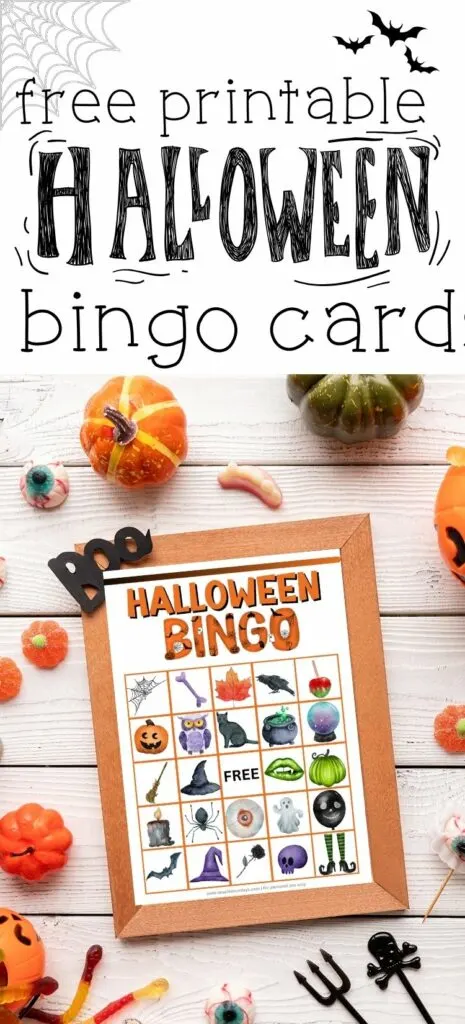 This post may contain affiliate links. Please read my Affiliate Disclosure for more information
MORE HALLOWEEN FUN
31 Cute Halloween Pregnancy Announcement Ideas
17 Healthiest Halloween Treats (Kid-Friendly!)
Halloween Bingo For Kids
If you have younger children like I do, you want to make Halloween special but it can be hard to think of fun Halloween games to do together.
This bingo is a great activity that both young kids and the older crowd will enjoy playing together.
​In our house, it's become an event that the whole family enjoys.
We've started going on a Halloween scavenger hunt right before the big night and then coming home to play a round or two of this fun bingo game before watching an amazing Halloween movie.
Each of the printable 25 printable Halloween bingo cards is full of not-too-spooky images that kids will love.
The 25 unique bingo boards mean that no one will be calling bingo at the same time and they are perfect for large or smaller groups.
There are 30 different images so every one of the game boards will be completely different. I purposely chose images on the cute side so that they work for all age groups.
Free Printable Halloween Bingo Game
If you've ever played bingo, this is going to be very similar. If you have any questions about the instructions, feel free to leave comments and I'll do my best to answer them!
Getting Your Game ready
Before the game, print and cut out your free printable Halloween bingo cards.
You can print them at an office supply store or at home if you have a color printer.
You'll find the different bingo cards to print at the bottom of this post
Print out the calling cards two times.
For one of the sheets, you'll want to cut out each image so that you can use them as master images and pull them out of a hat or bowl.
You can then cover the image up on the master sheet that you haven't cut up.
Setting the game rules
Before the game, make sure to decide how you are going to play.
Will you set up for a line first? And then move to a "full house" where the whole card has to be filled.
Can people stay in the game for a second line once they win once?
Give everyone a one of the different bingo game cards.
You'll want people to have unique cards or else two people will bingo at the same time, which may still happen with all unique cards, but at least it's not guaranteed to happen.
If you want to use these bingo cards again and again, consider laminating the paper.
If you laminate the paper, you can let the players use bingo markers and then just wipe them clean after each game.
Otherwise you can use different game pieces so that you can use the cards again and again.
Here are some ideas for ways to mark your bingo cards:
Candy Corn
Buttons
Hershey's Kisses
Small toys such as Shopkins
Mini Halloween candies
How To Play Halloween Bingo
Put all the master images into a Halloween candy bowl or witches hat.
Pull the images out one at a time.
You can show the players the picture or describe it.
Note that there are two pumpkins (one is a Jack O'Lantern and one is green). There are also two witches hats (purple and black).
Place the master image on the master list to keep track of what's been called to verify anyone who bingos.
Everyone covers the matching image on their card.
Repeat, calling out images until someone covered up a whole line either horizontally, vertically or diagonally.
You can also offer four corners or a cross for extra bonus prizes.
The first person to get a line shouts "Bingo" and wins a prize. It can be really fun to change the "Bingo" call out to something like "Spooky" or "Creepy Crawlies".
Halloween Bingo Prize Ideas
Wondering what kind of prize to offer for your Halloween bingo game?
Halloween candy is an obvious choice but I have a whole list of non-candy trick or treat ideas for you too.
More Halloween Ideas
Make sure to check the links below for more free Halloween printables:
Download The 25 Printable Halloween Bingo Cards
Just click here to download the free printable bingo cards. No need to input your email address or anything, just click the link below to grab the printable cards.
At the end of the PDF file, you will find the master images.
Free Halloween Bingo: The Fine Print
Please note that these Halloween Bingo boards are for personal use only. They may not be sold or reproduced in any other way. Classroom use permitted.