If you are throwing a party before trick or treating for your kids this year or just want some fun activities to do together, this list of Halloween party games will give you some ideas.
I compiled this list of spooky Halloween party ideas for preschoolers and younger children but at my party last year, they were a hit with all ages.
Oh, and if you want to make sure the kids aren't too hopped up on sugar, make sure to check out my list of 30 non-candy Halloween trick-or-treating ideas.
This page contains affiliate links meaning I earn a commission if you use those links. Please read my Disclosure for more information.
MORE HALLOWEEN FUN
Halloween Scavenger Hunt with Free printable
17 Healthiest Halloween Treats (Kid-Friendly!)
Halloween Party Games For All Ages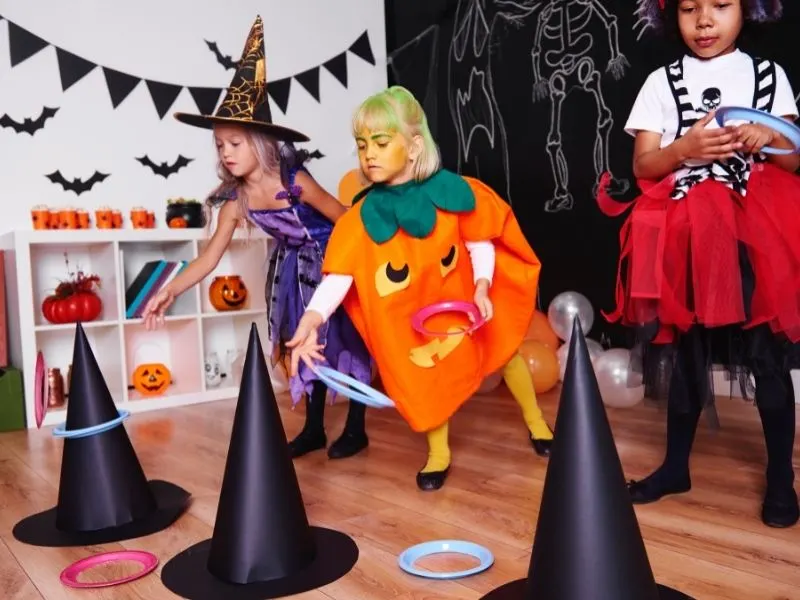 The great thing about these Halloween party games is that most of the ideas below use things that you have around the house in fall or are completely free!
These are definitely frugal Halloween party ideas so you can spend more money on Healthy Halloween Treats!
If you want to treat the kids to something fun to drink, make sure to check out this list of 13 non-alcoholic Halloween punch recipes.
If you are planning a long party, why not download our free printable 31 Days Of Spooky Halloween Movies For Kids checklist too?
1.Apple bobbing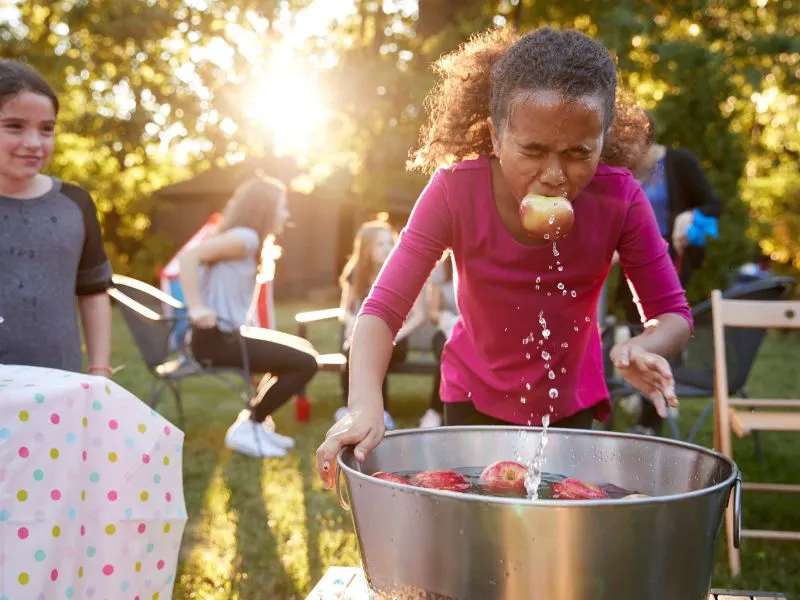 What you need
A large tub or empty (clean) bathtub. A dozen apples. Blindfold optional
How to play
Fill the tub with water and add all the apples so they are floating in the water.
The children take turns to try and pick up an apple using their mouth only – no hands! If they manage to get an apple, they can eat it and get a prize.
2.Pumpkin Bowling
Pumpkin bowling is a fun fall activity for everyone as you can see from the video above.
What you need
Bowling pins, or a dozen empty soda bottles (spray painted white) or 12 rolls of toilet paper or kitchen towel (skittles).
3 small pumpkins. Black Marker.
Draw spooky faces on the rolls of paper or bottles with the marker.
How to play
Stack the "skittles" up to make a tower. Take turns rolling the pumpkins and see how many skittles you can knock over.
3.Pumpkin Ring Toss
What you need
5 or 6 six large pumpkins. 3 Hula Hoops
How to Play
Place the pumpkins about 5 metres away from a line you mark in the dirt or with tape. Each child has 3 attempts to get a hula hoop over a pumpkin. Reduce the distance for younger children.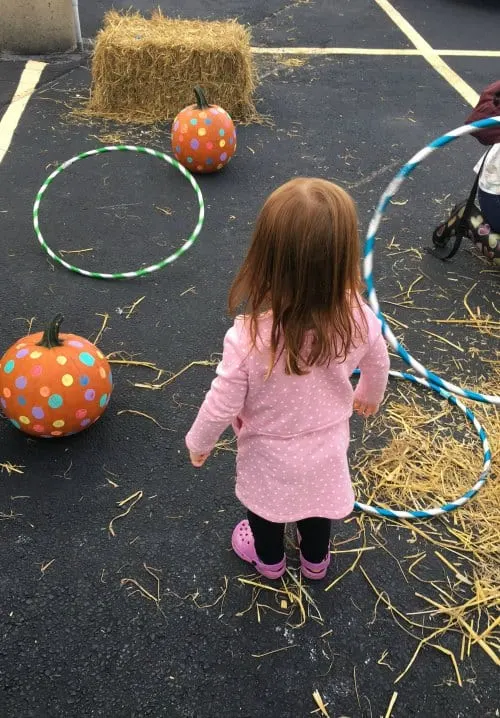 This is a Halloween twist on a traditional party game for kids – pin the tail on the donkey.
What you need
1 large poster board, colored construction paper, double-sided tape, a blindfold
Version 1
Draw a picture of a witch without a hat on the poster board. Stick it on the wall. Cut out various witches hat shapes from the construction paper (a different color for each child or write names on the paper) Put a piece of double-sided tape on the back of each hat.
Version 2.
You can buy a ready-made poster of a witch and her cat from Amazon. It comes with tails that the kids can try to pin on the cat.
How to Play
Just like pin the tail on the donkey, blindfold and then spin the child. They then try to pin the witches hat onto the poster board as close as possible to the right place. The closest wins!
Other variations – Pin the smile on the skeleton, pin the nose on the pumpkin
5. Mummy Wrap
I've actually played this at bridal showers where we create a "wedding dress" for the bride out of toilet paper. This is a really fun Halloween party game, especially if you get the kids to dress their dads up as mummies.
What you need
Lots of toilet roll or crepe paper streamers.
How to play
Separate the children into teams of two. One child is the mummy and the other is in charge of wrapping the mummy up as much as possible. Set a time limit for older children. Give a prize to the best mummy.
6. Hot Gourd Toss
What you need
A small gourd
How to Play
Everyone stands in a circle and take turns throwing the gourd to each other as quickly as possible. If you drop the gourd, you are out.
7. Halloween Mystery Box
What you need
A sealed box with a hole cut out for arms to go in.
Mystery ingredients (gummy worms and spiders, "eyeball" grapes or olives, lots of cooked spaghetti, the insides of a pumpkin, cooked jello lumps, playdoh, little Halloween candy bars). We played this last year and it was a huge kit with the little ones.
How to play
Place all the mystery items inside the box. Each person takes a turn trying to feel for a candy bar while touching all the creepy ingredients.
8. Worm Pie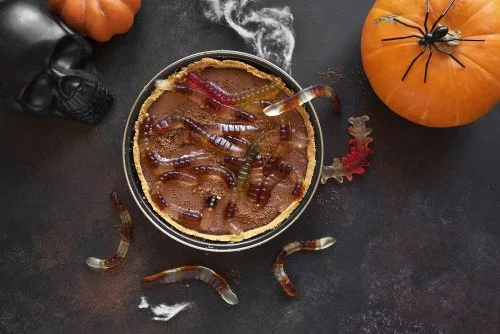 What you need
Pie dishes, whipped cream, gummy worms
How to play
Fill the pie dishes with gummy worms hidden in the whipped cream. Without using their hands, the children have to try and get as many gummy worms out of the dish as possible.
9. Gourd Race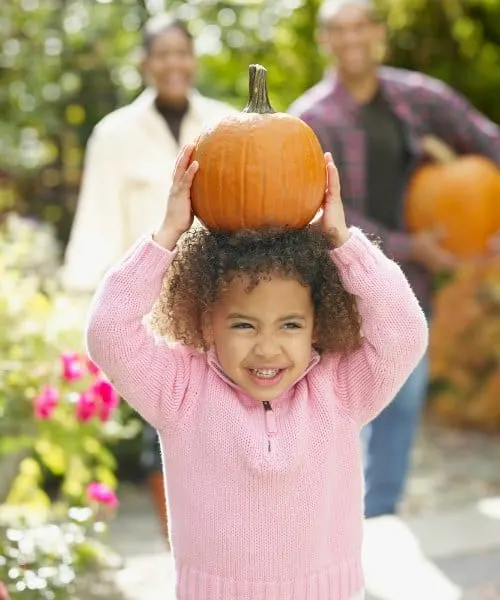 What you need
One gourd per child.
How to play
The children line up and have to race while balancing the gourd on their head. If it falls off, they have to go back to the starting line.
10. Murder in the dark
What you need
A dark room. This game might be too scary for the littlest players.
How to play
Remove all the aces and kings from a pack of cards except one of each.
Deal the cards out evenly to the player. The player who got the king is the detective. The player with the ace is the murderer.
Once the lights go out, the murderer goes around the room tapping the other children on the shoulder, once tapped, the children have to fall down dead. They can be as dramatic as they want. The policeman is immune.
If a child comes across a fallen body they shout "murder in the dark" and the lights get switched on.
The detective now has to try and guess the murderer from the children who are still alive.
This is a really fun game to play, especially with a large group of kids at a scout evening or even a daycare.
What you need
Scavenger hunt checklist (see free printable here.)
Various items as per the scavenger hunt
How to play
Separate the children into teams. Give each team a list and a time limit. The first team to check off all the items on the list are the winners.
Check out the Halloween Scavenger Hunt here.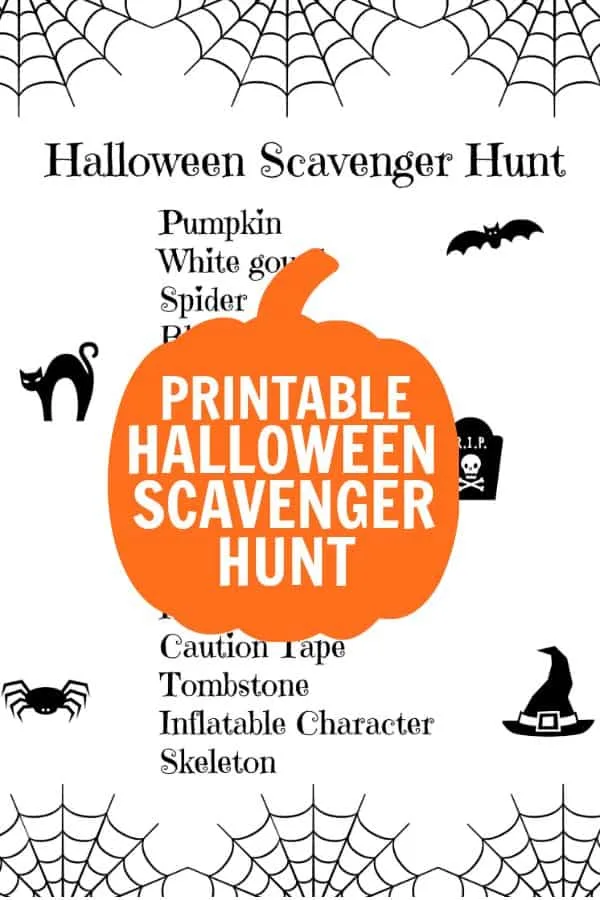 12. Halloween Candy Toss
This is one of the easiest Halloween party games you can do, especially as you will already have a bunch of Halloween candy at home.
What you need
Trick or treating buckets. Halloween candy (a different type for each child will make it easier)
How to play
Put the buckets in a group about 10 ft from the players. Each child takes turns to toss a candy. At the end, they can keep everything they got into the buckets.
More Fun Fall Ideas:
60+ Fall themed preschool activities
Easy Footprint ghost craft for Halloween