Are you looking for some creative ways to share your big news this holiday season? You will love these Christmas baby announcement poem ideas that are perfect for your holiday card.
Whether you want to print out a cute poem and put it in a picture frame or write a fun message on a letter board for social media, these adorable Christmas pregnancy announcement poems are perfect.
We have so many fun ideas for you here whether you are announcing the birth of your little miracle or you are sharing planning a fun pregnancy announcement.
Read on for all the cute poems and Merry Christmas!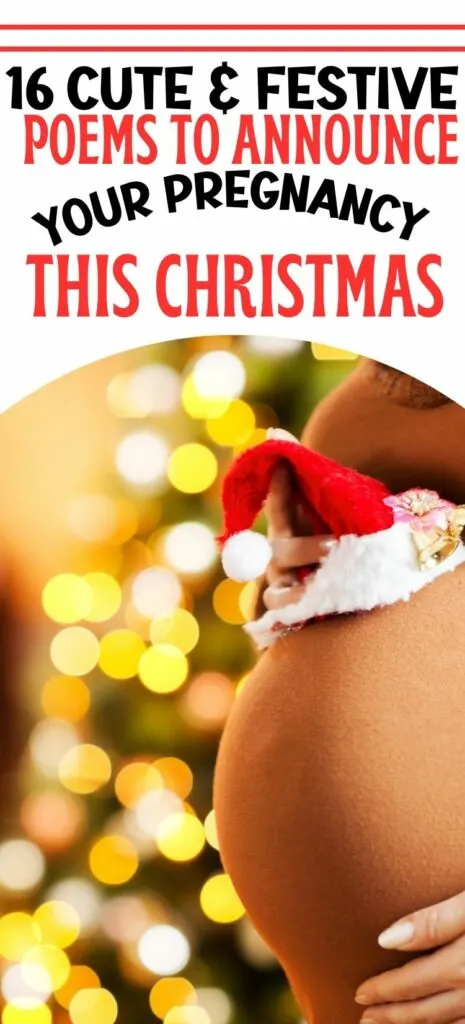 This post may contain affiliate links. Please read my disclosure for more information
MORE FUN PREGNANCY ANNOUNCEMENT IDEAS
101 Instagram Pregnancy Announcement Captions
11 Sweet Cake Pregnancy Announcement Ideas
11 Cute Christmas Pregnancy Poem Ideas
If you are looking for a cute message to put in this year's Christmas card, you will love these beautiful holiday poems that announce the arrival of the newest member of the family.
You can use these Christmas pregnancy announcement poem ideas in a simple photo frame or attach it to a pair of baby shoes or your ultrasound picture.
They go great with our 60 Christmas Pregnancy Announcement Ideas.
This would make a wonderful Christmas gift idea for grandparents or for announcing your pregnancy to family in person.
Talking of grandparents, make sure to check out our 12 Grandparent Announcement Poem Ideas too!
Some of these poems are long, some are only a couple of lines so you can fun the one that best suits your big reveal!
T'was The Night
'Twas the night before Christmas
and all through the house
not a creature was stirring
not even a mouse,
The stockings were hung
by the chimney with care.
The gifts were placed neatly under the tree
But now there were gifts not for two, but for three.
​A special gift you see was soon to arrive
A gift that is impossible to buy
This gift is a miracle,
a new baby on the way,
and we are so excited for the big day
​so, we share this good news,
with much excitement and glee
of the newest member of our family!
The Best Gifts
The best gifts don't come under the tree,
This year our gift is baby number 3!
Or
The best gifts don't come under the tree,
This year we are becoming a family of three!
The Littlest Gift
Your gift this year is rather small,
The littlest gift of them all,
With little fingers and little toes,
​with a love that simply grows and grows
And what better time of year to share the news,
​that our baby girl is almost due!
Tissue Paper And Bows
Not every gift can be wrapped with tissue paper and bows,
some have 10 cute little fingers and a sweet little nose!
Wonderful Family
With tiny hands, and little feet,
there is a brand new baby for you to meet.
So let's all gather under the Christmas tree
and meet the newest member of this wonderful family!
Candy Canes
Christmas is the perfect time, for candy canes and joy
and sharing news of the arrival of our new baby boy!
The Greatest Gift
The greatest gift at Christmas is easy to see,
it's not wrapped in ribbons or under the tree,
That's because the best gift at Christmas is the news we hold so dear
An adorable new baby is coming next year!
A Christmas Miracle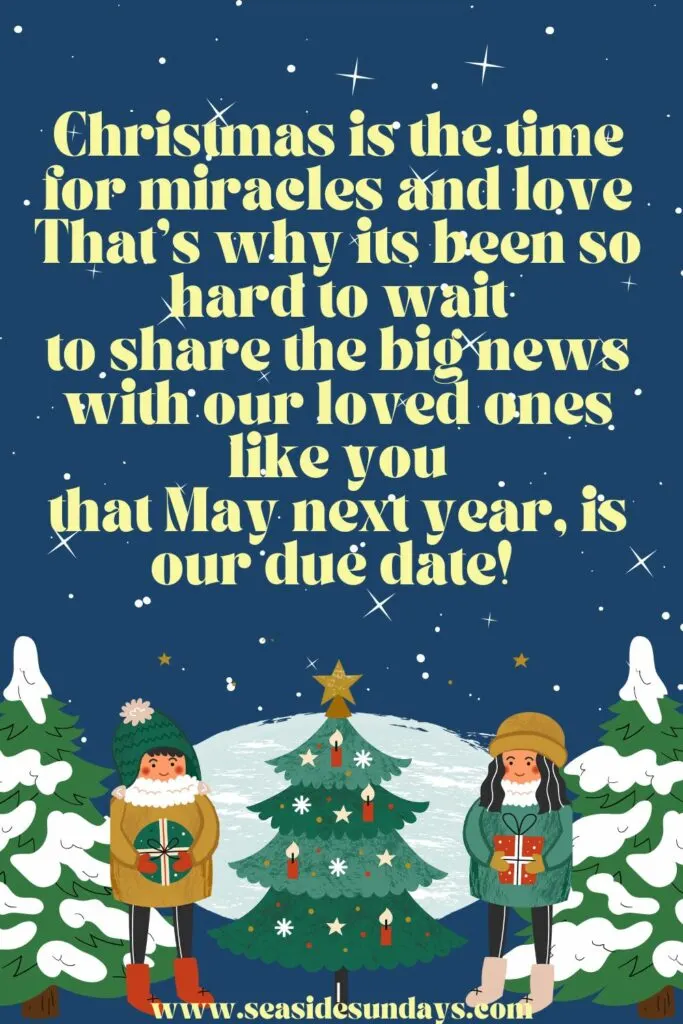 Christmas is the time for miracles and love
That's why its been so hard to wait
to share the big news with our loved ones like you
that May next year, is our due date!
The Blessings Of Christmas
Beyond the blessings of Christmas this year,
We have some great news for the ones we hold dear,
Next year there will be even more gifts under the tree
as we are excited to share news of our pregnancy!
A Mother's Poem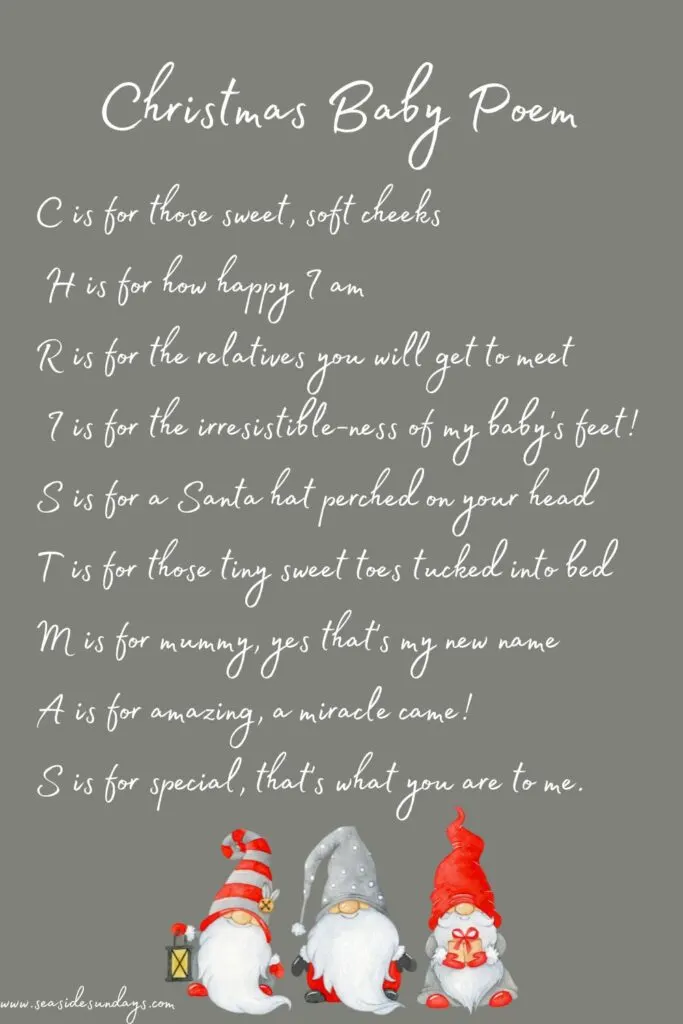 C is for those sweet, soft cheeks
H is for how happy I am
R is for the relatives you will get to meet
I is for the irresistible-ness of my baby's feet!
S is for a Santa hat perched on your head
T is for those tiny sweet toes tucked into bed
M is for mummy, yes that's my new name
A is for amazing, a miracle came!
S is for special, that's what you are to me.
Baby Dreams
We wanted to write a little note,
to let you know our exciting news,
A new addition is coming soon
A cute new baby will be here by June
So while this present isn't in a gift box,
or as practical as a pair of socks,
This is our Christmas gift to you,
our baby dreams are coming true!
Santa's Sleigh
A special gift is on its way
Something Santa's sleigh cannot carry
A gift that's filled with so much joy
We know that whether it's a boy or a girl
This baby will make us all very merry
Hopes and Prayers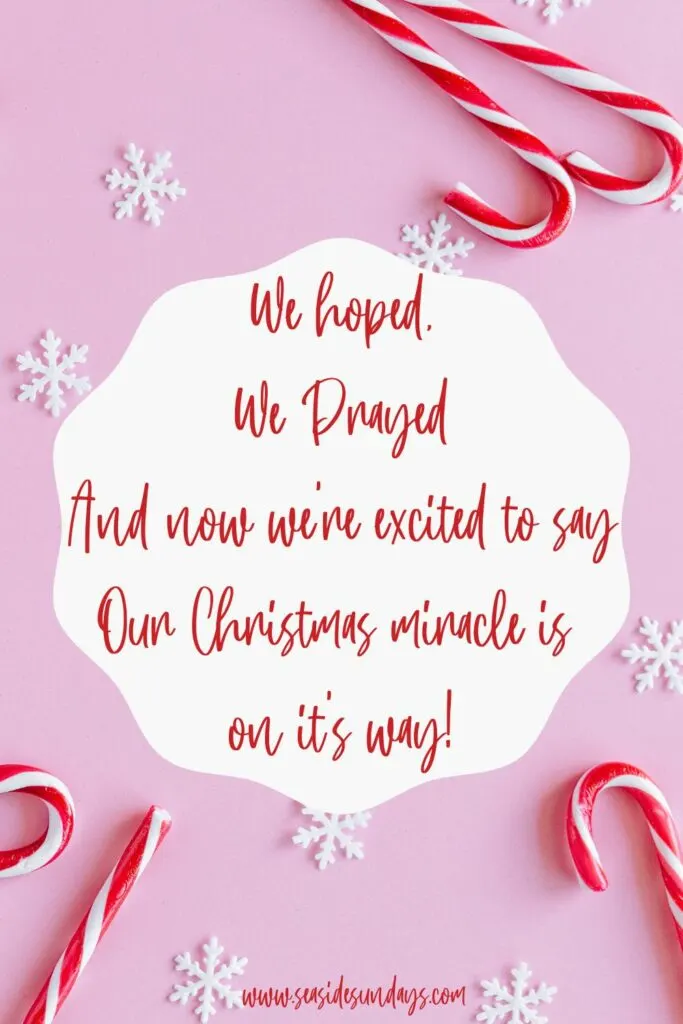 We hoped
We Prayed
And now we're excited to say
Our Christmas miracle is on it's way!
Jingle Bells
Jingle bells, jingle bells, jingle all the way.
Oh, what fun it is to say that a new baby is on its way!
Deck The Halls
Deck The Halls,
Trim the tree,
Our family of two is about to be three!
Fun Ideas For Your Baby Reveal This Christmas
Want to combine your Christmas Baby Announcement Poem with a unique pregnancy reveal idea?
Whether you are expecting your first baby or your third, here are some fun ways to make that Christmas pregnancy announcement extra special:
Create A Fun Scavenger Hunt
You can download my free printable pregnancy announcement scavenger hunt – its a great way to share your big news.
​Do a Fun DIY Photo Shoot
If your new baby has older siblings, doing some DIY Christmas pictures can be a fun way to make your baby reveal special.
Check out these 22 Christmas Pregnancy Announcement With Siblings ideas too.
Get The Family Pets Involved
Did you know that you can get pregnancy announcement t-shirts and bandanas for dogs?
Here are some fun ways to share your baby news and include your pet:
31 Ideas For A Pregnancy Announcement With Dogs
11 Cat Themed Baby Announcements
Cute Horse Pregnancy Announcement Ideas
11 Cute Farm and Cow Pregnancy Announcement Ideas