Looking to throw a great baby shower on a budget? Hosting a baby shower doesn't have to break the bank.
In fact, with a little bit of creative planning, you can host a wonderful shower for your friends and family without spending too much money.
Here are some tips for throwing a baby shower on a budget.
This post contains affiliate links. Please read my Disclosure for more information
MORE BABY SHOWER TIPS
5 Ways To Host A Unique Baby Shower & Ideas For Baby Shower Invites
How To Host A Baby Shower After Baby Is Born
Throwing a baby shower on a tight budget doesn't mean you have to forgo all the fun.
First, decide on the type of shower you want to throw.
If you're looking for something cheap and easy, consider hosting a potluck or picnic-style party.
You can also set up games and activities like baby pool or diaper raffle to keep guests entertained.
Alternatively, if you're looking for something more elaborate, check out local venues that offer special rates for showers.
And don't forget to ask friends and family members who live close by to help out with preparations or hosting duties on the
How To Throw A Baby Shower On A Budget
Baby showers are all about the memorable moments that make the day special for the expectant mom. Don't get carried away by feeling like everything has to be "instagram" worthy.
The most important thing is that she has a great time and everyone celebrates her bump!
Planning Your Shower
The best thing to do is to brainstorm cheap baby shower ideas that will work for your event. You can have a sit down with the mom-to-be and see what she is expecting or you can brainstorm with her mom.
The more planning you do, the easier it will be to stick to a budget for your party.
Here are some of the steps you need to take to make sure you throw a beautiful baby shower without breaking the bank.
Decide on the following:
1. Budget
2. The date
3. Guest list
4. The Venue
5. Food and drink
6. Baby shower games
7. Party Decorations
8. Party favors
1.Baby Shower Budget
How much does the average baby shower cost? According to a recent Baby Center thread, the average cost of hosting a baby shower is $300 with some costing up to $1000 or more.
That being said, it is possible to budget for a baby shower on $100 or even $50 with some savvy tips and creativity.
When you are starting to plan the baby shower, work out how much you have to spend so you can allocate the money correctly.
As a rule, you will need to factor in the following expenses:
Venue
Decorations
Food and drink
Party Favors
Games
Budget Breakdown for a Baby Shower on a Budget
Let's take a look at the typical baby shower budget and what you can expect to spend in each category.
Invitations: $50 (eliminate this cost by going online or making your own)
Decorations: $50
Food/Drinks: $100
Cake or cupcakes: $50
Games and Prizes: $20
Favors for Guests: $30
Total budget $300
One way to save money right off the bat is to enlist the help of others.
Baby showers can be expensive, but with the help of friends and co-hosts it is possible to save money.
It is really helpful if you can find someone who will share the responsibility of shower planning equally and fairly.
If the mom-to-be is your friend or sister, ask your parents or other siblings if they would like to join in on the shower planning duties.
Saying "yes" to having friends and family help with your baby registry can be a great way to get the most use out of your time and resources.
By involving others in the process, you'll spread the workload and make sure that everyone has an opportunity to contribute something unique to the registry.
You'll also gain support during this exciting time, making it easier for you both emotionally and physically.
Once you have got some people to help share the costs with you, its time to start planning in earnest.
2. Picking A Date And Time
The date isn't a huge factor in saving money on your baby shower but it can make a difference.
If you are planning on renting out a venue, you may get a discount for off-peak times such as week days instead of weekends.
Also prices may be higher during the holidays or peak wedding season so bear that in mind too.
The time you hold the baby shower can really make a difference for your budget. Hosting a baby shower at a specific time of day can help to control costs.
Consider hosting the party in the morning, mid-afternoon, or late evening to save money on food. Basically, the key is to avoid meal times so you can save on food costs.
If you host your baby shower between lunch and dinner, say from 2-4pm, you can serve light snacks and treats instead of a full meal.
3. Guest List and Invitations
If you have ever planned a wedding you know that more people means more money!
The smaller your guest list, the more money you can save on the baby shower.
You will be able to choose a smaller venue for your baby shower if you don't have many names on your invite list.
The ideal number of people is between 15-25 for the average shower.
Although there are some cultures who go all out and have huge banquet halls for the shower, if you can keep the numbers down, you will have much more flexibility when it comes to the venue, the food and your budget!
Baby Shower Invitations On A Budget
The best way to save on baby shower invitations are to either go digital or DIY them.
Digital invitations also offer the significant advantage of tracking and monitoring the RSVP list for you!
Some popular places to get online invitations include:
Another option is to create a Facebook event and invite people that way.
If you want to send your own paper invitations out but don't have money for fancy ones, why not DIY them?
You can create your own ones for free using a program such as Canva.
To get started, create your free Canva account and then go to "create a design" and choose your size.
You can then do a search for templates and then edit the details before saving them as a PDF on your computer. You can then email them out or print them as you require.
4. Cheap Places To Host A Baby Shower
Baby showers can be hosted at the new parents' home, at a friend's home or at a restaurant or other venue.
Hosting a baby shower at home is a budget-friendly option.
You can save time by having all of the decorations and food options already on hand.
Consider holding the baby shower at a friend's house, which eliminates costs associated with renting space and providing refreshments.
In the summer, a park or backyard is a great place to host a shower at little or no cost.
If no one has enough room to host the baby shower, you can still consider some budget friendly options.
Here are some places to consider for your baby shower venue:
1. Home backyard
2. Church hall
3. Club House
4. Park
5. The back room of a pub or restaurant
6. The office after hours (for a coworker shower)
7. YMCA
8. Community Center
9. The Beach
5. Baby Shower on a Budget Food Ideas
Baby showers can be expensive, so it's a good idea to save money where possible. We've already spoken about considering the time of your shower as that affects the cost of your food.
Regardless of the time you host the shower, you will need to spend some money on food but here are some ways to keep costs down:
Unless you are hosting a sip and see party, forgo the alcohol to save costs.
Cut your larger desserts into bite-size pieces to provide your guests with a big selection of desserts on a small budget.
Bake the cake yourself
Make cookies and other desserts instead of buying them
Instead of spending on expensive fruit and veggie trays, buy in bulk and do the cutting yourself.
Turn a potluck into a game by asking guests to bring their favorite dish to share
Plan in advance and shop sales in a the months leading up to the shower (great for non-perishables)
Host an "afternoon tea" with mini sandwiches and treats to save costs
6. Cheap Baby Shower Games
Baby showers are the perfect occasion to play games that are entertaining and fun while also celebrating the new parents.
There are plenty of printable baby shower games online for free. If you are hosting an online event, make sure to check out these 15 Virtual Baby Shower Games That Don't Suck.
Baby shower games are a great way to add excitement to your party and make sure every guest feels included.
Try playing free printable games instead of spending extra money on baby shower games. For baby shower prizes, you can give out small candies or look for $1 items at places like Michael's or Target.
Here are some free printable baby shower games to check out:
Baby Shower Bingo and Word scramble
15 Baby shower games to print out (including Baby Animals and Parent trivia)
Other fun baby shower games that don't cost much:
Guess the Size of Mom's Giant Belly
This party is for guests to guess the size of mom's giant belly – all you need is some string.
The Price Is Right
This game will cost you a little bit in supplies but it can double as a gift to the mom to be.
All you need to do is buy some baby essentials and then get guests to guess how much each item costs.
The person who guesses right wins a prize. Afterwards, you can let the new mama keep the baby items.
Ideas for the price is right:
Diaper cream
A pacifier
Diapers
Baby bath
Wipes
Nipple cream
7. Cheap Baby Shower Decorations
There are many inexpensive and cute baby shower decorations you can use to create the perfect baby shower.
Some inexpensive ideas for baby shower decorations include using flowers, balloons, and cookies.
Here are 10 ideas for cheap and easy baby shower decorations on a budget:
Use Party Favors as decorations
Get more bang for your buck by using the party favors as decorations too. If you are giving the shower favors away in gift bags, make sure they match the theme of your baby shower then place them around the room.
Likewise, if you are giving away cookies, use them as a centrepiece.
Grab Free Printable Decorations
Printables are a cheap and easy way to decorate the shower.
You can find or make fun signs, banners, coasters, water bottle labels, and so on.
Whenever possible, use free baby shower printables to decorate and manage your baby shower.
The best place to find free printable baby shower decorations is on Pinterest.
Here are a few I found in minutes:
Free Floral Baby shower printables
Use what you have at home
Host a baby shower on a budget by using things you already have in your home.
If you have pretty vases or cute decor, put them to work as baby shower decorations.
Make use of balloons
You can buy balloons at the dollar store and use them to make centrepieces, garlands and other decorations.
Decorate With Baby Items
Another functional ay to decorate for the baby shower without spending a lot of money is to use baby clothes such as little onesies and tops as decorations.
This is a great way to make your baby shower "green" as the clothes can be put to good use afterwards.
Use Diapers
Diaper cakes are a popular baby shower decoration that is also useful. Making your own diaper cake is easy and affordable.
All you need is a packet of diapers and some patience. Here's a tutorial to show you how to make a diaper cake.
DIY Your Decorations
I recently hosted a baby shower for my sister in law and I did in on a budget by making my own decorations.
Here are some easy DIY decorations:
Tissue Pompoms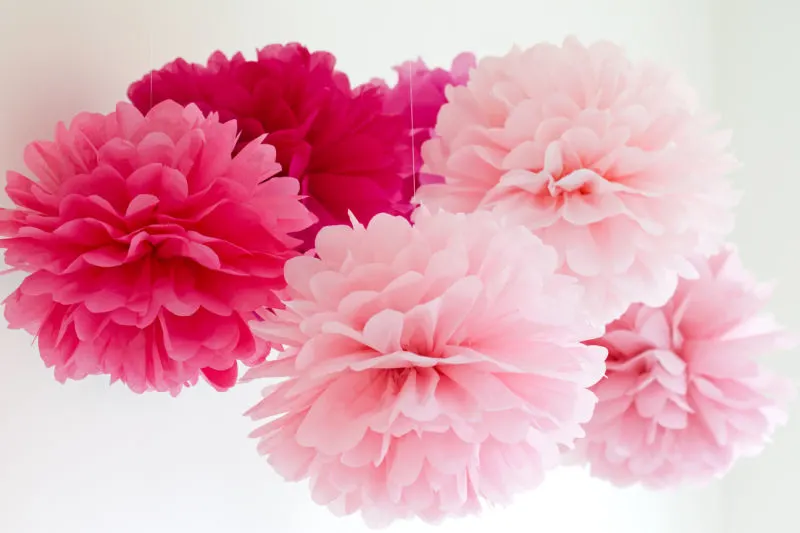 You can make large paper flowers using tissue paper from the dollar store.
Here's how to make them:
Make a pile of tissue paper in the colors you want. Fold your tissue paper up accordion style along the length
Staple the middle once you have folded it all. You can now round out the ends to create your petals.
Gently pull each layer until your whole flower has "bloomed".
Simple Garland
Another really cheap way to decorate a baby shower is to make your own banner using card stock or scrapbook paper.
I found that Dollar Tree has some really great scrapbook paper in different designs. You can cut out Onesie shapes or letters and then string them together and hang them.
There are many inexpensive baby shower decorations that look amazing.
Shopping at stores with budget-friendly prices is another great way to save money.
Family and friends and of course the mom-to-be make the party but it is still fun to create lovely surroundings with decorations.
8. Cheap Baby Shower Favors
You can save money by offering homemade treats as party favors. Cute cookies are always a highlight and you can wrap them in a bag with pretty ribbon.
Another idea is to offer a candy bar or popcorn bar and let guests help themselves on their way out. This can double as a dessert and a take-home treat.
Other cute ideas for baby shower favors that won't break the bank:
Mini hand sanitizer
Lip balm
Face masks
Cake pops
Cupcakes
Fuzzy socks
These are all things you can get at the dollar store or cheaply for around $1 each.
Baby Shower on A Budget – Final Thoughts
Throwing a baby shower can be expensive, but it doesn't have to be.
I hope you have enjoyed these tips for throwing a baby shower on a budget. You can save money by making your own decorations, food, and favors.
You can also save money by registering for inexpensive items.
And don't forget to ask for help from friends and family members.
They may be happy to contribute food or favors. By following these tips, you can throw a beautiful and affordable baby shower!
Get More Baby Shower Ideas Here:
5 Ways To Host A Unique Baby Shower & Ideas For Baby Shower Invites
15 Virtual Baby Shower Games That Don't Suck