Just because your shower isn't in person doesn't mean it can't be fun. The virtual baby shower games below will make sure your party is one that everyone enjoys and remembers for years to come.
I was pretty shocked when I googled "online baby shower games" and the first thing that came up was "Is a virtual baby shower tacky?"
My answer is "absolutely not!" While I think most of us would prefer an in person baby shower but the truth is, for many reasons, virtual may be the only option you have and it definitely doesn't have to be tacky.
Maybe you can provide food and cake to all your guests but you can still make sure they have fun.
If you are planning an online baby shower for a friend or are looking to have one yourself, you are likely wondering what happens at a virtual baby shower and how to make it work.
There is absolutely no reason that you can't celebrate the mom (and dad) to be virtually using a program such as Zoom or Google Hangouts. In fact you can make it just as fun and memorable as any other kind of baby shower.
This post may contain affiliate links. Please read my Affiliate Disclosure for more information.
RELATED POSTS
Hosting A Sip And See – A Baby Shower After Baby Is Born
Free Baby Stuff for New & Expecting Moms (2022 Edition)
The Best Virtual Baby Shower Games
Whether you are having a Skype baby shower or meeting the whole crew on zoom, baby shower games are a must.
First the good news, virtual baby shower games mean that there is no way you can make everyone suffer through eating chocolate "poop" in a diaper or watching grown men drink as fast as they can out of baby bottles.
A virtual baby shower is suddenly looking pretty good, isn't it? Added to that, an online party is one of the best ways to throw a baby shower on a budget and what have you got to lose?
You can keep your shower classy with some fun games that hold everyone's attention while being easy to play online.
Bear in mind that for many of the games, you will need to make sure your guests have everything they need before the party starts.
You can either email them the cards and information or print them yourself and deliver them if possible.
And also it's worth mentioning that the games below are perfect for a baby shower or a meet the baby party after the birth.
Here are my top picks for cool games that everyone will love:
1. Virtual Baby Shower Bingo
This is probably the easiest game you can play online. Everyone knows how to play bingo so it's simple to get up and running.
There are two different types of bingo that you can play at a baby shower, the most common is the one where you cross off a square as the mom-to-be opens her gifts and receive that prize.
While that is a good option, it can be a bit hard and confusing to do virtually so I would recommend doing a more traditional bingo about baby items like this one.
Make sure everyone has a game card before the party starts and then the host can act as the bingo caller.
2. Online Baby Shower Scavenger Hunt
A home scavenger hunt is a great way to have fun and get everyone off their chairs during the baby shower.
I really enjoyed doing this one from Etsy at a recent baby shower. Guests have to run around their house finding objects and they get points for what they manage to collect.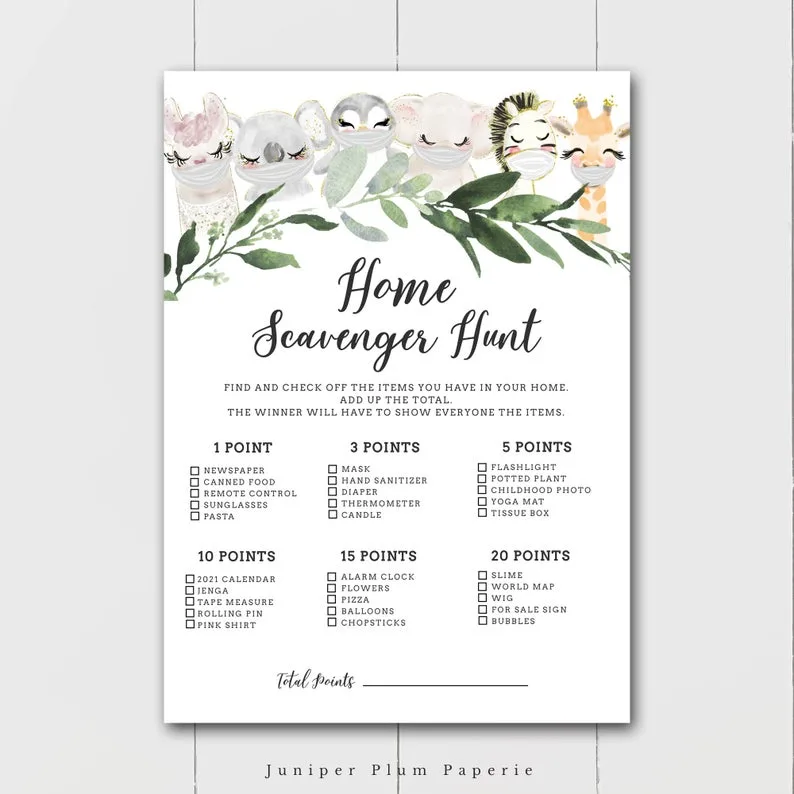 3. Price is Right
The Price is Right virtual baby shower game is always fun. Give all the guests in the party a list of common baby items and they have to guess how much each item costs.
Beforehand you can go shopping and pick up the items so that you know the current prices. This will also allow you to show them on the screen during the game and to gift them to the mom-to-be after the shower.
I really like this printable Price is Right game from Etsy because it is editable so you can change the items to whatever you like.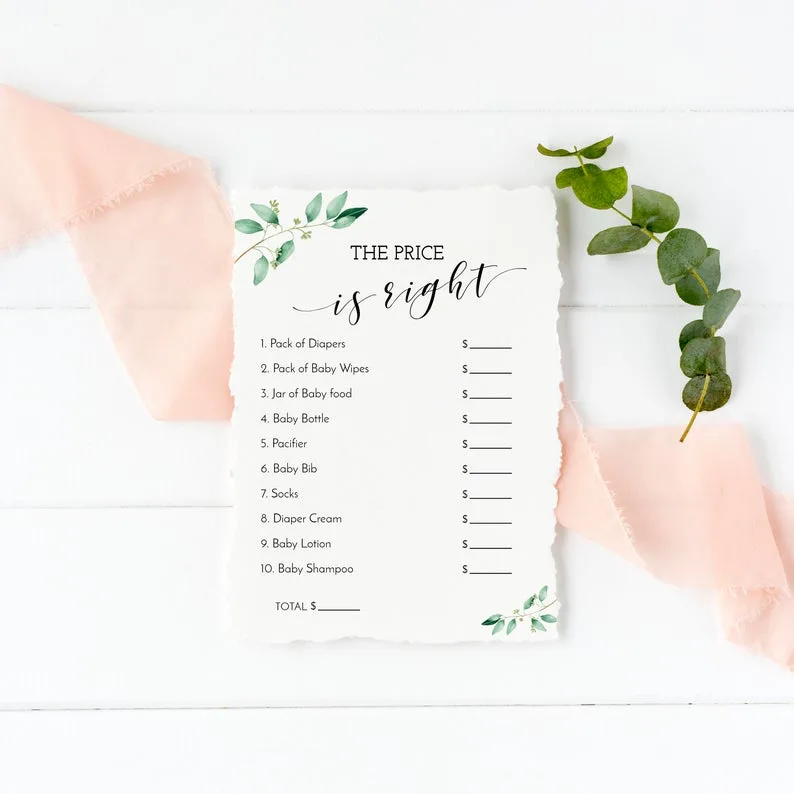 4. Virtual Baby Shower Pictionary
Pictionary is a bit harder to play during a Skype or Zoom baby shower but you can adapt the game and make it really fun.
One idea is to play Emoji Pictionary like this one from Etsy. Guests can try and work out what the emojis mean and then the host can go through the answers at the end.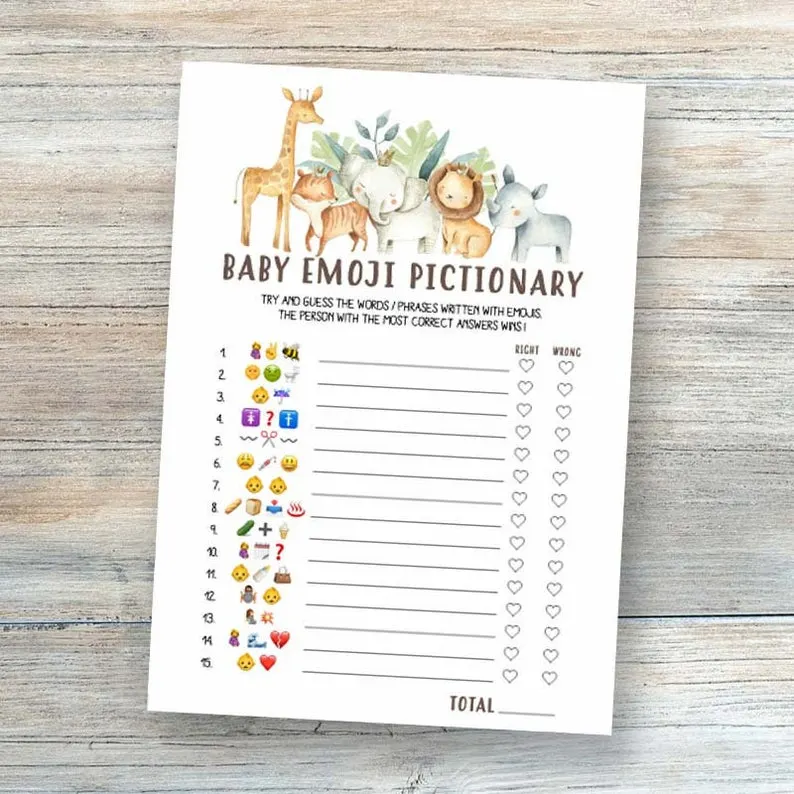 5. Word Scramble
Another fun game to play at an online baby shower is a classic word scramble. I recommend that you pick either word scramble or Pictionary as they are quite similar and it might be too much to do both.
Word Scramble is simply a list of anagrams that guests can try and unscramble to work out baby-related words.
I like this example because the file is editable so you can add your own words in that are specific to the mom and dad-to-be.
6. Baby Shower "Jeopardy"
If you don't want to do too many baby shower games, consider just this one. This is a parody version of the TV show "Jeopardy" that comes in a Powerpoint form that you can just use as is.
I've included it in this list as I think it one of the most unique baby shower games I have seen.
How It Works
This is a customizable "JeoParody" style powerpoint template game. It has the theme song, sound effects, updated graphics, smooth animation, and Final "JeoParody".
There are 6 categories:
Pregnancy 101
Baby Items
Word Scramble
Nursery Rhymes
Baby Hacks
All About Mommy (customize this for the mom-to-be).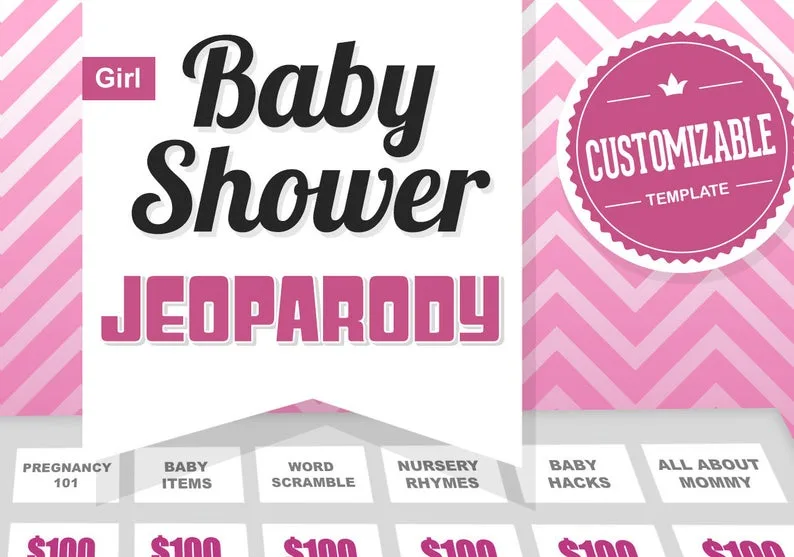 7. Celebrity Baby Names
Most baby showers include a game that involves the babies of the rich and famous. At my baby shower there were pictures of famous babies and the guests had to match the parents to the child.
That version is a bit hard to do virtually but you can play Celebrity Baby Names where you match the name to the parents.
8. Mommy Or Daddy
This guessing game can be a fun way to break the ice. It is especially good to play if you have guests that only know one of the parents.
Read through the questions and pick mom or dad. This version from Etsy is great because it is editable so you can personalize it.
9. True or False
If you have guests at your party who love trivia, this is a fun game to play. Give the guests a list of fun facts about babies and they have to guess which are true or false.
If you want a ready-made version, this one is really cute.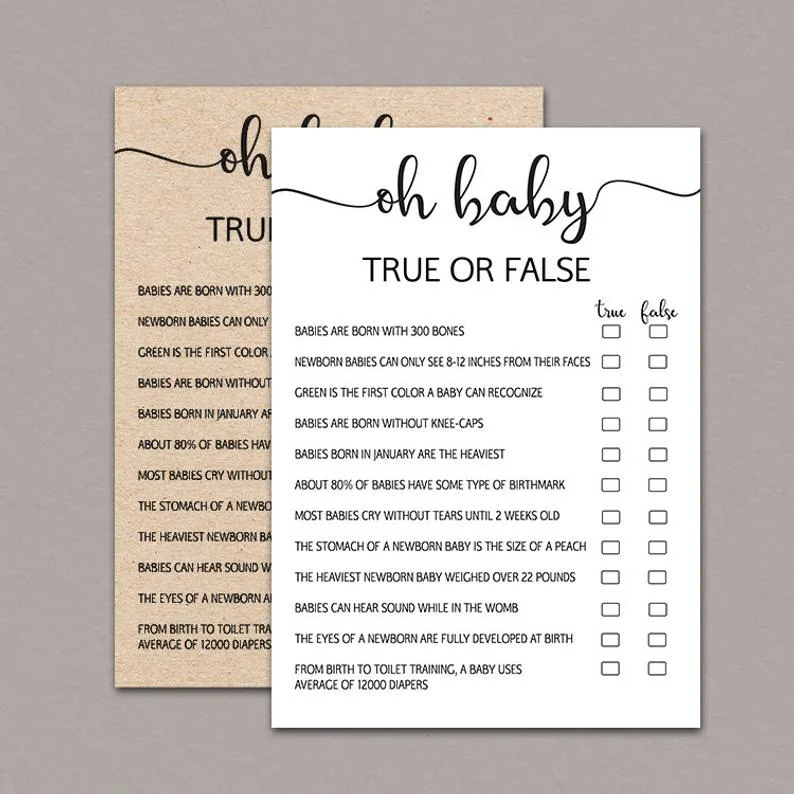 10. Who Is The Mom Game
Here is a cute game that everyone can join with. Even the children at the baby shower will love matching the mommy animals to their babies.
Etsy has a lot of printable options of this game, I really like this one from DamLa Digital.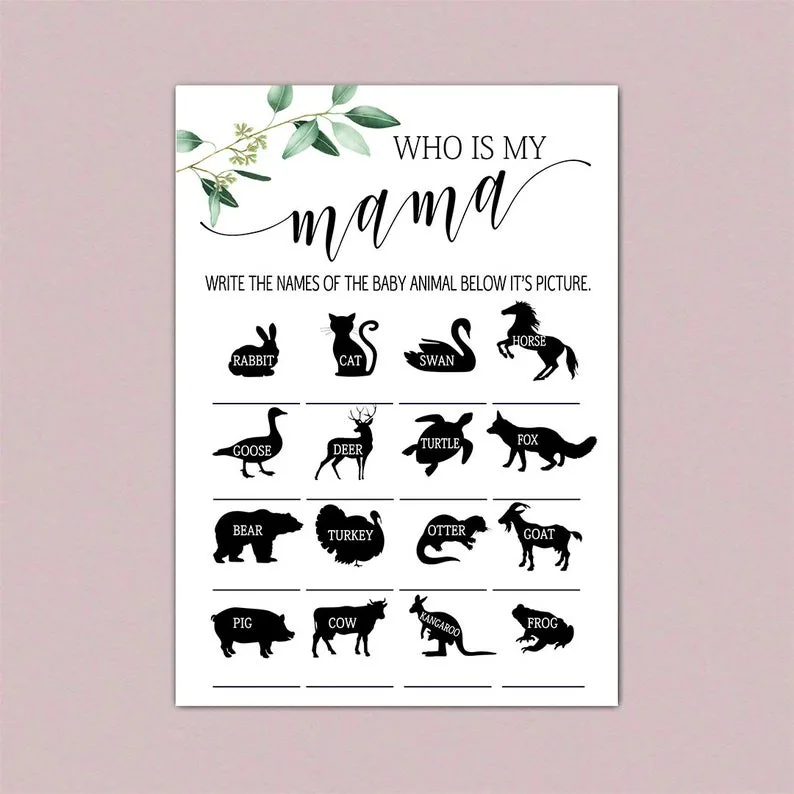 11. Old Wives Tales
We have all heard of old wives tales surrounding pregnancy and babies. This game is a fun way to test out your knowledge of them.
Grab a list of common beliefs about pregnancy and your guests can say if they think they are true or false.
12. Baby Candy Game
I've already said that I'm not a huge fan of the baby shower game where you smell melted chocolate on a diaper and guess what kind of candy bar it is.
This candy bar game however, is way cuter and easy to play virtually.
Players have to match the candy bar to the description. It's actually quite hard so would be a good game for adults or even one to give out before the shower begins.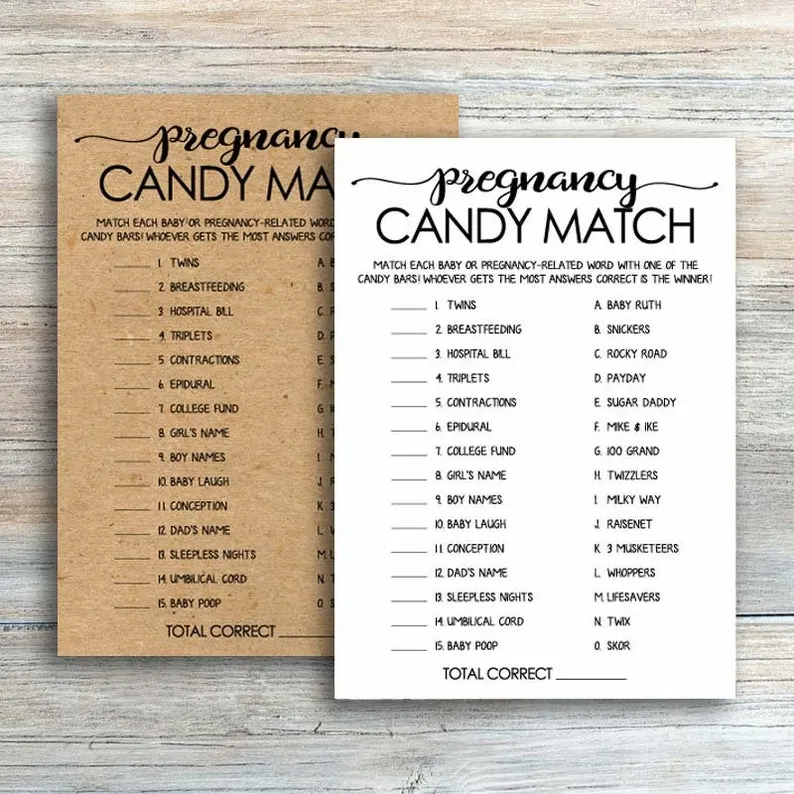 13. Name That Baby Song
Here's another cute game to play online at a baby shower.
Find as many songs that include the word baby in it (or use a ready-made list like this one).
If you are able to have a socially distanced baby shower, you can even play the songs for each game.
14. Disney Parent Match
Here is another take on the celebrity baby match – a Disney version.
I think this version is much easier to play and also would be great for a Disney themed baby show. You can get the printable here on Etsy.
15. Scattergories Virtual Shower Game
Virtual Scattergories is really fun game that everyone loves to play – using the mom-to-be's name as a guide, fill out the categories with as many words as you can think of within the time limit.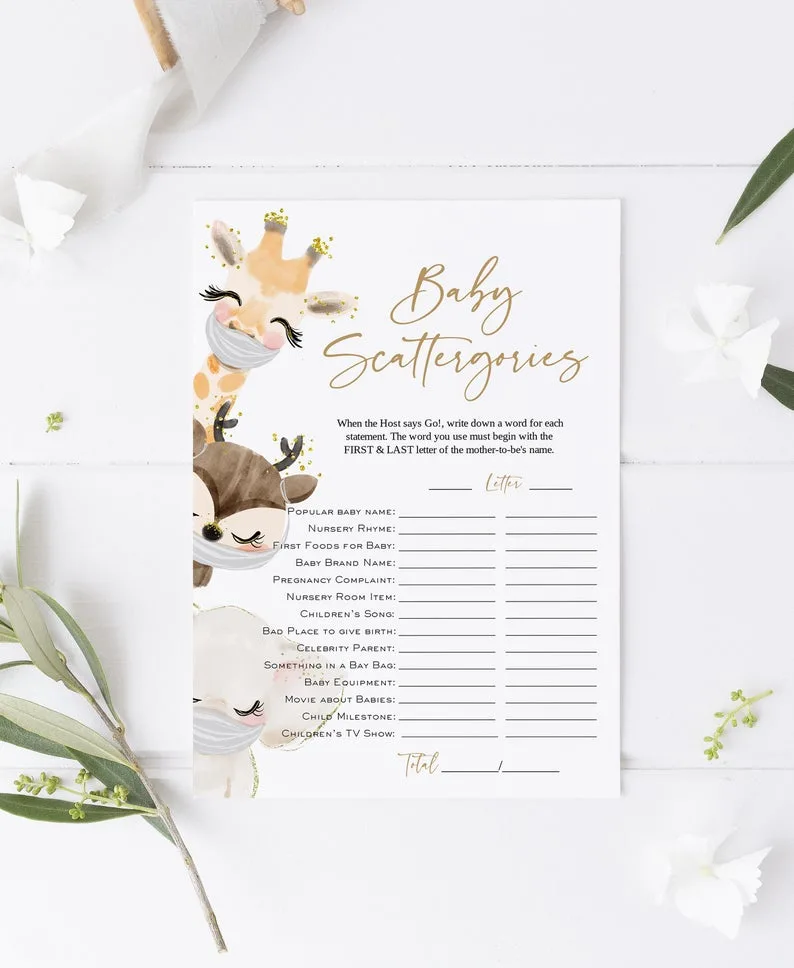 What About Prizes for A Virtual Baby Shower?
Prizes are a must when you are playing all these virtual baby shower games but it is a bit trickier when everything is online.
Here are some cute ideas for virtual prizes you can award your winners:
$5 gift card to a coffee shop
A Groupon for a manicure
Passes to a local event or movie theatre
Gift card to an ice cream place
More Pregnancy Tips
The Best Pregnancy Journal Picks
43 Pregnancy Quotes And Parenting Advice For Expecting Moms
51 Best Pregnancy Movies To Watch When You're Expecting