Looking for some cute and creative ways to celebrate baby's first Easter? You'll love the ideas below.
Easter Sunday is one of my favorite holidays and I love doing fun activities with my kids.
Depending on your baby's age, there are lots of fun creative ideas to get you into the Easter spirit.
While older babies can join in with some fun spring time activities, even a new baby can have so much fun celebrating with familly and friends.
Here are some great tips to help make the day special.
From fun Easter activities you can do together to celebrating with family and friends, there are plenty of ways to make your little one's first Easter memorable.
This post contains affiliate links. Please read my disclosure for more information
MORE EASTER FUN
55 Easter Egg Fillers for Tweens & Teens
35 Creative Easter Basket Ideas For Toddlers
How To Make Baby's First Easter Special
There are so many things you can do to make this day special.
Of course, your baby won't remember their first Easter, but you will be able to look back and enjoy celebrating the holiday with them.
The nice thing about Easter is that there are a lot of fun traditions you can start even if you have a newborn baby who can't do much.
I have a baby born in March and another in May so I've experienced both the newborn first Easter and also the first easter when baby was closer to being a toddler. Both are super fun!
There are so many things you can do with your baby no matter how old they are!
Oh, and if you are expecting this Easter and want to let everyone know, make sure to check out my Easter pregnancy announcement ideas.
Read on for some fun baby's first Easter traditions and fun things to do. '
15 Ways to Celebrate Baby's First Easter
If you find yourself asking "what should I do with my 1 year old this Easter?" then worry no more.
Below you will find 15 fun ideas that will help make the holiday extra special for you and baby!
1. Baby Photo Shoot
You don't need to be a professional photographer to DIY an Easter photo shoot at home.
All you have to do is find some cute Easter props like plastic Easter eggs or some stuffed bunnies and lay baby on a blanket.
If you have a colorful easter outfit for baby or even can get ahold of some Easter bonnets, you will be good to go.
You can check out my list of 37 Baby Easter Picture Ideas for inspiration.
With the warmer weather around this time of year, it is even easier to take photos at a local park so you don't have to worry about lighting or a cute backdrop.
Plus you can enjoy the fresh air!
2. Dress Baby Up
One of the most fun things about Easter is that is you get to wear your fanciest spring outfit!
Easter is second only to Christmas when it comes to wearing cute dressy clothes like frilly dresses or little bow ties so why not get baby all dressed up?
Even if your family doesn't attend an Easter church service or do a big family gathering, it can still be fun to get dressed up and take some family portraits.
3. Easter Egg hunt
Even if your baby is too young for some sweet treats like chocolate eggs, no baby's first Easter would be complete without an Easter egg hunt!
Of course, if you have a newborn then a backyard Easter egg is out of the question but you can still do something fun.
If your baby is walking or crawling, you can put some colorful eggs around the house, give them their basket and let them run around hunting for eggs.
For younger babies, if can be fun to just leave some eggs near their blanket and watch them discover the bright colors and new shapes.
Trying to grab the eggs is a really good way to practice hand-eye coordination.
Just remember not to leave them unintended because they can be a choking hazard.
4. Do Some Easter Crafts
Doing cute holiday together is a bit of a family tradition for us. Even the little hands can get in on the act with finger paints.
There are some really cute Easter crafts you can make with baby's footprints that also make a good gift for grandparents.
I love these kinds of keepsake crafts as they are fun to look back on and enjoy baby's teensy tiny feet. It's a special way to remember how little they are.
5. Put Bunny Ears On Baby
This is a simple way to make baby's first Easter special but it is always so cute.
You can buy bunny ears that fit baby's on Amazon or even at the dollar store.
If baby can sit up, you can place him or her in the backyard surrounded by spring flowers or, alternatively, you can lay them down with a pretty blanket and snap away.
6. Watch some Easter cartoons

A lot of the most popular kid's show come out with Easter specials in the spring and they are always fun to watch.
I also like to go on YouTube and find some fun Easter songs for us to sing together.
Some of my favorites include:
Peppa Pig and the Easter Bunny (on Amazon Prime)
7.Pictures With the Easter Bunny
This one can be controversial because, let's face it, the Easter Bunny you see at the mall can be a bit scary for little ones.
That being said, if your baby isn't too fazed, this is one of those milestone photos that you will look back at and love.
8. Get Family Pictures Taken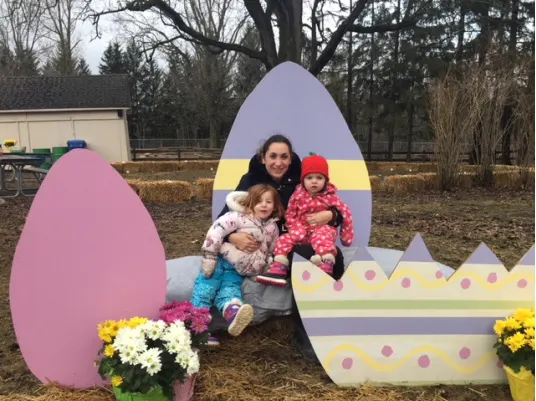 Another fun way to record the holiday is with a professional family photoshoot.
Most people do these kinds of photos in the fall or Christmas.
However, little babies grow so fast that it can be nice to get some great photos halfway through the year too and Easter is a great excuse for this!
9. Get Baby a Special Outfit
From super cute Easter pyjamas to a fun bunny hat, make the most of having a cute little one who won't argue about what clothes you put them in.
If you have a little girl, you can get some really cute Easter headbands on Etsy and there are tons of super cute little wooly hats for both boys and girls.
10. Host An Easter Brunch
Invite some baby friends around and throw a little Easter celebration!
Even tiny babies can have fun at a playdate with some other babies.
It is actually really good for their development to see all kinds of different faces – especially ones that look like them!
Plus you will get the cutest photos!
You can easily make some kid friendly food for the ones that are already on solids.
If there are older siblings in tow, make sure to check out my list of 25 Easter snacks for preschoolers.
11. Read Some Easter Books

I normally read a different Easter book every night for the weeks running up to Easter. Reading is so important for kids and it is reading some Easter themed stories is a great way to celebrate baby's first Easter.
From Biblical stories to more Easter bunny themed books, there are lots of fun board books that are suitable for little ones.
Check out this list of the best Easter books for babies and toddlers
12.Choose Baby's Easter Basket
If you can find the perfect Easter Basket, it can last for years.
It will most likely serve your baby for their first holidays and for years to come. That's why it can be worth taking your time to find the perfect baby's first Easter basket.
I love personalized everything so I went with a traditional wicker basket with baby's name embroidered on the liner.
If you want some cute Easter gift ideas, make sure to check out my list of things to put in baby's first Easter basket.
13. Plant Flowers or A Tree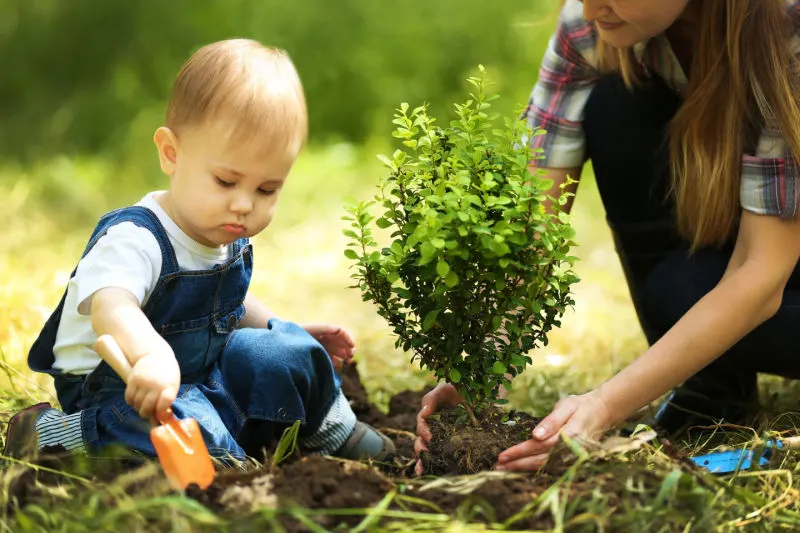 Easter and spring go together with gardening and a really cute way to mark baby's first Easter is by planting a special garden for baby.
If you plan to stay in your home for years to come, planting a tree that will grow with baby is a really cute idea.
14. Make Baby-friendly Carrot Cake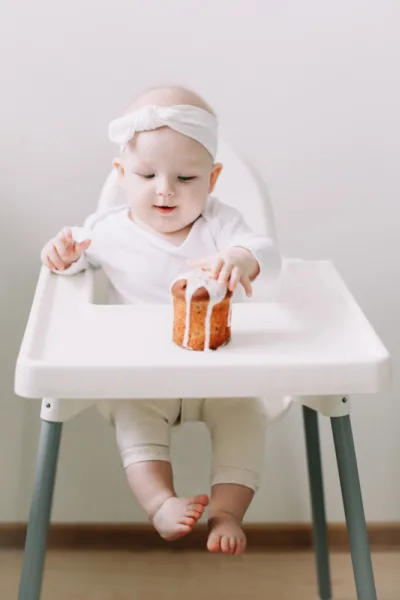 Another fun way to celebrate baby's first Easter is with a cake smash!
You can make a relatively healthy carrot cake that is suitable for babies and then frost it and watch them smash it to pieces.
Don't forget to take photos!
15. Send Easter Greeting Cards
I don't normally send greeting cards for Easter to family members but I did for my baby's first Easter. You never know, you might start a new tradition!
Any special occasion is an excuse to send a cute photo and show off baby, right?
Plus everyone loves to see baby in their cute bunny ears or adorable Easter outfit so why not give the people want they want!
How To Make Baby's First Easter Special
Easter is a time of celebration. It's also the perfect opportunity to introduce your little one to all kinds of fun things.
It's important that you make this day special for them, so why not try out some of these easy ideas to celebrate baby's first Easter in style?
More Fun Springtime Activities
30 Cute Ideas For Baby's First Easter Basket
How To Make A Cute Easter Egg Wreath
25 Cute Easter Snacks For Preschoolers