The newest trend in baby parties is a baby shower after baby is born. In fact, it is becoming the top choice for women all over the country when it comes to celebrating the new baby and mom at the same time.
Why have a sip and see instead of a baby shower? More and more women are opting for a meet the baby party (or sip and see) after their little one arrives for many reasons.
A sip and see is more casual than a baby shower and can be easier for mom because the baby is the centre of attention instead of her pregnant belly.
While Sip and Sees have been around for decades in the South, they have only recently become trendy in other parts of the USA and Canada with many people choosing to welcome baby open house style instead of during a formal shower.
You can have a sip and see in person or online. A virtual sip and see is perfect if you are worried about your baby being exposed to germs before he/she has all their shots.
If you decide to do it online, make sure to check out my list of 15 Virtual Baby Shower Games That Don't Suck.
This post contains affiliate links. Please read my Disclosure for more information.
RELATED POSTS
Ultimate List of baby Freebies for New & Expecting Moms
50 Newborn Baby Tips and Tricks (From Real Moms!)
5 Reasons to have a Baby Shower after Baby is born
Although it bucks tradition, there are many reasons for holding a Welcome baby party once your newborn is here.
1. It's a more informal affair, often without the games and gift opening of a baby shower
2. It "kills two bird with one stone" – friends can simultaneously congratulate you and meet your new arrival
3. Husbands often attend a sip and see making it more of a family affair in keeping with our modern times.
4. It's great for moms who don't want to be the centre of attention – everyone will be looking at baby and not you!
5. If you do register for gifts, you will have had a chance to decide what you really want and avoid buying things that are a waste of money.
Talking of which, here are 8 Tips For Throwing A Baby Shower On A Budget.
What is a Sip and See?
Although you might not be familiar with the term Sip and See, you probably know this Southern tradition by its other name "Meet the Baby Party".
In essence, a Sip and See is a party, often in the form of an open house. It gives friends and family the opportunity to "see" your new baby while "sipping" on light refreshments.
The sip and see normally takes place over a few hours, say from 1-5pm on a Sunday afternoon with guests coming and going as they please. Hors d'oeuvres and light snacks are provided along with punch or sparkling wine and juice.
There is often a cake or cupcakes at sip and sees parties.
You can have your meet the baby party in person or you can hold a virtual sip and see. Here are some fun 15 Virtual Baby Shower Games That Don't Suck.
With an online Sip and see, you can hold "office hours" on Zoom or Skype and tell people that you will be available during a certain time (2-4pm) and they can jump on to meet the baby whenever they like.
When should you do a sip and see?
The great thing about a Sip and See is that you can have it any time after your baby arrives.
Typically, people like to have visitors over once things have settled down around 6-10 weeks after baby is born. That way you are in a good routine and will feel less nervous about having guests over.
Another advantage of hosting a sip and see when baby is out of the extreme newborn stage is that he/she would have had their first round of shots and have a stronger immune system.
Who Hosts A Sip and See?
The parents normally host a sip and see at their own home. This makes it easy to nurse, put baby down for a nap and change diapers.
Family members or friends most often host a meet the baby party when there was no baby shower before the baby was born.
Can you have a baby shower and a sip and see?
You can definitely have both a baby shower before baby arrives and then a sip and see to welcome your new bundle of joy.
Sip and see parties are more casual than baby showers with no expectation of gifts for the new baby.
The invite list will likely be a bit different as sip and sees are primarily for close friends and family while co-workers and family friends are often invited to baby showers.
Another difference between a baby shower and a sip and see is that your guest list will include men and likely children. After all, everyone wants to meet your baby!
Do you give gifts at a sip and see?
As I mentioned above, gifts are not a standard part of a sip and see and most new moms do not have a registry for their meet the baby party unless they did not have a baby shower before their baby was born.
However, many guests do end up bringing a small gift for the new baby
If you do not want to attend a sip and see empty handed but are unsure what to bring, an appropriate gift would be a restaurant gift card or even a freezer meal for the new parents.
RELATED: What To Buy A New Mom For Herself (Not Baby!)
What do you do at a Sip and see?
The beauty of a sip and see party is that you can keep it as informal as you like. As guests will come and go during the afternoon (or morning), you can just have general chit-chat and socializing.
You don't need to lay on formal entertainment for your guests as all they will want to do is see your baby anyway!
If you prefer a more formal approach, you can play some baby shower games with your guests.
You can have a table laden with food and treats for guests to grab whenever they want instead of a formal sit down luncheon. Also make sure drinks are either accessible and self-serve or someone is tasked with serving guests as they arrive.
Now bear in mind that many of your guests will expect to hold the guest of honor or at the very least, get up close and personal with him or her.
If this is a concern of yours because you are holding your sip and see during flu season or just don't feel comfortable with so many germs around your newborn, you can try the following:
Place bottles of hand sanitizer at the entrances with a note asking people to use it before touching baby (no one will refuse a polite request).
If you are feeling a bit more assertive, you can put a cutesy sign like this one from Tags for Tots.
What to wear to a sip and see
Being a Southern tradition, most sip and see guests dress in cute outfits and baby shower attire.
Depending on where you live, jeans with a cute top or a summery dress would be appropriate. Also pay attention to where the sip and see will be held.
A country club or fancy restaurant would require a more conservative look than someone's living room. At any rate, you can never go wrong with a cute dress and shoes.
And what should a man wear to these kinds of baby showers? A nice pair of pants and a button-down shirt is perfect.
Sip and See themes for your party
There are tons of great sip and see ideas on Pinterest if you are stuck for a theme. Bear in mind that you don't have to have a theme. Sometimes the best ideas are just to choose a couple of colors and then go with it.
Great colour themes for baby showers include:
Pink and gold
Blue and white
Black and gold
Hot pink and white
Here are some of the best themes I have found along with some of the best ideas from Etsy for sip and see invitations and decor.
Welcome to the World
Think globes, maps and travel for this Sip and See theme. I love this idea because it is so simple to pull off and the decor could be used in baby's room afterwards.
The best thing about this theme is that you can serve up all kinds of international food and drink and stay on topic!
You could either have a couple of items from different countries such as pasta/pizza with a dessert from France or you could pick one country and go crazy.
Welcome to the World party invitations from Jen Leonardini
Welcome To The World Sign from Lake Country Cottage
Baby around the World Game from Little Pebble Paper
Sip Sip Hooray
This is a really simple theme that you could make your own. Champagne would, of course, be the drink of choice here.
You can also fill plastic champagne flutes with candies for favors and do fancy brunch foods like smoked salmon and mimosas.
Sip Sip Hooray Twinkle sign from Kiddzink
Sip Sip Hooray Cocktail napkins from Charleston Charms
Baby, It's Cold Outside
This would be perfect for a sip and see taking place around the holidays or even in January and February.
You can serve hot chocolate and cookies to the guests and decorate with snowflakes and other winter-themed items.
A way to do this shower on a budget is to stock up on snowflake and other winter decorations just after the holidays when they are on sale.
I hosted a sip and see with a winter theme once in January and it was so easy to pick up snowflake shaped cookies, crackers and even those blue Hersey kisses candy.
Baby, it's cold outside invitation from Bloom Parties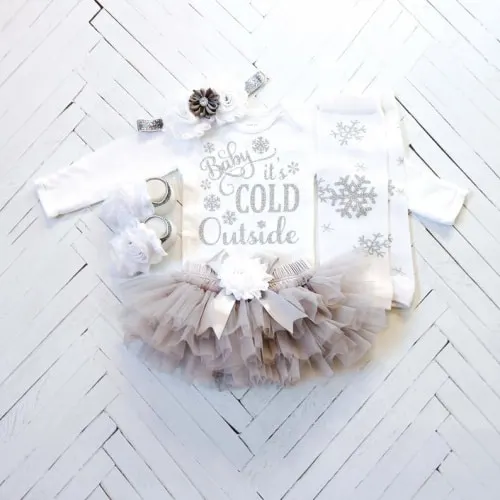 Baby girl's party outfit from Laura Beth Creations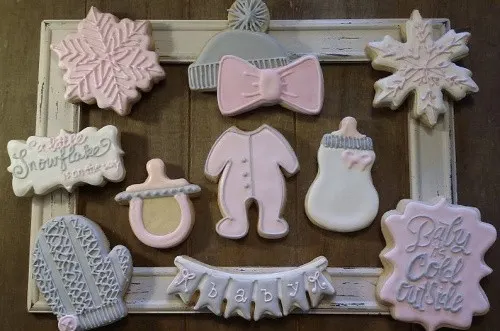 Winter-themed cookies from Creative Cookie Corner
Our Universe Just Expanded
Go for an outer space theme for this one. There is so much to do with a space theme and it would be great for the nursery after.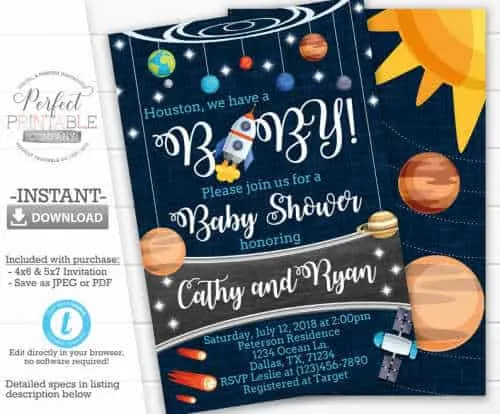 Space invitations from The Perfect Printable Company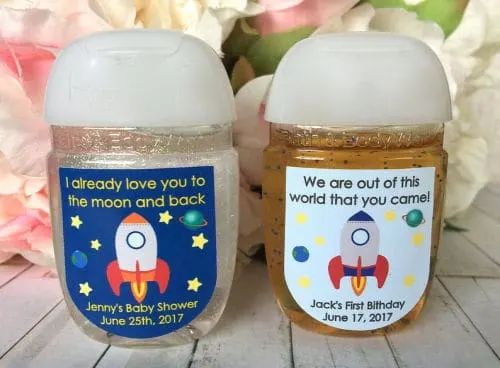 Space-themed party favors from Wild Sugar Berries
More Baby Tips
51 Best Pregnancy Movies To Watch When You're Expecting
25 Ways To Announce A Pregnancy To Family In Person
The Ultimate Postpartum Survival Kit For New Moms