Throwing a baby shower for someone you love is an exciting time!
There are so many things to plan, and the first things you'll need to decide are the theme and the invitation.
With all the different options available, how can you be sure you're picking the perfect one?
In this article we will look at some of the things to consider when choosing the baby shower theme for your party.
This is a sponsored post written by me on behalf of Basic Invite. All opinions are entirely my own.
5 Ways To Host A Unique Baby Shower
1. Think Beyond The Traditional
Although most baby showers involve only the mom-to-be and her friends and family, more and more people are now opting for couple showers.
After all, why not involve dad in all the planning for baby?
There is no hard and fast rule that says you can't host a coed backyard bbq or even have an outing to the local bowling alley for your shower.
The nice thing is that nowadays, there is a unique for any type of baby shower you want to throw, including fun couple showers like the one pictured above.
2. Go Virtual
Another really fun way to host a baby shower is to go virtual. This is perfect if there are lots of friends and family living far apart that you want to include.
It has also been really popular in the last few years with people trying to limit the number of people gathering indoors.
Just because your event is virtual doesn't mean it has to be boring!
There are lots and lots of virtual baby shower games that don't suck that you can play via Zoom or Skype.
3. Consider The Nursery
If the mama to be has chosen a theme for her nursery, then you can tie it in with the baby shower invites.
Not everyone has a theme so this doesn't always work but if they have chosen something like an animal or a hobby then it is easy to coordinate the baby shower too.
Even if the nursery theme is something as simple as a color, you can use a website like Basic Invite to pick the exact color that matches the decor.
Once you select a design on the Basic Invite website, you can change the color of each element on the card.
With over 180 colors to choose from, the invite is sure to be exactly how you want it.
A nice idea if you do this, is to give a framed invitation as a baby shower gift so it can be used as nursery decor.
Use promo code 5FF51 for 15% off invites at Basic Invite
4. Host A Baby Brunch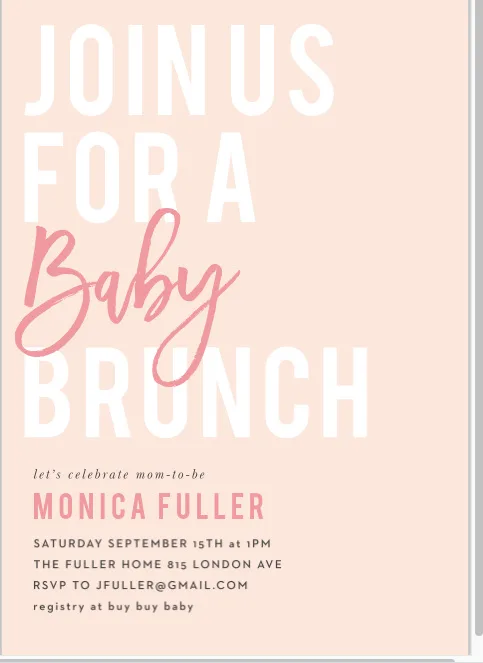 Instead of doing the traditional shower with snacks and cake, go high end with a fancy baby brunch.
You can host it at a restaurant if you have the budget or you can make a great brunch at home with pastries and fresh fruit. Don't forget the mimosas or the mock-tails for the pregnant lady!
5. Throw A Meet The Baby Party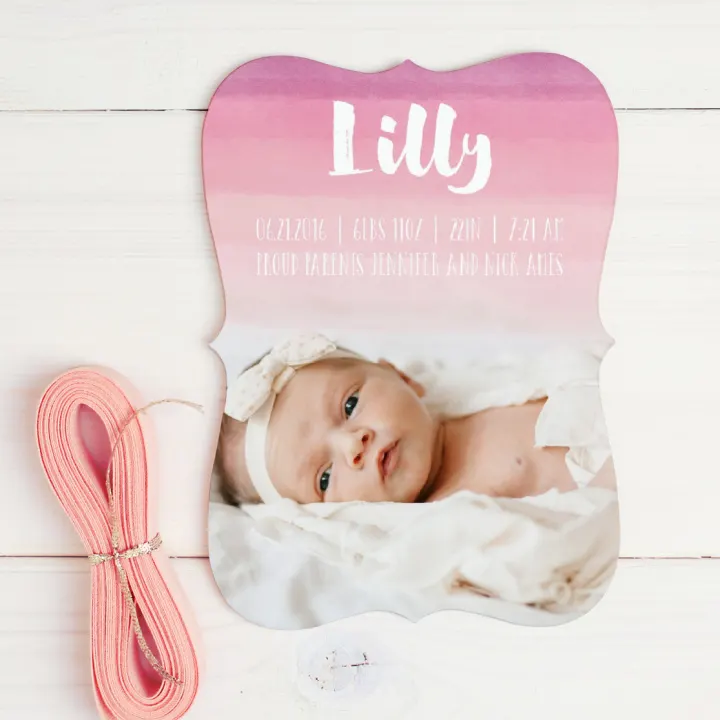 A Sip and See, as it is traditionally known as, is a great idea if you want to host a baby shower after baby is born.
Your invitation for this kind of party can double as a birth announcement so make sure to check with the new parents on what kind of invite they would like to send.
How To Host A Unique Shower – Final Thoughts
When you're planning a baby shower, there are a million different things to think about. But one of the most important factors is how you plan to make the shower unique.
After all, who wants to attend the same old baby shower as everyone else?
We hope you like our ideas for hosting a unique shower that your guests will love.
More Pregnancy and Baby Tips
Pregnancy Scavenger Hunt Free Printables
300 + Pregnancy Announcement Ideas
43 Pregnancy Quotes And Parenting Advice For Expecting Moms