One of the sweetest traditions for your first holidays with a new baby is to make or buy a baby's first Christmas ornament for the tree.
In our house, we buy each child a new ornament every year and of course, it all starts with the first one!
The idea is to gift them all the ornaments when they move to their own home so that they have a bunch of ornaments to get started.
I copied this tradition from a friend's mom and I just love the idea of having ornaments that tell a story.
Each ornament can represent something the child was into that year or a special event that year.
Baby's first Christmas ornament can be simple and homemade or a pure silver spoon – it's entirely up to you!
This post contains affiliate links meaning I may make a commission if buy something after clicking the link. Please read my disclosure for more information.
MORE TIPS FOR BABY'S FIRST CHRISTMAS
20 Baby Stocking Stuffers For A Special Christmas
12 Ways To Make Baby's First Christmas Special
How To Choose A Baby's First Christmas Ornament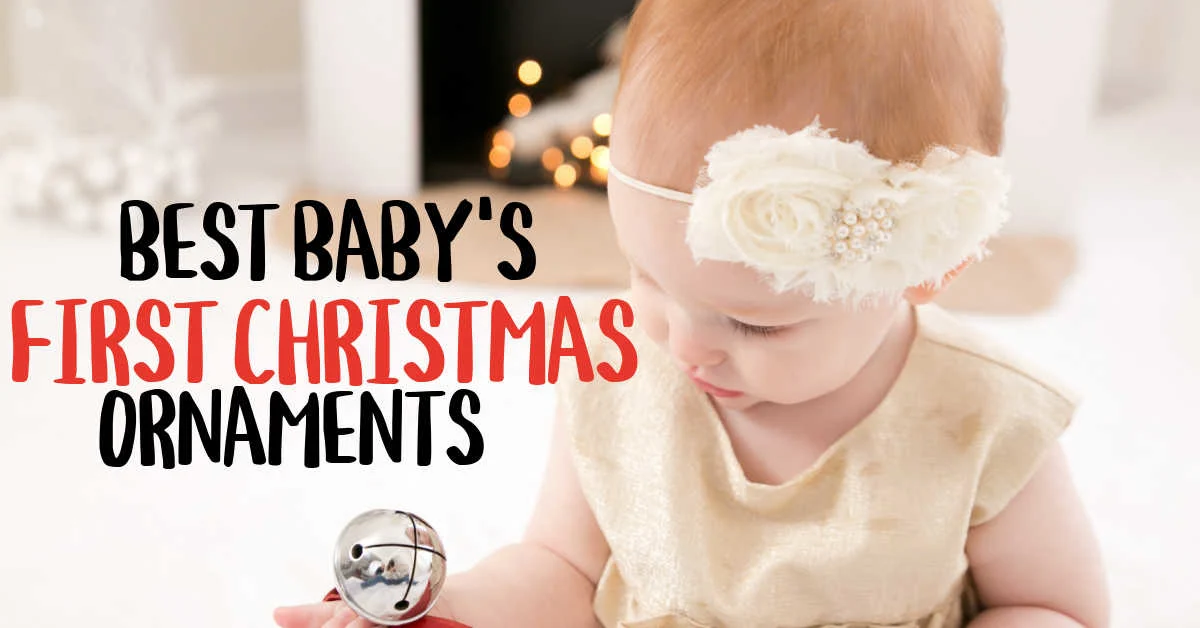 Before you buy your ornament, consider the options you have:
Personalized ornaments (special, especially if you have or plan to have more than one child)
DIY ornaments – think handprints or ones with photos
Hallmark Baby's first Christmas ornaments (pricey but classic)
Also, bear in mind if you want to start a tradition of buying the same kind of ornament every year.
In that case, look at the Hallmark Christmas ornaments that come out every fall or collectibles like those from Precious Moments.
Personalized Baby's First Christmas Ornaments
Here are my top picks for personalized ornaments for a first holiday season:
This ornament is available from Amazon and comes in 3 colours (pink, blue or red).
It gets amazing reviews and can be personalized with any name
Make it your own! These Christmas ornaments are customizable so you can add special requests or leave information out.
You can add personalization to all 6 sides so can include baby's height and weight, place of birth or special quotes.
You can add extra personalization to the back of these ornaments (Baby's favorite things etc).
These elegant personalized baubles would look amazing on the tree.
You can customize the font and feather color to make it your own.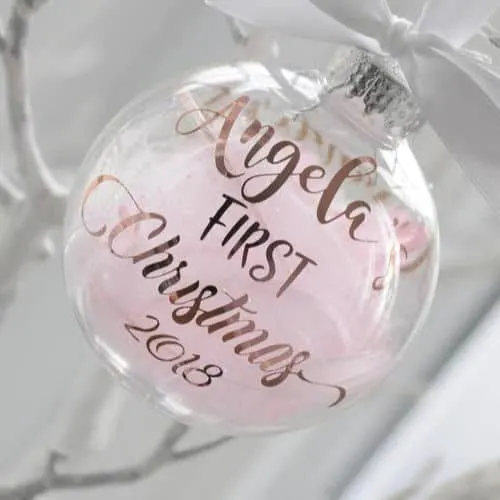 These solid blocks come Personalized with baby's first and middle name, birthday, weight, length and time of birth as well as the photo of your choice.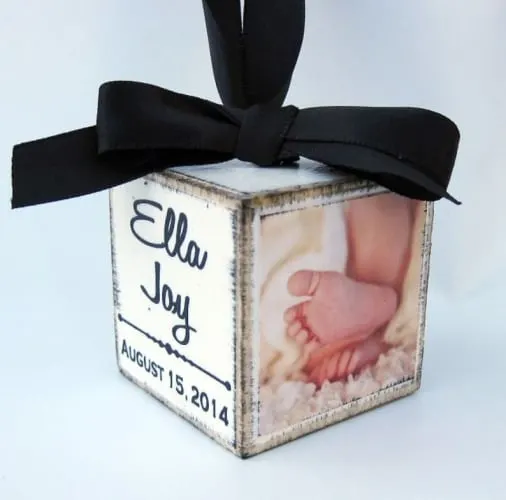 DIY Baby's First Christmas Ornaments
You can find tons of tutorials for making hand print ornaments on Pinterest.
My take on them adds room for a little baby photo too and they make great gifts.
You can also use a sharpie or carve baby's name and birth date on the back.
Make it easy by using a ready-made kit for your Christmas ornament.
This deluxe set include two ornaments so you can record baby's hand and foot prints.
Easy Photo Ornament
This fun ornament is easy to make yourself with some card stock and ribbon
Baby's First Christmas Cushion
If you are handy with the sewing machine, you can easily DIY a cute hanging cushion for your baby's first Christmas ornament.

Simple Glitter Ornament
Want something quick and easy? You can make cute glitter ornaments using a Cricut machine or a steady hand and a glitter marker.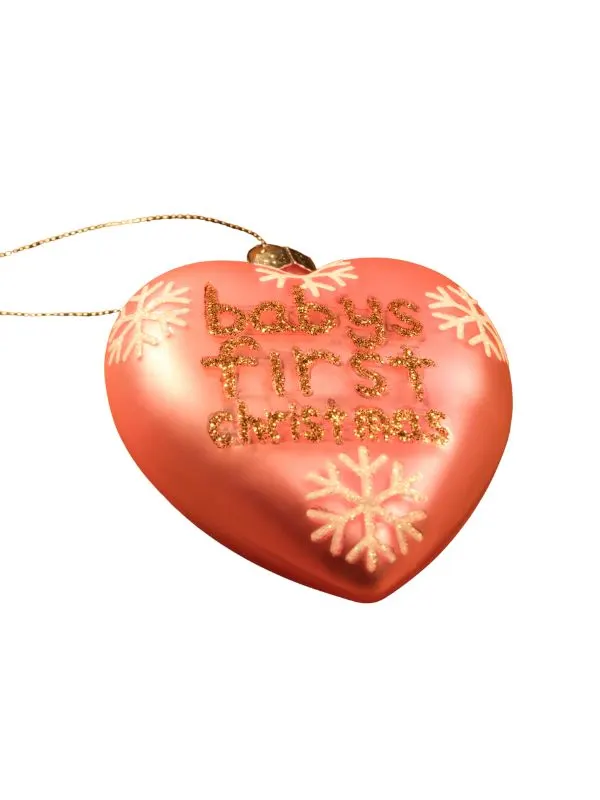 Handprint Snowman Family
Here is a really cute keepsake to remember baby's tiny little hand that first Christmas.
All you need is some white paint and then you can draw a little snowman family on each finger – it is so cute!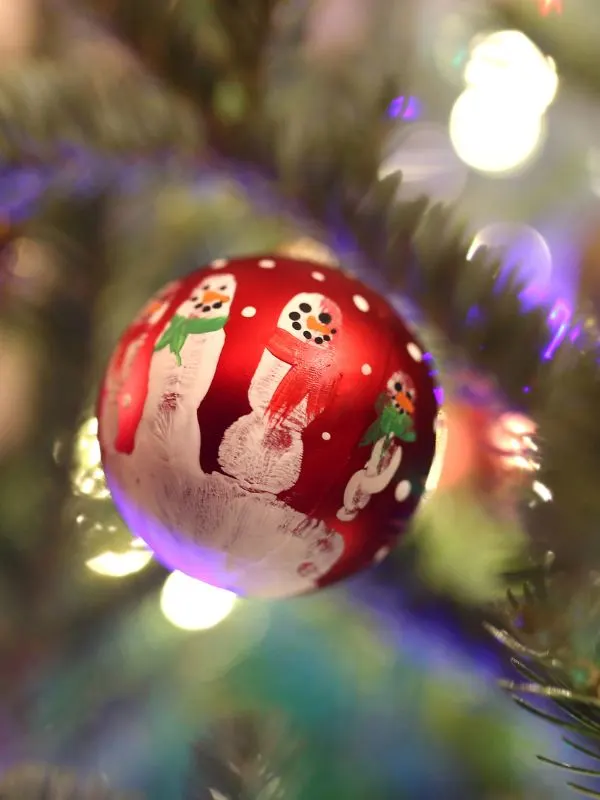 More Ideas For Baby's First Christmas
20 Baby Stocking Stuffers For A Special Christmas
10 Ways To Make Baby's First Christmas Special
18 Christmas Eve Traditions For Families
Like This Post? Pin it!