Baby's First Christmas is an important milestone in both their life and yours!
Your first Christmas with a baby is an exciting time for you as parents and all your family members.
The holiday season is full of amazing opportunities for great photographs and new traditions.
This post is full of lots of baby's first Christmas ideas to make it a really special day for you and your baby.
From visits with Santa to watching their eyes see the decorated tree for the first time, Christmas really does become magical again once you have children.
Read on for some awesome baby's first Christmas ideas that you can use to make this year extra special.
This page contains affiliate links meaning I earn a commission if you use those links. Please read my Disclosure for more information.
MORE CHRISTMAS FUN FOR BABIES
The Best Baby's First Christmas Ornament
20 Baby Stocking Stuffers For A Special Christmas
12 Baby's First Christmas Ideas
There are so many ways to mark baby's first holiday season and create wonderful memories for years to come.
Christmas one of the best times to take super cute photos of your baby's first holiday as there are so many fun outfits and props you can use.
Another reason baby's first Christmas is so special is that it might be the first big family gathering they attend.
Make sure o take lots of photos!
How To Celebrate Baby's First Christmas
One of the nicest ways is to give baby his or her first ever Christmas stocking.
It may seem silly to give a tiny baby a stocking but it's so much fun filling it up with cute things that they need (or you want!).
Aside from the fact that you get awesome photos of baby discovering their stocking, you need to start these family holiday traditions early!
For some great ideas for things to put in baby's first stocking, check out my list of 20 Baby Stocking Stuffers.
It is packed with lots of fun ideas that are perfect for babies aged from newborn to toddler.
If you have an 2 or 3 year old, you can get some ideas for their stocking on my article of the best Stocking Stuffers For Kids.
That list has over 50 amazing junk-free ideas for kids stocking stuffers.
12 Baby's First Christmas Traditions
Christmas is approaching fast. If you're like me, your list of things to do for the holidays seems never-ending; however, if you have a baby on board, there are some special ideas that can make this season extra special for them!
Even though it's their first Christmas, they'll still cherish all the little memories and traditions just as much as we will."
1. Take a photo by the tree
The quintessential holiday photo of baby under the tree, surrounded by wrapped gifts makes a great Christmas card or photo for the calendar.
The nice thing is, you don't need to shell out hundreds of dollars for professional Christmas photos of your baby's first Christmas
I've put together these 15 really fun creative Christmas photos ideas you can do at home.
With a few cute photo props and your sweet baby, you can have a really fun DIY Christmas photoshoot.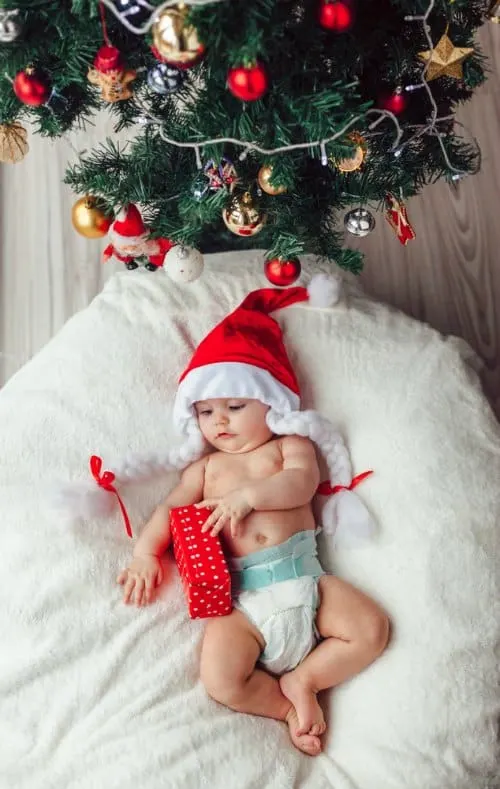 2. Visit with Santa- crying is optional!
I know some people think it is cruel but seeing a little one meet Santa for the first time is priceless.
Young babies are often ok with Santa, it's the toddlers that are scared of the big guy so you might get lucky this year.
Make the most of it though as it seems to really get worse around age 2-4 then ok again as they get older.
3. Make a hand print ornament
There are tons of awesome hand print ornament ideas on Pinterest.
Baby hand print crafts are one of those things that you can only really do for the first few years so make the most of it.
It is also much easy to get handprints of a newborn than of a squirmy 18 month old so baby's first Christmas is the ideal time to create these crafts.
One really easy craft that I created myself was to get a huge Christmas ball and then put white school glue on my baby's hand.
Place her hand on the ball (fill it in with more glue if needed).
Then just sprinkle glitter on the glue and shake any excess off.
This makes a really cute Christmas ornament that is really giftable too.
If you would rather use a kit that makes it simple, I used this one
last year and it turned out really well.

4. Send a Cute Holiday Card
Before you had kids, you could probably get away with any kind of holiday card or even none at all.
Now you have a newborn, it's time to step up your game and send everyone cute photos of your baby.
I didn't start sending photo cards at the Holidays until I had children but it is such a great excuse to take cute photos!
Plus everyone loves them so much that they put them on their fridge!
You can buy really cute baby's first Christmas card templates like the one pictured on Etsy
If you don't want to spring for a professional photo shoot, check out my DIY Christmas Photo Ideas for inspiration.
5. Choose Special Christmas Pjs
Cute Christmas Pjs are a must for baby's first Christmas! There are so many cute options to choose from, elves, candy canes and even mini Santa suit pjs.
If you can get a matching family set, even better! I love this cute matching family Christmas pj set from Amazon.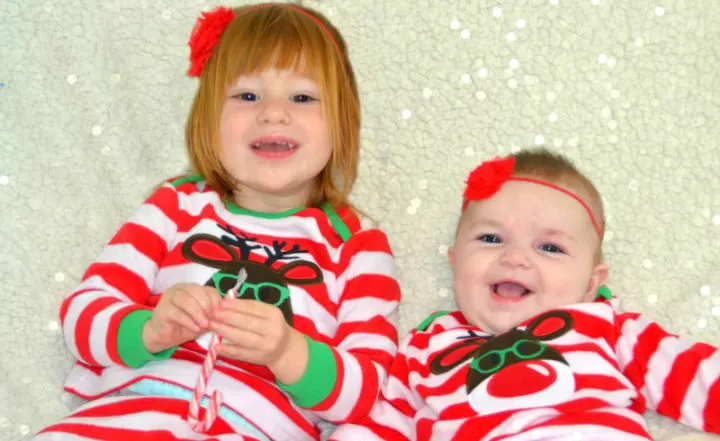 6. Write a Cute Letter to Santa from baby
Even though your baby will be too little to write their own letter this year, it is still fun to write a note of things they like to keep for future Christmases.
I started a scrapbook with the Santa letters along with a copy of our Holiday card in it and it is so nice to look back on them each year.
You can use one of these Free Printable Letter To Santa Templates, to make it easier.
7. Get a Photo of baby in a Santa's Hat
There is nothing cuter than a tiny baby in a Santa's hat. Make sure to snap at least one cute photo this Christmas, other clothing are optional!
You can get a Santa's hat from the dollar store or you can get a hand knitted one from Etsy.
8. Get Baby's First Stocking
Baby's first Christmas wouldn't be complete without their very own Christmas stocking!
I've already talked about the best baby stocking stuffers , but you will want to get a special heirloom stocking too
I've seen stockings in stores that say "baby's first Christmas" but to be honest, I prefer getting one special stocking that my baby can have for years to come.
Maybe you are lucky enough to have someone in the family knit stockings but if not, there are lots of great options in the stores.
You can get personalized Christmas stockings at a ton of stores and online, if you want to get some handmade, Etsy has some great options like these linen ones.
9. Get a special outfit for their first Christmas Morning
I told you that Christmas was full of opportunities for cute baby clothes, didn't I?
Not that you need an excuse but I highly encourage you to make the most of every opportunity to dress your baby up for their first Christmas!
Its so much fun and one day soon they won't let you get them dressed and you will miss these days.
There are lots of options out there for cute "My First Christmas" outfits. Here are some of my favourites:
This outfit would look cute for a girl or a boy.
10. Get a Baby's First Christmas Ornament
Make sure to pick up a Baby's First Christmas Ornament to hang on the tree.
The Hallmark ones are always popular because they are great quality but they are pretty pricey too.
If you want some ideas to fit any budget, make sure to check out my list of The Best Baby's First Christmas Ornament for 2021.
It is packed with cute ideas including personalized options to make baby's first Christmas extra special.
Looking for a fun family holiday tradition to start?
One really nice idea is to get each child a special ornament each year that represents what they were into or something big that happened that year.
For their first holiday season, a Christmas photo ornament is a really nice idea.
When your child gets married and gets their own home, you can then present all the keepsake ornaments to them on his or her wedding day.
That way they have a nice ornament collection to start their own Christmas tree.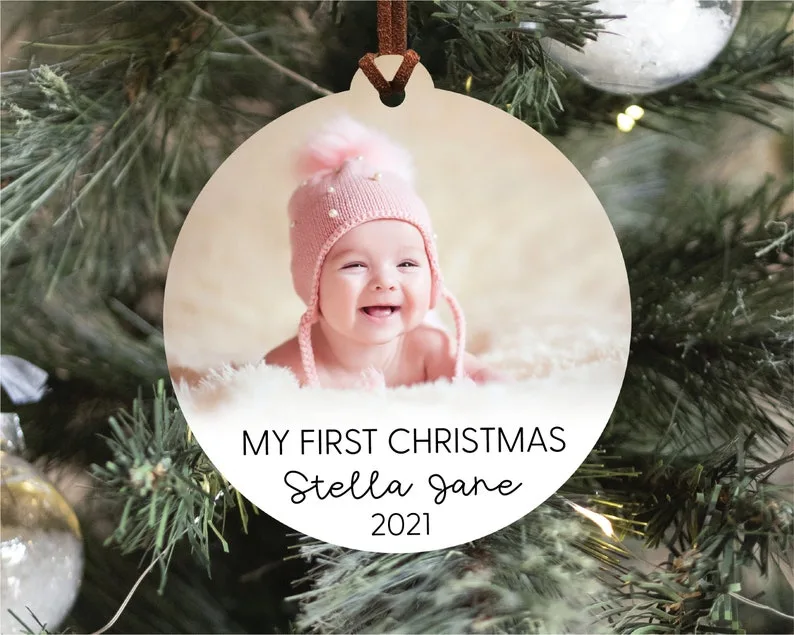 11. Get A Special Gift
The best memories of our children come from Christmas and babies don't care about the gifts, they're more in love with their boxes!
That being said, baby's first Christmas is a fun time to buy an extra special gift that they can treasure for years to come.
Little ones are not so excited by material things so save the hot toy of the year for future years and buy something more sentimental.
An extra special collectible doll or a vintage toy car are some of the best baby's first Christmas ideas for gifts that I have seen.
Another really cute idea is a personalized gift like this extra special custom board book about Santa.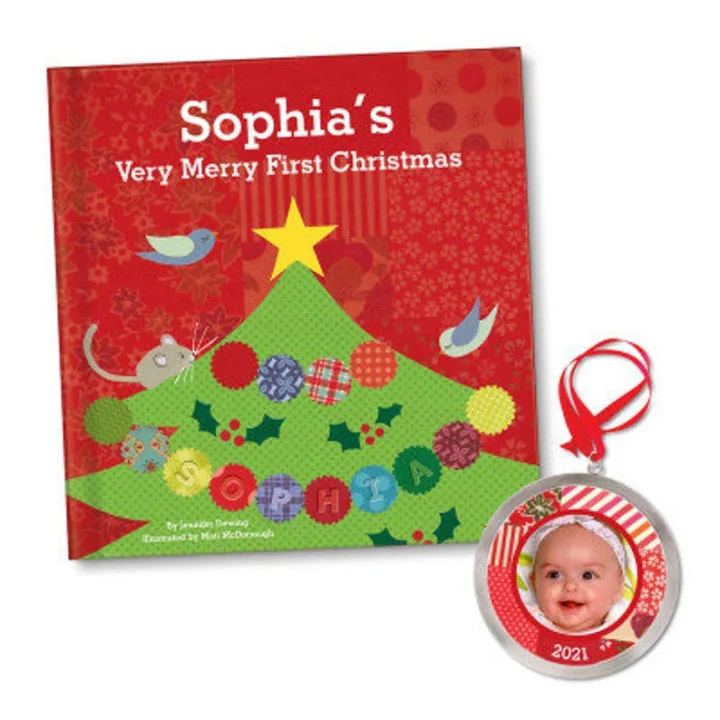 12. Preserve a piece of your Christmas tree
Trimming the Christmas tree is one of my favorite traditions.
Your baby likely won't be able to participate in the actual decorating this year (and if they are already crawling you might have to leave the bottom few feet of your tree bare).
However, you will get to se the wonder in their eyes when they see the twinkling lights turn on for the first time.
If you have a real Christmas tree, one way to create a beautiful keepsake is to saw a round from its trunk and write the year and "Baby's first Christmas" on one side and a holiday message on the other.
You can get a full tutorial on how to make a wood slice ornament and a free "Be Merry" template at Dollarcrafter.
Baby's First Christmas Ideas – Final Thoughts
When it comes to making memories, there is nothing quite like Christmas.
The best way to make the holiday special for your baby and yourself alike?
Spend less on presents and more time on fun memories.
You don't need to spend a lot on gifts for Baby's first Christmas.
After all, he or she isn't yet old enough for excited reactions and they're more likely intrigued by what comes in sparkly packages over any individual toy or treat themselves.
Take the time this holiday season to carve out some special memories by taking lots of pictures and doing fun things with your baby and your new family.
Merry Christmas!
More Christmas Ideas For Kids
Holiday Traditions to Start With Your Kids This Year
25 Cute Christmas Snacks For Kids
15 Creative Christmas Photos you can do at home
Looking for a way to organize your holidays this year? Check out my Stress-Free Christmas Planner
It comes with a bonus kid's journal that will make a great stocking stuffer.
Start A Blog That Makes Money
Ready to start a blog and make money from home?
In this FREE 5 day email course, I will show you the exact steps I took to take my mom blog from $0 to a consistent $2000 a month within 4 months.