Baby's First Christmas is an important milestone in both their life and yours! The holiday season is full of amazing opportunities for great photographs and new traditions.
From visits with Santa to watching their eyes see the decorated tree for the first time, Christmas really does become magical again once you have children.
This page contains affiliate links meaning I earn a commission if you use those links. I only recommend brands I use and trust.
There are so many ways to mark baby's first holiday season and create wonderful memories for years to come. Here are some of the things I've enjoyed with my two girls:
1. Take a photo by the tree
The quintessential holiday photo of baby under the tree, surrounded by wrapped gifts makes a great Christmas card or photo for the calendar.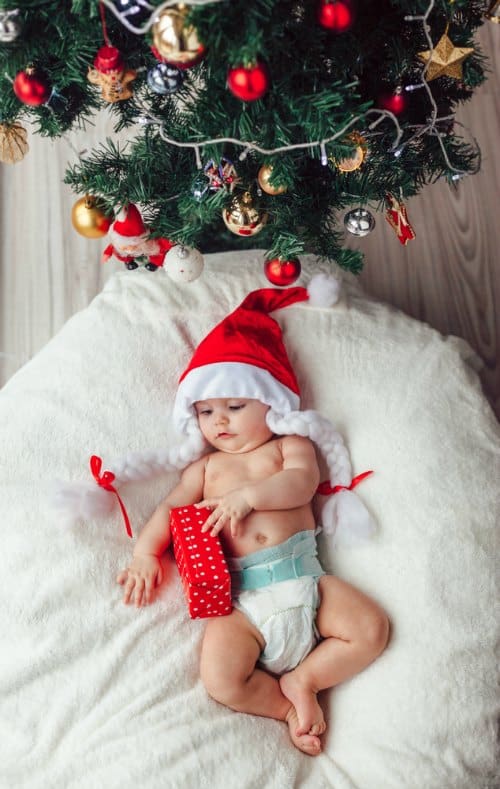 2. Visit with Santa- crying is optional!
Young babies are often ok with Santa, it's the toddlers that are scared of the big guy so you might get lucky this year.
3. Make a hand print ornament
There are tons of awesome hand print ornament ideas on Pinterest. If you would rather use a kit that makes it simple, I used this one
 last year and it turned out really well.


4. Send a Cute Holiday Card
I didn't start sending photo cards at the Holidays until I had children but it is such a great excuse to take cute photos! If you don't want to spring for a professional photo shoot, check out my DIY Photo Ideas. 
5. Choose Special Christmas pjs
Cute Christmas Pjs are a must for baby's first Christmas! If you can get a matching family set, even better! I love this family set from Amazon.
6. Write a Cute Letter to Santa from baby
Even though your baby will be too little to write their own letter this year, it is still fun to write a note of things they like to keep for future Christmases.
I started a scrapbook with the Santa letter's along with a copy of our Holiday card in it and it is so nice to look back on them each year.
7. Get a Photo of baby in a Santa's Hat.
There is nothing cuter than a tiny baby in a Santa's hat. Make sure to snap at least one cute photo this Christmas, other clothing are optional!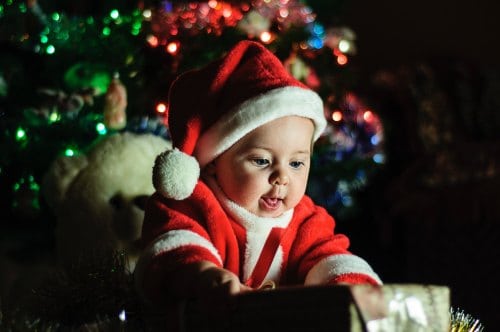 8. Buy or Knit their First Stocking
Baby's first Christmas wouldn't be complete without their very own Christmas stocking!
You can get personalized Christmas stockings at a ton of stores and online, if you want to get some handmade, check out Etsy. I love these linen ones.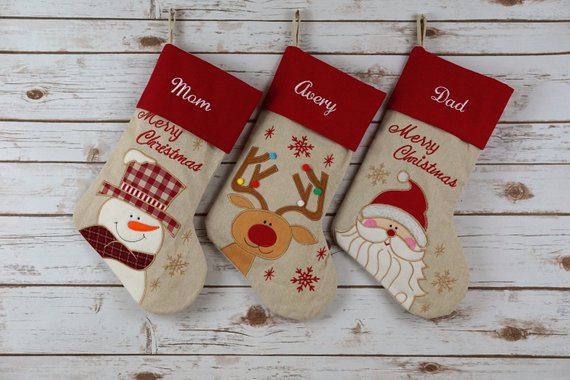 9. Get a special outfit for their first Christmas Morning
There are lots of options out there for cute "My First Christmas" outfits. Here are some of my favorites:
This outfit would look cute for a girl or a boy.
10. Get a Baby's First Christmas Ornament
Make sure to pick up a Keepsake Baby's First Christmas Ornament
 to hang on the tree. The Hallmark ones are always popular because they are great quality.
A nice tradition is to get each child a special ornament each year then present them to  them on his or her wedding day. That way they have a nice collection to start their own Christmas tree.
More Christmas Ideas:
Holiday Traditions to Start With Your Kids This Year
How to Make the Holidays Less Stressful and More Festive!
Free Printable Scavenger Hunt for Kids
12 Easy Ways to Save on Holiday Shopping
How to Make an Easy Snow Globe Ornament
10 Creative Christmas Photos you can do at home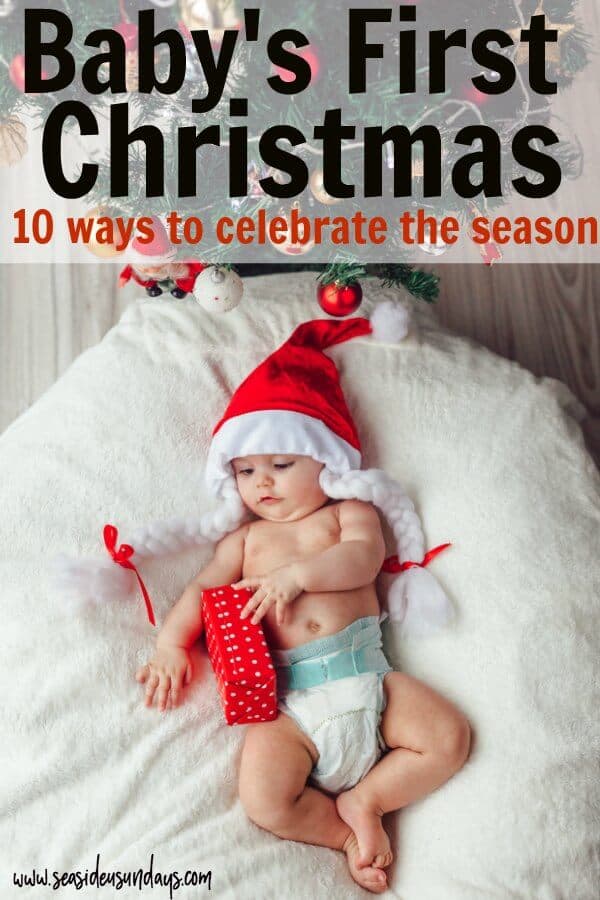 Start A Blog That Makes Money
Ready to start a blog and make money from home?
In this FREE 5 day email course, I will show you the exact steps I took to take my mom blog from $0 to a consistent $2000 a month within 4 months.