While many of us have similar Christmas rituals on the 25 December, we don't all have special Christmas eve traditions that we do year in and year out.
If you are looking for fun things to do on Christmas Eve, this list is for you.
From global traditions to more modern ideas, there are lots of special Christmas Eve traditions you can start as a family.
Whether you want to stay inside or get outdoors before the big day arrives, there are lots of Christmas Eve traditions for families with children of all ages.
The great thing about these Christmas Eve activities is that you can do them every year and your children may even continue the tradition with their own kids one day!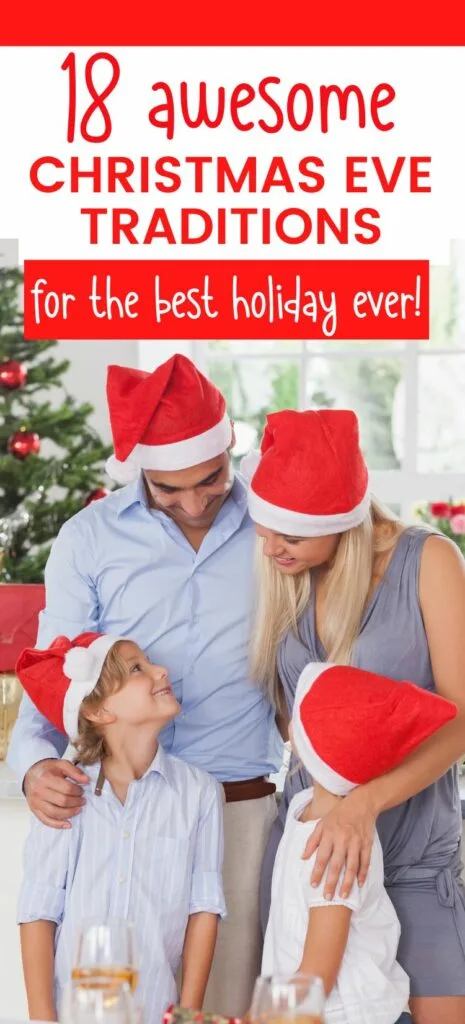 This post may contain affiliate links.Please read my Disclosure for more information.
MORE CHRISTMAS FUN
25 Cute Christmas Snacks For Kids
If you are looking for some ideas of things to do as a family all season long, make sure to read my 20 Must-Do Holiday Traditions For Families which is sure to give you some great ideas!
18 Things To Do On Christmas Eve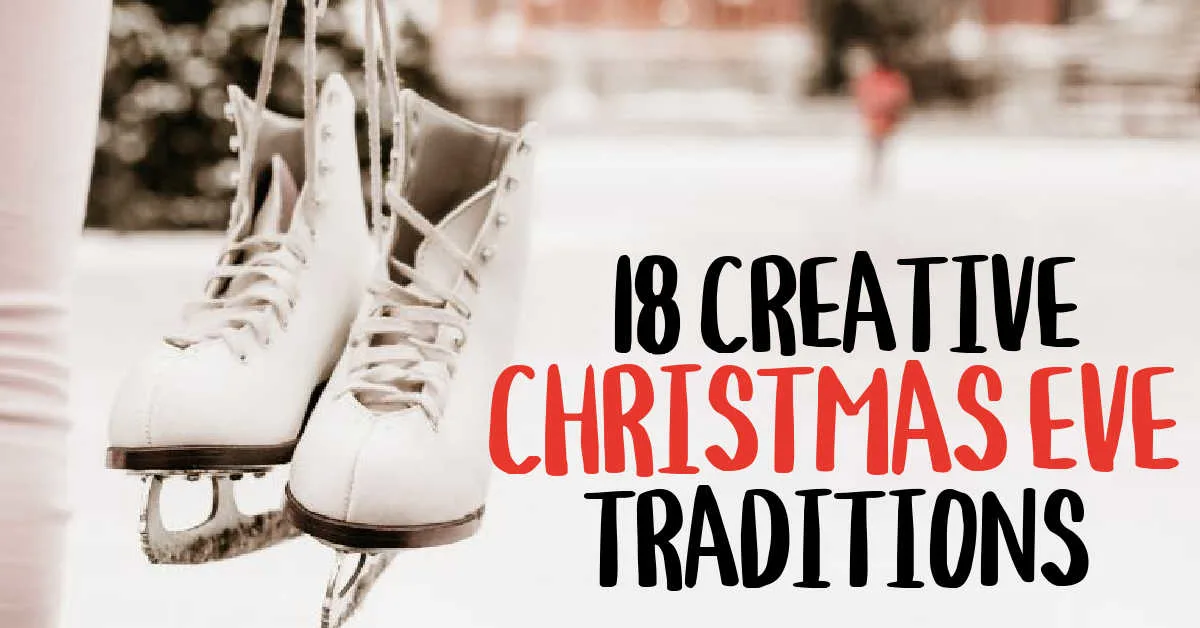 Whether you're celebrating Christmas with your immediate family or exchanging traditions with friends and neighbors, there are plenty of festive traditions to keep you entertained on Christmas eve.
Host a Game Night
Grab your board games or even play charades and spend some quality family time by the fire.
The winner gets to open the first gift on Christmas morning!
Here are some fun and festive Christmas party game ideas to try! Even adults love playing these.
Read A Christmas Story
In our house, we always read both "Twas the Night Before Christmas" and the King James version of the Christmas story on Christmas Eve.
Before my grandfather passed away, the children would gather round his chair and he would read the stories to them after dinner.
Write Your Santa Letters
Traditionally letters to Santa were written on Christmas eve and put on the fireplace. (The ashes would fly up the chimney to the North Pole).
If your children haven't written their Dear Santa Letter yet, check out this list of printable templates – Free Printable Letter To Santa Templates.
Head To Church
Going to a family service is one of the Christmas Eve traditions that many people remember from childhood.
While Catholics often go to Midnight Mass, many churches also offer services in the early afternoon for families with young children.
Bake Cookies
Not only is holiday baking one of an awesome Christmas tradition, baking cookies on Christmas eve makes sense because you need to leave some out for Santa!
For some fun Christmas cookie ideas, check out these Cute Christmas Snacks For Kids. # 3 is perfect for Christmas eve.
Watch A Christmas Movie
Settle down with some popcorn and enjoy a holiday movie with the kids. T
his is a great Christmas Eve tradition for after dinner. It will help the kids settle down a little bit so they may actually sleep tonight!
This bucket list of Christmas Movies is sure to have something for your family!
There is even a free printable checklist you can use.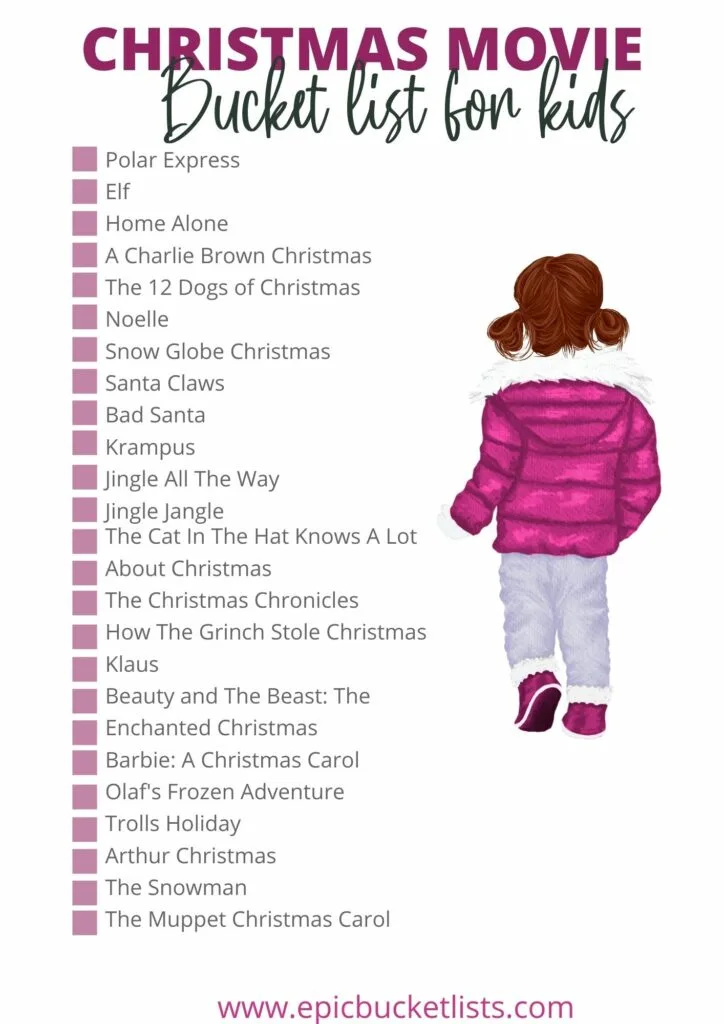 Open One Present
After dinner, many families open one present each.
Some families make this a special gift from a sibling or maybe from a family member overseas.
Good ideas for this "Christmas Eve Box" include pyjamas, a DVD (for movie night above), hot chocolate packets and fun Christmas snacks.
Check Out The Holiday Lights
One well-loved Christmas tradition is to bundle the kids in their pjs and drive around the city to look at the Christmas lights.
If the weather is not extremely frightful and you are feeling up to it, you could also try a neighbourhood stroll on Christmas Eve.
Either way, its one of my favorite 12 Days of Christmas Activities For Kids.
You can up the excitement of the Christmas Light drive by printing off a Christmas Scavenger Hunt .
My version is a free printable and makes it lots of fun to look at all the different houses as you go by.
Decorate A Gingerbread House
You can either make your own gingerbread house or decorate a prebuilt house like this one.
Pro Tip: Buy extra candy – the pre-made kits never have nearly enough.
If you want to make your own gingerbread, you can get these silicone molds which get awesome reviews.
Make A Hot Chocolate Bar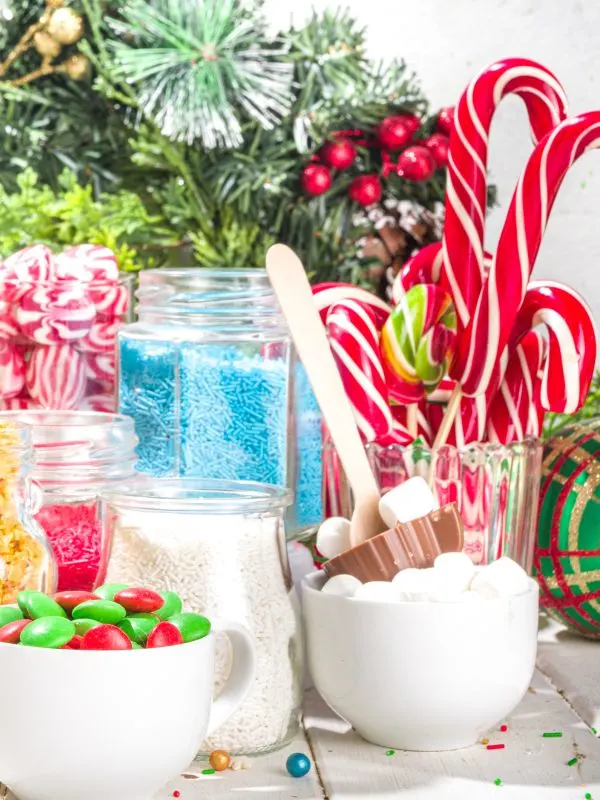 You can combine this Christmas Eve tradition with the movie or holiday lights tour.
Lay out sprinkles, chocolate chips, whipped cream and marshmallows and let you children create their own hot chocolate concoction.
Go Carolling
Traditionally, Christmas Eve was a time for people to go door to door singing carols for their neighbours.
This is one tradition that has been lost to time but you can revive it this year! If you are not feeling like heading outdoors, have a songfest at home with the kids.
Volunteer
Whether you volunteer at a soup kitchen or ring the Salvation Army Kettle in a store, there are lots of ways to give back during the holidays.
Making this one of your Christmas Tradition is a great way to teach children the real meaning of the season.
Perform a Random Act Of Kindness
Get the kids involved by choosing a act of kindness to perform on Christmas Eve.
It could be as simple as giving a homeless person money or paying for the car behind you at the drive-thru.
Get some ideas from this Random Acts Of Kindness Calendar from Wondermom Wannabe.
Go Ice Skating or Sledding
Another fun thing to do on Christmas Eve is to heard outdoors for some ice skating or sledding if weather permits.
You can finish off with some hot chocolate on the way home.
Christmas Eve Traditions Around The World
Christmas eve is a special day celebrated by Christians all around the world.
While the traditions may vary from country to country, most include some sort of religious service followed by a feast or celebration.
In some countries, such as Germany, Christmas eve is also when Santa Claus brings presents to children.
In others, like Spain, Christmas eve is more about spending time with family and friends.
No matter where you are on Christmas eve, it's sure to be a special day full of tradition and excitement.
Every country has a slightly different way to spend the holidays, here are some of the most popular Christmas Eve traditions from around the World.
Feast of the Seven Fishes – Italy
Celebrate like an Italian by indulging in their iconic seven-course seafood feast that dates back to the early 1900s.
It is an Italian tradition to have 7 different fish for the 7 seas during the meal.
Putting up the tree on Christmas Eve – Germany
Christmas Eve is a special day in Germany, where many traditions are observed. One tradition is the Christmas Market, where people can buy presents, ornaments, and food.
Some families also have a Christkindl (angel), who brings presents to children.
Germans also enjoy singing Christmas carols and eating traditional foods like Lebkuchen (gingerbread) and Stollen (fruitcake)
Hardly anyone does this anymore but Christmas trees traditionally only went up on the 24th December and came down on 12th Night or Jan 6.
It kind of seems like a waste to not have more time to enjoy the tree but on the plus side, many stores reduce or give away their real trees so close to the holiday.
Fondue for dinner – Germany
Fondue is a common Christmas Eve meal because it is easy and quick to prepare for families who are heading to Church or other events.
If you don't feel like embracing the full fondue meal, how about having chocolate fondue for dessert?
Wooden Nativity – Peru
Peruvians put their gifts around the nativity instead of a Christmas tree.
Nativity scenes, called pesebres, are the most important Christmas decoration in Peruvian households, pesebre– Nativity scenes carved from wood or stone.
Tradition has it that the pesebre is put out on December 8th but the baby Jesus is only added on Christmas Eve.
It's considered lucky to be chosen to put the figurine of baby Jesus into the manger on Christmas Eve.
Mass of the Rooster – Bolivia
Bolivians celebrate Misa del Gallo ("Mass of the Rooster") on Christmas Eve, with people bringing roosters to midnight mass.
It is called the Mass of the Rooster because of the belief that the only time that a rooster crowed at midnight was on the day that Jesus was born.
More Christmas Traditions & Ideas
20 Must-Do Holiday Traditions For Families
10 Ways To Make Baby's First Christmas Special