Shopping for toys is tough. You want to wow both the kid and the parent while not giving a pile of plastic junk or breaking your budget.
The best learning toys for 1-year-old boys and girls tend to be educational and fun.
When it comes to toddler toys, educational just means that they can explore, use their imagination and learn the basics like colors and shapes.
The best learning toys for a first birthday gift or holiday present also help to develop hand-eye coordination and fine or gross motor skills.
From genuine STEM toys for toddlers to first words, there are a lot of great toys that can help develop motor skills while being fun.
If you are choosing a learning toy for someone else's 1-year-old, consider their parenting philosophy and also their home.
Some parents allow screen time while others prefer to avoid it. Also, a lot of toddler toys are pretty bulky which can be hard in a small apartment.
Below you will find some great options for all kinds of personalities and parents, as well as gifts to suit any budget.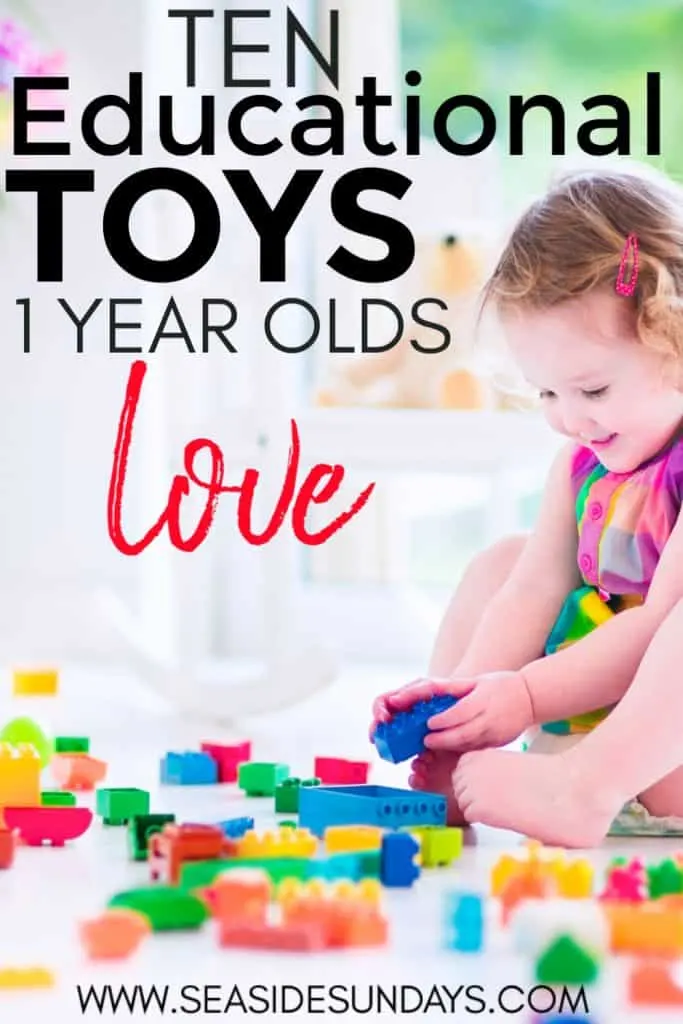 This post contains affiliate links, meaning I may make a commission if you click on a link. Please read my Disclosure for more information.
MORE FUN GIFT IDEAS FOR KIDS
The Best Princess Gifts For Preschoolers
The Best Educational Gifts For Kids
Before we jump into the list of learning toys for toddlers, I wanted to mention that books make a wonderful gift for this age group.
You can consider adding to baby's library with a box set like this Little Blue Box of Bright and Early Board Books by Dr. Seuss.
Birthday Books For 1 Year olds
Another cute idea is to include a book as part of your gift. Here are my top picks for the birthday boy or girl:
10 Best Learning Toys For 1 Year Olds
These activity centers are perfect for 1 year olds as they are packed with things to discover and explore. Parents love them too because they don't take up too much room and are also not made of lots of plastic.
The activity cube below is a higher end model but if your budget is tight, this one is a lot cheaper and still good quality.

Mega Bloks are the toddler version of Legos.
Think of them as beginner blocks that are safe for little hands and won't make you scream in pain if you step on them!
You can buy various sets of Mega Bloks (like this train) but this bag of classic blocks is perfect for a one year old child.
Building blocks are a great toy for fuelling the imagination and practicing fine motor skills.
The Mega Bloks bag comes in classic primary colors and also a pink/purple version.
These magnetic blocks make an amazing gift for any child aged 1+.
They come in all different colors and shapes and are one of the bestselling STEM toys out there.
You can build onto the sets by buying more blocks.
Note that while these toys are recommended for ages 3+ due to the magnets, they made a wonderful toy for any age as long as used under parent supervision.

This keyboard play mat has over 1000 positive reviews on Amazon!
Each of the 24 keys on the mat plays a different note making this a wonderful way to introduce your child to music and consequences.
The other great thing is that the mat uses batteries and folds up easily making it great for on the go.

Get your toddler ready for their first bicycle with this cute baby balance bike.
Balance bikes are a really good way to get your child confident without using training wheels.
It's a great first step before buying a full size balance bike.
Toddlers can also push the bike backwards and it doubles as a walker but it's main goal is for learning balance.

My daughter got this LeapFrog Shapes and Sharing Picnic Basket as first birthday gift and she still uses it almost weekly – she will be 4 in a couple of months!
The basket plays music and speaks and helps children to learn shapes and colors.
The 14 piece set includes 6 food items, 2 plates, 2 forks, 2 cups, 1 blanket and 1 basket.

This is one of the best learning toys for 1 year old children.
They can build fine motor skills with the chunky, peg-shaped pieces that fit to the back of the hedgehog.
They will also practice color recognition, sorting, and counting skills through fine motor skill games.
The quills fit inside the hedgehog so the toy can be put away nice and easily.
This Leapfrog beginner tablet is an Amazon Exclusive.
It's meant to give toddlers a chance to press buttons, interact in a safe, educational way.
The tablet features a home button, 20 app icons and introduces letters, numbers, shapes, animals, colors and more

Features a phone, pretend camera and talking doggy.

Using the apps, your toddler can learn shapes, colors and numbers.
Unicorns are all the rage at the moment and this cute toy caters to the youngest unicorn fan.
Sunshine talks and asks questions and encourages imaginative play.
It makes a great first birthday gift for a girl (or boy!).

This toy workbench will let your toddler build just like daddy! (or in my case, mommy, haha).
The detachable tools and activities will help children develop their critical thinking and problem solving skills as well as improve hand eye coordination.

More Gift Ideas For Kids
Girl Power Gifts For Girls Of All Ages
15 Best Board Games For 5 Year Olds