Looking for the best experience gifts for kids this holiday season? We're all trying to accumulate less stuff and more memories.
Giving your child the gift of quality time is the perfect way to do this.
I've been doing this since my kids could walk and, while of course, I still give them regular stocking stuffers and gifts, often their favorite present on Christmas morning is one of the unique experience gifts that they receive.
Giving experience gifts for kids instead of yet more toys seems strange at first but once you go through the list below, you may even find a new family tradition!
Below you will find some experience gift ideas for kids of all ages including toddlers.
There are even experience gifts for families s that everyone can enjoy your generous present.
If you are worried about disappointing your kids by not giving them as much to unwrap this year, read on for some great ways to wrap experience gifts and keep the magic alive.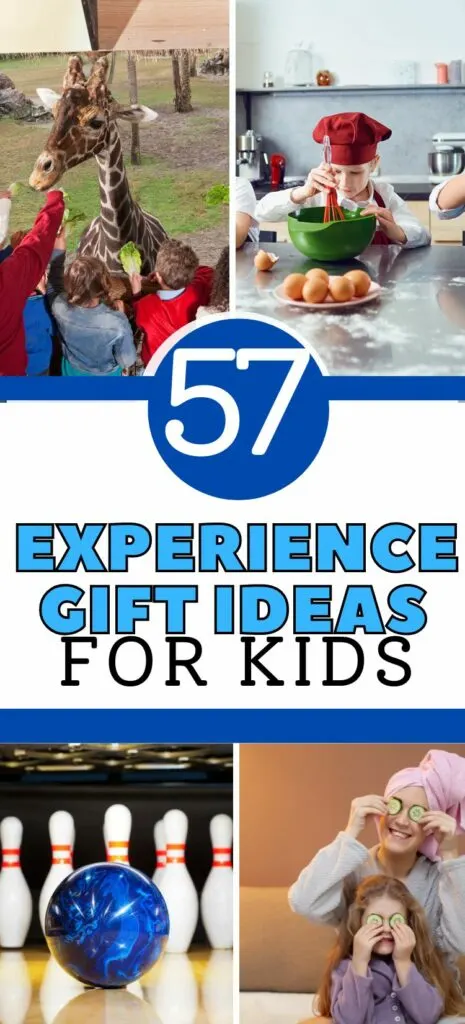 This post may contain affiliate links. Please read my Disclosure for more information.
MORE FUN IDEAS FOR KIDS
101 Free Things To Do With Kids That Will Keep Them Busy, Not Bored
25 Winter Activities That Are Easy On The Wallet
The Benefits of Giving a Great Experience Gift
We all have too much stuff and not enough time so experience gifts make a lot of sense.
Here are some reasons why they are becoming the most popular type of present to give to kids:
They are a fun way to spend time together
Experience gifts provide an opportunity to learn new things and discover new skills
A season pass to a local attraction means more outings and less screen time!
Material gifts mean more clutter – experience gifts mean more memories!
57 Unique Experience Gifts For Kids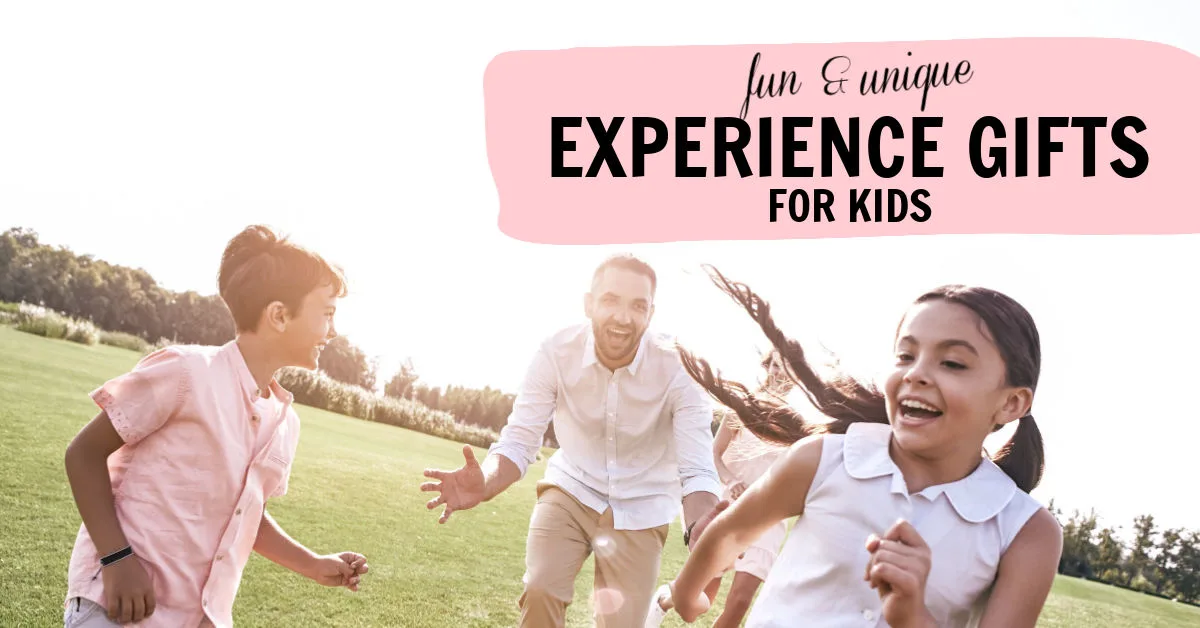 Below are my favorite experience gifts for kids – tried and tested by my own children.
Whether you are looking for the perfect experience gift for the grandkids, a friend or your own kids, we have you covered!
Most of them are pretty budget friendly and would work for children of all ages.
Make sure to read my fun ideas for gifting these ideas as often, they can't be wrapped like a regular gift!
Although many of the ideas in the gift guide below include things like local memberships and admissions, you can also get fun experience gifts to enjoy in the living room.
Think of things like art projects, crafts and movie nights at home.
Check online as many attractions will let you buy an e-gift cards so you don't even have to go shopping at all!
The Best Experience Gifts For Kids
1. Visit to the local zoo
2. Entrance to a play place/soft play area
3. Bowling
4. Mini Golf
5. Show tickets to special events in your city
6. Trampoline Park
7. Day at the state fair
8. Manicure or pedicure voucher (mini spa day)
9. Cooking class – why not learn a new skill together?
10. Music Lessons (bonus if you include a musical instrument with the music classes!)
11. Escape Room passes
12. Ice cream date
13. Camping Trip (make sure to grab this Free Printable Camping Word Search).
14. Trip to a water park
15. Tickets for indoor skydiving
16. A day of horseback riding
17. Dance lessons
18. Tickets to a broadway show
19. A budget-friendly movie night at home (make a basket with DVDs, popcorn and candy)
20. Martial arts classes
21. A fancy afternoon tea date
22. Roller skating night out
23. Swim lessons
24. A day pass to Great Wolf Lodge
25. Board games (here are the best board games for 5-7 year olds)
26. Annual pass to a local museum
27. A fun train ride to a new city for sightseeing
28. A visit to a local farm – great for an animal lover
29. An afternoon at the children's museum
30. A day at the science center
31. A road trip to visit relatives you haven't seen in forever
32. A week at summer camp
33. An annual subscription to a streaming service
34. New books from a visit to the used bookstore
35. Sign them up for a new sport and provide some gear
36. Tickets to an amusement park
37. Hot air balloon ride – this is a great gift if you can afford it for older children
38. Little Passports subscription – subscription boxes are a great option as who doesn't love getting mail?
39. Gift card to a local store that sells craft supplies – perfect for doing an art project on rainy days
40. An ice skating date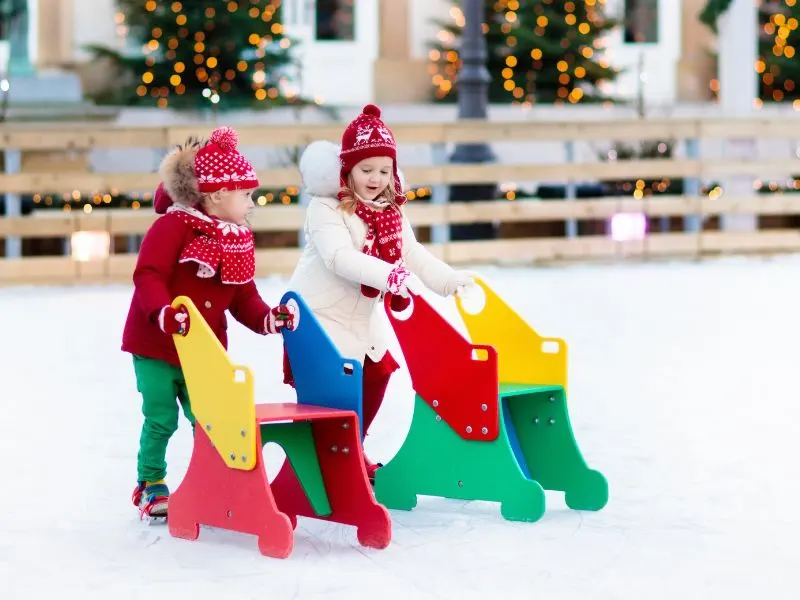 41. Tickets to a live show like Cirque de Soleil or the Nutcracker
42. A day at the beach
43. Registration for a fun run like the Color Run
44. A special breakfast date
45. Children's Magazine subscription
46. Take them out to the ball game – hotdogs included!
47. Fishing trip
48. Pottery class
49. Membership to a rock climbing centre
50. Trip to the aquarium
51. Visit to an event with their favorite character (dinner with Cinderella or Spiderman)
6 Ideas For Family Experience Gifts
If you want to buy an experience gift that the whole family can enjoy, your choices really depend on the age of the children that you are buying for.
Buying experience gifts for the entire family is a great way to encourage family time and to knock off your Christmas shopping list extra fast.
Most of the great gift ideas below can be tweaked to suit any age.
1. Family outing – a local aquarium, zoo or other local attraction
A family membership pass to a local farm, aquarium or other popular attraction is always a hit and gives your recipient a "free" day out for a future date.
Bonus points if you can get a pass that works any day.
2. Movie tickets
Movie tickets and a coupon for popcorn make the perfect gift for families who have tons of toys and would prefer to make memories.
After all – who doesn't like going to the movies?
3. Tickets to a live performance
Depending on interests and your location, you might be able to score reasonable tickets to shows like Monster Jam, Disney on Ice or local theatre productions.
4. Gift card to a fun family restaurant like Dave and Busters
If you can't think of a specific event to buy for, a gift certificate for a restaurant is always a hit, especially if it is a kid-friendly eatery with entertainment or activities.
5. Theme Park tickets
Older kids and parents will love tickets to a theme park as they can get really expensive once you factor in food and snacks.
Paid for tickets make an awesome gift idea for families of all ages if the theme park has rides for smaller children.
6. Family photoshoot
This one isn't an experience per se but it's a great way to give an experience instead of gifts.
A voucher for a family photoshoot is such an awesome present and a way to create memories that will last forever.
Experience Gifts For Families With Toddlers
Families with toddlers are always looking for things to do! Busy toddlers are always on the go and keeping them entertained is a full-time job!
The other thing is that most toddler households are just bursting at the seams with toys so instead of exchanging gifts, they will more than likely be thrilled with tickets to a toddler-friendly attraction or event.
While things like museum memberships may not work for little kids, there are still plenty of options for experiential gifts for those kids that aren't quite in elementary school yet!
Here are some of my top picks:
1. Art Class
2. Zoo or aquarium admission
3. Disney on Ice or Sesame Street live tickets
4. Weekend at a family-friendly resort like Great Wolf Lodge
5. Mommy and me Zumba or yoga passes
How To Wrap An Experience Gift
Let's face it, kids like opening presents.
Even though parents love experience gifts, just opening a gift card can be a bit of a let down for little ones who are used to receiving toys.
Luckily there are tons of really fun ways to wrap your experience gift to make it super exciting.
Add in a themed book
This is what I often do.
So for example, if I were gifting passes to the zoo, I would wrap the pass with a zoo-themed book (Polar Bear Polar Bear by Eric Carle is a great choice for preschoolers).
You could include movie candy for a cinema pass or special socks for trampolining.
Experience gifts also go great as an addition to a material gift – for example, passes to a trampoline park are awesome but how about getting your own backyard trampoline?
We recently got one and it has kept the kids off the screens and exercising almost every day.
Here's a guide to finding the best trampoline for your family.
Create a scavenger hunt as part of the gift
Make finding the gift fun by having it be the final prize in a themed scavenger hunt that starts under the tree.
Use lots of boxes
Make opening a gift card way more fun by wrapping it in increasingly larger boxes until it ends up being a huge present.
Kids will have so much fun opening all the boxes and to make it extra special, you could put a little candy or treat within each box.
Create a coupon book
This is a great idea if you want to give the gift of time.
You can make coupons on a program like Canva (there are even free templates you can use).
Looking for a way to simplify your holiday season this year?
Last year I started using a Christmas Planner and it completely streamlined my holidays and made me so much more organized.
The planner I use has planning pages for Black Friday, Online purchase trackers, Christmas card lists and gift budgets and planners.
It also comes with a 50 page bonus printable Christmas journal for kids which makes a great stocking stuffer that will keep them occupied all holiday long.
The Stocking stuff journal has pages where children can note down their favorite Christmas memories and activities which makes it the perfect companion to your experience gift.
Check out the planner and the bonus journal here
More Gift Ideas For Kids
The Best Princess Gifts For Preschoolers
Girl Power Gifts For Girls Of All Ages