If you are dealing with infertility or having a hard time TTC,  you probably feel that you have tried every single thing possible.
When we were TTC, I swear I would have stood on my head and eaten a lemon if I thought it would work! I  devoured every book about getting pregnant that I could find, popped every vitamin under the sun, did fertility yoga and acupuncture, you name it, I tried it!
Want more fertility tips? – Click here to get a list of all my posts about fertility.
This page contains affiliate links meaning I earn a commission if you use those links. I only recommend brands I use and trust.
In the middle of everything,  I came across a podcast that completely changed my life! Seriously, I credit it for my two beautiful daughters! The podcast was about an IVF diet created by a doctor in Delaware called Dr. Jeffrey Russell. He found that his fertility diet made such a difference in egg quality in his IVF patients that he wouldn't let women cycle until they followed his diet for a number of months!
I was intrigued and decided to try his diet because, even though I wasn't on the IVF path quite yet, I suspected that my age was affecting the quality of my eggs and keeping me from getting pregnant as quickly as I would have liked.
I also knew that eating healthier for sure wouldn't hurt my chances of getting pregnant so it seemed silly not to give it a try.
If you would like to listen to the podcast you can find it here, I will outline the diet below but to go in depth, I recommend listening to the podcast.
The nonprofit that produced the podcast Creatingafamily.org has tons of other podcasts about infertility, adoption, donor eggs etc. You can find them on their website or through iTunes. 
What is The Fertility Diet?
In the fertility diet podcast, Dr. Russell explains that he discovered that "Eggs and embryos are not going to do well in a high-glucose (aka sugar) environment." By lowering carbs and increasing protein, you can drastically improve your egg quality which will lead to better results at transfer and fertilization for IVF cycles.
So, what does that mean?  The doctor found that most women in his study ate way too many carbs and not enough protein. In my case, I definitely found this to be true and switching to the fertility diet was a big change for me. I was used to having cereal or toast in the morning, a sandwich for lunch and pasta or rice for dinner with fruit for snacks. Our typical Western diet is not great for fertility, it seems.
The diet recommendation is that protein is more than 25% of your daily diet and carbs should be no more than 40%. Fat would make up the other portion.
Study Results
In the study, when protein intake was more than 25% of the diet and carbohydrate intake was less than 40%, the clinical pregnancy rate shot up to 80%. For me, after following the fertility diet religiously for 3 months, I got pregnant.  She is now 3. I followed the diet as soon as I wanted to TTC my second child and got pregnant the first month.
Fertility Diet- How-Tos
I used MyFitnessPal to track my macro-nutrients and to make sure my levels of protein were high enough. I had a hard time making sure the balance of carbs: protein was correct and it took a couple of weeks of tweaking my diet before it became second nature.
If you like to snack in the evenings on fruit or other carby snacks, make sure you fill up on protein for breakfast (eggs, meats) and lunch so that you have some allowance left. As it is all about balance, the more protein you eat, the more carbohydrates you can have too (within reason of course).
Here are some ideas for protein packed meals:
Breakfast: Turkey bacon & eggs, hard-boiled eggs, and berries, protein pancakes,  fertility smoothie (see recipe below)
Lunch: salad with hard-boiled eggs, avocado and blue cheese, bean or lentil soup, chicken salad
Dinner: meatballs & salad, grilled fish or chicken & vegetables, chili, Beef stew (easy on the potatoes), zucchini lasagna.
Snacks: Protein bars – I like these ones that actually taste like a treat: thinkThin High Protein Bars, cheese string, a cup of milk, a handful of walnuts or almonds.
Dr. Russell says to not worry about calories so I didn't! Of course, by reducing my sugar intake so as not to have many carbs, I automatically lowered my calorie intake.
I tried to fill my diet with fertility superfoods such as nuts, avocados, and flax. I loved to incorporate a fertility smoothie into my day either for lunch or breakfast, you can see the recipe I used here.

Get my Free 5 Day Fertility Meal Plan!
Boost your fertility with this 5 -day kick start program
Sign up below for instant access!
In general, I avoided carbs, ate a ton of eggs and walked every day. It's easy to hard boil a batch of eggs every few days so you have a quick snack in the fridge.
I drank this  Fertility Tea a few times a day, it contains tons of fertility promoting herbs and I really think it helped me. 
I always tried to include some Fertility Superfoods in my diet every day. 
  Related reading:                                                                  
  Naturally Fertile Guide- my in-depth guide to the fertility diet
 Fertility Super foods Worth Eating
The Best Supplements to Boost Your Fertility
Frequently asked questions about the fertility diet:
Can I have cheat days on the fertility diet?
Great question and one that I get asked a lot! I've addressed this a few times in my fertility tips newsletter that I send out twice a month (sign up for the free 5 day meal plan to join the list) and have created a little post about it that you can read here.
How long does the fertility diet take to work?
Of course, everyone is different but the eggs take 3 months to mature is so you can expect to see improvements in egg quality around the 3-month mark. Dr. Russell makes his patients follow the diet for the full 3 months before cycling but he says on the podcast that a lot of women get pregnant before the 3 months are up due to the change in eating habits.
The diet is actually really healthy so you can continue it more or less once you are pregnant although I did find that I added in more carbs as time went on.
For more information on the diet and lifestyle changes I made, you can check out my book, Naturally Fertile. It comes in a PDF format and costs $4.79 to download.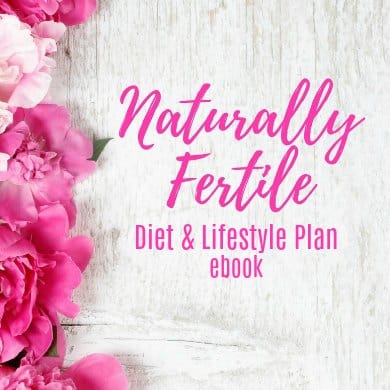 Get a list of all my fertility posts here.
Popular posts:
The Ultimate Fertility Smoothie
Top Infertility Books to Read Now
True stories of infertility to inspire you
Get A Free 5 Day Fertility Meal Plan!
Boost your fertility with this 5 day kick start program
Sign up below for instant access to this free plan & more fertility tips