Do you want to craft a creative and unique birth announcement text message but need some inspiration?
These days, more and more parents are opting for new and creative ways to share their happy news of a new baby with family and friends- from having a text message sent out to crazy TikTok stunts.
Baby announcements are a great way to share this momentous occasion with those who you love, but what should you do?
In this post, we'll show you over 100 ideas for the your birth announcement text message that everyone will love.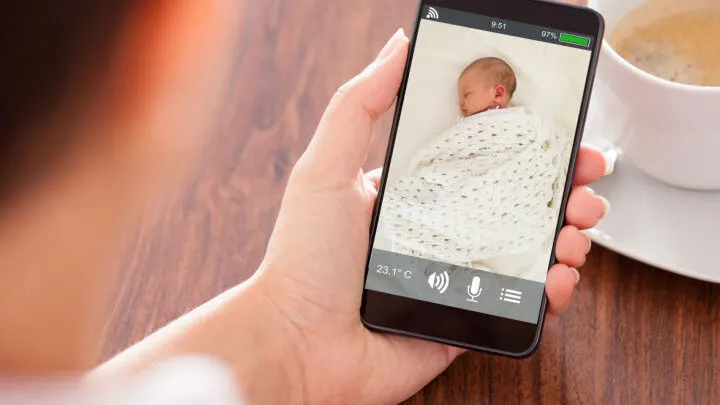 This post may contain affiliate links.Please read my Disclosure for more information.
RELATED POSTS
What To Include in Your Birth Announcement Text Message
Text message birth announcements are the summarized version of what you might include in a printed one.
Consider what details people typically ask about a new baby – Name? Weight? Birth?
You want to give friends and family the basic information they have been waiting for and then show off your little bundle of joy.
Most text message birth announcements include the pertinent information, a couple of cute photos and a little introduction to the newest member of the family.
The main information to include:
Name of baby
Name of parents and/or siblings
Birth date at time of birth
Baby's weight
If baby looks like either of the parents "He has John's hairline!"
And of course, a cute little message like the examples below.
Text Message Birth Announcement Etiquette
The etiquette for sending a text message birth announcement is similar to other types of announcements
The first thing to do is text individual messages to close family members as soon as you are settled at the hospital after baby's birth.
If you want, ask your partner or a friend who might be with you in the delivery room if they would like to send out a message for them too.
After all of those texts have been sent and received, it's time for an announcement!
You can also use this opportunity to make sure that people around town know how excited everyone is about their new arrival.
Group texts are okay for friends and co-workers as well as immediate family members who don't live nearby.
100 Unique Birth Announcement Text Message Ideas
I've separated this list into different sections so you can easily find the wording for the kind of birth announcement that you want to send.
In this list you will find:
Traditional Birth Announcements
Birth Announcement text message ideas for boys or girls
Girl birth announcement wording
Wording for a baby boy birth announcement
Birth announcement wording for Christmas babies
Text message birth announcements for twins and multiples
Sibling birth announcement text message ideas
Funny birth announcement wording
Religious birth announcement text message ideas
Classic Birth Announcement Wording
Here are some traditional birth announcements that you can use in almost all circumstances:
Sally and Tom are pleased to introduce to you the arrival of their son…"
Please join the Blackwood Family in welcoming their new addition…."
Say Hello to….
We welcome with love…
Introducing….
We are happy to announce the arrival of Logan John on October 14, 2022.
Please join us in welcoming Juliette to our family.
Our family is honored to introduce its newest member – Harry William Smith
General Birth Announcement Texts
Here are some birth announcement text message ideas that work for either boys or girls:
The littlest and loveliest member of our family, whom we have named: Mary Jane
Hello world, I have just arrived.
Our hearts can't stop overflowing with joy!Introducing the newest member of our family Susie Sheep
Twinkle twinkle little star, do you know how loved you are…
And so the adventure begins, Baby Cooper is here
Our little angel came into our lives on 5 September 2023
Introducing a new addition to our family, Lucas Wright
Our hearts are full, meet Sloane!
Our new journey of parenthood starts today
We are ecstatic to welcome little Sienna Mae into the world!
A tiny bit of heaven drifted down from above, We welcome our baby with love!
Such a blessing for our family, our baby has arrived
Baby Girl Birth Announcement Wording
We have been blessed with a sweet and cute baby girl
Sugar and spice and everything nice, our little girl is here!
Hope you like pink – its our new favorite color!
As pretty as a princess, she has finally arrived
Baby girl name: Our daughter is the most wonderful and beautiful baby girl in the world
Our home is now a piece of heaven! Our Baby girl is here
Thank Heaven for Little Girls. Introducing our Daughter
So soft and sweet, we'd like for you to meet…
Our Angel from heaven has arrived!
Pretty in pink! Meet (baby name).
Once upon a time, a little princess was born. Meet Eliza
Announcing our darling daughter, Addie
Ten more fingers and ten more toes, it's another girl in ribbons and bows
It's a sweet little baby girl!
We're tickled pink over the arrival of (baby name).
It's a girl!
Daddy's little sweetheart is here!
Girls rule – our new queen has arrived!
Open arms and warm hearts for our baby girl
The latest addition in a long line of beautiful women, Anabelle is here!
Baby Boy Birth Announcement Wording
Baby boy has arrived
Oh Boy! He's here!
We're walking on SONshine
King of the Smith House has made his arrival
Our baby boy lights up our life
Looking forward to lots of fun, please welcome our newborn son
"Introducing our little man…
He's Here! Our sweet son has arrived!
A sweet baby boy is here
Our precious new baby boy has arrived
There's a new prince in our family
Is the world ready for another superhero?
We are happy to announce baby boy's arrival
Hello Handsome!
Holiday Birth Announcements – Text Message Ideas
The more the merrier
It's a Christmas miracle! Please welcome Baby Angelina
Glad Tidings we bring, with news of our (baby) king
Merry & bright and up all night!
Look what Santa brought
Oh what fun! Our new life has begun!
It's baby's first Christmas
A merry little Christmas
Merry Christmas Baby
All is Calm (for right now!), baby is here!
Best. Gift. Ever
The nice list just got a new addition
Goodbye silent nights, hello wonderful life!
Merry first Christmas
For unto us, a child is born
Funny Birth Announcement Wording
Free at Last After 9 Long Months, Parole officers Tony and Stacey welcome Baby Sophie born March 5th at 12:19PM 8 pounds, 6 ounces 21 inches long
Look who decided to show up!
Oh Baby, finally evicted at 12.15 on April 17 2022
Look what the stork dropped.
Introducing the girl who stole our hearts and all of our money.
It's time for dirty diapers, sleepless nights, and endless love. Welcome (baby name).
After 9 months of beauty sleep, here she is.
Multiples and Twins Birth Announcement Wording
Introducing our twin gems.
Double the fun!
Twice as precious, twice as fun
Twice the love, twice the joy.
The more the merrier!
We are "two" happy to announce Jaden and Michael
Two times the love—and the sleepless nights!
The best things come in threes.
We always knew 3 was the magic number!
We asked for one miracle, and we got two!
Get lots more twin birth announcement ideas here
Sibling Birth Announcement Wording
Big Sister Madison is proud to introduce her new baby brother, Jack to the family
Cameron is tickled pink to have a sister. Please welcome Emily to our family
Meet my new baby brother!
Lucas has a new sister to hold
we have a new life to mold
Together we have a new love to share, which God has blessed with His tender care
Another brother for Tyler and Jacob! Introducing our newest little man, Greyson
Religious Birth Announcement Text Message Ideas
Express your faith with one of these cute birth announcement text messages with a religious tilt:
Children are a gift from the Lord…they are a reward from him Psalm 127:3
For this child, we have prayed
The biggest blessings come in the tiniest bundles
Before I formed you in the belly I knew you, and before you came forth out of the womb I sanctified you; I have appointed you a prophet to the nations. Jeremiah 1:5.
We prayed for this child, and the Lord has given us what we've asked of him… 1 Samuel 1:27
Love keeps growing…God has blessed us a second time
Blessed beyond words
Every good and perfect gift is from above… James 1:17
All of God's Grace in one sweet little face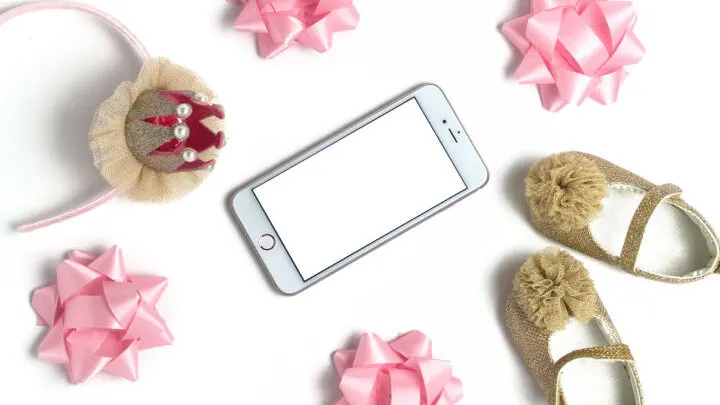 How to Send a Text Message Birth Announcement
There are lots of different ways you can send out your baby news with text messages. Here are some ideas!
Create a custom message with photos and videos that will make everyone feel like they are right there next to you in the delivery room! This is the perfect way to share this exciting}
You can have a text message sent to all of your closest friends and family, letting them know that they're going to be grandparents. They will appreciate the early notice!
Have a text message sent in your child's voice! The whole point is that it comes from the baby. Everyone will love to hear the coos and gurgles.
Are Birth Announcement Text Messages Tacky?
Absolutely not! While it is true that text message birth announcements are still relatively modern, most people expect them nowadays.
The truth is, most people will be anxiously waiting by their phones for news of your baby's arrival.
Why make them suffer even longer waiting for a traditional birth announcement card sent by snail mail?
Of course, you can always follow up with a paper notification in a week or so but a text message birth announcement is the perfect way to get the news out quickly.
Alternatives To Text Message Birth Announcements
If you want to announce your baby's arrival without sending out an ordinary birth announcement but want something more than a text message?
There are now so many different ways to share the good news of your new bundle of joy with friends and family!
One option is through text messaging but there are other modern baby announcements that you can consider.
Send a personalized e-mail blast that includes photos and videos. Your loved ones will be able to view it anytime they want, whether at work or in the comfort of their own homes.
Create an online photo album for all those who couldn't make it to the hospital but would still like to see what has been
Create an Instagram story or a short TikTok video, introducing your baby to everyone.
Birth Announcement Text Message Ideas – Final Thoughts
There are lots of ways for parents to announce the birth of their baby. Everything from sending out text messages, to announcement cards, to using personalized online photo albums!
What's your favorite way?
More Fun Birth Announcement Ideas
15 Unique Twin Birth Announcement Ideas
33 Fall Pregnancy Announcements
25 Ways To Announce A Pregnancy To Family In Person