Fall pregnancy announcements are always my favorite! If you are newly pregnant and getting ready to tell the World this autumn, congratulations!
Whether it's through a beautiful photo shoot with family and friends, or through a creative announcement on social media, there are lots of fun ways to tell everyone that a new baby is on its way.
If you are wondering how to announce a fall pregnancy, look no further.
From fun onesies to cute fall photoshoots, these are some of our favorite announcements from this season.
This post contains affiliate links. Please read my Disclosure for more information.
MORE PREGNANCY TIPS
33 Fun Fall Pregnancy Announcements

The great thing about the pregnancy announcements below is that they are easy to do.
For the most part, you can either DIY them or recreate them pretty easily using inexpensive items from stores such as Etsy.
I've separated this post into a couple of different sections so you can see the different types of fall pregnancy announcements you could do – from social media flat lays to full on fall photo sessions.
If you want even more ideas on telling everyone you are pregnant, make sure to read my post on 25 Ways To Announce A Pregnancy To Family In Person.
Fall Pregnancy Announcement Quotes
If you want to put your fall pregnancy announcement in a card or a letter board, there are some fun quotes you can use. Check out these awesome instagram captions for a fall pregnancy announcement:
We're adding another pumpkin to our patch
Eating Turkey For Two
Get Ready To Fall In Love With Our New Arrival
Expecting A Little Pumpkin
Fall Is In The Air And We Have Exciting News To Share
Spice Spice Baby
Life Is Gourd
One More Blessing To Be Thankful For This Year
No Tricks, Just A Treat, Our Family Is Growing By Two Little Feet
Fall Pregnancy Announcement T-shirts
Another fun way to announce your pregnancy in the fall is with a cute t-shirt or onesie for baby to be. Here are my top choices:
Festive Fall Pregnancy Announcement Photos
Head into the fall colors and make the most of the beautiful light in autumn by taking some photos for your pregnancy announcement.
Here are my favorite ideas:
14. Simple Plaid
This idea is simple yet so cute. You can use a plain white onesie or one with a pregnancy announcement on it.
Wear fall colors like plaid and get the photos taken at sunset for a beautiful way to announce your impending joy.
15. Cute Overhead Shot
This cute fall themed overhead shot can easily be taken at home. You just need some clothes in muted fall colors, your ulttrasound picture and some gourds. Get someone to take the photo from above for the best shot.
16. Our Little Pumpkin
What fall pregnancy announcement would be complete without some pumpkins? I love this simple photo with mom and dad-to-be holding a baby pumpkin next to mom's belly.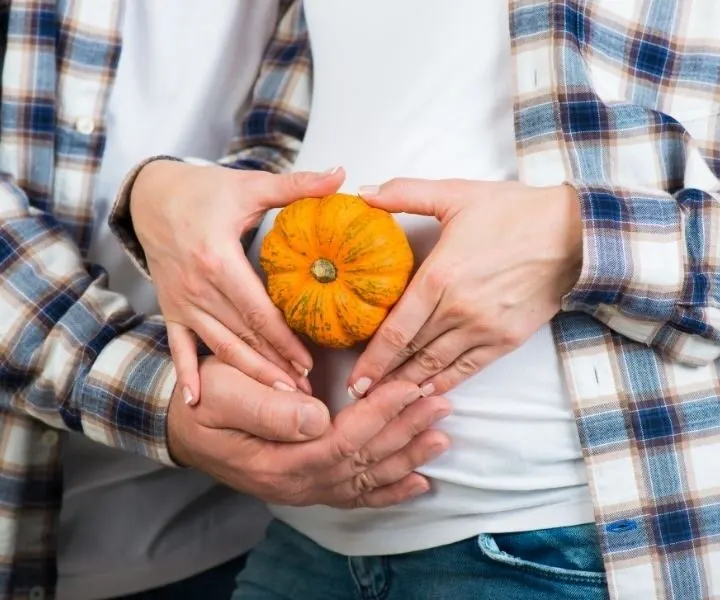 17. Ultrasound Reveal
Here is another really simple but cute fall pregnancy announcement that you could even recreate with the help of a friend or a tripod.
18. Falling Leaves
Obviously fall means beautiful fallen leaves and a nice way to announce your pregnancy is by incorporating them into your reveal in a genius photo like the one below.
This is really simple but stunning and would look gorgeous blown up on the wall later on.
19. Fall Brights
You even need to be outside for this photo but the fall light would help. Get your best fall clothing out and get someone to snap this cute photo.
This is also a nice way to tell your husband you're pregnant (click here for 51 more great ideas)
We hope that these ideas for fall pregnancy announcements have given you some inspiration. With our help, your announcement can be as unique and personal to you as possible
20. DIY Fall Pregnancy Announcement Photo
Head to the park with a blanket and some pumpkins and you will have a great set-up for your pregnancy announcement this fall.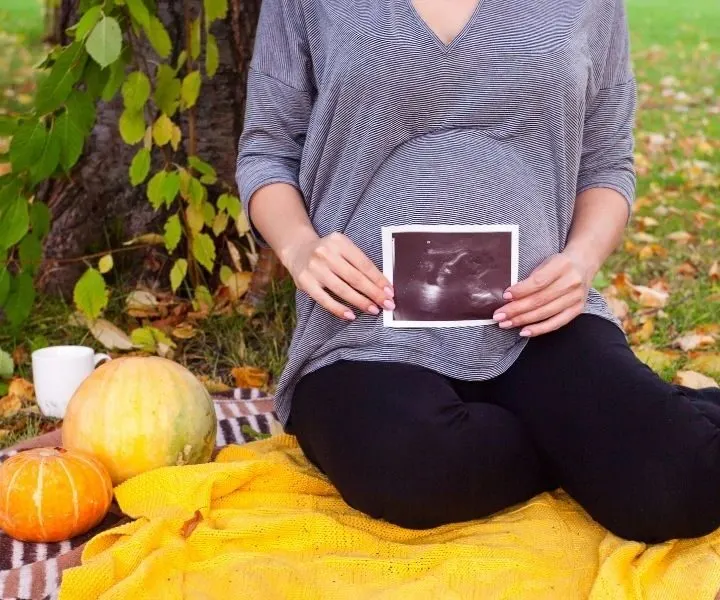 21. Beach Pregnancy Announcement
Although you may not think of the beach as the best spot for a fall pregnancy announcement, you can really take advantage of the light with an announcement like the one below.
If you want even more announcements like this, check out our list of 28 Creative Beach Pregnancy Announcement Ideas.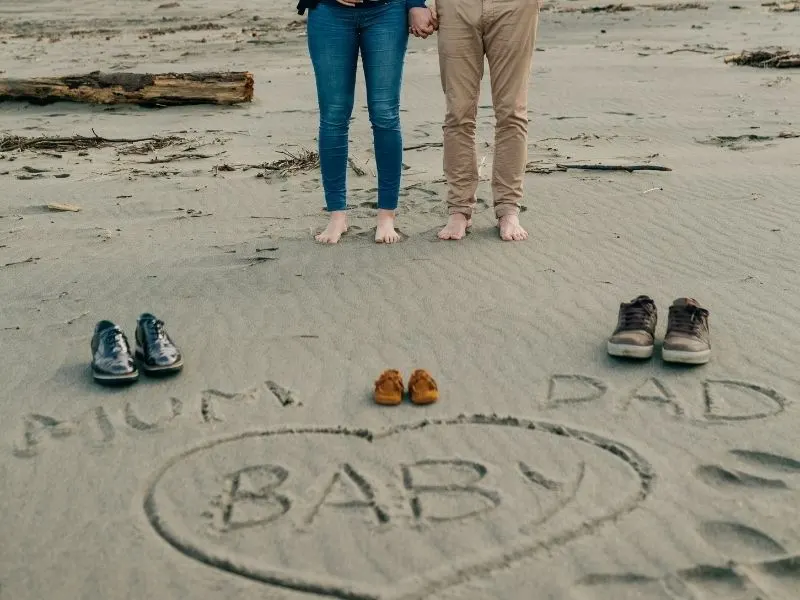 22. Pass The Pumpkin
Here is another really cute photo idea for announcing your pregnancy this fall. It is simple yet really pretty.
23. Ultrasound Photoshoot
Many fall pregnancy announcements take place outside and this is another take on the ultrasound in the park photo idea, this one also includes a simple gender reveal.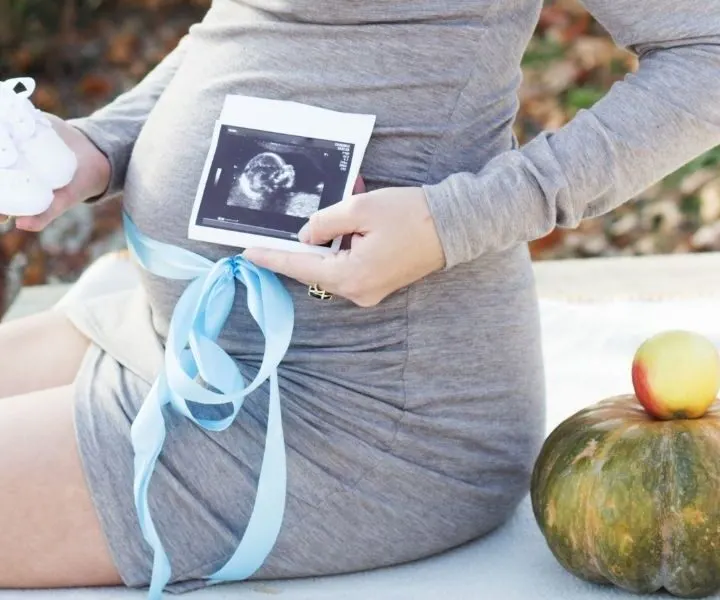 24. Jack O'Lantern Pregnancy Announcement
This is a cute Halloween pregnancy announcement idea, especially if you have an older child to help out!
25. Pumpkin Pregnancy Announcement
Pumpkin pregnancy announcements are my favorite way to announce a fall pregnancy.
Carve a heart out of a pumpkin and put a little gourd inside for a simple, cute pregnancy announcement.
You can get the printable in this picture from Confetti Graphics on Etsy.
Unique Fall Pregnancy Announcement Ideas
If you are looking for a really different way to announce your pregnancy to everyone this fall, check out these cute ideas:
26. Thanksgiving Wine Gift
This is an awesome way to announce your pregnancy to family at Thanksgiving!
These custom wine bottle labels from Etsy can be printed at home and stuck on any kind of wine.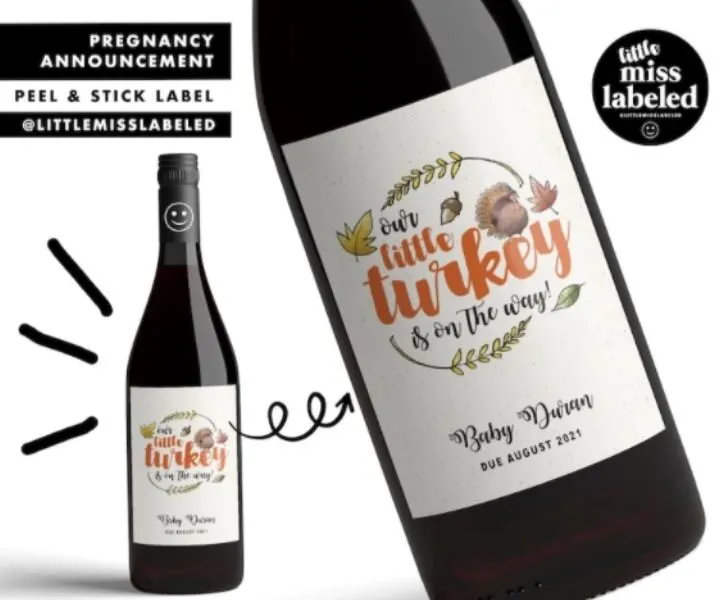 27. Personalized Pumpkin
Skip the whole pumpkin carving ordeal and use vinyl decals to announce your pregnancy this fall!
These cute personalized announcements are from PupocoARTS on Etsy.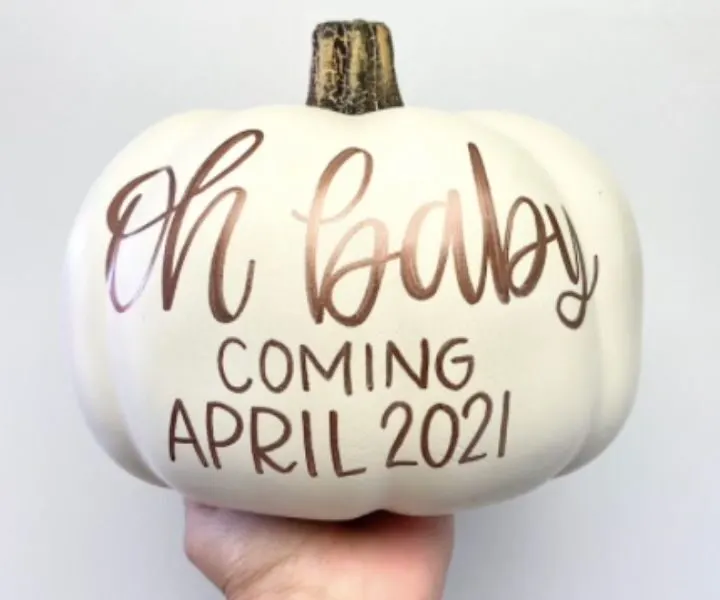 28. Little Pumpkin Reveal Box
This cute little box is perfect for revealing your pregnancy to grandparents and family. Check it out here.
Fall Pregnancy Announcement Flatlays
A flatlay is a really nice way to reveal your pregnancy without having to do a big photoshoot.
All the flatlays below are available as digital files on Etsy so you can just edit it yourself if you don't want to make your own.
29. Thanksgiving Letter Board Announcement
This digital file from DI Improvisation on Etsy is fully customizable. We also have lots of inspirational Letter Board Pregnancy Announcement Ideas here.
30. Little Pumpkin Flatlay
This editable digital file from 2MBABYGENDERREVEALS on Etsy is perfect for Thanksgiving pregnancy announcements.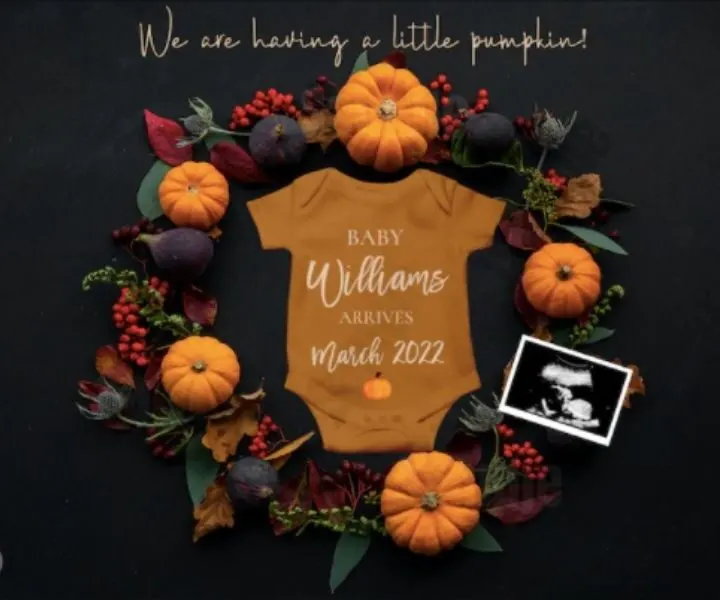 31. Tiny Gift Thanksgiving Reveal
This cute announcement from Cafe Latte Designs is another digital file, perfect for Instagram or social media pregnancy reveals.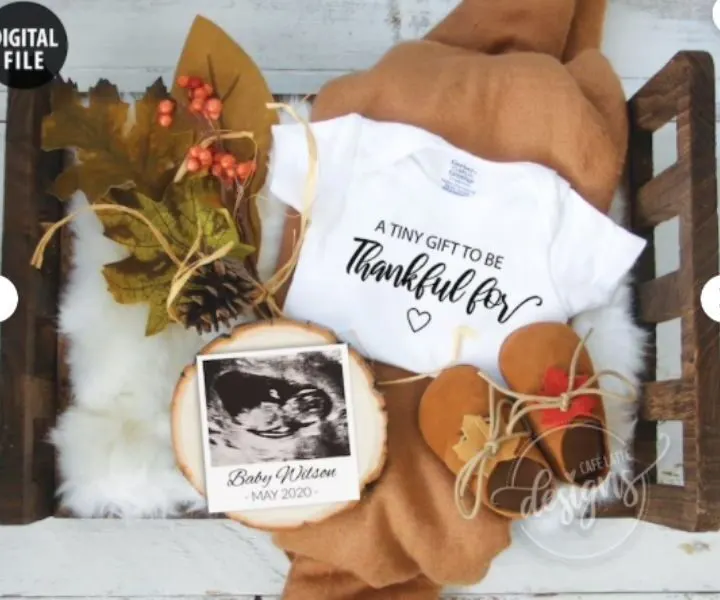 32. Halloween Pregnancy Announcement Flatlay
If you want to do a Halloween pregnancy announcement, this digital file from Cafe Latte Designs is an easy way to do that on a budget.
33. Fall Baby Basket
This cute announcement flat lay from The Lalaland Shop on Etsy is so cute!
We hope that these fall pregnancy announcements have given you some inspiration. With a little bit of creativity, your announcement can be as unique and personal to you as possible.
Comment below if you have any unique fall pregnancy announcement ideas to add to this list.
More Pregnancy Tips
100 Early Signs Of Pregnancy (The Weird And Unusual!)
62 Newborn Baby Tips and Tricks (From Real Moms!)
8 Best Pregnancy Exercise Apps