With the average interior painter charging $2000-5000 for an average-sized house, it's no wonder that many people want to save money on paint and do the work themselves.
While there is no doubting the time and effort that painting walls takes, painting on a budget is possible and doing it yourself can drastically cut your renovation expenses.
In this post, we will give you our top tips for saving money on painting while making your home look amazing on a budget!
This page contains affiliate links meaning I earn a commission if you use those links. Please read my affiliate disclosure for more information.
How To Paint A Room On A Budget
Do you want to spruce up your home but don't have a lot of cash right now?
Painting is one of the easiest D.I.Y jobs you can do yourself and it can save you a lot of money if you are willing to put in the effort.
A fresh coat of paint can totally transform a room and take your house from drab to delightful in just a few hours.
But paint isn't cheap and the supplies can definitely add up.
The tips below will show you how to paint a room cheaply and stretch your budget even further.
If you are feeling ambitious and want to do even more painting on a budget, make sure to check out how I completely revamped my builder grade stairs for under $100!
Best Tips for Painting on a Budget
If you want to save money with your painting, there are a few things you can do!
A lot of people think you need to go out and buy a ton of gear and "necessities" but in fact, you can easily spruce your home up without spending a lot of cash.
Below you will find our top tips for painting a home the frugal way.
1) Don't buy painter's tape
Painter's tape is a waste of money plus it takes ages to tape all the walls up and then take it down carefully afterwards.
If you don't want to use painter's tape you have two options – first of all you can learn to cut in paint meaning you only use a brush.
Cutting in is what professional painters do and why you never see them using painter's tape. If you want to try for yourself, here's a great tutorial: Family Handy Man
Your second option is the one I use as I am not confident enough to cut in the paint.
Buy a large 6 inch putty knife and hold it up to the edges as you paint along the ceiling or baseboards.
Bring a cloth along in case you need to wipe it as you move it along.
I find that I get perfect edges doing this and it is much less time-consuming than using tape.

2. Keep it simple
Even cheap paint is expensive and it's quite hard to calculate how much paint you actually need for each room.
You also likely want to have a little bit left over in case you need to do some touch ups at a later point.
Painting on a budget means not having to buy various cans of paint for every room.
The easiest way to save money on paint is to stick to as few colours as possible.
In my house we have 4 paint colours – one for upstairs, one for downstairs, one for the front door and garage and a bright white for the interior doors and trim.
The simpler the better, once you start doing fancy accent walls or a different colour for each bedroom, your costs will immediately rise.
3. Buy quality paint
Good quality paint means fewer coats are needed which means you go through less paint to cover a room.
A quality paint will also last longer and is less likely to bubble or get nicks than a cheap paint which is likely to be run and be messy.
Buy the highest quality paint you can afford, it doesn't have to be a name-brand as many stores carry generic or cheaper versions of the same thing that are almost as good quality.
If you are trying to cover a dark wall with a light colour, you might save money by using a blocking or thick primer paint first. My go-to brand is Bullseye 1-2-3 Primer.
4. Don't buy more paint than you need
Measure your rooms and try and buy just the paint you need.
Paint doesn't last forever, even when stored properly so not buying too much will save you money in the long-run.
You can use this handy calculator from Lowes to estimate how much paint you need to buy – Paint calculator
5. Look for deals on paint
Obviously you want to be checking for cheap paint deals at your local hardware stores.
However, it is also worth looking in stores such as Walmart, Habitat for Humanity and even on your neighbourhood buy and sell groups, especially if you don't need much paint.
If you are planning on painting with a popular color such as Revere Pewter or one of the other fashionable colors, then you may find someone who bought too much and is willing to sell it to you for a bargain price.
Make sure to also check the sample cans in the discards at your local Home Depot or Lowes.
If you are not super picky about the color you want, this can really help!
6. Invest in quality paintbrushes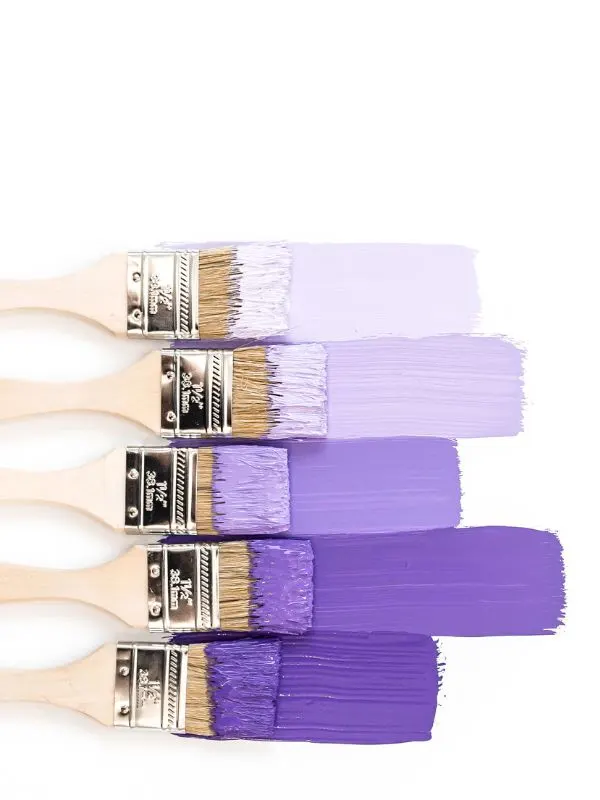 Here is one tip where painting on a budget doesn't necessarily mean scrimping on quality.
Cheap paintbrushes will shed stray hairs all over your walls and will not be as easy to clean.
It is cheaper in the long run to buy 3 or 4 quality brushes and look after them properly than constantly buying more from the dollar store.
Don't be put off by the prices of the top quality brushes as they really will pay for themselves if you reuse them for years.
Good brands include Purdy, Wooster and Presa. If you don't have many brushes it's a good idea to invest in a brush set that will give you different options for trim, ceilings and walls.
7. Save where you can
Although I've mentioned the need to buy good quality brushes and paint, there are some painting accessories where quality isn't quite as important.
If you want to do interior painting on a budget, the dollar store is your friend!
Putty for filling holes, sandpaper, paint rollers and roller trays are all easily found at dollar stores everywhere and will work great.
If you do have a spill, you can easily remove paint from most surfaces with a good scrub with water or a little bit of acetone nail polish remover (watch out though as it can damage other finishes such as wood varnish).
8. Start hoarding rags
You'll notice that I didn't mention drop clothes in the last tip.
That's because I save old towels, sheets and blankets to use as drop clothes whenever we do painting.
I've also be known to pull the tarp off the BBQ in a pinch.
I also keep a stash of old t-shirts and washcloths for wiping up paint splashes and hands.
9. Re-use your paint rollers and brushes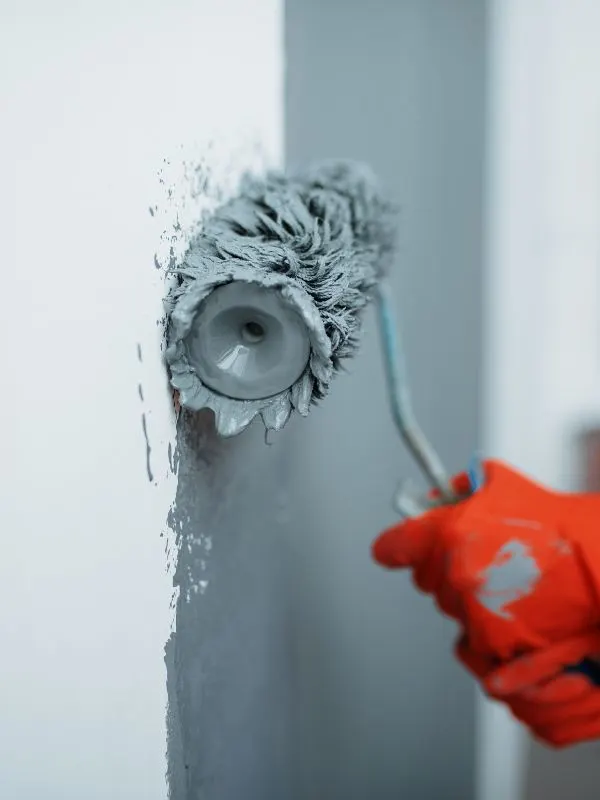 Wrap your rollers tightly in plastic wrap and put them in the fridge to use the next day.
Rollers don't dry out for a few days anyway but this will make sure you get no dry patches overnight.
If you have stuck to tip #2 above and are only using a couple of colours in your house, them you can also try washing them out with a little bit of dish-soap until it runs clear.
I've had mixed results with washing them though which is why I buy my rollers from the dollar store.
If painting over a few days, wrap the roller tightly in plastic wrap (being careful to cover the edges) and pop into the fridge.
You can also wash them out with a bit of dish soap being sure to rinse out until the water runs clears of both paint and soap.
10. Take Note
There is nothing worse than trying to a paint touch-up and having no idea what paint color or finish you used in a room.
Sorting through 5 or 6 half-full cans isn't much fun either.
There are a few things you can do to make it easier to keep track of your paint remnants:
Always paint a quick dab of each colour onto the lid as soon as you open a can. You can even write which rooms it is for with a sharpie.
Invest in a Home log book – I love this one.
Home log books are amazing for recording all those things like paint colors that you won't remember in a few year's time.
They are also perfect for insurance in case something happens to your house as you can list all the serial numbers of your appliances and electronics.
More Posts About Saving Money:
31 Clever Ways To Save Money On Groceries
10 Things I Stopped Buying To Save Money
21 Frugal Living Tips For A Better Life
10 Frugal Ways To Keep Warm This Winter
31 Clever Ways To Save Money And Live Better