As the days and nights get colder, those of us living in colder climates can definitely feel the pinch when we get our heating bills.
Luckily you can winterize a house and stick to a budget with some easy tricks. Not only will your home stay warm and toasty but you will also see some nice savings in your heating bills.
This page contains affiliate links meaning I earn a commission if you use those links. I only recommend brands I use and trust.
RELATED POSTS
27 Genius Ways To Save Money At Home
10 Tips for painting on a budget
While some of the best ways to winter-proof your house include getting new windows, an energy efficient furnace and beefing up your attic insulation, the tips below are all aimed at helping you get through winter without spending big on new items for your home.
You could save you 10% or more off your heating bill if you implement these tips.
10 Ways To Winterize A House on the Cheap
1.Wrap up
While this is not exactly a winterizing tip, it will help you safe on your heating bills.
Bundle up in sweaters and fluffy socks when you are at home. You shouldn't be keeping your house so hot in the dead of winter that you can run around in shorts and a tee. Invest in flannel sheets and PJs for nighttime.
Consider cheap tricks such as a hot water bottle in bed 30 minutes before you get in or a heated throw blanket to ward off the chills. This sherpa blanket from Amazon is a bestseller and gets great reviews.
2. Fix drafts and air leaks
Check for leaks using a lighter or candle held up to the window and look for the smoke drifting sideways.
You can fix the small gaps easily with Self Adhesive Foam Weatherstrip Seal. It comes in rolls and you just cut it to size and stick on the drafty seam. It comes off easily in the spring.
If you don't want to use sticky strip (I find it comes off easily on windows that get a lot of condensation), you can try LePage's No More Drafts if you can find it (I got it from Amazon.ca). It's a clear gel-like liquid that is used like caulk.
I used it on my daughter's room that was getting frost on the inside of the window and it has made a huge difference!
My only negative review of No More Drafts is that it smells quite strong for the first 24-48 hours so if you are sensitive or want to go chemical-free, then stick to the weather strip tape above.
In addition to windows, make sure to check exterior doors and interior garage doors. You can use the foam sticky strips around the door to block any drafts and even buy a simple self-adhesive door sweep to block cold air.
If you want to go old school and really thrifty,  cut an old pair of tights (with feet) in half and stuff one leg with old socks or clothes. Tie up the open end and you have a DIY draft-excluder for the bottom of your door.
Another common place for leaks is electrical outlet boxes, you can take the front plate off and fill with caulk to stop drafts.
3. Make the most of existing heat sources
My not-at-all thrifty husband taught me this one when we first moved in together. If you make pasta or boil eggs in water on the stove top, leave the pan of water out once you have turned off the element. The water will give off heat for quite a while.
Likewise, when you are done using the oven, leave it open a smidgen so that the heat warms up the room.
Another tip is to put foam covers on your hot water heater pipes to keep the heat in. This is sometimes not recommended for gas water heaters so make sure to check with the utility company first.
4. Get a furnace tune-up
Ideally, you should have your heating unit serviced every fall to avoid any issues once the cold hits.  The technician can make sure your unit is working as efficiently as possible thus saving you money.
If you need a new furnace, make sure to look for energy-saving rebate programs that can halve the cost of your new appliance.
Make sure you change your furnace filter every 3 months all year long.
5. Cover Windows
When winterizing a house. consider covering windows as they are a huge source of heat loss.
You can use thick blackout curtains at night to prevent drafts from escaping.
Also, consider buying Window Shrink Film
 to put on your windows. It takes minutes to apply and acts as an invisible layer that can keep heat in your house and save your bills.
I always use the window shrunk film in addition to the weather stripping tape and it blocks all drafts out.
For a DIY version, you can tape bubble wrap to the inside of your windows. The only downside with that is that you wouldn't be able to see out of the windows all winter.
6. Get a programmable thermostat
With a Programmable Thermostat
, you can lower the temperature in your house for the hours you are gone during the day and then warm things up when you are home. You can save a lot of money by being smart about not heating an empty house.
You can buy thermostats for under $50 like this one by Honeywell
 or fancier ones like the Nest Learning Thermostat
that automatically turns the temperature down when no one is home. It can also be controlled via mobile or laptop.
7. Open the blinds
On sunny but cold days, open your blinds and let the sun naturally warm your house through the glass. I notice an almost 5-degree difference in my south facing sunny rooms compared with the colder rooms in my house.
Take advantage of the free heating!
8. Cover those floors
Hardwood and tile may be in fashion but they don't hold the heat like a carpet does. Add thick rugs to hardwood floors to keep the heat in, especially for rooms over garages and porches that can be freezing in the winter.
9. Turn your thermostat down a notch
Even turning the temperature down a couple of degrees can shave up to 10% off your heating bill. If you add the sweaters and socks mentioned in tip 1, you may not even notice the change.
10. Close off unused rooms
If you have rarely used rooms in your house, close off the heating vents and shut the doors. Less space to heat = lower heating bills.
The same goes for keeping the basement door closed or installing a door if you don't have one.
However, make sure you do heat the basement as the heat will rise to the first floor of your house and you don't want your pipes to freeze anyway!
More Money Saving Ideas:
5 Winter Hacks That Will Get Your Through To Spring
31 Clever ways to save money and live better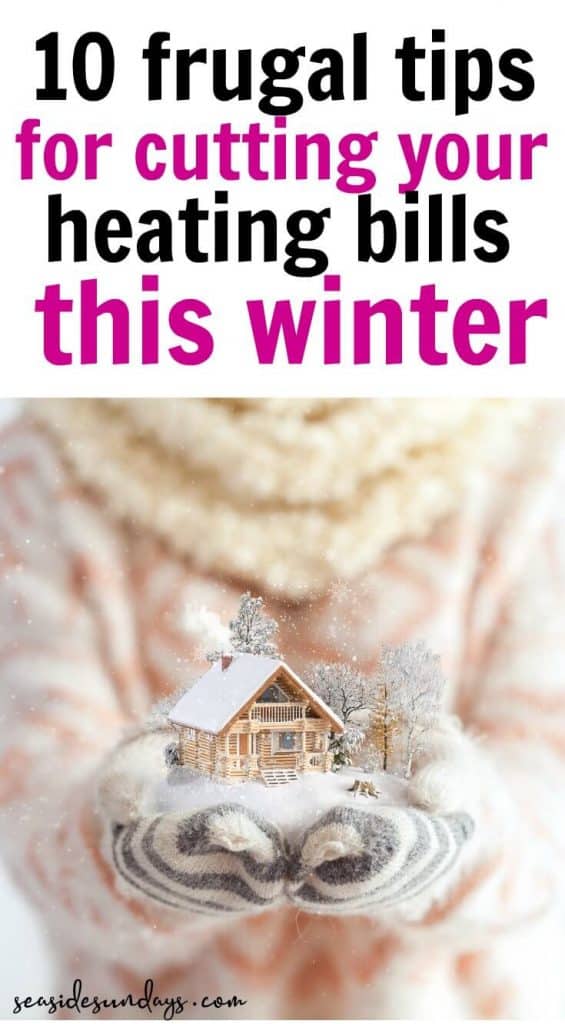 Start A Blog That Makes Money
Ready to start a blog and make money from home?
In this FREE 5 day email course, I will show you the exact steps I took to take my mom blog from $0 to a consistent $2000 a month within 4 months.