A lot of us want to live a better, more simple life, but when we try to put it into practice, our accumulated stuff, bad spending habits and lack of preparedness get in the way.
It's easy to start the new year with good intentions only to fall off the wagon by February 1. If you want to save money this year and create a more peaceful, simple lifestyle, small changes can have big results. The ideas below will help you to save money all while living more simply. Save this post to Pinterest. 
This page contains affiliate links meaning I earn a commission if you use those links. I only recommend brands I use and trust.
If you love the frugal living tips below, be sure to to check out the original 31 Clever Ways to Save Money And Live Better that started this series. If you want to check them out later, you can also pin it to Pinterest.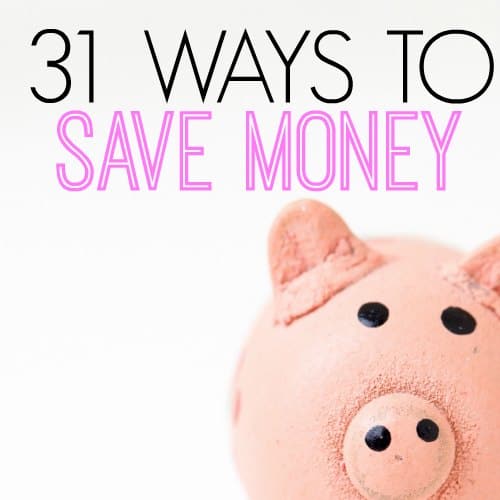 21 Ways To Live A Simple Life in 2018
1.Make full use of your backyard for gardening.
Grow fruit and vegetables and you might be able to grow enough  to last you for the whole summer plus have tons left to freeze or can.
2. Identify your pressure points and prepare for them.
For instance, if you know a few nights a week get crazy, always have a tin of soup in the cupboard or  a pizza in the freezer so that you don't resort to pricey take-out.
3. Save on Clothing
Only buy clothes when something essential has worn out and needs replacing. Bonus points if you buy it from a thrift store.
4. Cut the Email Clutter
Unsubscribe from all mailing lists or use UnrollMe to digest them so you aren't tempted by yet another 40% off sale.
5. Meal Plan
Create a basic list of easy meals (few ingredients, quick prep. time) that are wholesome, frugal and freeze well.
6. Pare  Down Your Book Collection
Keep only books and movies that have meaning or that you know you will read again. Don't buy new books, instead, borrow from the library.
7.  Embrace the Outdoors
Try camping for your vacation this year. It's a cheap way to explore the country and can be great fun!
8. Cut out the Junk
Don't buy snacks (apart from fruit and nuts) and don't spend money on sodas and juices.
9. Invest in a Slow Cooker
Some investments can make the simple life easier and save money in the long run; a Crock-Pot Slow Cooker
 or Instant Pot
can save so much time and allow you to use cheaper cuts of meat for stews and casseroles.
10. Consider a hand blender
Likewise, a hand blender
is awesome for making batches for soup that you can freeze to have on hand for chilly days. You can also use it to make your own baby food.
11. Take advantage of your neighborhood
Get to know your community by exploring on foot, going for nature walks, visiting local parks and libraries without spending money. Even ice skating can be free if you live in the right climate.
RELATED: 25 Winter Budget-Friendly Activities
RELATED: Frugal Things To Do With The Kids This Spring
12. Experiences, not things
Focus on the idea of spending your money on "doing rather than having".
13. Look for cheap forms of entertainment.
Instead of fancy concerts, check out local talent at the Legion or local bars and community centers. My local library holds free movie screenings once a month and churches often have community events.
14.  Try Foraging
Even if you are not extreme enough to dumpster dive or do other "extreme cheapskate" hobbies, foraging for fruit or even home decor can be fun and save you a lot of money. Blackberries, for example, are rampant in many areas in the summer and are great as a snack or in pies. Pinecones make great decor for the fall or winter.
15. Host a Clothing Swap
If you are getting bored of your clothes but don't want to buy more, consider hosting a clothing swap with a group of friends. Bring your unwanted clothes and try everyone else's on. I've done this a bunch of times with friends and it is such a fun afternoon plus I went home with some "new to me" items for free!
16. Avoid the pressure to conform!
It's so easy to fall into the "keeping up with the Joneses" trap and spend money just because you think you need something even if you don't really want it.
17. Buy in Bulk
If you do buy snack items such as crackers or raisins for your kids, don't buy the individual packages that always cost more just for the convenience. Get the big value packs then portion them out yourself into mini Tupperware or plastic baggies.
18. If you don't ask, you don't get
Always ask for a discount in stores if you find an item damaged or without a tag. Even discount stores are normally willing to give you 10% off if an item is slightly damaged but completely usable.
19. Shop Smart for Kid's Clothes
If you have young children, make sure to take advantage of wear policies at children's clothing stores. My local Walmart will replace any clothes or shoes for free if they wear out before your child has outgrown them. I was able to exchange a pair of shoes for a brand new pair thanks to this awesome policy. Just make sure to keep your receipt.
20. Get Paid to Shop
Use Checkout 51 or another shopping app whenever you grocery shop. You can often combine the cash back from apps like Ebates coupons for even more money back.
READ NOW: 7 Grocery Apps That Pay You To Shop
21. Use the Library & Internet
Don't get sucked into the oxymoron of buying books and magazines that promise organizing tips or ideas for simple living. Borrow them from the library or friends or use Pinterest for a whole wealth of free ideas.
Even More Ways To Save Money & Live Better:
31 Clever Ways to Save Money And Live Better
5 Ways to Cut Your Grocery Bill In Half
30 Tips For Saving on Groceries
Easy Ways to Save Money When Eating Out
10 Frugal Ways to Keep Warm This Winter
10 Things I Stopped Buying to Save Money
Start A Blog That Makes Money
Ready to start a blog and make money from home?
In this FREE 5 day email course, I will show you the exact steps I took to take my mom blog from $0 to a consistent $2000 a month within 4 months.