One of the most fun things about Christmas is the presents! And there are no presents unless you write your Dear Santa Letter, am I right?
When I was a kid, we wrote our letters and then threw them on the open fire so they would go "up the chimney" to the North Pole. This caused many issues for parents who didn't get to see the list before it was thrown into the flames!
If you are looking for a great Christmas letter printable for your kids, here's one for kids all of ages.
What's Santa's Address?
Assuming you are not going to be throwing your Dear Santa Letter onto the fire, you are going to need to mail it to Santa.
Depending on where you live, there are Santa has different addresses (I assume they are mail-sorting centres run by the elves?).
If you send your letter early enough, you should get a reply from Santa
Santa's Address in the USA
You can get a response to your Santa letter in the USA but you need to write it yourself – here are the instructions from the USPS:
Have the child write a letter to Santa and place it in an envelope addressed to: Santa Claus, North Pole.
Write a personalized response to the child's letter and sign it "From Santa." See sample responses from Santa.
Insert both letters into an envelope, and address it to the child.
Add the return address: SANTA, NORTH POLE, to the envelope.
Ensure a First-Class Mail stamp is affixed to the envelope.
Place the complete envelope into a larger envelope, with appropriate postage, and address it to:
NORTH POLE POSTMARK POSTMASTER
4141 POSTMARK DR
ANCHORAGE AK 99530-9998
Letters from Santa must be received by the Anchorage, AK, Postmaster no later than December 15.
Santa's helpers in Anchorage, AK, will take care of the rest!
Santa's Address in Canada
Canada is the only country that doesn't require a stamp for your Santa letter – maybe it's that much closer to the North Pole so postage is cheap!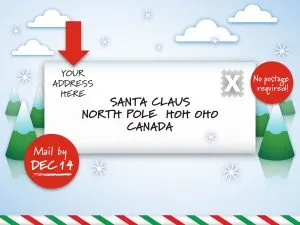 Mail your letters to:
Santa Claus,
North Pole,
H0H 0H0
Canada
No postage is required but get them in early to ensure you get a response!
Santa's Address in the UK
Make sure to post your Dear Santa letter early in the UK, the deadline in 2022 was December 9.
Write and post your letter to:
Santa/Father Christmas
Santa's Grotto
Reindeerland
XM4 5HQ
Note from the Post Office:
"You must remember to stick a stamp on your letter or it won't get to Santa
Father Christmas is very busy at this time of year so he can't guarantee that he'll send a reply, but he'll do his best if you include your full name and address."
Dear Santa Letter Template
If you love the template below, make sure to check out my free printable Christmas Scavenger Hunt that is fun to do on walks around the neighbourhood during the holidays.
More Christmas Fun For Kids
Free Printable Christmas Scavenger Hunt For Kids
20 Holiday Traditions To Start With Your Kids This Year
10 Ways To Make Baby's First Christmas Special
10 Creative Christmas Photos You can DIY at home