If you find the Christmas season passes by way too quickly, this list of holiday traditions for families will ensure you don't miss out on all the fun once the December stress starts.
Starting new traditions creates fun memories that will last long after the holidays are over.
Pick one or all 21 to add to your Christmas bucket list this year and start checking it off as soon as December hits.
This page contains affiliate links meaning I earn a commission if you use those links. Please read my Disclosure for more information.
MORE CHRISTMAS FUN
How to Make the Holidays Less Stressful and More Festive
10 Ways To Make Baby's First Christmas Special
21 Holiday Traditions For Families
This list of 21 fun and festive holiday traditions are sure to become family favourites.
From making ornaments to teaching your children about kindness, the joy and hope of the season will come alive as you cross each item from your list.
If you have a new baby this year, make sure to check out our list of Christmas Traditions to Start With Baby.
And if you want to make run up to Christmas extra special, make sure to check out our free printable 12 Days of Christmas activities for kids.
1.Decorate a gingerbread house

This is one of the most common holiday traditions for families – and for good reason!
You don't need to make the whole thing from scratch – there are tons of pre-made gingerbread houses that come with decorations and icing so you are ready to go.
If you wait until very close to Christmas, you will find these get dramatically discounted.
2. Deliver baked goods to the neighbors
Get the kids involved and make someone's day by giving handmade Christmas cookies to your friends and neighbors.
If you want some great ideas that are kid-friendly, check out this list of 25 Cute Christmas Snacks For Kids.
3. Visit a Christmas tree farm and choose a tree
There is something special about picking your own tree and cutting it down then loading it on the roof of the car.
4. Volunteer at a soup kitchen or shelter
Teach your children the real holiday spirit by spending some of your season helping others.
There are always lots of opportunities at this time of year. I have delivered Meals on Wheels and ran the bell for the Salvation Army in the past.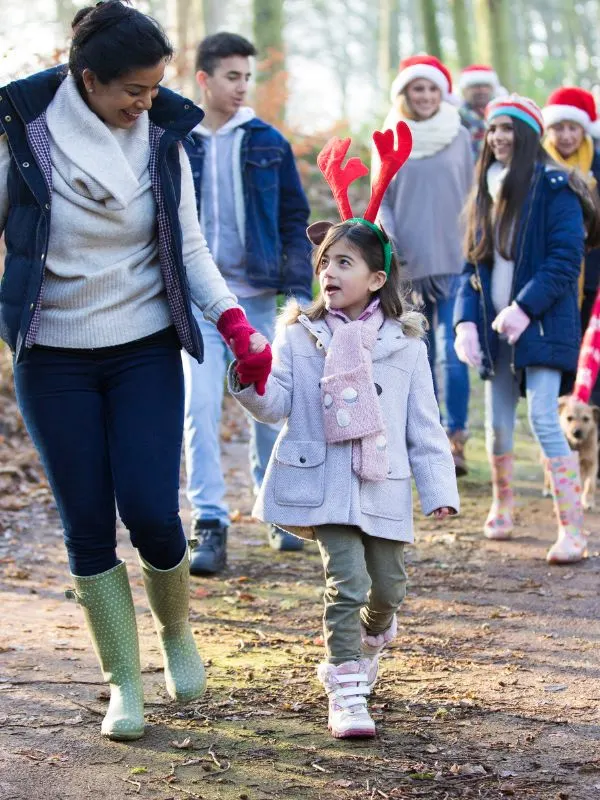 This is a fun way to get some fresh air and explore the different Christmas decorations nearby.
You can also do it in the car if the weather is frightful.
6. Make an ornament for the tree
Try the easy snow globe ornament I made this year. I made it using Dollar store materials and the kids loved making their own "snow globes".
7. Get Crafty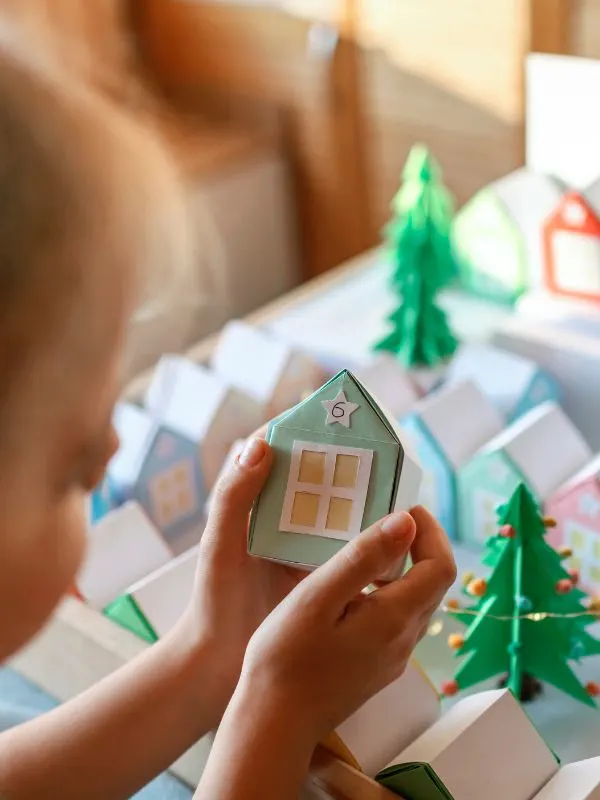 Now you have the crafting bug, why not learn a new skill and makes some fun Christmas crafts as a family?
Making your own holiday decorations is a fun way to spend quality time and create memories that last a lifetime.
From stringing popcorn to more adventurous decorations like this super cute Crochet Christmas Tree Garland (click for a free pattern), there are so many ways to decorate your house for the holidays in style.
8. Sponsor a child through an Angel tree or church
Many grocery stores and malls have trees with tags you can pick to do some Christmas shopping for someone in need.
9. Bake holiday cookies
Set aside an afternoon for holiday baking.
Put on some Christmas music and get in the holiday spirit as you whip up some goodies.
10. Do a Christmas lights tour in a new neighbourhood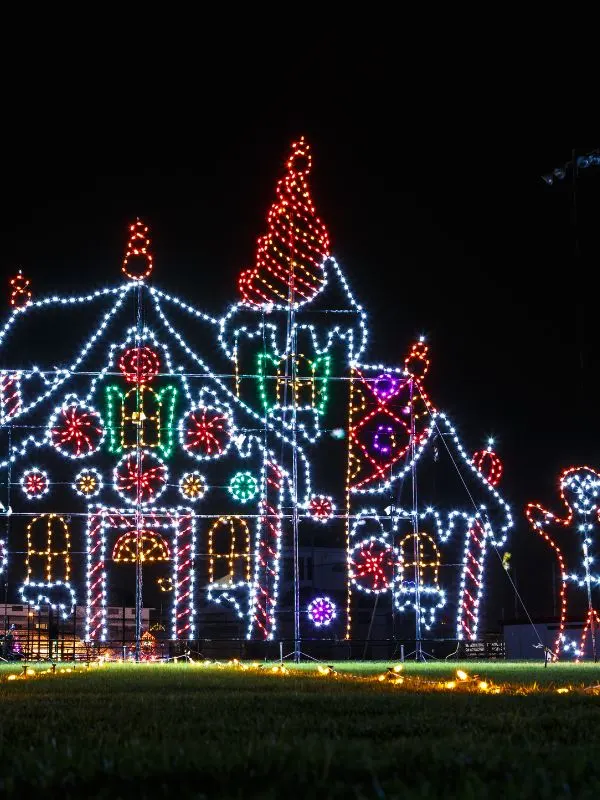 One of the best things we did last year was to visit the Christmas lights in a neighbouring town.
It was fun to explore somewhere new and made it seem like more of a special occasion.
Taking your own holiday photos is a fun way to spend a snowy afternoon plus you can use them for your Christmas cards!
12. Have an ugly sweater party
It's lots of fun to make your own ugly sweater out of thrift store finds but if you are not feeling crafty, Amazon has a great selection
.
13. Watch a pantomime or ballet like The Nutcracker
Going to a special holiday theatre performance is one of the most fun holiday traditions for families that kids remember for years to come.
14. Read a different holiday book each night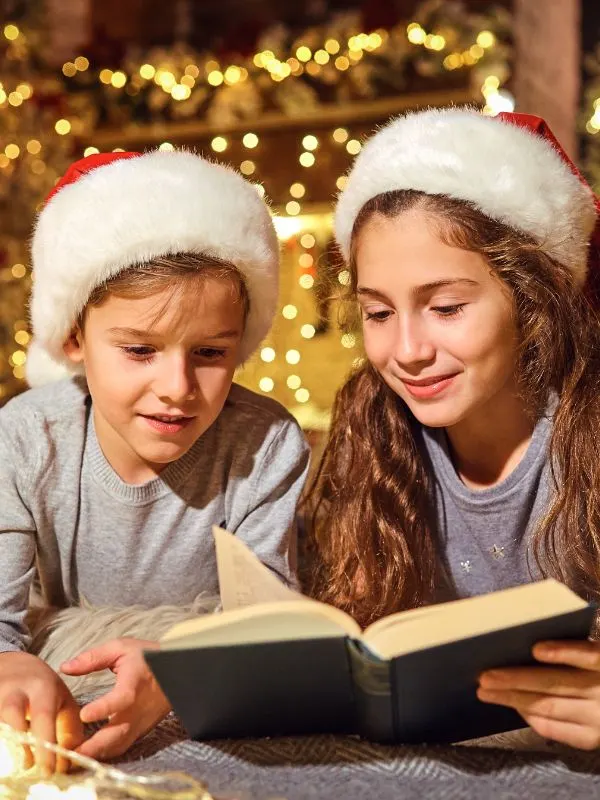 If you have the energy, you can wrap up 24 books as a literary advent calendar, otherwise put them in a basket and let your children pick out a new one each night.
It definitely adds to the excitement of the season and keeps things fresh. Don't forget to save "The Night Before Christmas" for Christmas eve.
15. Perform a random act of kindness
The Holidays are great time to encourage kindness and remember the true reason for the season. Children love doing random acts of kindness and who knows, it might start a year-long tradition!
16. Go ice skating
Ice skating is a must-do holiday tradition for families!
Even if there are no outdoor rinks in your area, most cities have at least one indoor pad. Just don't forget to pack the hot chocolate!
Grab these ice skating tips for beginners to help you glide across the ice in style!
17. Have a Christmas movie marathon
There are tons of Christmas movies on Amazon and Netflix plus the regular cable channels start showing movies in November. Make sure to record some so you can have a full day movie marathon!
Check out this Christmas movie bucket list for a ton of great options!
18. Make hot chocolate with candy canes and marshmallows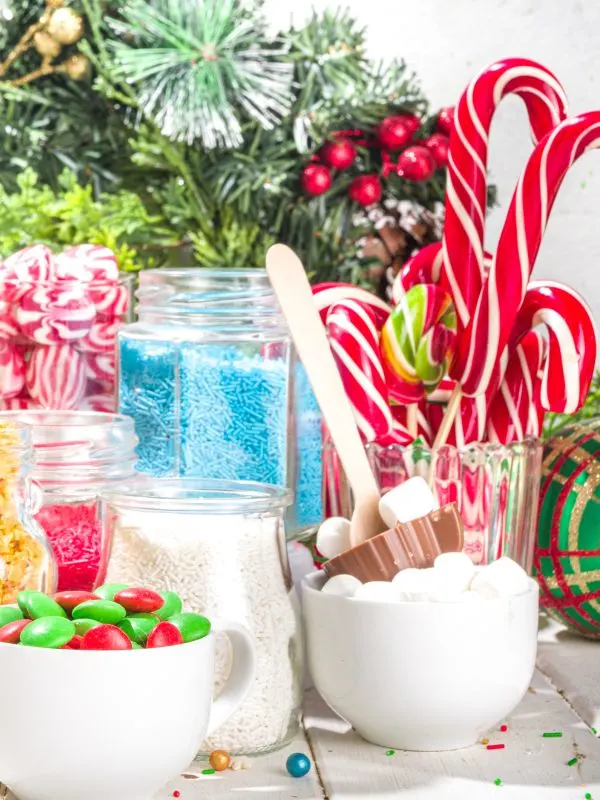 My children love making hot chocolate.
To make it more fun, I lay out a hot chocolate bar with different marshmallows, whipped cream and sprinkles.
19. Write a letter to Santa
Get lots of FREE Letter to Santa templates here.
20. Go on a sleigh or wagon ride
There really is nothing more Christmassy than a sleigh ride (or wagon ride!). It makes it such a fun occasion for kids.
21.Make a home-made gift for a family member
One cute idea is my easy to make Candy Cane Sugar Scrub.
Need something else?
Here are 11 ideas of crafts for kids to make and give as gifts
More Christmas Ideas!
How to Make the Holidays Less Stressful and More Festive
How to Make an Easy Snow Globe Ornament
10 Creative Christmas Photo Ideas You Can Do at Home
50 Junk-free Stocking Stuffers for kids
Like this post? Pin it!