When you're pregnant, money is always on your mind. But what if you don't have any money?
For many couples, that's the reality they face when they decide to have a baby.
In this post, we will show you the best ways to survive having a baby with no money.
We'll show you that you can have a baby on a budget!
While it's definitely true that having a baby can be expensive, it doesn't have to make you broke!
At the bottom of this post I also have a free ebook that you can download to help you prepare financially for baby.
Don't forget to grab your copy.
When I was pregnant with my first daughter, I was really worried about having the money to buy everything I "needed" and still managing to survive a year-long maternity leave with minimal pay.
If you are on a budget and worried about the added costs of raising a child, fear not, there are a ton of easy ways to cut the cost of having a baby while still providing your little one with everything they need.
Also bear in mind that the studies showing the average cost of raising a child are definitely at the higher end of things and most certainly not focused on the more frugal moms and dads among us.
With the tips below, you will see that it's pretty easy to save serious money on everything baby from diapers to baby clothes.
This page contains affiliate links meaning I earn a commission if you use those links. Please read my Disclosure for more information.
RELATED POSTS
Want Free Baby Stuff? Ultimate List of Freebies for New & Expecting Moms
How To Save Money On Diapers Easily
Tips For Preparing Financially For Baby
27 Tips For Having A Baby With No Money
Having a baby without money is not easy. You want to provide your baby with the best of everything but there are always unexpected expenses and it can be hard to get a grip on your personal finances.
Below you will find 27 tips for having a baby on a budget.
What To Do If You Are Pregnant And Have No Money
First of all, congratulations!
Don't panic.
I know it can be stressful when you are becoming new parents and money is tight but with the plan below in place, you will be able to enjoy your new addition and not go completely broke.
The sleepless nights should be coming after your baby is born – not before!
Babies are expensive.
From the moment you find out you're pregnant to the day your little one arrives, and even after they're born, there are a lot of costs to consider.
If you're on a tight budget, it can be tough to figure out how to afford everything you need. But don't worry, we've got you covered. Check out these tips for having a baby when you're on a tight budget.
The first thing you need to do is evaluate your household income including your current debt and expenses.

1. Create a baby budget
Sit down and write down everything to get a snapshot of how your finances are right now. Sit down with your bank account and take a long hard look.
Consider the following:
Income
Car payments
Car Insurance
Mortgage and other housing costs
Utility Bills
Child-related expenses (if you already have kids)
Life Insurance costs
Medical Expenses
Credit Card debt
If you have only just found out you are pregnant then the good news is, you have lots of time to get your finances in order.
If you feel like you really need financial help, consider speaking to a financial planner for tips.
Look to see where you can save money and aim to have an emergency fund of 3-6 months' expenses to cover any unexpected costs such as car repairs or health care issues.
You'll also want to have some savings ready for your parental leave.
Find out if you will get paid or if you are entitled to any government money and factor that into your budget.
2. Create A Plan for the Baby's First Year
Compile a list of things that you want/need for the baby and add in an estimated cost for each item based on the retail price.
If you receive something as a gift or get a good deal mark it down to keep track.
This is what I did and it helped me stay on track with spending.
Some people like to buy a gift card every paycheck to offset the cost of diapers and wipes when the baby arrives.
You could also start a savings account and transfer some money each month.
You should also do some research on what exactly you need for a little baby, versus what you want.
Here are some of the items you will want to have before your baby is born:
Clothing
Diapers
Car seat
Crib or Moses basket
Stroller
Baby carrier
Swing and/or bouncy chair
High chair
Baby Bath
Baby Monitor
Those are the major must-haves that you will probably want to have on hand as soon as you get home.
You can read my post about the main baby must-haves to see what your biggest expenses will need.
Bear in mind that you don't need to buy everything in the beginning.
You can likely live without a changing table right at the beginning (I often did diaper changes using a mat on my bed).
Likewise, you can save money by buying a crib that turns into a toddler bed to save money down the road.
Consider Other Expenses
The other thing you will need to consider is medical costs for you and for your baby
Depending on where you live, you may need to pay for your hospital stay, prenatal care and also buy a health insurance plan for your baby once they are born.
The last thing you want is tons of medical bills when you are already budgeting for childcare costs
You may also want to look into college savings plans and add them to your budget.
3. Make More Money
Be creative and come up with ways to make money.
You can also look into different ways to make money on maternity leave.
The perfect time to plan this is when you are newly pregnant so you can look into the different options available.
Can you sell on Facebook marketplace or hold a yard sale to build up some cash for your baby?
Even if you plan on being a stay-at-home parent, there are still ways you can pad your bank accounts without a full-time job.
For example, you could flip things that you find at thrift stores for a profit, or you could start a little side hustle such as opening an Etsy shop.
4. Get Freebies
One of the biggest costs when it comes to having a baby is not the one-time expenses like a crib or stroller.
What really breaks the bank is all the baby essentials such as bottles, wipes and of course, diapers.
A great way to save money on these items from the beginning is to get as much free baby stuff as you can.
The best way to do this is to take advantage of online baby freebies that you can apply for from the baby product manufacturers.
For example, baby bottle companies will often send you samples if you just ask!
More Ideas for Saving Money On Baby
READ NOW: How to get over $500 of Baby Items for Free!
RELATED: The Frugal Mom's Guide to Baby Gear
RELATED: Must-Haves for Postpartum Moms
5. Ask Your OB or Pediatrician for free samples.
I got free diapers, formula and infant Tylenol for free at my doctor's office.
This is especially useful if your baby needs a special formula for allergies as those can cost a lot of money.
Most doctor's offices have lots of coupons and samples for first-time parents so make sure to take advantage.
6. Buy Secondhand items
Considering many babies are out of newborn clothes within a week or two and use a swing or rocker for a matter of weeks, you can often get second-hand baby gear in like-new condition for a fraction of the cost of retail.
Don't get caught up in the mindset that everything has to be new for your baby.
As long as your baby's gear is safe and clean, that's all that matters.
Many Facebook buy-and-sell groups have lots of baby clothes for sale, often in big lots for $10 or $20 dollars. What a great deal!
These are a great way to kit out your baby on a budget.
There's nothing wrong with thrift shopping for babies.
Yes, their skin is sensitive, but with diligent cleaning and a careful eye when purchasing, a baby will be perfectly healthy wearing or using previously used items.
Another great place to check out for name brand clothes is Once Upon A Child or other consignment shows.
Here's a guide that will help you know exactly how many baby clothes you will need in each size.
Bear in mind that most new clothes for babies are only used a couple of times before they are outgrown meaning that it is easy to find quality, barely used clothes.
Also, bear in mind that for you, there are plenty of places to get cheap maternity clothes!
What to buy second hand for your baby
When you're a new parent, every penny counts.
So before you go out and spend hundreds of dollars on new baby gear, take a look at what's available used.
You can often find second-hand items like cribs, car seats, and strollers at a fraction of the price if you buy them secondhand.
These one-time purchases are often in great condition even second-hand.
Just be sure to inspect any used gear before you buy it.
Make sure there are no missing pieces or broken parts, and that it's in good condition overall.
It's also a good idea to check the expiration dates on any car seats or other safety gear, just in case it's been sitting in someone's garage for a while.
Once you've found some great deals on used baby gear, all that's left to do is stock up!
Note: There are some items that shouldn't be purchased secondhand.
These include a used car seat (you can't guarantee the history), baby bottles and plush toys, as they can be hard to truly decontaminate.
7. Attend Baby Shows
Before your new arrival enters the world, make sure to check out some local baby shows.
These are a great way to check out the latest and greatest baby stuff.
They are also fantastic for free samples.
If you really want to max out either go at the very beginning of the show when the vendors are all stocked up on freebies or at the very end when they are trying to get rid of their stock.
I got a huge package of diapers once just for showing up at the end of the show.
8. Join Buy Nothing Groups and Other Freebie Sites
Make the most of freebie sites that offer unwanted items for no cost!
Many people want to know that their items will be reused and loved instead of ending up in a landfill and are happy to give them to you for free.
9. Simple Tips For Creating a Baby Registry on a Budget
When you're pregnant, one of the first things you need to do is create a baby registry. 9. Simple Tips For
But if you're on a budget, that can be tricky.
Here are some tips for creating a baby registry on a budget:
1. Stick to basics: You don't need to register for every single thing your baby will need. Stick to the basics and you'll save money.
2. Shop secondhand: Baby clothes and gear can be expensive, but you can often find good deals at consignment stores or online auction sites.
3. Compare prices: Don't just assume that the most expensive item is the best quality. Compare prices and read reviews to find the best deals.
4. Ask for help: Family and friends are often happy to help out with baby gear or clothes.
Ask and you shall receive; be coy and you will have to pay out-of-pocket. New moms are given baby showers for a reason – to be showered with necessary items for the baby!
Make the most of your registry power by creating two. Create one registry with items that are absolutely essential for baby. And, create a second of items that you would like to have but aren't necessities.
Remember you can access completion discounts and also get free goodies upon registering.
Ask friends/family members to go in together on big-ticket items, such as cribs, baby swings or strollers. Generally, they'll spend less than if they were each to purchase a separate gift.
10. Buy Quality Baby Gear
It's easy to get caught up in only wanting the best for your new baby.
Just remember that baby gear is all held to the same rigorous safety standards: Safety-wise, a $500 car seat and an $89 one are exactly the same.
The difference comes in extra padding, cup holders and other bells and whistles that are "nice to haves" but not necessary if money is tight.
Cribs are another item that does the same job whether it is a $100 Ikea one or a $700 designer model.
Unfortunately, babies don't necessarily sleep better in an expensive baby bed!
One resource I really liked when looking for baby gear is the Baby Bargains Book.
​This is a comprehensive consumer review book that compares different baby items and tells you which ones are best for different budgets.
A new edition is published every year ensuring it is up-to-date.
It covers topics such as:
BEST BET PICKS for cribs, car seats, strollers, high chairs, diapers and more!
CHEAT SHEETS for your baby registry―create a baby registry in minutes with our good, better, best ideas.
SEVEN THINGS no one tells you about baby gear, from nursery furniture to feeding baby.
THE TRUTH ABOUT STROLLERS―and which brands work best in the real world.
Dozens of SAFETY TIPS to keep your baby safe and affordably baby-proof your home.
DETAILED CHARTS that compare brands of cribs, high chairs, car seats and more.
Read more about Baby Bargains Book here
Bear in mind that there is a risk of a false economy if you buy products that are not good quality. They will break and you'll end up buying more. That's why the Baby Bargains book is so useful.
For example, while you may find that cheap diapers work great for you if they don't absorb well, you will end up going through more per day making your total cost higher than if you bought a brand name.
11. Take Advantage of Registry Completion offers
Even if you are not having a baby shower, if this is your first baby, consider creating a baby registry to make the most of completion offers.
For example, join the Amazon Baby Registry and get a 10% completion discount or 15% completion discount for Amazon Family members
.
You will also get FREE 90-day returns on Baby Store purchases. The great thing about the Amazon Baby registry is that it's universal – add items to an Amazon Baby Registry from any site.
12. Feeding your baby on a budget
In your baby's first year, you likely won't be spending too much money if you breastfeed but once your baby starts on solid foods, your baby expenses can soar.
Luckily, there are ways to reduce that cost without sacrificing your child's nutritional needs.
One way is to breastfeed your baby for as long as possible.
If you need help with nursing, here are 15 Best Online Breastfeeding Courses (Including Free Classes!)
Breast milk is free and provides all the nutrients a baby needs in the first six months of life.
If you can't or don't want to breastfeed, formula costs about $25 per month.
Once your baby is on solid food, a great way to save money is to make your own baby food.
There are many nutritious and affordable recipes for babies online.
Or you can buy store-brand pureed fruits and vegetables instead of name-brand items.
If you do need to purchase baby food, look for deals at grocery stores and use coupons when you can.
13. Apply For Formula Freebies
This one is a bit strange but I do believe that it's worth applying for the formula samples even if you plan on breastfeeding.
Firstly, there are often extra freebies with the samples such as diaper bags, change pads and bottles.
Secondly, if you are a first time mom, you never know if you will need some formula on hand or if breastfeeding does not work for whatever reason. Having some formula stashed can help in a pinch.
Check my baby freebies list for companies that will send you free formula
14. Consider Pumping
If breastfeeding is a struggle but you don't want to or can't afford to use formula, consider exclusive pumping.
I did it for 6 months with my second daughter and estimate that I saved over $600 that I would have spent on formula.
As I mentioned above, many people have insurance coverage that will pay for a breast pump,
Pumping can be a lot of work so make sure to check out my tips for successful exclusive pumping.

15. Trade With Other Moms
Join Mom 2 Mom groups on Facebook and trade your unwanted baby gear for new stuff. I once traded a walker for the $200 swing I was coveting.
I've also traded diapers for formula from moms who bought too much or whose babies couldn't take a certain kind that they had bought.
This is a great way to get stuff for free and declutter at the same time!
16. Accept Hand-me-downs
If someone with older children offers you hand-me-down clothes or baby gear, accept!
You will be surprised at how many outfits a little baby can go through in a day and the less laundry you have to do, the better!
Even if the clothes aren't your favorite style or brand, kids need play clothes for daycare and playing outside so you will always get use out of their stuff.
Plus so many baby clothes are used for such a short time that they are often in great condition.
This goes for maternity clothes too. Many pregnant women go out and spend hundreds of dollars on a whole new wardrobe but there is no need. Here are some places to find great maternity clothes for cheap.
17. Borrow Items from Friends
If you have a friend or family member with kids a few years or months older than yours, you may be able to borrow their baby things for a few months.
This will save you money and get the things out of their house!
I lent a ton of baby items such as a bassinet and a baby carrier when my eldest daughter was out of them and before I had my second child. It's great to get as many uses out of your stuff as possible.
18. Get Free Gift Cards
One of my favourite ways to save money on baby gear is to earn free gift cards that I can use for diapers, wipes or other baby items.
If you have a few minutes to go online each day and complete surveys or watch videos, you can easily make $25-50 a month which will more than pay for a box of diapers a month and mean you are never paying out of pocket!
There are a bunch of surveys sites you can join to make extra money, my favourite is Swagbucks.com as they will pay you $5 just for signing up!
19. Consider Cloth Diapers
If you plan on having more than one child, cloth diapers may make financial sense.
The initial investment is often large enough that you might not save much money if you only use the diapers with one baby but for more than one, the savings can be huge.
Consider that on average you will be spending $30 a month on disposable diapers for at least 2 years.
For one child, that will be $720 and almost $1500 for two kids.
A good cloth diaper stash will cost around $500 so each additional child will be free!
Cloth diapering is not for everyone as it can be a lot of work but if you are committed, it is a great way to save money.
20. Check Consignment Sales
Yard sales and consignment sales can be a goldmine of gently-used children's clothing and toys.
Go with a list in mind of sizes and seasonal items you are looking for so you don't get side-tracked and spend more than you planned.
Yard sales in particular are great for kids' toys like bikes, push cars and sand tables.
21. Buy Things That Do Double Duty
You don't necessarily need special clothes and items for every occasion, despite what the magazines may tell you.
Many loose summer dresses are great for nursing and the Liz Lange tanks from Target are awesome for both maternity, nursing and beyond.
Likewise, you don't need a special diaper bag, any good backpack or bag with pockets will do.
Consider getting a stretchy carseat canopy that you can use as a shade, a blanket and a nursing cover. (use code SEASIDE100 to get one for free here.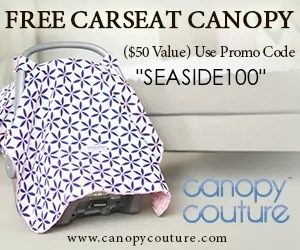 22. Turn to your local community
Most municipalities offer a ton of free resources for new moms and moms-to-be.
I was able to attend free prenatal classes, a lactation clinic and many many baby & me programs all for free thanks to local libraries and city-run programs.
A good starting point is your local community centre or library to see what programs are available.
Check out Youtube for prenatal yoga classes and even workouts you can do with your baby.
23. Work with what you have
You may want to decorate a dream-worthy nursery for your newborn. But, if you truly want to have a baby on a budget and not go crazy with overspending, you need to accept the fact that this process is more about you than your baby.
Your baby won't feel any more privileged by sleeping in a beautiful Instagram-worthy nursery than in a small corner of your bedroom. (And it definitely won't make them sleep through the night any sooner!).
24. Make the best out of your space
If you do have enough room for a separate nursery, be thrifty.
Paint and handmade items can go a lot farther in creating a loving nursery than pricey store-bought décor.
Here are some great tips for saving money on house paint.
Look for free nursery printables on Pinterest and use Ikea frames to create a look you love.
Plants are inexpensive and can make the nursery look so nice, here are some ideas for non-toxic, baby friendly nursery plants.
25. Stockpile before the baby arrives
Become a coupon expert now.
The earlier you learn how to match sales, customer rewards programs, and coupons, the more money you'll save in the long run.
This will also help you budget your money and avoid using credit cards – extra important when you are on maternity or paternity leave.
Your baby may not be born yet, but it's best to stockpile baby food, disposable diapers and wipes when prices are at their absolute lowest.
With effective couponing strategies, you may be able to score many items completely free!
You can even get diapers for free using some of my tricks to save money on diapers easily plus there is a handy cheatsheet to help you know how many diapers to stockpile.
26. Buy expensive quality items
This may seem like a strange tip in a post about having a baby on a budget.
However, spending more money upfront can save you dollars for years to come.
Often, you'll be able to reuse high-quality baby supplies with children you have down the line.
A quality stroller with a good warranty could easily last you 7-10 years of non-stop use.
Higher quality items tend to last quite a lot longer than cheap items.
Purchase higher quality big ticket items like strollers, and baby mattresses – these are items you'll use on a routine basis.
If you don't have the budget for brand new high-quality brands, scour second-hand stores and sites for gently used brands.
A used high-end brand stroller can often be found at the same price as a lower quality brand new model.
27. Use Your Health Insurance
Breastfeeding is completely free but if you need a breast pump for pumping at work or on the go, make sure to check with your insurance provider to see if it is included in your plan.
Also, if you have a flexible spending account on your insurance, you can probably use it for lots of your out-of-pocket costs including maternity care.
You may also be able to get your prenatal vitamins covered if your doctor provides a prescription and it is covered by your insurance company.
If you are in the USA and are having a baby with no money, look into the Affordable Care Act before you bring the baby home to see what is covered.
Having A Baby With No Money: FAQs
Do you have to be rich to have a baby?
Absolutely not.
You don't need to be wealthy to have a baby!
The average middle-income family can afford to have 2 or 3 children without ruining their financial goals if you plan things correctly and don't get caught up in a "keeping up with Joneses" situation.
How much money do you need before having a baby?
There is no definitive answer to the question of how much money you need before having a baby.
Every family is different and each person's financial situation will be different.
However, there are some things to consider when trying to figure out how much money you will need.
One thing to think about is whether or not you will need to pay for childcare expenses.
According to a report from Care.com, the average cost of full-time daycare in the United States is $10,000 per year.
Remember that child care is expensive too. If you will need to pay for daycare, that will add an extra expense to your budget.
Another thing to think about is healthcare costs.
Pregnant women and their babies typically require more healthcare services than people who are not pregnant, and those costs can add up quickly.
How much does a baby cost a month?
In the United States, a baby costs an average of $1000 per month during the first year of life, according to the Department of Agriculture.
The largest expenses are for food and housing, which account for 44% and 34% of the total monthly cost.
Of course, this doesn't take into account special occasions such as Christmas or that all-important first birthday party.
Can you ever be financially ready for a baby?
When you are ready for a baby, there is no specific amount of money you need to have saved up.
You may be financially ready one month, and not the next if something comes up.
There are many things to take into account when preparing for a child, such as health insurance, daycare, and groceries.
While some people believe that is important to have a large sum of money set aside and their student loans paid off, others find other ways to prepare for their child's arrival.
​Bear in mind that depending on where you live, you might be eligible for a child tax credit or extra benefits.
Some families live comfortably within their means while others may have to make some slight adjustments.
The most important thing is that both parents are on the same page and working together to provide the best life possible for their new addition.
Last Thoughts On Having Baby On A Budget
If you are worried about having a baby with no money, remember that all the luxurious purchases that you see in baby magazines and Pinterest are geared towards satisfying the parent.
It's almost become a competitive rite of passage.
You feel as if you must indulge in the flashiest stroller, the top-of-the-line crib, and create a nursery that's worthy of a spread in "Better Homes & Garden" magazine.
If you can come to terms with the idea that less truly is more in the eyes of your child, you'll save yourself a world of heartache, financial trouble, and emotional stress.
Focus on the baby's needs and your bundle of joy can be a lot more joyous!
More Tips For Having A Baby With No Money
How to get over $500 of Baby Items for Free!
The Ultimate Guide To Baby Gear For Minimalists
How To Save Money On Diapers Easily