If you are trying to get pregnant, you probably know that there are certain foods that increase fertility. These superfoods are packed full of fertility-boosting nutrients and vitamins and can help to get your body in optimal health ready to conceive.
Diet plays such an important role in improving fertility that some doctors insist on their IVF patients following a certain regime before they can begin treatments. You can read more about this fertility diet here.
This page contains affiliate links meaning I earn a commission if you use those links. I only recommend brands I use and trust.
What do we mean when we talk about foods that increase fertility?
In order to produce lots of healthy eggs, your body needs lots of protein and other nutrients that help the cell development. These include Vitamin D, Omega 3s, and iron.
Read Now: The Fertility diet that changed my life
Related:The Best Supplements to Boost Your Fertility
Related:The Ultimate Fertility Smoothie for men and women
The fertility superfoods in the list below are packed full of exactly what your body needs to conceive and maintain a healthy pregnancy. Try and incorporate each of these foods into your weekly diet to optimize your fertility.
You can read all about the fertility diet recommended by some IVF clients and get a free meal plan here.
19 Foods That Increase Fertility
1. Eggs
Eggs are packed with vitamin D and protein for cell growth
2. Avocados
Essential fatty acids are great for fertility. Aim for half an avocado a day.
3. Asparagus
Asparagus is jammed full of folic acid which is essential for developing babies.
4. Walnuts
My acupuncturist recommended 3 whole walnuts a day for their Omega 3s.
5. Flax seeds
Another amazing Omega 3 source, I sprinkle flax seeds on my oatmeal or add them to my fertility smoothie
6. Shellfish
Oysters and other shellfish are high in B12 and zinc that is thought to be missing in the diet for some infertile women
7. Spinach
Spinach and other leafy greens contain the all important iron which helps with egg quality and ovulation.
8. Salmon
Selenium can help prevent miscarriages due to its antioxidants protecting the eggs from free radicals, salmon is a great source of selenium and omega 3s.
9. Brazil nuts
Brazil nuts are another great source of selenium
10. Beans
Beans are chock full of iron and a great source of protein, especially for vegetarians.
11. Maca Root
Ancient Peruvian medicine experts swear by maca for fertility. Great for men and women. You can buy capsules or powder to put in smoothies. It doesn't taste very good so I used these capsules:  Viva Naturals Organic Maca Root.
12. High-fat dairy
A 2009 study from Harvard showed that high-fat dairy was better for fertility levels. There are, however, some schools of thought that think that dairy should be eliminated completely.
13. Coconut oil
Healthy fats are essential for cell growth. Switch to olive or coconut oil for cooking and baking.
14. Sunflower seeds
Sunflower seeds are high in zinc which helps maintain healthy hormonal levels.
15. Bee Pollen and Royal Jelly
The Queen bee's magic elixir for procreating, these capsules contain both bee pollen and royal jelly for twice the benefit –  Dr. Danielle's Bee Well.
16. Red Raspberry Leaf Tea
Helps improve the uterine lining which promotes implantation. I drank this Organic Fertility Tea two to three times a day from CD1 – Ovulation. You can buy the tea, along with tons of other fertility boosting supplements and vitamins at Fairhaven Health. They offer free shipping too!
17. Tumeric
A key ingredient in Chinese medicine to create an ideal environment for conception due to anti-inflammatory properties.
18. Sweet Potato  and Yams
Very high in beta carotene. Many sources claim yams or sweet potatoes can increase your chances of twins.
19. Garlic
Garlic is anti-inflammatory, great for the immune system and high in selenium.
Introducing some or all of the foods above into your diet will go a long way to improving your fertility and your general well being.
If you want to add even more foods that increase fertility into your daily diet, you can sign up here  for my free 5-day fertility diet meal plan that will get you started. 
 
Just remember, eggs take 3 months to mature so don't expect miracles within days. I followed this diet plan before both my pregnancies and got pregnant in Month 3 both times.
Further Reading
If you are interested in reading more about fertility and the importance of diet, I highly recommend this book by Julia Indichova: Inconceivable: A Woman's Triumph over Despair and Statistics
.
I read it more than once while TTC my oldest daughter and it really helped me realize that I had the power to change things.
Julia was told that she would not be able to conceive due to extremely high FSH levels. Even IVF clinics turned her down so she took action herself and saw dramatic results.
For more information on diet and lifestyle changes that can help you get pregnant, check out my ebook – Naturally Fertile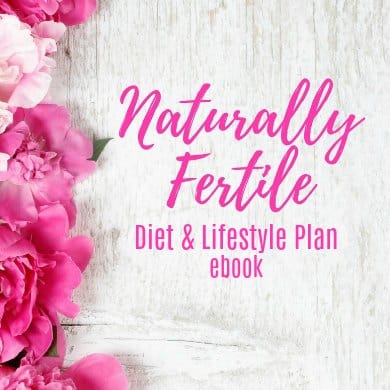 More Tips on Improving Your Fertility:
The Fertility Diet that changed my life
10 products to try when you want to get pregnant
The Ultimate Fertility Smoothie
8 Inspiring Books about Infertility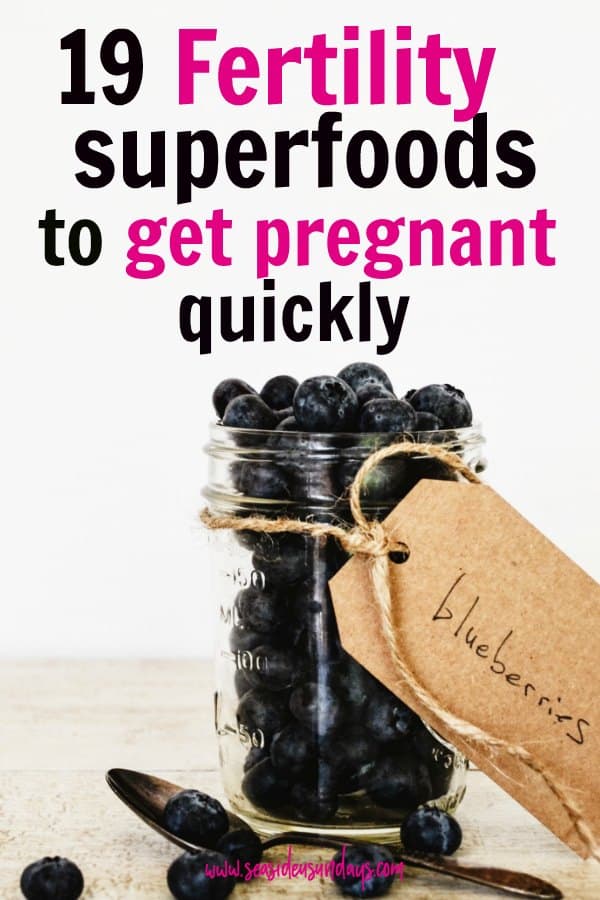 Get A Free 5 Day Fertility Meal Plan!
Boost your fertility with this 5 day kick start program
Sign up below for instant access to this free plan & more fertility tips