Your kids will love filing out this First Day of School all about me printable worksheet!
It's a great way to celebrate the start of the school year and makes for a fun activity to do at home or in the classroom.
Grab this downloadable back to school interview activity sheet along with out free printable first day of school signs, and you will be ready for a fabulous beginning of a new school year!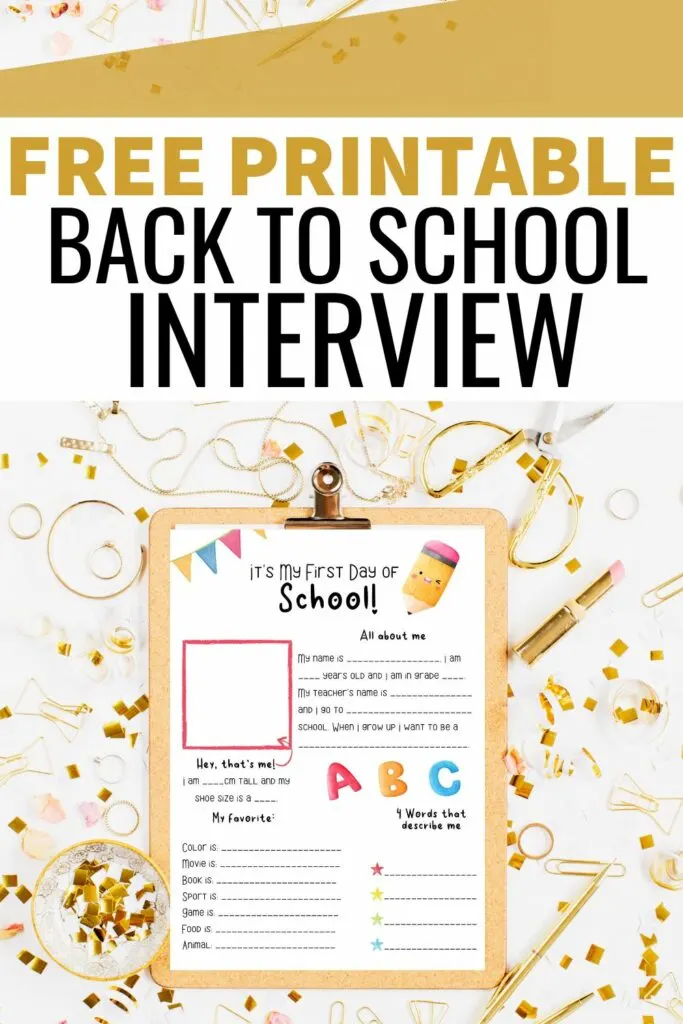 This post may contain affiliate links. Please read my disclosure for more information
MORE FUN BACK TO SCHOOL IDEAS
100+ First Day Of School Quotes For Moms
How To Save Money On Back To School Shopping
Free First Day Of School Interview Worksheet
I love to have a bunch of fun back to school traditions at the beginning of each school year.
From printable signs for that first day of school photo to cute back to school gifts for my kids, there are so many fun ideas for the back to school time.
One special way that we love to celebrate in my family is with a cute first day of school interview!
These worksheets are filled with fun facts that make them so cute to look at as the years go by.
To be honest, these free worksheets are one of my favorite things about the beginning of the school year.
​They are also a nice way to ease your child back into doing worksheets and writing if they have had the summer off.
No matter their grade level, I find that kids love drawing a self-portrait and filling out info such as their favorite color or food.
These printable pages make great keepsakes – and best of all – they are completely free!
All you have to do is print them let your kids fill out all their important information.
The Perfect First Day Of School Activity?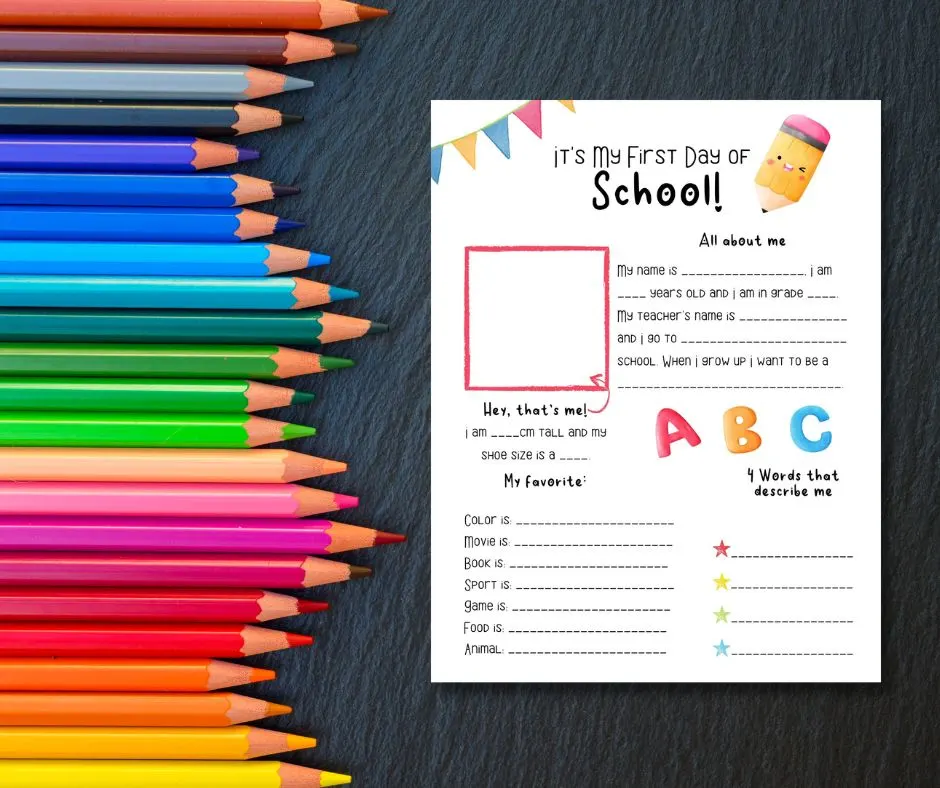 If you work in the classroom, you'll find these fun printable sheets are a great activity for the first week of school.
They are a fun way to get to know your students too and are the perfect activity to break the ice.
Kids love talking and writing about themselves and they have so much fun comparing their answers with their friends.
Get your kids talking and writing about themselves using this free printable worksheet.
There is a space for a current photo or drawing, personal information plus fun facts as their favorite food and favorite book.
There is also a section to put what they want to be when they grow up.
While kids of all ages will love filling this out at the beginning of the year, if you have young kids who can't write by themselves, you can do it for them!
Either way, the answers are sure to be adorable!
On this worksheet, children can add their:
Age, grade and teachers name
What they want to be when they grow up
Plus all their favorites such as:
Color
Movie
Sport
Game
Book
Food
Animal

There is also a spot for them to draw a self portrait and write some words that describe themselves. Younger kids love that one!
How To Use This First Day Of School All About Me Printable
Are you ready to get started with your back to school interview?
The first step is to print out the worksheet at the bottom of the post.
Your children can fill it out independently if they are older but to be honest, it is much more fun for family members to "interview" them.
You can do it the night before the first day of school or in the morning if you have time.
Even if you don't have a color printer – don't fear, this back to work interview is the perfect way to record your child's thoughts in black and white too!
Download Your Back To School Questionnaire
To grab your free printable just click the picture below or the link underneath.
From there you can either print out your worksheet or save it to your device to use later.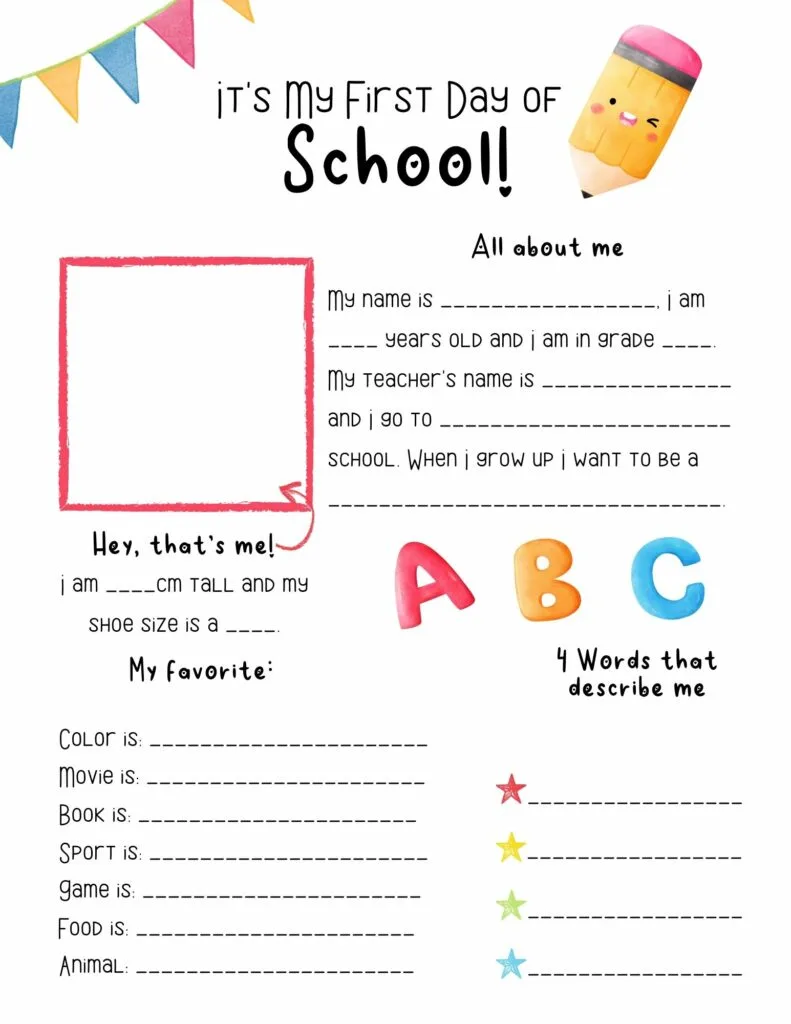 More Fun Back To School Ideas
Look for more ways to celebrate the first days of school?
Make sure to check out our free first day of school printables – we have printable signs for all grades – from the first day of preschool all the way to senior year.
They are perfect for your all-important first day of school pictures on the porch.
Want to give your child something extra special to celebrate the start of the year?
Check out these cute back to school gifts!
We have great ideas for first grade to 12th grade and all the years in between.
The Fine Print
These free printables are for personal use only. You may not sell or reproduce them in any way.