If you have a tea lover in your life, it can be hard to find a thoughtful and unique gift that they don't already have.
If you know the kind of tea they like, it can be fun to choose a new kind they haven't tried or to get them some cute accessories to make teatime more fun.
This list of Christmas gifts for tea lovers is compiled of great gifts that you can easily buy on Amazon.
It is sure to help you find exactly the right present, from teapots to puzzles and coloring books, there is something for everyone.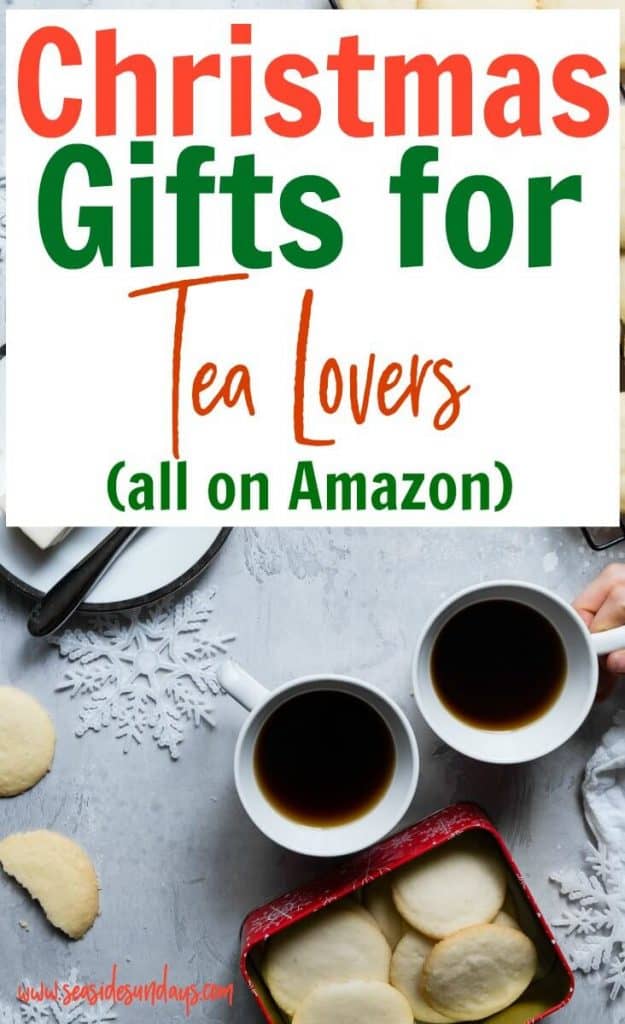 This page contains affiliate links meaning I earn a commission if you use those links. I only recommend brands I use and trust.
If you are looking for a special Christmas gift from the kids, this super cute handprint craft goes very well with tea!
And if you have a new mom in your life, these cute ideas for new mothers are sure to wow them.
More Awesome Christmas Gift Ideas:
Girl Power Gifts For Girls of all ages
The Best Christmas Gifts For Football Fans
Christmas Gifts For Tea Lovers
Teapots
A cute teapot is always a luxurious accessory for a tea fanatic. If you are making up a tea lovers gift basket, a special teapot is the ultimate addition.
Premium Glass Teapot with Stainless Steel Removable Infuser
– this sleek teapot holds enough water for 4 cups of tea and is both microwave and stovetop safe.
Tardis Ceramic Teapot
– awesome for the Doctor Who fan in your life!
Porcelain Tea Pot in Lavender and Rose
– this beautiful pot comes in a matching keepsake box which makes it perfect for gifting.
Tea Strainers
Many tea experts prefer to use loose leaf tea instead of bags which means that a tea strainer is a must!
If you are looking for a funny gift for a tea lover, then getting a cute tea strainer like the ones below is an easy option.
Baby Dino Silicone Tea Strainer with Gift Box
– I love this adorable Baby Dino tea steeper.
Cat shaped tea infuser
– This set of 2 strainers comes in a gift box, ready to wrap.
Jokari Healthy Steps Total Tea Infuser
– for the modernist on your list, this strainer is sleek and efficient.
Silicone Reusable Tea Bag Silicone Tea Infuser– 
I'm definitely putting these on my list, they get great reviews and are much better than messing about with paper tea bags.
Tea Samplers
The obvious choice when you are looking for Christmas gifts for a tea lovers – a collection of teas is the gift that keeps on giving.
Numi Organic Tea Gift Set
– choose a different tea depending on your mood from energizing to relaxing. These teas are Fairtrade and organic.
Taylors of Harrogate Classic Tea Variety Box
This set of 48 tea bags from one of the most prestigious tea companies in the UK is the perfect gift for any tea lover.
Tea Forté HERBAL RETREAT Petite Presentation Box Tea Sampler
Full of comforting herbal teas.

Tea Mugs
A cute mug is always a welcome good for someone who loves tea. Some of the newer mugs do double duties as fruit infusers too.
Ceramic Travel Mug with Lid – this gorgeous double-walled insulated cup comes with Stainless Steel Tea Infuser and Bonus Silicone Top.
Pure Zen Tea Tumbler with Infuser
– this is one of the best-selling teacups on Amazon.com. You can use it as a fruit infuser, a teacup or a coffee thermos. It includes a tea strainer.
Teabloom – Large Tea Infuser Mug
-this single cup tea maker includes 2 Blooming Teas.
Bodum Travel Tea and Coffee Press
– this is a no-nonsense travel mug that looks great and keeps drinks warm.
Tea Kettles
Obviously, if you want to go old school, you can boil water on the stovetop but an electric kettle makes tea so much quicker and they look great on the kitchen counter too!
 Electric Kettle with Variable Temperature Control
– with 6 different temperature settings depending on the type of tea you want to make, this is Cadillac of kettles.
 Glass Electric Kettle
– this kettle boils water super fast and has an auto shut off. I love the transparent look.
Electric Gooseneck Kettle – the gooseneck allows for easier pouring and there are preset temperatures for tea and coffee.
Fun Gift Ideas For A Tea Lover
Bamboo Tea Box
– the best- selling tea box on Amazon, this bamboo box has 8 compartments to store tea bags and loose tea in style.
Teapot Trivet
– made from black cast iron, this is a great gift for any tea lover to use or display.
Namaste Tea Mug
– great gift for tea-loving yogis, this mug is handmade.
Tea Lover T-shirt
– for the tea lover who has everything!
Tea Lover's Coloring Book
– A Totally Relatable Adult Coloring Book of 40 Funny Tea Quotes.
Teapots Puzzle
– this is a 1000 piece puzzle that is a perfect accompaniment to a nice cup of tea.

Check out more gift guides here:
The Best NFL Gift Guide For The Ultimate Fan
Great Gift Ideas For A Friend Struggling With Infertility
The Best Princess Gifts for Preschoolers 2018
8 Gifts For New Moms That They Will Love
Start A Blog That Makes Money
Ready to start a blog and make money from home?
In this FREE 5 day email course, I will show you the exact steps I took to take my mom blog from $0 to a consistent $2000 a month within 4 months.