If you have read this blog for a while, it's no secret that I love Gymboree clothes for my kids. I'm one of those "crazies" who has even searched for coveted items on eBay and online buy and sell groups.
Gymboree has a cult following among moms and has for decades but they recently relaunched the brand just in time for back-to-school and I love what they are doing so far.
More Back-to-school tips:
How to Pack Lunches Your Kids Will Actually Eat
Free Printable First Day Of School Signs
12 Back To School Traditions to Start This Year
See below for my top picks and all the details on the rebranding.
This post contains affiliate links and I will be compensated if you make a purchase after clicking on my links. I was compensated for this post.
All About The Gymboree Rebrand
The new Gymboree is all about the things that made it popular in the first place – high, quality, durable pieces coupled with unique styles and attention to details.
For the relaunch, Gymboree asked modern moms what they want from children's clothes and delivered:
Mix & match clothing lines that allow kids to dress themselves and still look good!
The best kids' jeans ever—super comfortable, soft and durable
More cozy and high quality baby clothes
A more modern sense of style
The Gymboree Made You Smile Campaign
The Gymboree made you smile range of clothes is all about comfort, durability and making you happy! As two of the things that make me smile the most are back-to-school season and fall, the new clothing lines have come out at the perfect time!
There are a ton of great clothes for the new school year and accessories such as backpacks, lunch boxes and matching pencil cases.
Girls Clothes
If you are familiar with Gymboree, you know that the brand was famous for it's collections with twee names such as "Fairytale Forest" or "Woodland Weekend". With the rebrand, the website layout is more like a regular store with "new arrivals", " back to school" and "favorite looks".
This is all part of the move to clothes that can be mixed and matched instead of standalone collections that don't go well together.
Here are some of my favorites:
Oui Tee

I love this colorful tee and it would be perfect for French class! Now just to get my kids to say yes instead of no all the time, haha.
2. Glitter Rainbow Stripe Skirt
I love this sparkly glitter skirt – it reminds me of some earrings I had circa 1987! They definitely #mademesmile.
3. Bow Bomber Jacket
I love this bright red bomber jacket! It screams" tough girl" until you see the cute little bows on the pockets. It's the perfect material and weight for fall and back-to-school.
Gymboree for boys
I know a lot of people think that children's clothing stores only cater to girls and they dedicate just a little corner for the boys gear but Gymboree is one of the few stores that has great
1. Raincoat
This bright yellow raincoat is perfect for jumping in muddy puddles in the fall!
2. Let's Bounce Tee
How cute is this tee? I love it for school!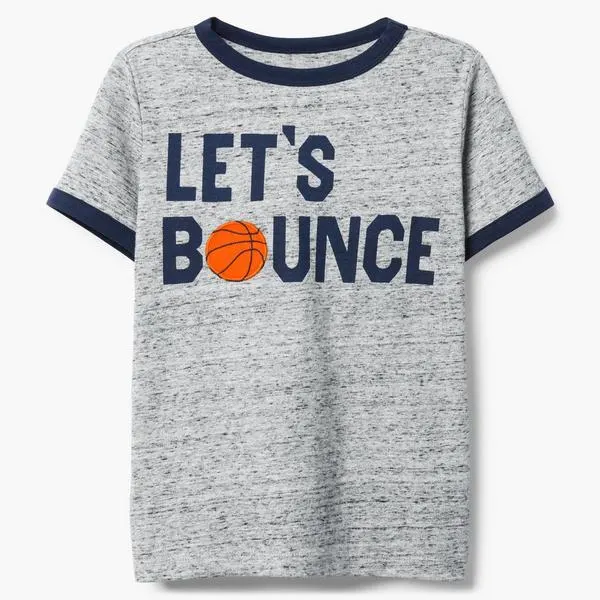 3. One For The Books Tee
I love this for the first day of school – it would be fantastic for that ubiquitous photograph on the porch stairs!
Check out these looks and all the other great back-to-school styles in the #Madeyoursmile campaign at the all new Gymboree Children's Clothing site.