Back to school traditions for kids can be as simple or as elaborate as the parents desire.
Some popular traditions include sending backpacks full of snacks and drinks, making breakfast for the whole class, and sending off the new students with a good luck charm.
Many schools also have special days or weeks set aside for welcoming new students, honoring veteran students, and kicking off the school year.
Whatever the tradition, it's sure to help make the transition back to classes a little more fun!
It feels as though summer is just getting started but already the stores are filling up with fall decor and school supplies.
Soon vacations will be coming to an end and the back-to-school season will be upon us.
This page contains affiliate links meaning I earn a commission if you use those links. Please read my Disclosure for more information.
RELATED BACK TO SCHOOL POSTS
Free Printable First Day Of School Signs
First Day Of School Chalkboard Printables
First Day Of School Gifts For Kids
The Best Back To School Traditions For Kids

This list of 12 cute back to school traditions will help ease the transition from the lazy days of summer to the classroom.
Whether it is your child's very first day of kindergarten or their last year before heading to college, it's fun to mark the occasion and freeze the moment in a photo or other memento.
Back to school traditions your kids will love
Back to school is a time for parents and children to come together and start the new academic year. There are many traditions that families use to mark the occasion, from breakfast in bed to packing a lunch.
Here are some fun back to school traditions for kids:
1. Photograph Their First Steps Into School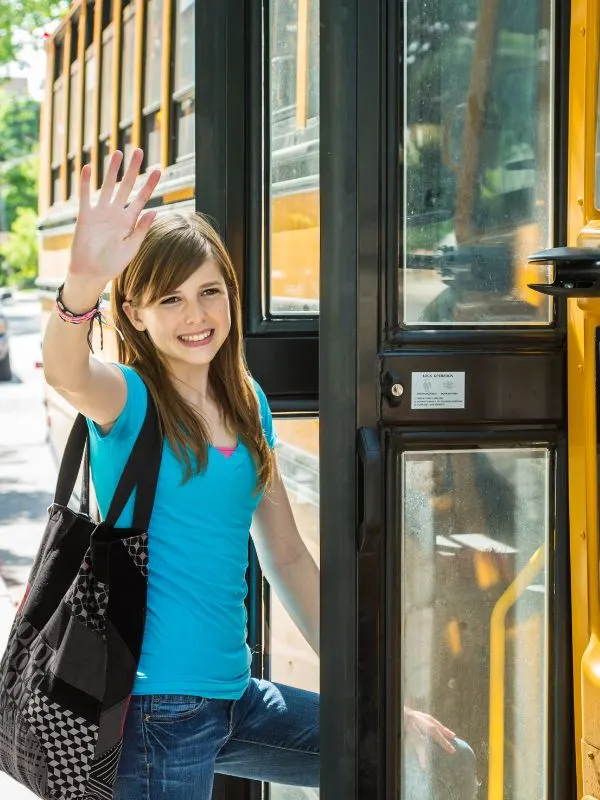 Take a photo as they walk into the building or onto the bus on the first day back.
It will amaze you to see how much they grow.
Continue each year to include their first day at college too.
2. Have A Special Back to School Breakfast
Get up a little earlier on the first day and set the table with flowers and the fancy plates for a festive breakfast to start the day off on a good note.
Cook their favourite breakfast to start the day off right.
3. Choose An Inspiring Bedtime Story
You can get the kids in the mood for the return to school with some of these cute books about the first day back.
1.On The First Day Of Kindergarten
This book is perfect to prepare kids for kindergarten . It's a cute adaptation of The 12 Days of Christmas
2. Amelia Bedelia's First Day of School
This is the first book in the Amelia Bedelia series and is a great intro to the bestselling series.
Sarah Jane Hartwell is scared and doesn't want to start over at a new school. This book shows how everyone works out in the end.

4. Mouse's First Day Of School
Mouse decides to hide inside a bright red backpack…and ends up at school! Read about the fun things he discovers in the classroom.
5. This School Year Will Be The Best
On the first day of school, a teacher gathers her students into a circle to share their wishes for the coming year. Some are funny, some are negative but there is a happy ending.
6. The Night Before Kindergarten
This is another Christmas adaptation – this time the classic "night before Christmas" poem. It's a really fun take on all the things children will learn at school.
Learn about children in other countries with these accounts of the first day back at school around the World.
8. Fairy's First Day Of School
A Fairy's account of her first day at school including circle times, meeting a new teacher and all the other first day adventures humans have too.
Children's favorite Daniel Tiger is excited to go to school—but he is worried when his dad can't stay with him.
4. Make A Back To School Time Capsule
You could include a handprint, their answers to a Back-to-school questionnaire and some photos from the summer vacation.
Make sure to note down their height and shoe size so you can compare each year.
You could even take a photo next to a wall ruler.
5. Plan A School Year Bucket List
Brainstorm a list of all the things your child wants to do this school year, from joining the science club to having at least one snow day and create an academic year must-do list to put on the fridge.
You can use this back to school bucket list to get you started.
You can download the free printable templates at the link to make your own list of things to do this school year.
If you want even more ideas, here are some fun school bucket list ideas to inspire you:
6. Send Them Off Dressed in Style
Get a cute outfit for the first day back to make it a fun occasion.
I love this T-shirt from Etsy — each year you can add their handprint as a record of how much they have grown.
And how cute is this outfit for the first day of kindergarten?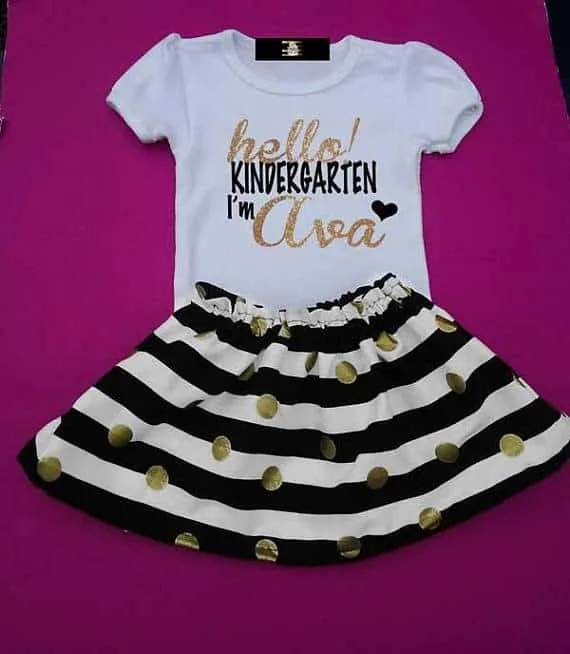 7. Pack a Special Lunch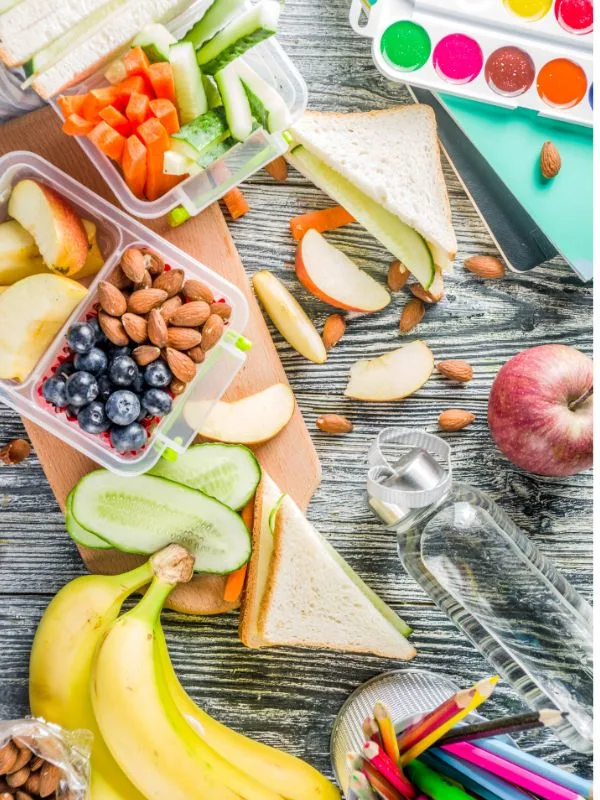 Need some help packing school lunches that your kids will actually eat?
Send them to school with a lunch pail full of their favourite foods. I love bento boxes for little kids as you can pack different options for them.
My favorite lunch box is the YUMBOX because it is leakproof and not too heavy for them to carry.
It also has compartments that show the right portion sizes for each type of food.
If you want to create your own bento lunches, you can also get really cute animal shaped Bento picks to put on fruit and sandwiches.
8. Plan An Afternoon Surprise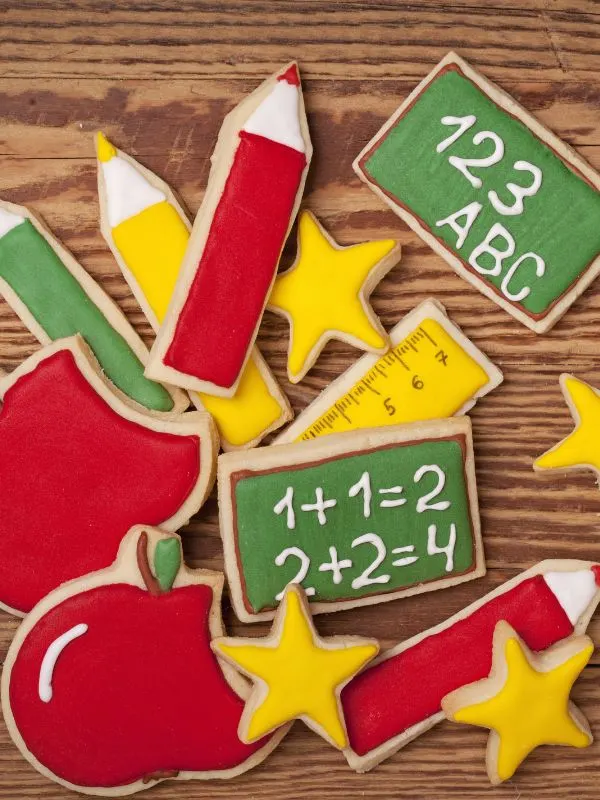 Have a fun activity planned when they get home on the first day.
It will help ease the end of summer blues and give your kids something to look forward to if they are a bit nervous for the first day.
You could take a trip to the park or bake cookies.
Hosting a play date can be a nice way to ease into the school year and make them excited to spend time with their friends.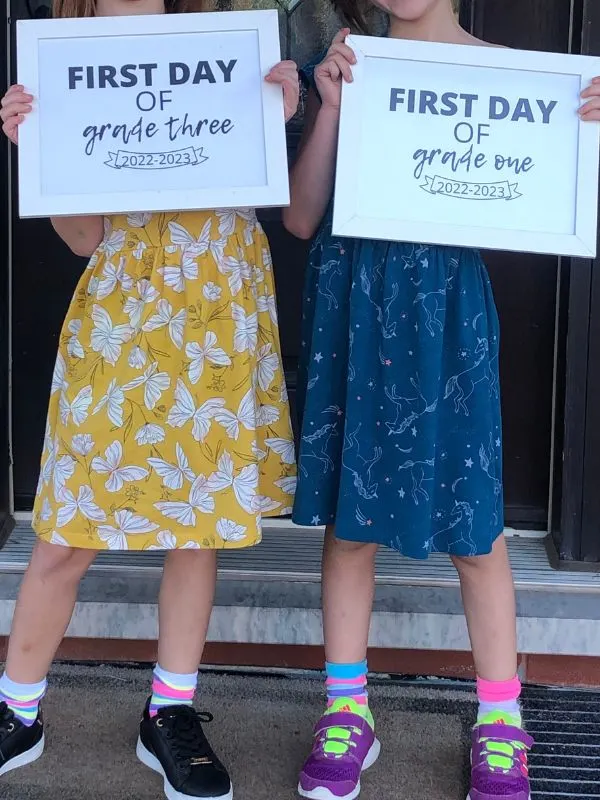 Click here for 10 great options for free printable first day of school signs. If you want First Day Of School Chalkboard Printables click here.
10. Make A Schultüte
This is a back to school tradition straight from Germany. On the first day of each grade, each child is given a large cone called a schultüte with supplies such as crayons, books, pencils, socks. It's such a cute tradition!
See here for a full tutorial on how to make a Schultüte.

11. Watch A Back-To-School Themed DVD
Start a new back to school tradition this year with a special show to get you ready for the first day back.
This scholastic DVD includes the following stories:
How Do Dinosaurs Go to School? by Jane Yolen
Splat the Cat by Rob Scotton
The Wheels on the Bus
Chicka Chicka Boom Boom by Bill Martin Jr.
Crazy Hair Day by Barney Salzburg
The Teacher from the Black Lagoon by Mike Thaler
The Day Jimmy's Boa Ate the Wash by Steven Kellogg
The Librarian from the Black Lagoon by Mike Thaler
Miss Nelson Has a Field Day by Harry Alllard
Miss Nelson is Back by Harry Allard
Shrinking Violet by Cari Best
Open Wide: Tooth Inside by Laurie Keller
Otto Runs for President by Rosemary Wells
Owen by Kevin Henkes
The Scrambled States of America Talent Show by Laurie Keller
Will I Have a Friend by Miriam Cohen
Monty by James Stevenson
Sky Color by Peter H. Reynolds
Emily's first 100 days of school by Rosemary Wells
The Gym Teacher from the Black Lagoon by Mike Thaler
12. Give Them A Conversation Starter
This is one is from my grandma – Shop for a fun pencil case or stationary to help break the ice and get other children talking to you.
She recommended this when I started a new school at age 10 and it definitely helped those first day nerves.
Here is a list of more Back To School Gifts For Kids.
13. Record all their favorites
The first day of school is a great time to fill out a fun questionnaire like this free printable back to school interview.
It makes for a fun keepsake and it always hilarious to look back on, years later.
More Ideas For Fall
First Day Of Kindergarten Sign (Free Download)
How to Pack Lunches Your Kids Will Actually Eat
Free Printable First Day Of School Signs
Start A Blog That Makes Money
Ready to start a blog and make money from home?
In this FREE 5 day email course, I will show you the exact steps I took to take my mom blog from $0 to a consistent $2000 a month within 4 months.