Kids get so many sugary sweets and chocolate at this time of year that it's no surprise that candy alternatives for Halloween are becoming more popular.
When I realized that we end up throwing away half the chocolate bars we get or donating it to our dentist's buy-back scheme, I decided to look for some non-food Halloween treats that both parents and kids would appreciate.
Many companies are catching on to the fact that people are looking for things to hand out to trick-or-treaters that is not candy and more and more options are becoming available.
If you think you are being a "scrooge" by not passing out candy bars to your little trick-or-treaters, bear in mind that this is the time of year when candy abounds.
Even if 50% of houses stopped giving out sweets and offered candy alternatives on Halloween night, most kids would still come home with enough chocolate and junk food to last them for months!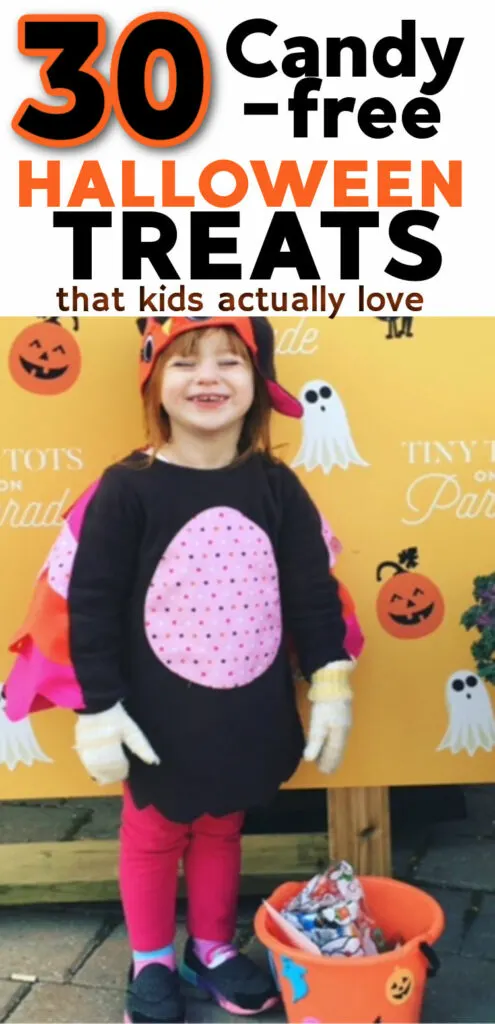 This page contains affiliate links meaning I earn a commission if you use those links. Please read my Disclosure for more information.
MORE HALLOWEEN FUN
17 Healthiest Halloween Treats (Kid-Friendly!)
The Best Halloween Party Games For Kids
Food allergies are another reason to choose something other than candy to give out to trick or treaters.
You might have heard of the Teal Pumpkin Project which encourages households to offer treats that everyone can enjoy.

The Teal Pumpkin Project and the Teal Pumpkin Image are trademarks of Food Allergy Research & Education (FARE) and their mission is "Raising awareness of food allergies and promoting inclusion of all trick-or-treaters throughout the Halloween season.".
The idea of the project is that you place a teal-coloured pumpkin on your porch so that trick or treaters know you have non-food halloween treats available.
If you don't have any teal paint, you can buy a teal pumpkin bucket (Amazon gives all proceeds to FARE).

You could buy only peanut-free candy but most parents whose kids have allergies prefer to get them non-candy treats just in case.
This list of 30 non-candy halloween treats will give you some fun ideas for kids of all ages and will let everyone join in the fun regardless of their allergies or dietary requirements.
READ NOW: Halloween Party Games For Kids
RELATED: 25 Fun & Frugal Ideas For Fall
If you are looking for a fun way to celebrate Halloween that doesn't involve any food at all, make sure to download my free printable Halloween Scavenger Hunt.
And if you are planning a Halloween party or want to prepare a special treat for school, my list of the the Healthiest Halloween Treats for kids will give you some ideas.
The Best Non-Candy Halloween Treats for Kids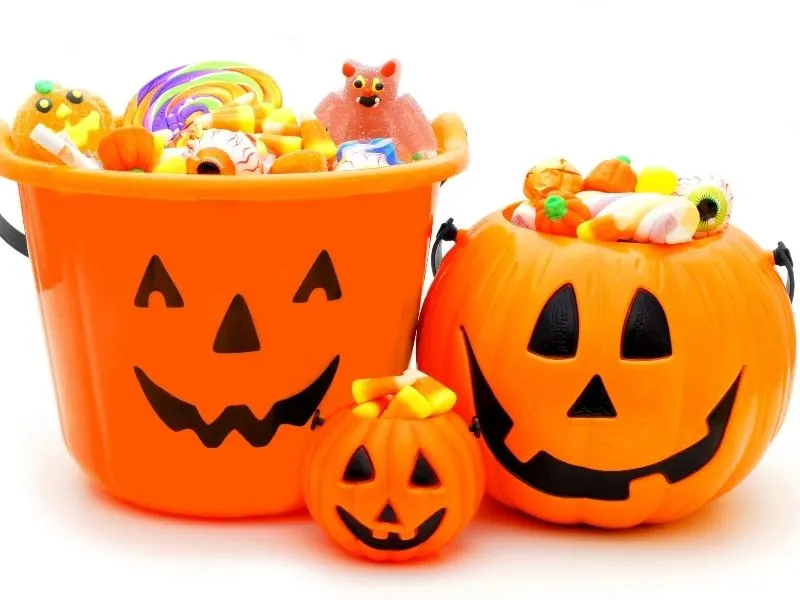 Below are over 30 candy alternatives for Halloween that you can give out at school, parties or keep for Halloween night to give out to trick or treaters.
Make sure to grab our free printable 31 Days Of Spooky Halloween Movies For Kids checklist too!
If you want to make Halloween extra special or are hosting a Halloween party this year and want to give out goodie bags, check out this easy Origami Halloween Treat Bag you can make to fill with treats.
All of the ideas below are available on Amazon, just click the item to see the price.
What kid doesn't like Playdoh? This set comes in Halloween themed colours like orange and black.
By the way, you can DIY this gift easily by making this Easy Pumpkin Spice Playdough Recipe.
Just make the playdough and gift it in fun containers for a great DIY Halloween gift.
These stamps come in a set of 24 and include ghosts, bats and pumpkins.
How great would these bouncy balls be during Halloween party games like Murder in the dark?
These mini-flashlights come with a ring to put on a keychain and they would be perfect for a party favor before doing a neighborhood Halloween Scavenger Hunt. ***Click to get your free printable***
Glow stick bracelets are a cheap alternative to Halloween candy and won't break the bank.
This set comes with 100 bracelets meaning you will have more than enough for your trick or treaters this year. (combine more than one stick to create necklaces and other jewelry).
Wikki Stixs are tiny bendable wax pieces that have sticky surface that allows you to bend them and mold them together.
They get awesome reviews and are perfect for classroom Halloween parties. Wikki Stix are latex free and create no mess.
They would also make a great addition to a Halloween treat bag (read the Amazon comments for lots of info)
These glow in the dark ducks made a great Halloween treat for younger kids or to add to an apple bobbing bin at your next Halloween party.
They would also make a great Halloween centrepiece if placed in a large cauldron of water.
These Halloween tattoos are really cheap and an Amazon bestseller. They include 26 different designs including glow in the dark tattoos.
This set contains 24 mini fidget spinners that make a fun candy alternative to a Halloween treat bag.
This set of 500 Halloween-themed stickers is perfect for goodie bags or party prizes. They get great reviews too.
These eggs are a bit of a pricier Halloween treat idea so they would be a good Halloween giveaway for a small party or for your own kids.
The eggs crack and start hatching within 24-48 hours after placed in water revealing 3 Halloween friends.
Get a set of 24 eyeballs to put into treat bags or even to include in a mystery box for kids to guess what it is (get this and more ideas for Halloween party games here.)
Crayons made a great Teal Pumpkin Halloween treat for kids. This set comes with 24 packages of 6 crayons each.
These zombies would make a great addition to a Halloween gift bag for young or older kids.
Parents might not like the stuff too much but what kid won't love this safe, non-toxic glow in the dark slime?
Just don't get it on the couch!
These are perfect for a Halloween party craft!
The set contains 12 individually wrapped Halloween mask sets made out of foam.
Another crafty alternative to Halloween candy, each sheet contains everything you need to design your own pumpkin.
If you are still wondering what to pass out on Halloween, this set of 144 vampire fangs is perfect for your trick or treaters.

I think slinkies are one of the best candy alternatives for Halloween and they are especially great for kids aged 4-6 years.

You get 144 rings in this set which makes it a great value for Halloween.

These lanterns made a great addition to any Halloween gift bag or party.
You can't really go wrong with glow sticks.
If you have any leftover, let your kids take a spooky bath with them- it's so much fun.
A pair of crazy glasses make a fun Halloween treat!
Bubbles always make a great goodie bag gift at any time of year.
These are one of the only gifts on the list that you could even give to a tiny baby – after all, who doesn't like bubbles?
For more ideas for your smallest little monster, check out this list of 25 Best Baby Halloween Gift Ideas.
Halloween pencils make a great non-candy treat for school parties or for treat bags to classmates.
These Peanuts note books would go well with the Halloween pencils above!
These little yo-yos glow in the dark and make a fun Halloween gift.
If the eyeball erasers weren't your thing, these bouncy balls might be perfect for your Halloween party.
My 5 year old is obsessed with slap bracelets at the moment and I know her friends would love to find these in their Halloween treat bags.
These little balls are perfect for goody bags or treasure hunts.
More Halloween Fun Ideas
The best party games for a spooktacular Halloween
Halloween Scavenger Hunt with Free printable