Do you ever find yourself on your morning bus commute reaching the end of the internet with nothing else to read or search for?
Do you find yourself scrolling your phone aimlessly while standing in line at the bank or at your mother-in-law's Sunday lunch?
Wouldn't it be better to actually get paid for all that wasted time?
That's the premise behind the newest online survey app which aims to shake up the industry with a cutting edge chatbot.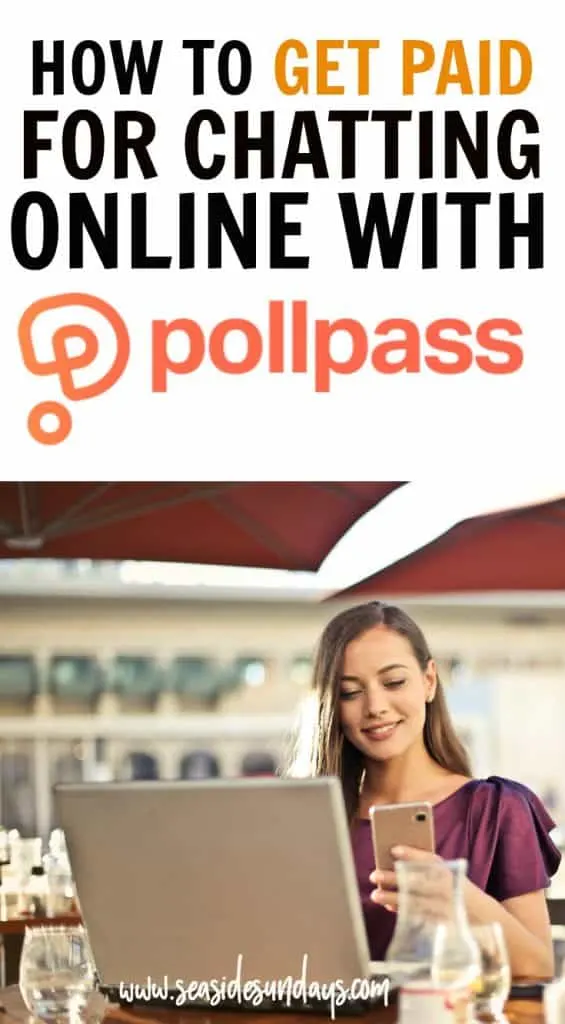 This is a sponsored post written by me on behalf of Pollpass. All opinions are 100% mine.
The Pollpass app allows you to make money taking surveys from the comfort of home or on the go. You can earn Amazon gift cards to put towards Christmas gifts, household essentials or baby gear, just for having a conversation about things that interest you.
READ NOW: The Best Paid Survey Sites To Make Money
How Do Traditional Online Survey Sites Work?
Most online survey sites start with an initial screening process to make sure you fit the demographic they are looking for. You then start the main survey which can last anywhere from 5-60 minutes.
How Does Pollpass Differ From Traditional Survey Sites?
Pollpass uses an AI chat bot to make survey taking interactive and fun. It looks similar to a messenger service and works in much the same way. The chat bot will ask you some interesting questions and you can answer them at your leisure.
You can take surveys either at Pollpass.com or by downloading the Pollpass app onto your smartphone.
No one gets screened out on Pollpass so you always have an opportunity to earn gift cards.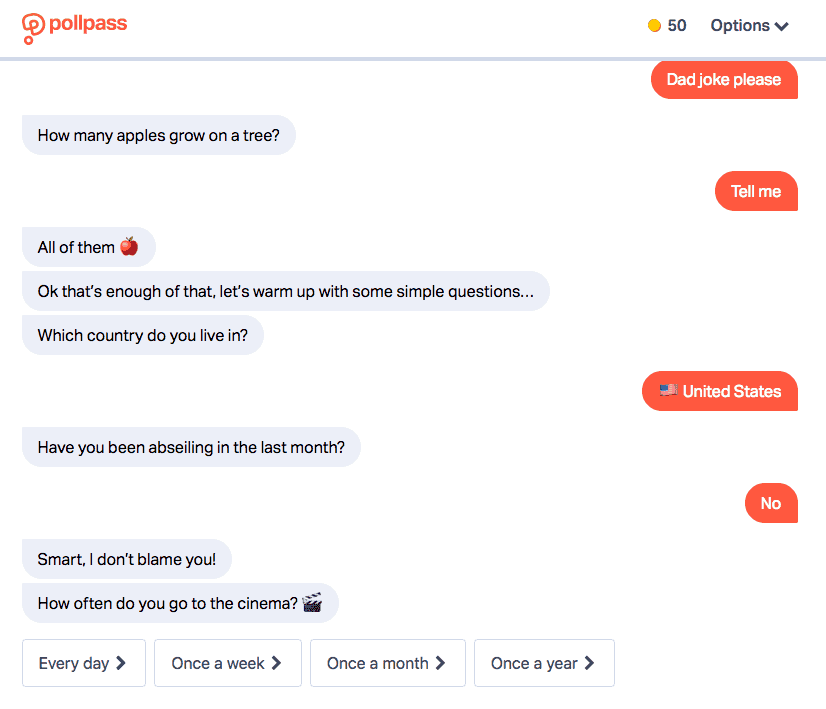 Key Features Of Pollpass
Free and Easy to Join – sign up with your Facebook or Twitter for immediate access to the chat bot.
No Pre-screening – Unlike traditional survey sites, there are no pre-screening questions that applicants must fill out in order to be accepted to the surveys.
Mobile Friendly–

PollPass works on the go so you can earn cash on your daily train commute, in the checkout lane at the store or at the coffee shop.
Quick– While the conversations with the chat bot will vary in length, on average they last between 5-10 minutes.
Focused surveys- The emphasis is on asking engaging questions that you want to answer.
High Earning Potential: Although the number of points you earn will vary by conversation, they will average between 40-80 points and many users are able to earn their first gift card within an hour.
Cash out – The minimum to cash out is 5000 points. Right now you can exchange your points for Amazon gift cards and where 5000 points will get you a $5 Amazon Voucher. PayPal and other options are in the works and will be launched soon.
Flexibility–

You can leave the chat and go back to it on a different device. The bot will just pick up where you left off. This is great for SAHMs who can't always complete a survey in one sitting.
When Did Pollpass Launch?
PollPass was launched at the beginning of 2018 in the UK and US. The headquarters are in London, UK and it is growing quickly in its homeland.
How To Get The Most From Pollpass
There are several ways you can maximize your chances of success with the Pollpass Online Chatbot:
Check in frequently – Even doing surveys for 5 minutes a few times a day can add up.
Read the Terms and Conditions – Don't abuse or try to game the system and you will be fine.
Be honest – Companies want your honest answers and opinions to help with developing new products. There are no right or wrong answers.
Should You Sign Up With Pollpass?
If you find yourself with a few spare minutes every day, Pollpass can turn that lost time into money. It's a no-brainer.
You can do as little or as much as you like from the comfort of home and earn free Amazon gift cards.
While taking surveys online for money can sometimes be awkward to fit in for stay at home moms, the beauty of PollPass is that you can drop in and out of surveys as it suits your schedule.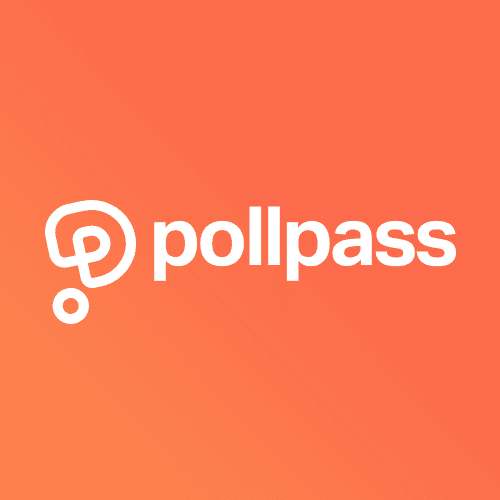 More Ways To Make Money Online:
The Best Paid Survey Sites To Make Money
How To Start A Blog And Make Money