DIY Miniature Leprechaun Garden For St Patrick's Day
As St Patrick's Day is the first "spring" holiday, what better way to celebrate than a spot of gardening? This magic leprechaun garden is a great activity to celebrate all things Irish.
I actually made this St Patrick's Day craft with my kids a few years ago for the first time but now they request it every year. It is so simple yet so adorable!
Kids of all ages will love making their own pot of gold and planting a real shamrock. You can also use this as a base for a St Patrick's Day fairy garden – either make it bigger or keep it small and cute and add a few fairies!
It also makes a great introduction to how to tend a garden for little green thumbs.
They can look after the shamrock by watering it and making sure it gets enough sun. You never know, it might start off a lifelong passion for gardening!
Read on for all the instructions plus a free printable label for your gardens.
This page contains affiliate links meaning I earn a commission if you use those links. Please read my Disclosure for more information.
How To Make A Magic Leprechaun Garden
This cute little "pot of gold" makes a really great party favor for a St Patrick's Day party or even a school activity.
It's a wonderful St Patrick's Day craft for kids of all ages.
You can either have the little gardens made in advance to hand out to the kids or they can make their own leprechaun pot for a take home gift.
If you want more ideas for your St Patrick's day party make sure to check out my list of Kid-Friendly St. Patrick's Day Desserts.
The Magic Leprechaun Garden makes a great craft for:
Brownies & Scout groups
Preschools
St Patrick's Day Parties
Community events
Playdates
Take home party favors
More St Patrick's Day Activities
4 Ideas For St Patrick's Day Cupcakes
The Best St Patrick's Day Books For Preschoolers
What You Need For The Magic Leprechaun Garden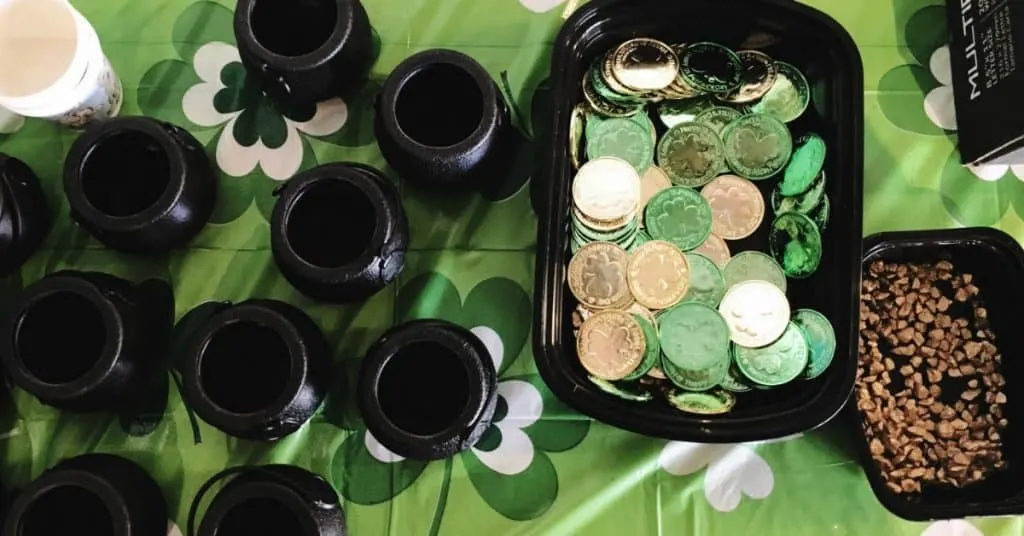 Magic Leprechaun Garden Directions
This little shamrock garden is so easy to make and takes just minutes.
Here's what you need to do:
Fill the cauldron about 2/3 full with soil
Make a hole in the middle and plant the shamrock in pressing it down to the bottom
Top up the cauldron with soil
Add gold stones and a coin or two
Print off your label and then stick it to the green popsicle stick and put it in the soil
Water regularly and keep in a sunny spot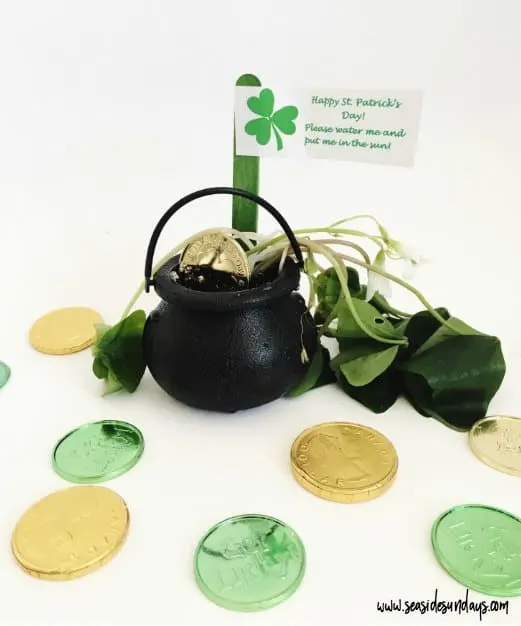 Free Printable Shamrock Garden Labels
You can download these free printable magic leprechaun garden labels and then just cut them out and stick them to popsicle sticks.
All you need is a printer with color ink and some white paper.
To download your labels just go to this page. They will instantly download the PDF to your computer ready for printing.
More St Patrick's Day Ideas For kids
St Patrick's Day Books for Preschoolers
Kid-Friendly St. Patrick's Day Desserts
4 Ideas For St Patrick's Day Cupcakes