While they can be the most joyful 9 months, if you are reading this post looking for pregnancy back pain relief, then you already know about one of the not-so-nice symptoms faced by expecting mamas
Below you will find 8 solutions to ease your backache that really work. Simple products like custom insoles can make a huge difference to your pregnancy comfort.
This is a sponsored post by Wiivv in which I received free product in exchange for an honest review. All thoughts and opinions are 100% my own.
What causes back pain in pregnancy?
Changing hormones are the most common cause of back pain in early pregnancy.
During your second trimester, you might experience back pain due to hormonal changes and also the weight of your baby putting strain on your back. This is particularly true if you have bad posture.
Back pain in pregnancy during the third trimester can be the start of labour so if you are far along and experiencing sudden back pain, make sure to report to your doctor or the local maternity ward to get checked out.
Sharp back pain in pregnancy, especially on the right side is likely caused by round ligament pain and is normal albeit painful.
Pregnancy Back Pain Relief – Solutions that work
1. Change your shoes
It seems weird, but your shoes could be contributing to your back pain. Even if you are wearing your usual shoes that never caused you issues before, in pregnancy you might need more support.
If you are finding your back pain is worse when you are standing on a hard floor like the kitchen tile, then insoles can make a huge difference.
Why are your shoes important during pregnancy?
During pregnancy, some women find that their foot size increases due to swelling and fluid retention.
Another cause of foot changes is the hormone relaxin. Relaxin is a hormone secreted by the placenta that causes the cervix to dilate and prepares the uterus for labor. While it's role is to make childbirth easier, it can also lead to laxity or looseness of the ligaments within the foot.
This loosening can result in widening of the feet, fallen arches and over-pronation.
As these issues can be hard to reverse after you have given birth, proper arch support is essential during pregnancy.
Instead of buying new shoes, you can get custom insoles that support your arches and insoles I like are the custom ones from FitMyFoot.
They are created especially for your feet using their awesome app.
I ordered a pair and it took about 3 weeks to receive them but they literally feel like I am walking on a cloud. They are great for anyone working on their feet all day but especially for pregnant women who need some extra support.
How Fit My Foot Insoles work
Download the app to your phone
Take your shoes off and take a photo with your phone as directed
Upload the photo to the app, choose your insoles (there are 10 different designs) and place your order!
Say goodbye to pregnancy back pain once your insoles arrive.
If you are pregnant over the summer, you can order custom sandals instead of insoles, they are so comfortable that they will make your summer pregnancy a breeze!
2. Try Prenatal Yoga
Yoga poses are a gentle way of naturally easing your pregnancy back pain. If you attend a prenatal yoga class, your instructor should be able to recommend the best pregnancy stretches for the lower back.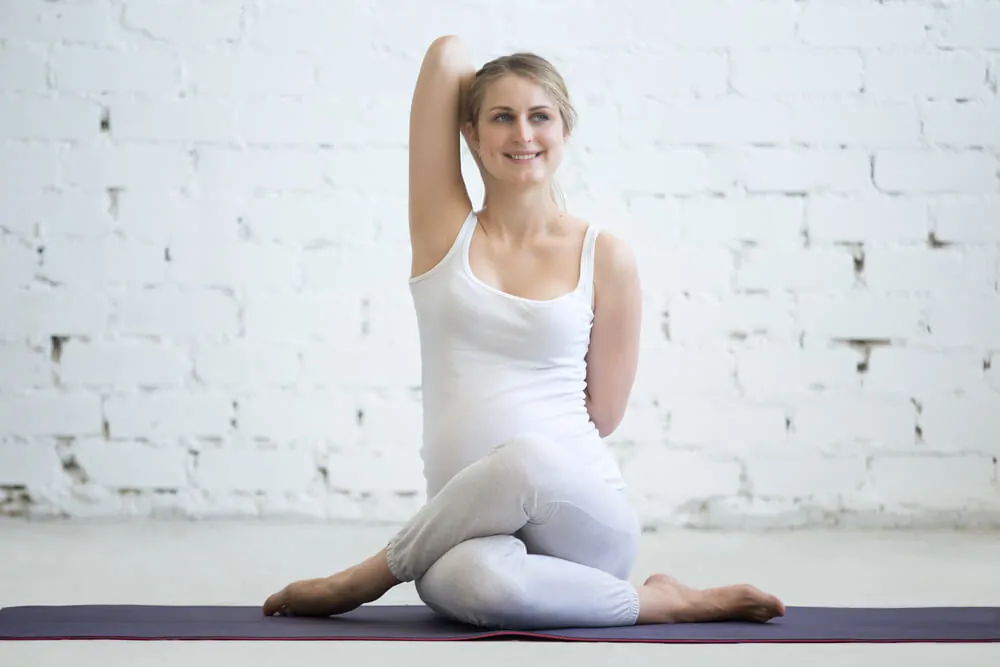 If you are suffering from sciatic nerve pain in pregnancy and looking for relief, you can find some of the best poses here. They are all safe for pregnancy and may help provide some instant comfort.
RELATED POSTS:
The Ultimate Postpartum Survival Kit for New Moms
Free Baby Stuff For Expecting Moms
3. Book A Prenatal Massage
A good massage can help to ease back pain and it's enjoyable too! Some massage therapists have special tables that have holes for your belly although I have been told they can cause ligaments in your stomach to stretch so make sure to ask your doctor first.
Make sure to choose a masseuse who is experienced with working with pregnant women and check with your insurance company as many cover massage with a doctor's note.
4. Sleep With A Pregnancy Pillow
If you are wondering how to relieve back pain during pregnancy while sleeping, then you need a pregnancy pillow! These S shaped body-length pillows are awesome for relieving pressure from your back and spine while you sleep.
5. Take Magnesium Supplements
Magnesium is a natural muscle relaxant and supplements are a great way to naturally relieve your pregnancy back pain without resorting to pain-killers like Tylenol (which didn't do much for me, anyway).
Make sure to check with your OB before starting a magnesium supplement and ask about the correct dose for you.
7. Go Swimming
Gentle swimming is great for pregnancy back pain relief and help to keep you active. If swimming lengths feels too much, try some stretches in the water or walking laps.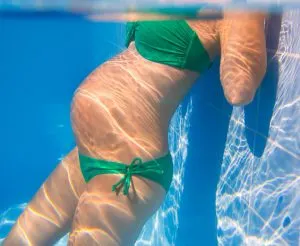 8. Wear A Maternity Belt
Maternity belts take the weight off your belly and relieve the pressure on your back. Depending on how you are carrying, this can result in instant back pain relief.
Can I use a heating pad on my back while pregnant?
Given that hot tubs and hot baths in general are a no-no, many pregnant women wonder if heating pads are ok. Luckily, a warm heat is safe to use in pregnancy but make sure it stays on your back and not on your stomach.
More Posts for Pregnant Women
The Ultimate Postpartum Survival Kit for New Moms
Free Baby Stuff For Expecting Moms
25 Freezer Meals For New Moms That Actually Taste Good