One of my favourite holiday traditions is the classic letter to Santa that my kids have "written" since they were tiny. It's fun to see what they want each year and I like to keep a copy for their memory books.
If you want to jazz up your Christmas wish list this year, these free printable letter to Santa templates below will give you lots of options to suit all ages and styles.
Head to over to the link above each picture to print your Santa letter out for free.
Make sure to mail your letter to Santa using the addresses provided so that you get a response before Christmas!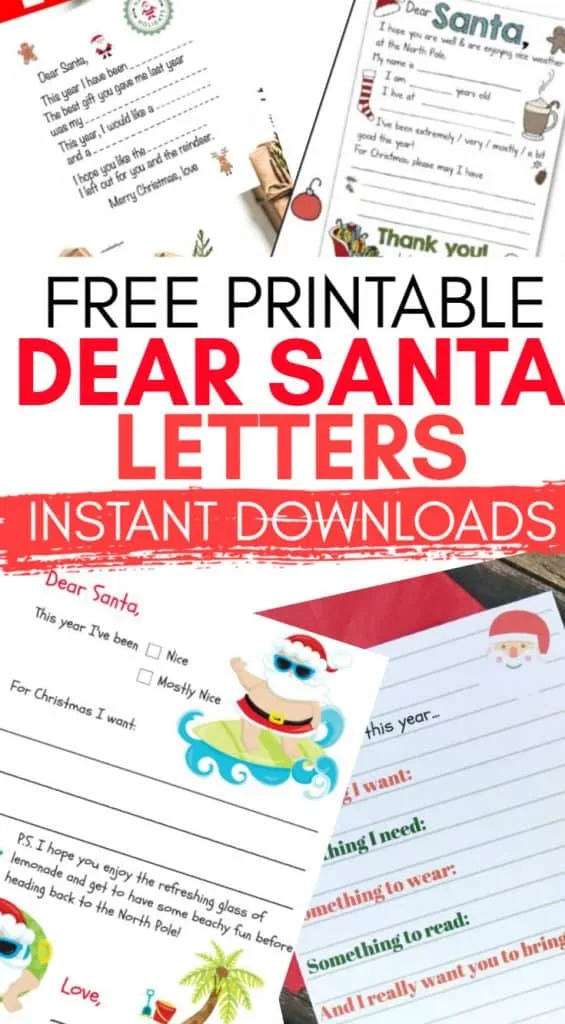 This page contains affiliate links meaning I earn a commission if you use those links, please read my disclosure for more details.
MORE FUN HOLIDAY IDEAS
25 Cute Christmas Snacks For Kids
Where do I mail a letter to Santa?
You are probably wondering where Santa's lives and how you can send your fantastic letter to him in time for Christmas.
Luckily, there are some addresses that Santa uses each year and if you get your letter to him early enough, you may even get a response from the man himself!
Where to mail your letter to Santa in the USA
NORTH POLE , POSTMARK POSTMASTER
4141 POSTMARK DR
ANCHORAGE AK 99530-9998
Deadline: Should arrive in Anchorage by 14 December but ideally by December 7th.
Response from Santa?
In order to receive a response from Santa, they ask that you send enclose one in a separate addressed envelope with your letter to Santa.
It will then be sent back to your child in time for Christmas
Visit the USPS website for all the details.
Where to send your Santa letter in Canada
Mail your letters to:
Santa Claus, North Pole, H0H 0H0, Canada
Deadline: The deadline is normally very early (beginning of December).
Response from Santa?
Yes! If you send your letter early enough your child will receive a personalized letter from one of Santa's helpers. Visit Canada Post for more details.
Santa's postal address in the UK
Write and post your letter to:
Santa/Father Christmas
Santa's Grotto
Reindeerland
XM4 5HQ
Response from Santa?
Here's what the post office says: "Father Christmas is very busy at this time of year so he can't guarantee that he'll send a reply, but he'll do his best if you include your full name and address."
More info at Royal Mail
Santa's address in Australia
Even though your Santa letter has the furthest to travel from down under, if you get it in early enough, you should get a response!
Mail to:
SANTA MAIL
North Pole 9999
Response from Santa?
Yes, for Australian addresses only. More information and Santa mail tracker at https://auspost.com.au/about-us/corporate-responsibility/our-community/literacy-education/santa-mail.
Do letters to Santa need a stamp?
Yes, you need to include a stamp on all the letters to Santa except for Canada which does not require them.
Want some fancy Christmas-themes envelopes? Check out these cute Santa envelopes and paper sets.
Are there any other options for letters from Santa?
If you want to order your own personalized letter from Santa, you can get an editable PDF download from Etsy for a great low price. I find this is the easiest way to get a professional looking letter from Santa at a low price.
Just order online and download your editable PDF instantly.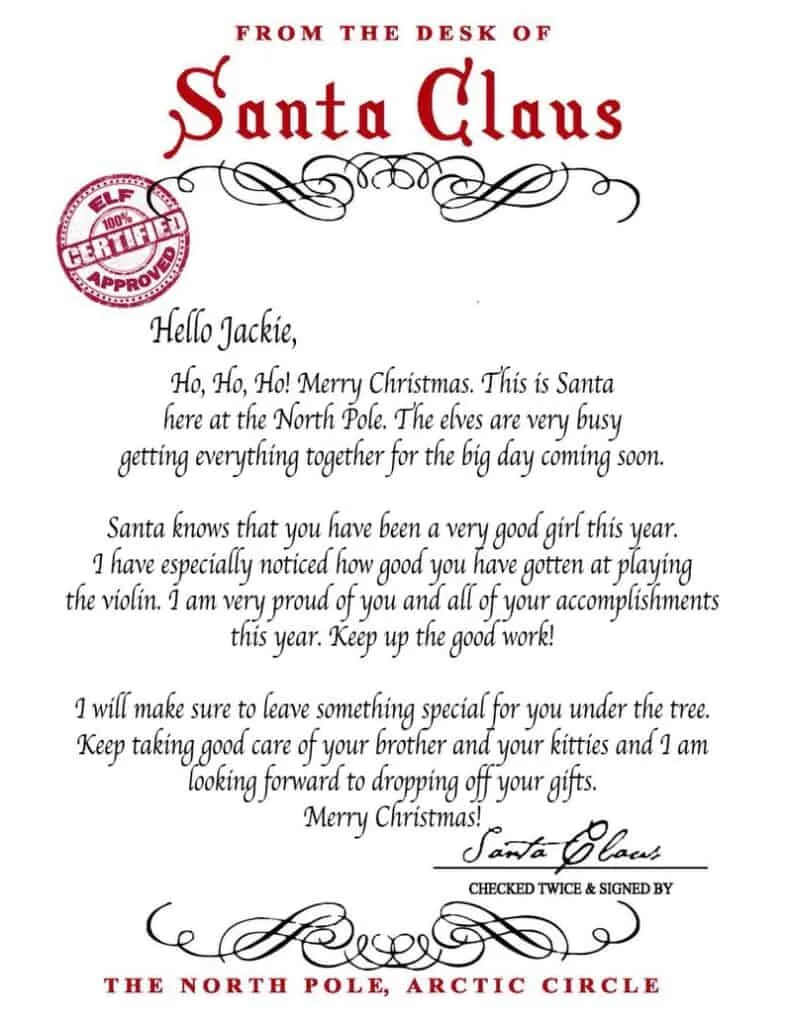 9 Free Printable Letter To Santa Templates
This is the Dear Santa Letter that I use for my kids. You can download it here.
2. I love this simple Christmas wish list from Yellow Bliss Road
3. This simple letter to Santa template from Events To Celebrate is great for younger children.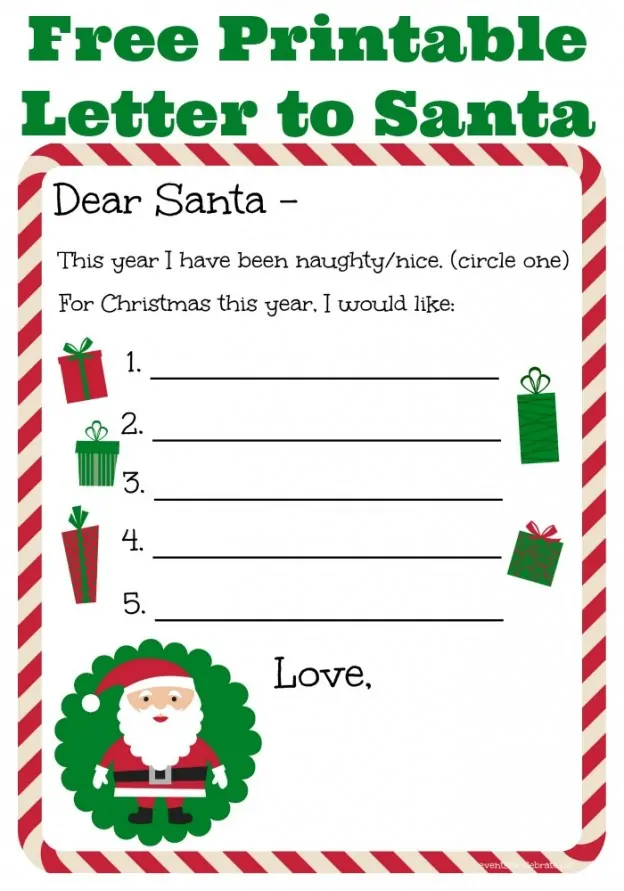 4. This one from Mom Envy is a little bit different – a Christmas wish list board that you can frame or use as a cute Christmas photo prop!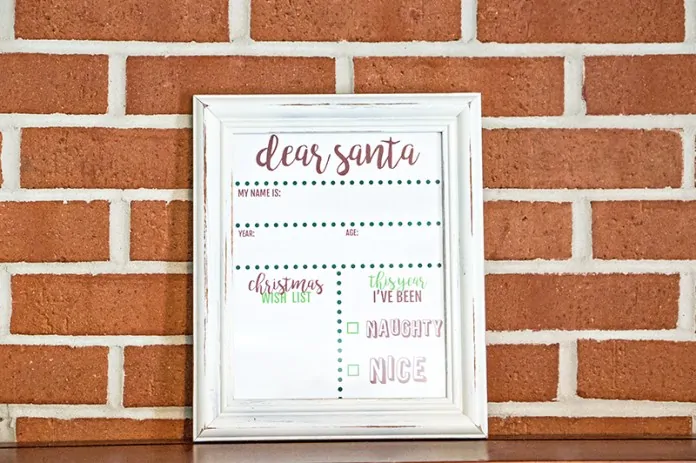 5. Thrifty Jinxy have a great blank Santa letter template that has a bit more information than some of the simpler ones.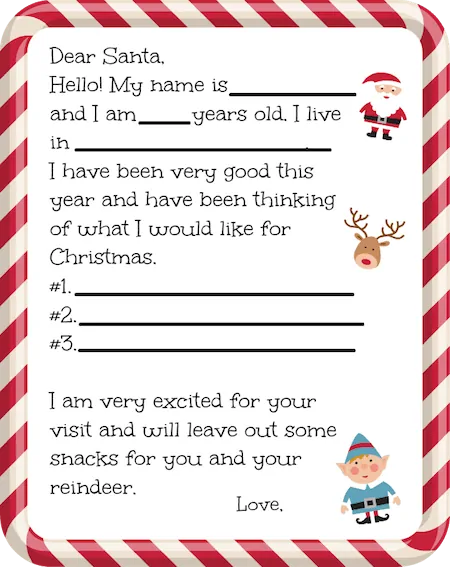 If you love the free printable letter to Santa templates on this page make sure to check out my Free Printable Christmas Scavenger Hunt.
6. This Santa on the beach free printable from Janinehuldie.com is so cute!
7. As a huge fan of the 4 wishes of Christmas, I love this letter to Santa template.
8. If you want a Christmas wish list that doesn't even mention the big guy, this one from Moritz Fine Designs has you covered!
9. This Dear Santa Letter from Mama Geek is a bit more detailed, giving your kids lots of room for expression. She also has a version for older kids too!
More Christmas Fun For Kids
Free Printable Christmas Scavenger Hunt For Kids
20 Holiday Traditions To Start With Your Kids This Year
10 Ways To Make Baby's First Christmas Special
10 Creative Christmas Photos You can DIY at home
Looking for a way to organize your holidays this year? Check out my Stress-Free Christmas Planner
It comes with a bonus kid's journal that will make a great stocking stuffer.