These St Patrick's Day goodie bag ideas are the perfect way to celebrate the greenest of holidays!
Whether you are planning a school party, hosting a dinner for family and friends, or simply want to surprise your loved ones with something special, goodie bags are a fun way to add some extra cheer.
There's no shortage of ideas when it comes to filling your St Patrick's Day goodie bag – from delicious treats to novelty gifts and everything in between.
In this article we will give you lots of ideas that you can DIY or buy to make your St Patrick's day celebrations fun and stress free.
This post may contain affiliate links. Please read my Affiliate Disclosure for more information
MORE AWESOME ST PATRICKS DAY IDEAS
4 Cute St Patrick's Day Cupcakes For Your Kids
20 Lucky St Patrick's Day Pregnancy Announcement Ideas
St Patrick's Day Goodie Bag Ideas
St. Patrick's Day is a time of celebration, and what better way to get in the spirit than with some fun goodie bags?
Goodie bags are great for family gatherings, school parties, or even just for yourself!
Whether you're looking for a sweet treat or something special to give away, there are plenty of creative ways to make St. Patrick's Day memorable.
If you are hosting a party, make sure to check out out list of St. Patrick's day treats that are perfect for school parties or events.
And to celebrate the occasion, below you will find a list of the perfect St Patrick themed holiday gifts to include in your gift bags.
Sweet Treats For St Patricks Day Goodie Bags
When it comes to celebrating St. Patrick's Day, nothing is better than a goodie bag full of sweet treats.
From traditional gold coins to anything green, these goodies will definitely put the luck of the Irish in your day!
Gold Coins

Start by stocking up on delicious chocolate coins wrapped in gold foil – they make a great addition to any St. Patty's Day treat bag!
You can normally find them in chocolate stores and party shops around the holiday but they may also be available after Christmas and Hanukkah in the sales.
Rainbow Nerds Or Skittles
Rainbow anything is a big deal around St Patrick's Day. You can portion a rainbow candy such as Skittles or nerds into small baggies and tie with a fun bow for a cute treat.
Lucky Charms
I know this sounds weird as Lucky Charms are a breakfast food but I recently discovered a great way to make them the perfect tasty treat.
Pair small cellophane bags of Lucky Charms marshmallows with a packet of hot chocolate for a fun St Patrick's day treat.
Mini Peppermint Patties
Fill a mini mason jar with green peppermints and you have a great party favor in a pinch and on a budget.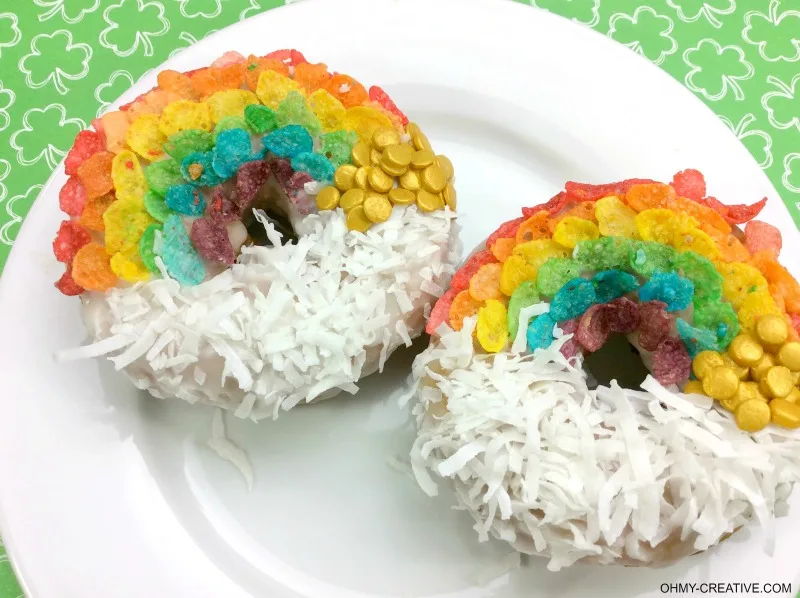 If you want an easy and super cute goody bag idea, how about adding one of these adorable donuts from Oh My Creative to your St. Patrick's Day treat bags?
Click through the photo to get the full recipe and instructions.
Leprechaun Bait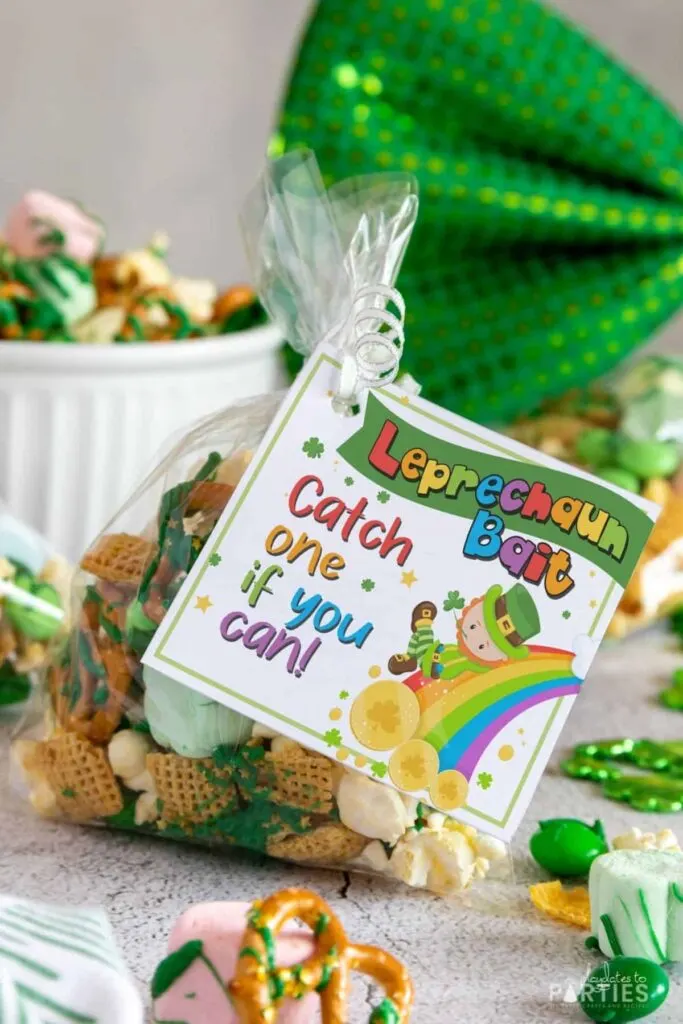 If you are looking for treat ideas that you can put into party favor bags, how about this fun Leprechaun bait trail mix? It is easy to mix up a batch and then separate it into small bags for your St. Patrick's day party.
Non Candy St Patrick's Day Goodie Bag Ideas
FuIf you are looking for some fun and creative ideas to fill your St Patrick's Day goodie bags, look no further!
Here we have a few fun accessories that will make your goody bags unique and exciting. From clover headbands to glitter shamrocks, there are plenty of options to choose from.
Be sure to add something special that your guests will remember long after the holiday is over.
St Patrick's Day Headbands

A festive touch can be added with green headbands featuring clovers or shamrocks for everyone as an accessory for their goodie bags. Add a bit of sparkle with glittery shamrocks made from card-stock paper or felt, which you can easily attach to hair clips or barrettes.
Festive Necklaces

If you have time, why not create some customized necklaces by tying green beads onto a piece of elastic string? You can also buy Mardi Gras style beads on Amazon for cheap.
Funky St Patrick's Day Socks
Fun socks are always a great party favor idea and St Patrick's day offers lots of fun ideas like these ones that come in a six pack.
DIY Ideas For St Patrick's Day Parties
DIY goodie bags are a great way to show someone you care and also add a personal touch to a holiday gift without breaking the bank.
Here are some ideas for creating unique and fun St Patrick's Day gifts on your own. From rainbow cupcakes to Leprechaun punch, get ready to plan an unforgettable St Patrick's Day celebration with these creative DIY ideas!
Magic Leprechaun Gardens
These cute shamrock gardens are perfect for a cute St Patrick's Day gift idea. You can make them yourself using these instructions and there are even free printable tags at the link.
Cootie Catcher
The perfect St. Patrick's day gift doesn't have to cost a lot of money.
There are tons of free printables online that you can use for gift ideas. These free printable St Patrick's Day Cootie catchers are easy to make and perfect for popping in paper treat bags with some candy.
A Pot Of Gold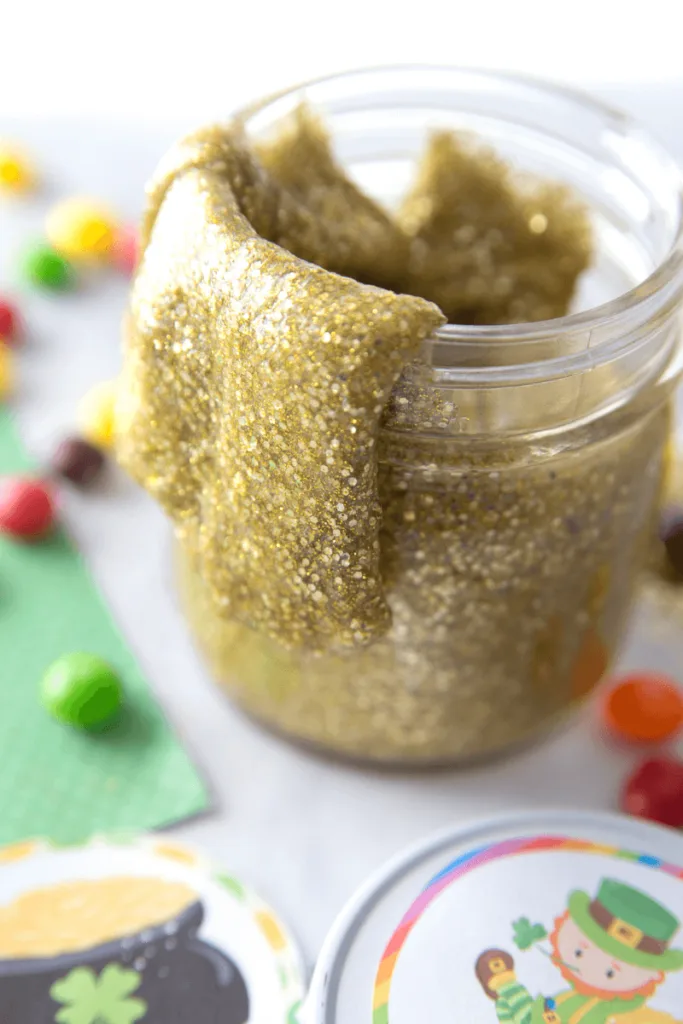 Slime that is! This gold slime is really easy to make and can easily be put into little jars to make "pots of gold" party favors.
You only need a few ingredients to make it and it makes a fantastic St Patrick's day gift.
Leprechaun Plush

No St Patrick's day party is complete without a cheeky leprechaun which makes a cute plush the perfect way to say thanks to your guests. You can get lots of different options on Amazon but I love these adorable Leprechaun gnomes.
A St Patrick's Day Book
Another great way to celebrate St Patrick's Day is with a fun book. Here is a list of some cute St Patrick's day themed books for children.
Sticker Sheets

These St Patrick's Day Make-a-face Sticker for Kids are great if you need to get loot bags for a large number of kids – they are super budget friendly and fun to do!